Bintel BriefHelp! I don't know how to get my slovenly roommates to clean our apartment
It's a tale as old as Talmud: sharing a house, and fighting over how to keep it clean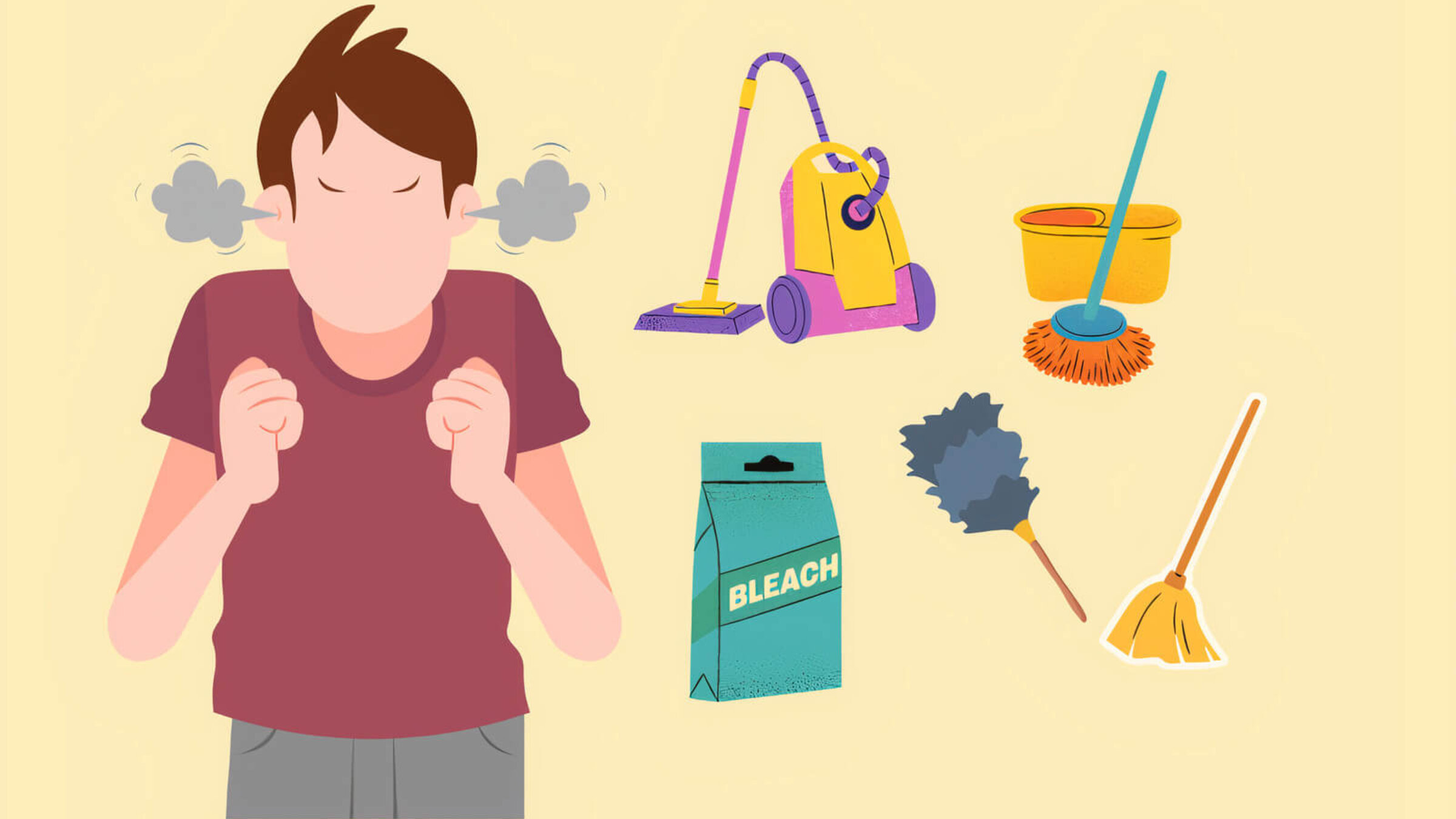 The Forward has been answering reader dilemmas about daily life since 1906 in "A Bintel Brief," Yiddish for "a bundle of letters." Send your queries to [email protected], and listen to a podcast version of our signature advice column here. Today: We're answering two similar letters together. 
Hi Bintel. I'm living with a few friends from college in an apartment on our own. Two of us were really close and lived with each other during college — we get along great. The other two … not so much. They're close, and both of them are, in my book, nasty. They never clean. 
I've already broached the topic and we made a cleaning schedule. I see them vacuum for all of 2 minutes. I really can't tell if they don't know HOW to clean, or if they are just lazy. 
This is mainly a problem because we all have to share one large bathroom. A nightmare. I left for two weeks and came back to an absolute crime scene in there. So gross I won't bore you with the details. It's a problem of respect at this point. I don't want to have to clean up after them in order to be able to use the bathroom myself every day. I've also got a sneaking suspicion that they use my and my roommate's stuff when their stuff is dirty (towels being wet when neither of us have used them, etc.). 
My roommate won't be the one to have the conversation; she's non-confrontational and doesn't want to risk her friendship with them. But we're stuck in this lease for at least the rest of the year (we're at month four), so I know I have to talk to them. But I don't know how to get them to clean, or how to even broach the convo again without having a hostile roommate situation for the next eight months.
Signed,
Roomie May-Day
Dear Bintel, 
My roommate is a mess and I'm sick of always being the one to do everything! We used to have a cleaning schedule that worked well, but she abandoned it many, many months ago, and I think she takes advantage of the fact that I hate confrontation to keep avoiding responsibility. 
I've raised my frustrations several times by both hinting and asking directly, but she always manages to find an excuse and put off cleaning until I get so annoyed that I wind up doing it for her yet again. I'm allergic to mold and dust and refusing to cover for her winds up affecting me mentally and physically. 
Even though we're both adults, I think I might have to resort to methods for spoiled children like giving her candy after she cleans, though I imagine that would seem both hostile and condescending. Any better ideas on how to make housekeeping more equitable? Or how I can better confront her without upsetting us both?
Signed,
Bye Bye Pig Sty
Dear Roomie May-Day and Bye Bye Pig Sty,
You both have the same problem: You're looking around and seeing an unconscionable mess that you think anyone in their right mind would know is horrific. This makes you see your roommates as gross at best, and exploitative at worst.
They're not. 
Most human behavior that's annoying or even infuriating isn't malicious, it's just the product of the fact that everyone is different. For whatever reason, your roommates probably see what you call an unconscionable mess as normal. I've been the messy roommate myself — although I definitely did not secretly use someone else's towel! — and didn't realize it until I was told directly. To me, things didn't look messy, just normal. 
So: Before either of you broach that conversation, you have to fully accept that your roommates really do just see the situation differently. Not a grudging, partial, "I guess I can believe they see this as normal but really I'm still sure they're just trying to take advantage of me" acceptance. Actual acceptance — including of the possibility that you just might be what some people call a neat freak.
Negotiations over sensitive issues tend to go badly if they don't begin with mutual respect (See: Israeli-Palestinian conflict.) And house cleanliness can be profoundly sensitive. Because all of us want to feel comfortable in our homes — and because our standards of cleanliness feel like a reflection on our values. 
And those standards are often tied to the circumstances we experienced growing up, one of the most intimate subjects. To have someone make it clear that they see your standards as appallingly low is to feel that they see you, as a person, as inferior. Do not do this to your roommates. Even though they're driving you both up the (filthy) wall, they really don't deserve it. 
(Bye Bye Pig Sty — this is why trying to bribe yours with candy is, I cannot say firmly enough, a terrible idea.) 
Yes, it will be hard to get to the place where you can treat your roommates' perceptions of cleanliness with respect. Yes, it is unfair that you have to do this work, rather than them. But it's a fact of life that the person who is made unhappy by a situation usually needs to do most of the work required to become less unhappy. 
This is why indulging a tendency to be nonconfrontational is a serious mistake. In life, you can choose to be passive, expect someone else to solve the problem and get frustrated when they do not — because, again, to them it's not a problem — or learn to accept the unfairness of it all, and start compassionate, honest, clear conversations without rage or criticism. 
In your shared situation, that conversation starts simply. Ask to have a house meeting, say that you'd like to revisit your collective cleaning standards, and apologize wholeheartedly for previously approaching this subject angrily and passive-aggressively. Say you understand that you have different ideas of what clean looks like, and would like to come to a solution that works for all of you — not just of what result to expect, but how to achieve it.
Ask questions. What might make doing chores as appealing as possible, even fun? What if you put a couple hours on the calendar every week for you to do chores together, with lots of danceable music playing and, perhaps, a beer or two along the way? 
What if you made it a game? Play the chore equivalent of strip poker: You lose, you clean the toilet, you come back for round two. (Is this how strip poker works? I have never played; I hope someone will tell me.) Play the chore equivalent of a Ouija board, and covertly use the weird pointy tile to spell out "take out the trash" during your roommates' turn. (Take it on the nose when yours yields a supernatural "unclog the shower drain.")
Ask your roommates what doesn't work for them. I personally cannot stand a chore calendar; they make me feel that I am being yelled at. Perhaps your roommates feel the same. Perhaps they prefer to clean at 3 a.m., rather than at a time when they could be out doing exciting, mop-free activities. Perhaps they are scared that overaggressive cleaning will awaken ghosts in the walls and bring shame and terror upon you all.
My mom is fond of saying that we never really know another person. We are all at least two people: the outer one, who has behaviors and habits and reactions that we ourselves can't see, and the inner, with globs of emotion and judgment and confusion that only we can see. We never really know ourselves, either. 
Remember that you only know your roommates' outer selves, the bits they cannot see. It is a mistake, in this as all circumstances, to make too many assumptions about how that outer self relates to the inner. 
Remember that your outer self is annoying, too — particularly because both of you have a lot of growing to do as communicators — and that your roommates are equally incapable of seeing your emotion globs at work. We never really know each other. What a wonderful opportunity this is, in its own gross way, to learn more.
Love,
Bintel