Culture
In Peacock's very Jewish detective series, the biggest mystery is the main character
'The Calling' by David E. Kelley follows an NYPD policeman with a hazy Jewish backstory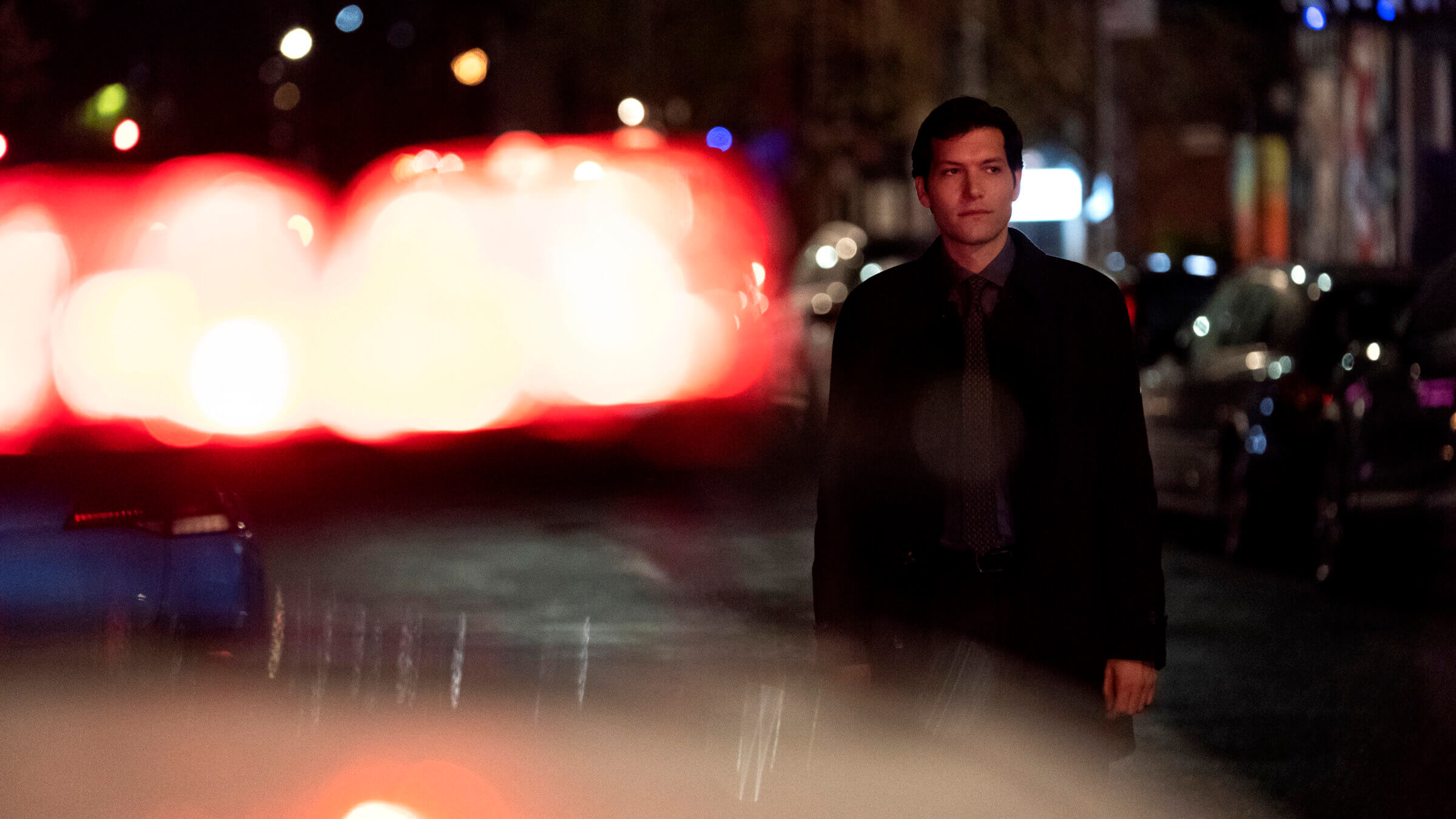 At the center of Peacock's moody new police procedural is the methodical madness of Detective Avraham Avraham, who cracks open cases with the help of a blend of deep empathy, Talmudic wisdom and a lot of doodles of fish. The one case he can't be bothered to look into is his own, and that goes double for the creative team behind the show.
Early on in David E. Kelley's latest, directed by Barry Levinson with a Hans Zimmer score, we learn that Avi (Jeff Wilbusch of "Unorthodox" fame) is tightlipped about his past. He's a kind of curiosity for his new partner Janine (Juliana Canfield from "Succession.") After she insists on working with him  — "The Talmud says it's forbidden for a teacher to reject a student" — she regularly peppers him with questions about his religious practice. At least at first, he cites the New York Police Department code of conduct, which forbids officers from asking colleagues about their faith.
Most viewers may also wonder about Avi's level of observance, or the multi-season arc being teed up over the mysterious death of his father, which he is loath to dig into. Someone more enmeshed in the Jewish world, though, may not be troubled by a self-described Orthodox Jew who doesn't eat kosher, wear a kippah or keep shabbat. They may instead be puzzled, as I was, by everything else. The more background the show provides, the more questions it raises about its leading man.
It demands a kind of profiling to know how he comes by his deep knowledge of Torah, his accent and his deployment of Yiddish. As you'll see, the obvious reasons elude us.
Let's play detective.
Some context: This Avraham Avraham, though based on a character with the same name in a series of novels by D.A. Mishani, is a different person entirely. He's not Mizrahi. He's not from Israel. When disarming a gunman, he quips, "I'm trained! I grew up in Crown Heights."
First impressions: Stepping into crime scenes while wearing tailored black suits and speaking with flawless, hyper-Ashkenazic pronunciations of Hebrew prayers for the dead, Avi cuts an off-the-derech figure. The impression is reinforced by Wilbusch's natural accent, drawn from his roots in the Yiddish-speaking Satmar community in Jerusalem.
Clues in questioning/casting: If Avi was once Orthodox, he clearly has very little residual concern for keeping shomer negiah (adhering to halachic restrictions on touch), getting in trouble for holding the hand of the mother of a missing child. But, he does daven in very Ashkenazic Hebrew and speaks flawless Yiddish. (In an interview, Wilbusch told me he was excited to use the mameloshn, his "favorite language," in the show.)
On background: Late in the show we get flashbacks to Avi's younger self (age 5), without a kippah, walking the family dog. He doesn't appear to have grown up Orthodox at all. Wherefore the accent and fluency in Yiddish?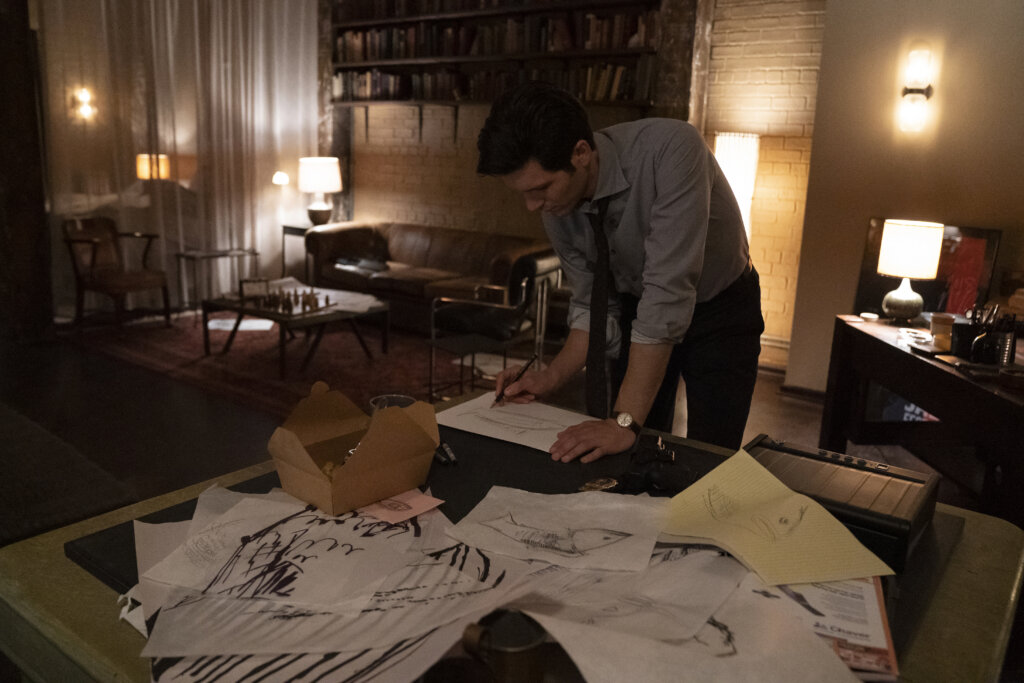 Perhaps the next season will explain how his parents were Yiddishists or ex-Orthodox or that he participated in some childhood immersion program in the Haredi world, if such a thing exists. Maybe being from Crown Heights was enough of an education. Heck, Avi could have been frum beginning at age 6. (Though when I interviewed two of the executive producers, before I had access to all eight episodes, they told me that, as Kelley imagined Avraham, he was raised secular and became "more observant" through his job with the department.)
Avi is unlike almost any character on TV; maybe his closest analog is District Attorney Adam Schiff (no relation to the U.S. representative from California) on "Law & Order," known to interpret the law through Talmudic eyes, owing largely to the influence of the man playing him, the Orthodox Jewish actor Steven Hill. It's exciting to see Avi wrap tefillin on a rooftop as the J train chugs across the Williamsburg Bridge in the distance. In a world where every antisemite on Twitter sees fit to Sparknote the Talmud to nefarious ends, it's a relief to hear Avi convey the humanism at its core. Watching him stand shomer for a man who died without friends or family, I liked to consider how this aligned with his philosophy on policing.
Still it's frustrating that the show throws us so many breadcrumbs and we're still short of the full challah. For all the glimpses of his life off the job, and even into his nightmares, Avraham Avraham's nearly as unknowable as another great detective, Lieutenant Columbo (here is your reminder that you can also watch "Columbo" on Peacock). 
Finding his own way: While Avi remains a calculated cipher, sometimes this is welcome. Too often media about Jews feels the need to flatten faith and identity. Avi adds dimension by not being lax on spirituality nor too hemmed in by halacha. He finds deep meaning in tradition, but forges his own path. And he is just as at home quoting commentaries on Torah (first in Yiddish, then the original Hebrew) as Aristotle's "De Anima."
As is often the case in a Kelley production, a heightened reality eventually upstages the questions the show is hoping to explore. The idea that deep faith can influence police work is promising, but a messy denouement proves how easily it can slide into cartoonishness.
In the final episode, Avi tears into a murder suspect:"You're not God. Can you stretch the heavens and earth? Do you give the horse its strength? Can you catch a whale with a hook? When God favored you you loved him, when He tested you you destroyed his most precious creation: life."
This overworked, frothing fervor, gets worse. A chair through a window. A gunshot in the station. Janine thanks Avi for teaching her "how to be a mensch." Pretty banal praise from someone who's been boning up on her Midrash.
Even at the series' end, Kelley and company leave threads hanging, notably the mystery of Avi's father's murder and even a bloody instance of Hebrew letter mutilation (very "Da Vinci Code"). I was too perplexed by Avi's origins — my Slack messages are a log of me trying to figure out his deal by quizzing colleagues — to fully absorb his investigations into a missing child or a bomb threat at a daycare center.
Conclusion: I suspect casting Wilbusch, whose own background certainly informed the role, and whose American accent is, as far as I know, untested, played a part in the character we ended up with. 
In October, Kelley's producing partner Matthew Tinker told me when Wilbusch walked on set the producers thought he was "more Avi than Avi is."
This should be a ringing endorsement of Wilbusch's admittedly deft performance. But, at least this season, it just seems like evidence the showrunners haven't figured out exactly who their main character is.