Theater
In this new play, all unhappy (Jewish) families are alike — and some look suspiciously familiar
Literary gossip! Emotional affairs! Katie Holmes! 'The Wanderers,' Anna Ziegler's off-Broadway play about marriage and fidelity, has it all.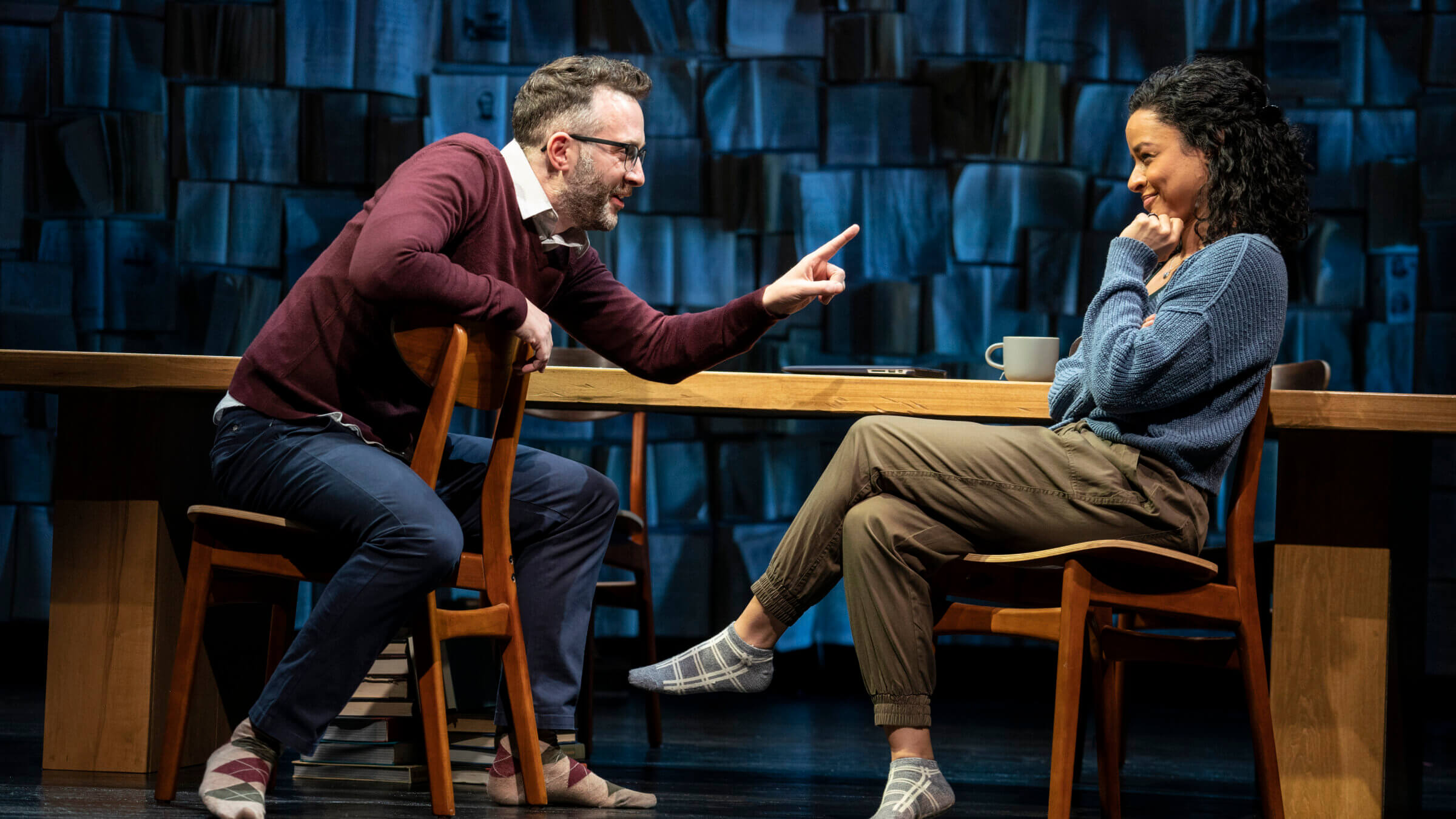 Editor's note: This article contains spoilers for the play The Wanderers.
For people who use the phrase "literary power couple" in casual conversation, the biggest scandal of the 2010s may have been the conscious uncoupling of authors Jonathan Safran Foer and Nicole Krauss. Safran Foer had maintained a decade-long email correspondence with movie star Natalie Portman, whom he met at a reading for his first novel. In the wake of the separation, rumors (uncorroborated) swirled that he had left Krauss to pursue Portman — only to be rebuffed by the actress herself, whom he apparently had not consulted before ending his marriage. 
Whether or not this story is true (none of the parties involved have confirmed it), the details bear a more-than-passing resemblance to the plot of The Wanderers, an earnest yet often tongue-in-cheek play by Anna Ziegler currently running at New York's Roundabout Theater. At the play's center is the deteriorating marriage of two Jewish authors: Abe Hausman (Eddie Kaye Thomas), a prolific wunderkind with awards galore, and Sophie Hausman (Sarah Cooper, of Trump-impersonating fame), the author of one ambivalently received novel who struggles to free herself from her husband's artistic shadow. 
When movie star Julia Cheever (Katie Holmes, in a wavy brown bob that gave serious Portman vibes) attends Abe's reading (see, I am not a conspiracy theorist!), the two strike up a fervid email correspondence. Director Barry Edelstein renders their exchange beautifully, managing to capture the vulnerability, isolation and occasional pretentiousness of letter-writing by having the actors circle each other on stage, volleying emails but never quite looking at each other or touching. As Abe distances himself from his actual wife and children, and Sophie grows suspicious — well, it's clear where this power couple is headed.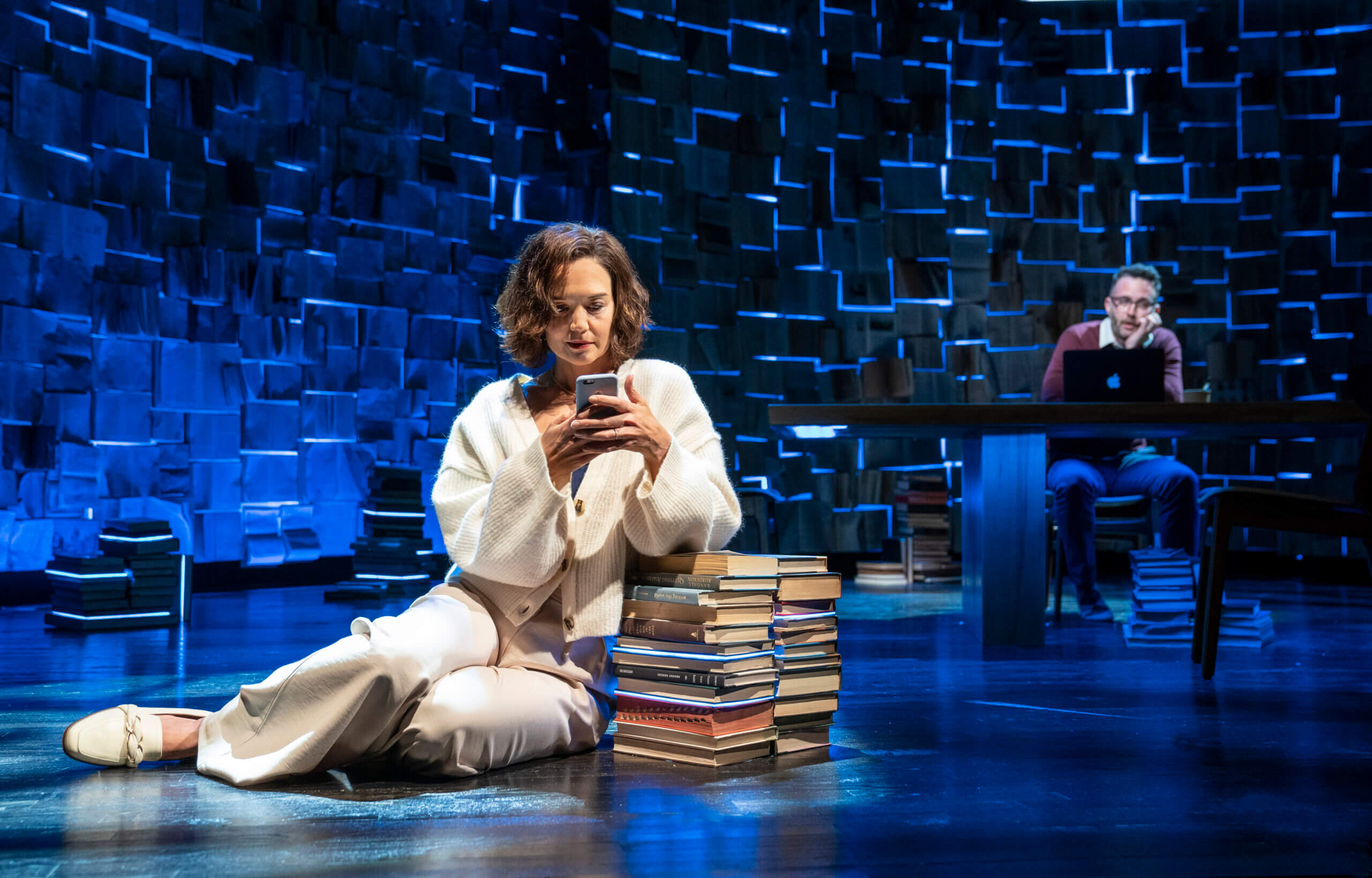 The Hausmens are Brooklyn bohemians, with exactly the caustic attitudes toward Judaism expected of that demographic. Abe often spouts bar mitzvah-level Hebrew (think: "Hineni!" shouted at not-quite-relevant moments) while mansplaining Judaism to Sophie, the biracial daughter of a Black father and white Jewish mother who grew up without much religion in her life. When Sophie asks why Abe insists on raising their children in "a religion you hate," we already know how he's going to respond: "Because that's what Jews do!"
Abe and Sophie's relationship contrasts starkly with the other marriage in this play: that of Esther (Lucy Freyer) and Schmuli (Dave Klasko), two Satmar Jews who may share a borough with the Hausmans but have radically different expectations for married life. When they're first introduced, Schmuli is attracted to Esther's confident and outspoken demeanor. Both partners seem willing to question the norms of their insular corner of Williamsburg, but they remain committed to making a life within the community. But Esther, who listens to secular radio, wants a job, and even entertains the idea of birth control, soon finds herself clashing with her more staunchly traditional husband. 
Initially, it's unclear if Esther and Schmuli have anything in common with the Hausmans besides their mutually dashed expectations of marital bliss. Only as Abe, who is haunted by the deaths of his parents, reveals that his mother left the Satmar sect for the secular world, do we recognize that he is Esther's child — and that she will soon be pushed out of her marriage and community.
In its strongest and most provocative moments, The Wanderers challenges the idea that one way of life can yield happier, stronger marriages. Esther and Schmuli live in a society oriented around marriage and the creation of new families, but the pressure to conform pits them against each other. Studiously enlightened and egalitarian, Abe and Sophie believe their progressive values will shield them from the fates of their ancestors. But they can't even divide up household tasks — Sophie spends a lot of time meaningfully folding laundry onstage — much less listen to each other with compassion or resist the obvious temptations of a movie star played by Katie Holmes. Funny but not quite satirical, Ziegler's deft depiction of their quarrels earned hearty laughs from the audience. (Schmuli and Esther, dropping Yiddish slang as they go through the motions of Haredi life, can seem like stock characters by contrast.)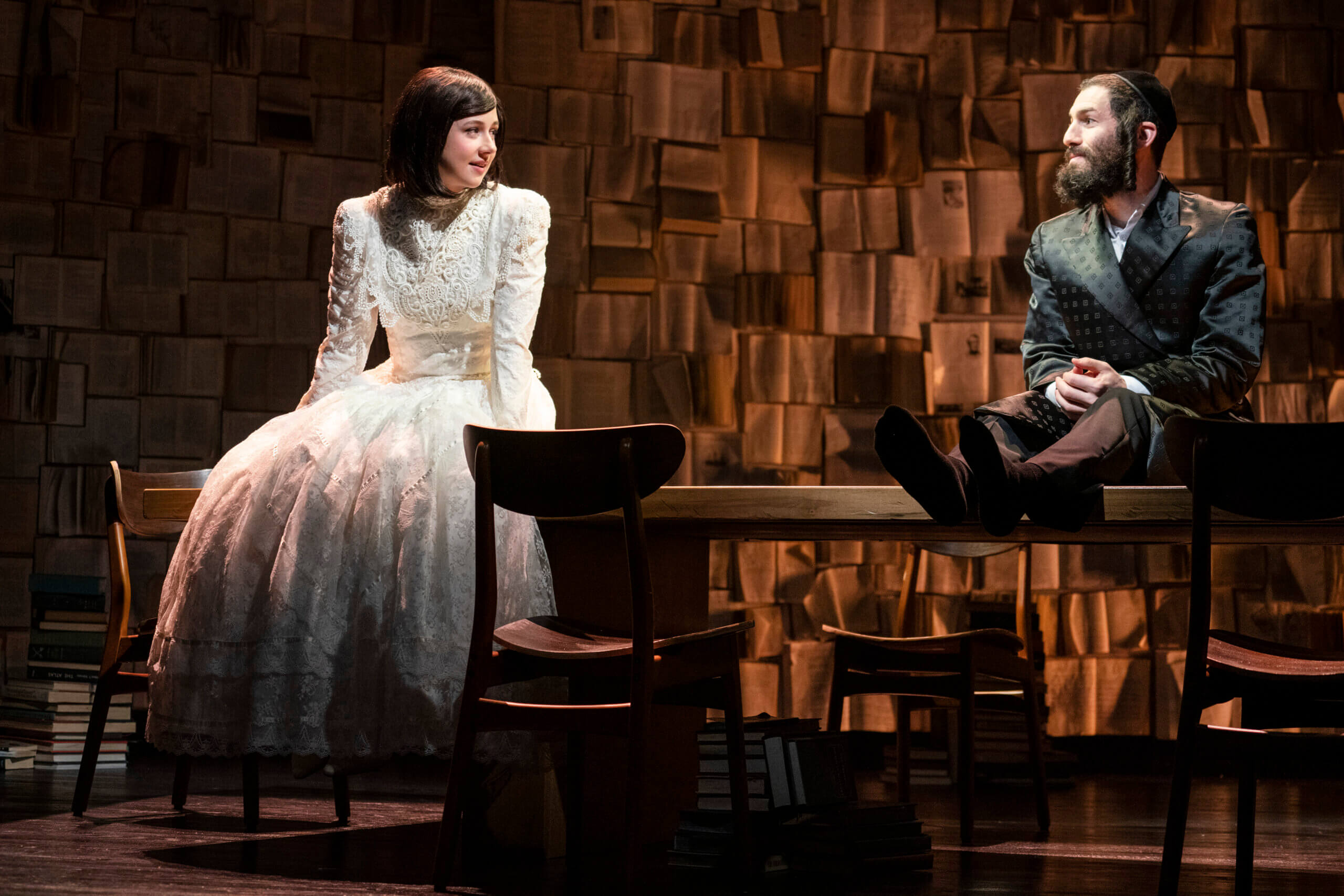 Showing how much these unhappy families are alike, Ziegler embraces a deep skepticism of marriage. The hope seems to be that by acknowledging the institution's limits, we can salvage the intimate bonds that continue to draw people toward it. Watching The Wanderers reminded me of the tough-love relationship guru Esther Perel, who has argued that our era's high pressure to find complete fulfillment in one romantic partner can stymie healthy relationships. 
In the play's epigraph, Ziegler in fact quotes Perel, speaking about the feelings of loss — existential FOMO, if you will — that come with binding oneself to one person for life: "There is always a suspicion … that one is living a lie or a mistake; that something crucially important has been overlooked, missed, neglected, left untried and unexplored." The protagonists in The Wanderers are looking for a way to honor those feelings, even express them to their partners, without sacrificing the relationships that made them want to get married in the first place. 
The hope the play provides, however, proves rather hollow. Both husbands in the play transgress — majorly — against their wives. Abe's elaborate fantasies about having a baby with Julia are pretty atrocious, if also funny and (when this emotional affair inevitably blows up in his face) humiliating. Schmuli participates in a much worse betrayal, which I am going to divulge in order to explain my confusion at the end of the play: After Esther expresses a desire to start birth control, he conspires with his parents to remove their two daughters from her care, refusing to even tell Esther where they are. Understandably, she flees the community with Abe.
While teshuva is another bar mitzvah word with which Abe should be familiar, both men receive their absolution without doing much to earn it. By the end of the play, Abe and Sophie are separated but engaged in their own email correspondence, a hint that their marriage isn't yet dead in the water. Meanwhile, as an exercise to overcome his family trauma, Abe writes a fictional "alternate ending" to his parents' marriage, in which Schmuli travels to Esther's new home and, without promising to return their daughters or even apologizing, achieves a tenuous reconciliation. 
Quoting a critic in one of his initial emails to Julia, Abe says sarcastically, "I couldn't recognize a real woman if she was staring me in the face." (Similar accusations have been leveled against Safran Foer.) Ziegler's play is by no means guilty of such a lapse: The women in her play are imperfect and deeply sympathetic, so much so that as I watched Esther embrace a man who had literally stolen her children, I could only feel rage on her behalf — and dismay that her son would desire such an outcome for her. If the women in The Wanderers learn to see their husbands in new ways, the men don't return the favor. Why should they? They can have their happy ending anyway.