BINTEL BRIEFSeeking a Jewish community that welcomes queer and interfaith folks — but isn't anti-Israel
Bintel has lots of ideas. Let us gently push you into the shallow end of the pool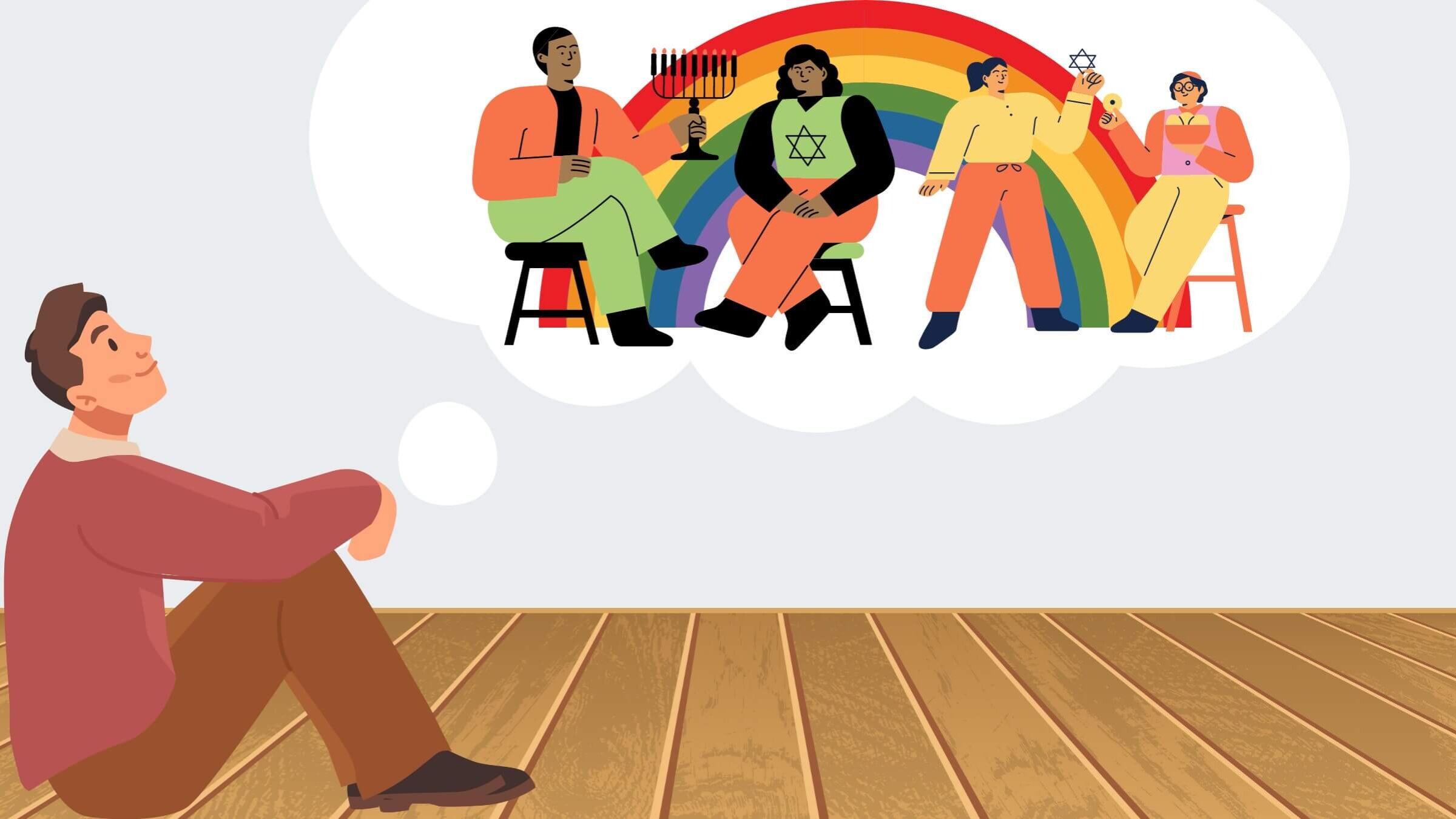 The Forward has been solving reader dilemmas since 1906 in A Bintel Brief, Yiddish for a bundle of letters. Send us your quandaries about Jewish life, love, family, friends or work via email, Twitter or this form.
Hi Bintel,
I'm in my late 20s, married to a goy, and we moved to New Jersey during the pandemic. I love being Jewish and learning about Judaism and all that jazz, but I've been unable to find the right local community. 
Part of the problem is COVID, part of the problem is not knowing where to start, and part of the problem is that I want a space that is inclusive of LGBTQ+ people and interfaith families but isn't anti-Israel. Just Googling synagogues in my area hasn't helped much. I also don't have a lot of local Jewish friends to ask. 
How can I find my community? 
Signed,
Seeking a Nice Jewish Community
Dear Seeking,
Mazel tov on your new home! You probably have a dishwasher, which means I am eternally envious. 
I am also a little envious of your clean slate. A move to a new place offers a fresh opportunity to rebuild community and develop new relationships. 
Starting afresh, however, can be daunting, particularly when it involves finding a new Jewish home. Before I dive into some of the nitty gritty, though, I need to point out something fundamental: You won't find community without putting yourself out there. 
I know, vulnerability is cringe-inducing. But I'm hearing in your letter a hesitance to show up and give different Jewish circles a real chance, in person. The pandemic undoubtedly weakened all of our social skills, but when I see phrases like "not knowing where to start" and that "Googling synagogues" hasn't helped, the first thing that comes to my mind is: Duh.
There's no possible way to know how inclusive a synagogue is, or how it grapples with Israel's complexity, without actually spending some time there. I empathize with your desire to gain knowledge without having to schlep across town; I, too, long to just step into a space and find the ideal Jewish community for myself and my partner that has the exact same feelings about identity and Israel as I do. But it doesn't happen without taking a risk. 
Now to that nitty gritty. You say you're looking for a safe place where you and your non-Jewish partner can continue to learn about Judaism, a place that is welcoming to LGBTQ+ people, and isn't anti-Israel. Given these criteria, I think Reform or Reconstructionist is the type of pool you're looking to swim in. 
Non-Jewish partners can participate fully in Reform synagogues, and the movement has many openly gay and lesbian people in spiritual leadership positions. 
As for Israel, it's worth noting that there are very, very few explicitly anti-Zionist synagogues in the United States. Most Reform shuls (like those of other movements) keep an Israeli flag on the bimah, recite prayers for the state of Israel, and host events around Israel/Israeli Jewish life. 
Reconstructionist synagogues could also be a great fit for you and your partner, as their whole ethos is centered around a Judaism that changes and evolves with modern life. Reconstructionist seminaries were also the first to accept rabbinical students in interfaith relationships, so you and your non-Jewish partner would be embraced wholeheartedly. 
There are, of course, lots of Reform and Reconstructionist synagogues in New Jersey, so it's time to go shul shopping. Here are a few suggestions on how to quickly get a sense of a specific synagogue's vibe: 
Email the rabbinic intern and/or a junior rabbi, and invite them out for coffee. I promise they will be delighted to meet a new prospective member, and I've found that being really honest in these conversations about what you're looking for always helps. These lower-ranking clergy typically speak more frankly about the culture at the shul, and are a great resource to help plug you into shul life. They may invite you to Shabbat dinner and will likely know whether there's an active LGBTQ havurah. Plus, you may end up making a new friend (hi Arielle!). 
The

free app Lex

is all about queer social networking. I've seen Lex posts in my Brooklyn neighborhood inviting people to join Shabbat dinners, host Rosh Chodesh moon circles and decorate Purim costumes. A quick browse of North Jersey-related posts (not sure where exactly in New Jersey you are located, Seeking) turns up many people looking to connect and make queer friends. While the app is not specifically Jewish, I'm confident that you would find other queer Jews in your area, who could point you in the direction of a synagogue and also become new friends. 
Check out synagogue event calendars, and pick something that interests you. Sometimes I find it more intimidating to show up to a new shul on Shabbat morning than to test the waters with a text study class, or a group hang at a game night, where there are smaller groups of people. 
On a final note, Seeking, I want to caution that no synagogue or Jewish community is going to be exactly what you think you are looking for. My sense is that you're waiting to get your feet wet until you find a "perfect" fit. But that just isn't how communities of humans work. 
There might be moments of discomfort, or that one obnoxious person whose political views you do not agree with. That is part of the unique beauty of belonging to a community — the power of the whole is greater than any individual person or experience. 
Let me gently push you into the shallow end. I hope you find most of what you're looking for. 
Signed,
Bintel