Theater
'A kind of ritual': Jessica Hecht on hosting a theatrical shiva
Hecht plays Sarah Ruhl in 'Letters from Max,' adapted from the playwright's letters with Max Ritvo, a student who died at 25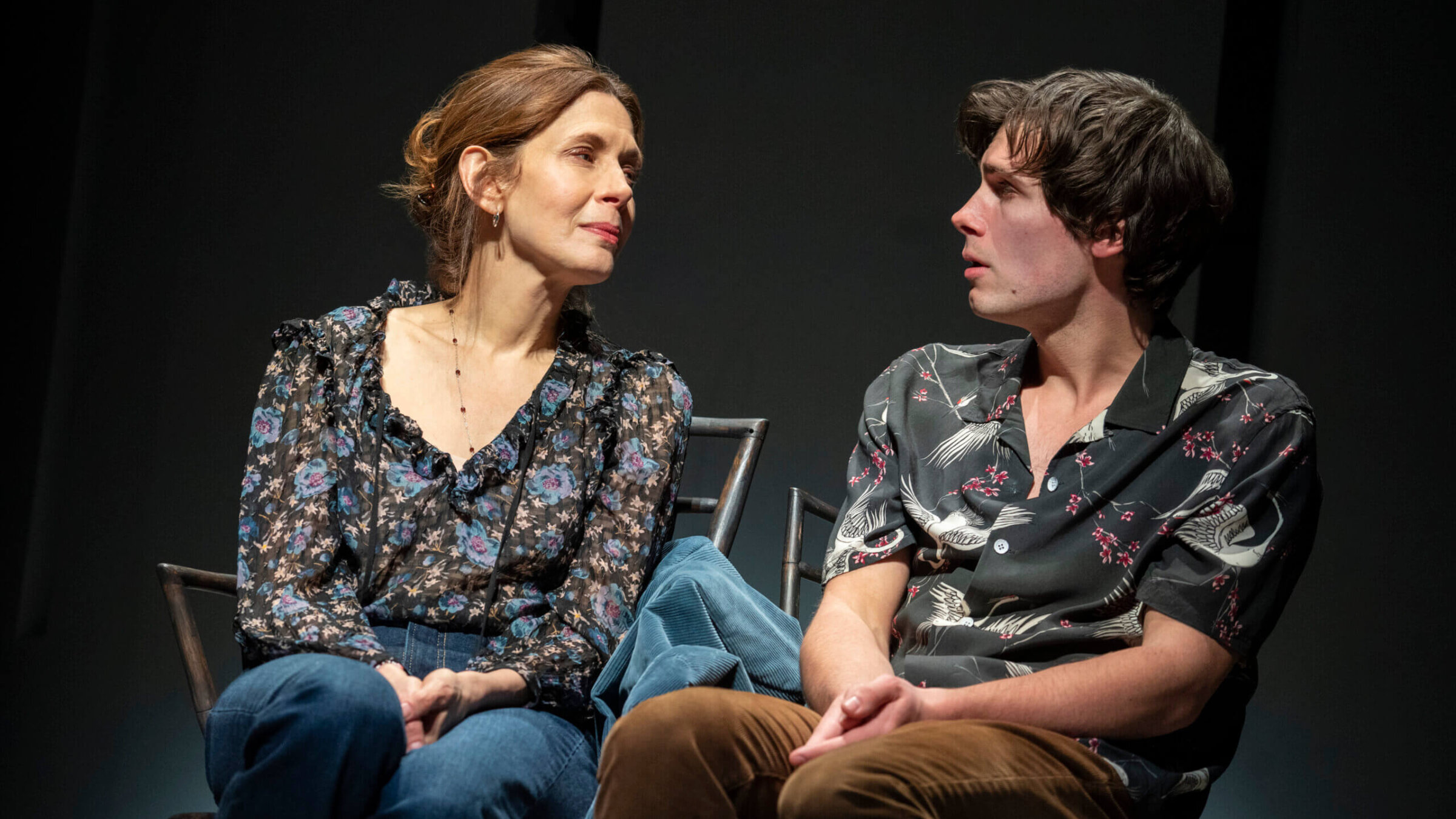 Max Ritvo wrote his first letter to Sarah Ruhl in 2012 — an application to her playwriting class at Yale. Although he had never written a play, Ruhl admitted him anyway, because, as she later wrote about Ritvo, "funny poets are a rare and wonderful species of human being."
That semester, Ritvo, who was in remission for pediatric cancer, was diagnosed with Ewing's Sarcoma.
Over the remaining four years of Ritvo's life, through trips to chemotherapy (Ritvo's) and Harry Potter World (Ruhl's), they wrote letters. Their friendship flourished as they shared poems and musings on love, death and soup. When Ritvo died in 2016, Ruhl compiled their letters into a book, Letters from Max, which she published in 2018. Then, she adapted it into a play.
Now Letters from Max, a ritual is in its world premiere run at New York's Signature Theater, starring Jessica Hecht as Ruhl. Playing the playwright, Hecht animates one half of the correspondence, illuminating the vivid playfulness and wisdom in her friendship with Ritvo, amid his looming loss. In doing so, she becomes a conduit for the audience: the host of a space for collective grief.
Jessica Hecht spoke to the Forward's Rebecca Salzhauer about the importance of communal laughter, her intuitive connection to Judaism and what it's like to play the playwright. This interview has been edited for length and clarity.
The play is based on Sarah Ruhl and Max Ritvo's book, Letters from Max, but it has the subtitle "a ritual." What does it mean to you to think of the play as a ritual?
My lifelong experience has been that the very specific physical and vocal movements of prayer and song have a kind of connective effect. There's something about it that calms me. The idea of sitting together with a community, and experiencing language that relates to our deeper experiences as people, is a kind of ritual for me. It makes our hearts more open and makes us more at peace with the journey that we go through.
Sarah Ruhl has talked about the play as a way for everyone in the audience to bring their individual feelings to a space for collective catharsis. To me, that feels a lot like shiva. What does it feel like to be the host in this space dedicated to communal grief?
I mean, it's also dedicated to communal laughter — I hope — and to communal intimacy. The idea that we all have a person that we feel we shared something very deep and very specific with, the longing for that person, is what I'm shepherding in.
There are meditations within the letters. There's ways in which she's thinking, and she's not prepared for what will happen next, and sometimes that's when the humor comes in. I love that that's part of this, that there's a very human part of trying to engage with people.
As Sarah, you have this intimacy with the audience that lets you straddle past and present, while the fourth wall keeps Max alive in his letters. As an actor playing the playwright, how have you approached the task of being a conduit between her and the audience?
It's been complicated. At first, there were different things I did to try to find this exact way to be Sarah. We were rehearsing and I was just looking at Sarah — "Am I doing a good job being you?" But the thing that I've learned is that people began to think of me as more of an authentic representation of Sarah the more I used my own voice. It became a merging of me and Sarah, and in that moment, it was a more fully realized performance.
When you're playing somebody, particularly somebody you know, the idea of trying to do an impersonation is tricky. You have to just live in the way that person makes you feel and not think so much about the way that person behaves.
Throughout the play, Sarah and Max philosophize about religion and the afterlife. Did you find that you brought your own Jewish background to the process?
I — like Sarah — have a very organic belief in spirituality and Judaism. I am just intuitively bound to the sensibility of Judaism. In Judaism, certain reflections just seem to me to be very common sense and very soothing. Sarah has the same thing in Buddhism that she expresses, so I just found security in that.
What do you hope audiences take away from Letters from Max?
I think when people have a loved one they cherish, sometimes the memory is held in a painful and tragic place, as opposed to a place where that person's spirit is giving you some sort of hope or light. Max's memory, even for his mother, gives her light and energy and hope. I really pray that the play does this for people who are holding the death of a loved one in a place that is just mired in pain.
Have you had any particularly resonant experiences with audience members after the show?
I had an experience early on, the first or second week, when somebody waited for quite a while to say hello. It was somebody I didn't really know but had met once, years and years ago, in an acting class I was teaching. He said that his partner of many many years had died a couple weeks before. He just broke down. He said, "I don't know why I just felt compelled to come here and see this, but I just wanted to tell you that Max's story made me feel closer to my partner, that they were somehow all there together."
As he finished talking, I realized two older people were waiting behind me. I thought they were a couple, but they walked up, and they said, "We live in the same building, and our partners each died over the holidays." They were holding hands, and they were helping each other out of the theater, and they were thanking me. It was an incredible experience. These people had come into this space thinking that there's some ritual that might help them. That was very powerful.
At Sarah and Max's first meeting, they talk over black bean soup. From then on, soup becomes a central part of their relationship, so I have to ask: What is your favorite kind of soup?
Oh, such a beautiful question! My favorite soup is pea soup from the diner on a Thursday with croutons.
The Signature Theater run of Letters from Max, a ritual ends on March 19.