Art
How a new Jewish holiday is inspiring a new Jewish ritual
31 'tzedek boxes' are inspiring viewers to take stock of their behavior year-round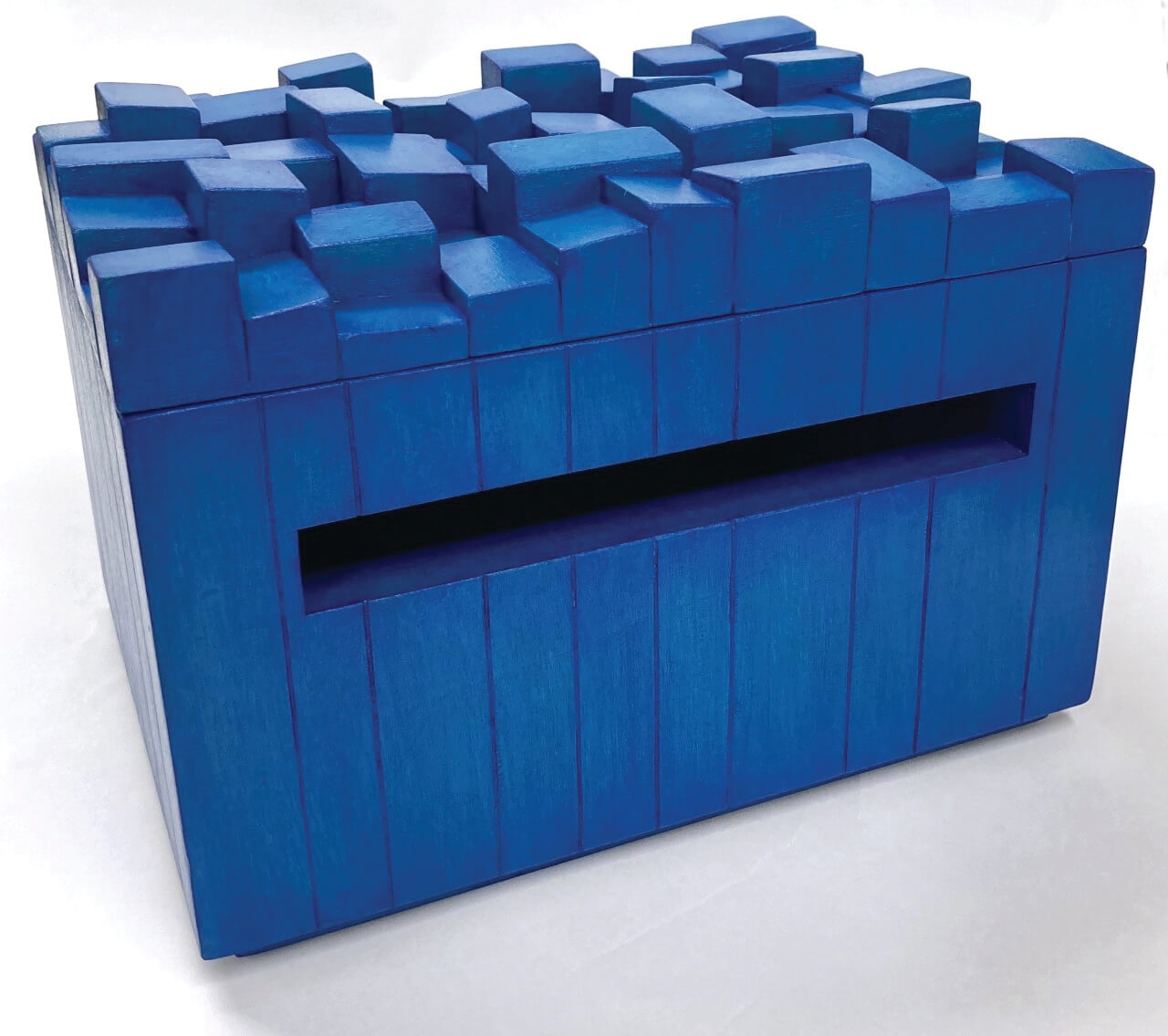 For the past five years, Andrew Kaplan Mandel, a fifth-year rabbinical student at Hebrew Union College Institute of Religion, has been pursuing a "passion project."
Mandel held design events in New York and Jerusalem, where he asked the heads of Jewish organizations and synagogues to generate new ideas for "what it would look like to increase the frequency and depth of Jewish justice work in the form of a [new] ritual or a holiday." 
At both events, someone suggested the idea of a tzedek box —  instead of coins, people would put inside written reflections on acts of tzedek, or righteousness, to improve our world, including volunteer work, advocacy or philanthropy. Then once a year on the designated day, Yom HaTzedek, one would open the box and reflect on their acts of tzedek.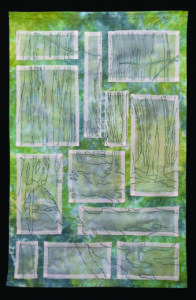 "It is so genius," said Mandel, who will join Central Synagogue as an assistant rabbi after he graduates, "because it helps us to avoid the holiday being a one-off event, like a mitzvah day that happens and then is over. Here, the tzedek box you carry through the entire year." 
One result of Mandel's passion project is Tzedek Boxes: Justice Shall You Pursue at the Dr. Bernard Heller Museum in Greenwich Village where 31 tzedek boxes, all made by different artists, are on display. Heller Museum director Jean Bloch Rosensaft hopes the current exhibit will put the tzedek box on the map, and in Jewish homes, in a meaningful way, just as the museum did in 1997 when it held an exhibit in which artists created Miriam's cups, popularizing the use of that ritual object in Jewish homes. 
"Taking stock of our behavior not just on Yom Kippur but every day is a Jewish concept," Mandel said. "Journaling about our actions and our choices slows us down and helps us take stock of and responsibility for how we use our time." Reviewing the journal entries each year becomes a "moment of sacred accountability" that will allow people to be more effective in their acts of tzedek. 
"We say we are about tikkun olam," said Mandel, "but the box does not lie. It has data inside of it. What did we actually do? What do our journal entries tell us?"
This new holiday purposefully falls on Pesach Sheni, a holiday celebrated before the Temple was destroyed, a day, as Mandel says, "of second chances, of successful advocacy." A year after the Exodus from Egypt, Israelites made the Passover offering to God, then ate it that evening. A group of Israelites wanted to make the Passover sacrifice but were not permitted to do so; they were considered impure because they had touched a dead body. They thought this was unjust so they lobbied Moses and Aaron who agreed to make a new law creating Pesach Sheni, a Second Passover, on the 14th of Iyar, for those in similar circumstances. 
Art to save the environment and the oceans
The first artist Mandel approached with his tzedek box idea was Tobi Kahn, who ultimately made seven boxes, one of which is in this exhibit. Kahn suggested that they invite other artists, all of whom followed a simple prompt: Conceive of a vessel to contain notes about acts of tzedek. Each work had to have an opening for inserting the notes and a receptacle for them. 
Several artists were inspired by the urgent need to save the environment and the oceans.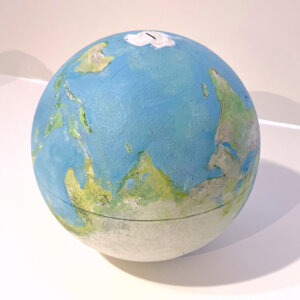 Rachel Kanter created "For the Trees," a wall-hanging textile work made of hand-dyed cotton with silk embroidery of forest imagery so it looks like leaves float in the background, with 12 pockets of varying sizes, designed to hold a year's worth of monthly notes.
Dutch artist Yona Verwer created "Foedraal" (Dutch for container), a delicate globe made of mixed media on aluminum to represent the oceans. 
Marisa Baggett's "Free Flow," a rectangular acrylic box with blue resin inside that mimics water, suggests the metaphor of water as justice.
"As water when blocked works its way to create a new path, justice must flow freely," Baggett said, reminding us that we can transform the world through acts of justice wherever they are needed. On her box, the prophet Amos' words appear: "Let justice roll down like waters and righteousness like an everflowing stream."
Tobi Kahn's "Zahryz III," is painted a vivid cobalt blue that suggests the oceans. The top of the box has 70 protruding elements signifying universal commitment to the world's 70 nations. 
"I think that is a Jewish thought, that we have to care about water," Kahn said. "Over 100 years [water] is going to be the hardest thing to get; it will be worth as much as gold and precious metals. So, I wanted it to feel like water and I also wanted it to feel that the inside of the box is a different blue than the outside of the box. And I wanted to think of shamayim, heaven and earth, and bein hashemashot, which is twilight and twilight is when you can't discern the difference between day and night. So the outside of the box is more daytime and the inside is more nighttime."
Water also inspired artists Dorit Jordan Dotan and Judith Joseph. Dotan, an Israeli artist, and Joseph, an artist and educator who lives in Chicago, created "Cast Your Bread Upon the Waters," photographs and an installation representing how they each inscribed their acts of tzedek in Hebrew and English on scraps of paper, joined them on a jute string by prayer flags, then inserted the notes into a bottle, sealed it, and cast it into the waters of the Mediterranean with the hope that whoever found it would be inspired to take action. 
Simple but powerful receptacles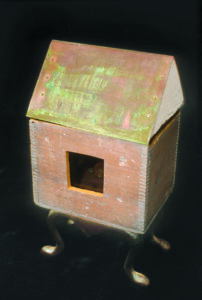 Some of the exhibit's other tzedek boxes are opulent, made of gold leaf, brass or pewter. Others are made of simple materials yet act as powerful receptacles of memory. Beth Krensky created "A House for Doris," a wooden house with an open window as the aperture to place notes, to honor the memory of her mother, Doris, who grew up in poverty and taught her that acts of justice are the only way to change the world. On one wall, her mother's words are engraved: "I want to be remembered for my kindness to other people, for my caring. Do something to make a change in the world so that people are kind, compassionate, caring and giving." The box evokes the memory of wooden synagogues or homes in the shtetls of Eastern Europe. 
Tina Marcus' "The Collection Box" uses found objects — a rusted metal mattress frame, metal that evokes barbed wire fences, and stones from the Dachau concentration camp — to evoke the Holocaust and "compel us to fill the future with positivity."
"I never thought the physical box would have mattered so much," Mandel said. "What matters to me is what you put inside the box. I thought you could have a tissue box or cigar box. But these artists have completely expanded my imagination."  
While the intent behind the tzedek box is to have people reflect on their own personal acts of trying to heal the world, the cumulative effect of this exhibit is to make viewers reflect on the many pressing problems in the world today, and realize the power and potential of the entire community going out into the world and doing good, as well as the power of artistic vision to, as Mandel said, "elevate the ritual to a whole other level." 
___
Tzedek Boxes: Justice Shall You Pursue is on display at the Dr. Bernard Heller Museum through May 18.
Correction: This story has been updated to clarify the meaning of tzedek and to replace erroneous references to "acts of tzedakah" with the phrase "acts of tzedek."