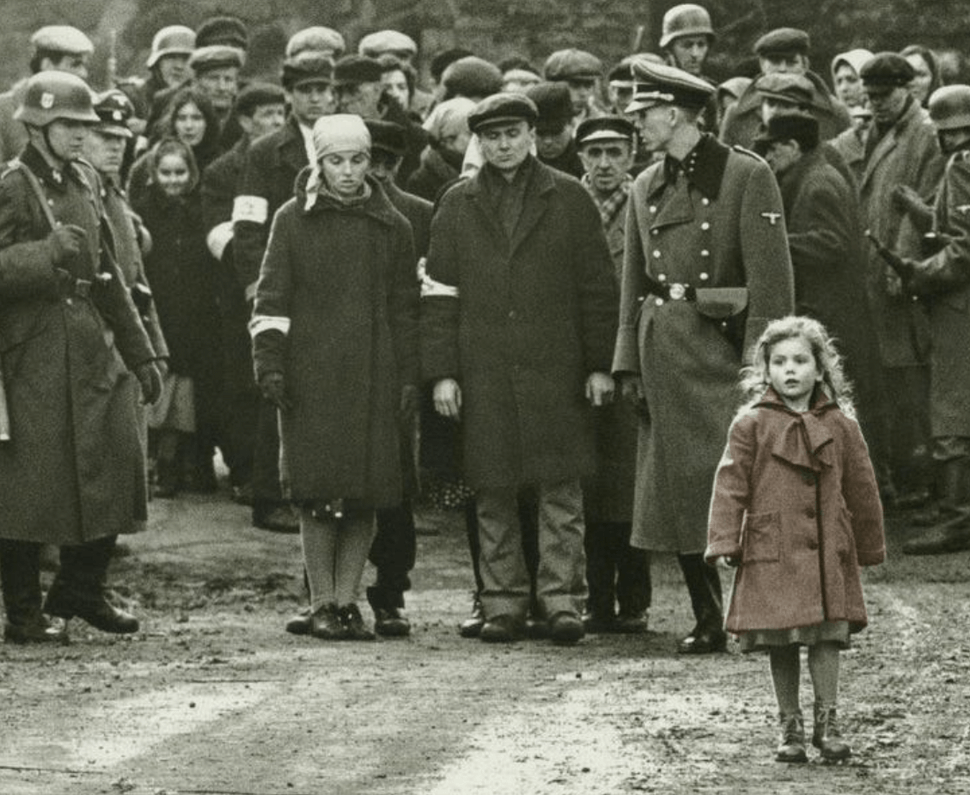 This essay is part of the Forward's list of 125 greatest Jewish movie scenes. You can find the whole list and accompanying essays here.
Even while I was sobbing at the sight of a small girl in red, I was under no illusion that "Schindler's List" was a great film. However tastefully Steven Spielberg had tinted her coat, the four scenes in color, amid 195 minutes of black and white, still constituted a garish finger of God pointing at the innocent victims. It was almost the definition of kitsch. But, perhaps because of my unusual situation – I was  probably the only Jew in the theater – I understood immediately that this was an important film.
Within five years of the film's 1993 release, my emotional response would be challenged by critics and academia. In the late 1990s, I spent two years in graduate-level courses examining cultural representations of the Shoah. "Schindler's List," was a favorite punching bag of both my colleagues and many experts in the field. Most famously, perhaps, in his essay "Who Owns Auschwitz?" Nobel Prize-winning Holocaust survivor Imre Kertész dismissed the forms used by the director of "Jurassic Park" to film "Schindler's List" as "Spielberg's saurian kitsch." 
Watching the movie with a critical eye there is much to find fault with: the redemptive (even Christological) structure, the passivity of the Jews in the film, the German-centric perspective, the counter-exemplary nature – noted by no less a critic than Stanley Kubrick – of a film about survivors made to illustrate the tragic murder of 6 million Jews. All of these, and more, warranted comment.
That's without mentioning the red coat of it all, the sentimentality, the unrepentant kitsch that helped make the Holocaust palatable, allowing a $22 million film about a horrific continent-wide genocide bring in $322 million worldwide. It also, as I saw firsthand, prompted Holocaust conversation and education in parts of the globe that had not previously hosted such discussions. 
To capture that wide audience, its approach seemed to buy into a facile Holocaust conformism that portrayed Nazis as inhuman and only certain gentiles as having actual agency. Kertész discusses this in "Who Owns Auschwitz?" where he notes that kitsch replaces a genuine sense of incomprehensible terror with a desperate — and easily graspable — false authenticity. 
"I know many will not agree with me when I apply the term 'kitsch' to Spielberg's 'Schindler's List,'" Kertész writes. "It is said that Spielberg has in fact done a great service, considering that his film lured millions into movie theaters, including many who otherwise would never have been interested in the subject of the Holocaust… Why, then, does he struggle so hard to make his representation of a world he does not know seem authentic in every detail?"
There is no more blatant tug at the heartstrings than Spielberg's "girl in the red coat." Spielberg shot "Schindler's List" entirely in black and white to show how serious it was – and to give it a faux veneer of historical authenticity. Oskar Schindler gazes from horseback on a hill down into the ghetto where Nazi troops round up the Jews. Among the frightened people we see one small girl whose coat has been given a mild red tint. It allows the audience to pick up the one detail that matters: the innocent victim (emphasized by the soundtrack that has children singing in Yiddish). This one, nameless child convinces Schindler to save his employees from the Nazi genocide. 
The scene is both powerful and hollow. The girl herself remains unknown – a cipher for innocence. Schindler, for his part, finds in this scene the motivation for the story – the rescue of his employees. But, though we learn very little about anything else that motivates him either before or after this, the scene, nevertheless, pivots us successfully with him into savior mode.
Apart from the very fact of its existence — the illocutionary force of producing a film on this topic with a director as important as Spielberg — I'd make a narrow argument for the power of a film like "Schindler's List" to use its affirmed schlock Hollywood genre to make an impact. Spielberg uses a set of recognized Hollywood tropes — what John Gross in the New York Review of Books called "high melodrama" – to frame a particular story within a shocking and abhorrent chapter in human history. In this way, he makes it easier for an audience to consume, and, by highlighting the victim in red, takes a direct route to our tear ducts. 
I'm not sure that the theoretical justification works, but that's certainly how it felt to me, in Kobe, Japan, when we saw the girl in the red coat wheeled away on a cart full of dead bodies later in the film. My friends and I already stood out as the only four gaijin (foreigners) in the cinema. But when I started crying, 273 Japanese people turned to look at me in the dark.
It's not like I thought that "Schindler's List" was authentic in any of the ways the Kertész outlines. I'd grown up with Thomas Keneally's "Schindler's Ark," the historical novel on which the film was based. I knew the Spielberg drawbacks. 
Beyond colonial distribution patterns, though, there are reasons that Hollywood genres have developed. Kitsch they may be, but their structures of sentimental storytelling are also effective. Displaying the slaughtered innocent was a blatant tear-jerker and, feeling sorry for myself, sitting next to my crutches, thousands of miles from home, my tears were jerked. And, just as "Jurassic Park" asks no one to believe in actual resurgent dinosaurs, "Schindler's List" is not intended to be a complete portrayal of the Shoah, but a narrative entry into an ineffably tragic history.
Even though I'd been a regular all year at the Kobe synagogue that had played a significant role in saving Jewish refugees from the Nazis, I felt like the only Jew in Japan during "Schindler's List." I felt the Holocaust in a familial way I hadn't during any of my academic seminars. My tears were anything but deliberate, but I felt as though their appearance helped to add to the power of the film for everyone there — "if the gaijin is crying this must be meaningful in some way." 
Being away from home, alone and helpless in certain ways, made me think about what the film meant for an audience beyond the centers of global Jewry. Yes, it had many, widely aired flaws, but every time I see the girl in the red coat, I think of the billions of people who know about the horrors of the Holocaust because of the existence of "Schindler's List." And you can't reach that many people by being subtle.