Fast Forward
Watch: Rudy Giuliani gets into shouting match at Israel parade, uses profane language
The former mayor called the bearded bystander 'as demented as Biden.'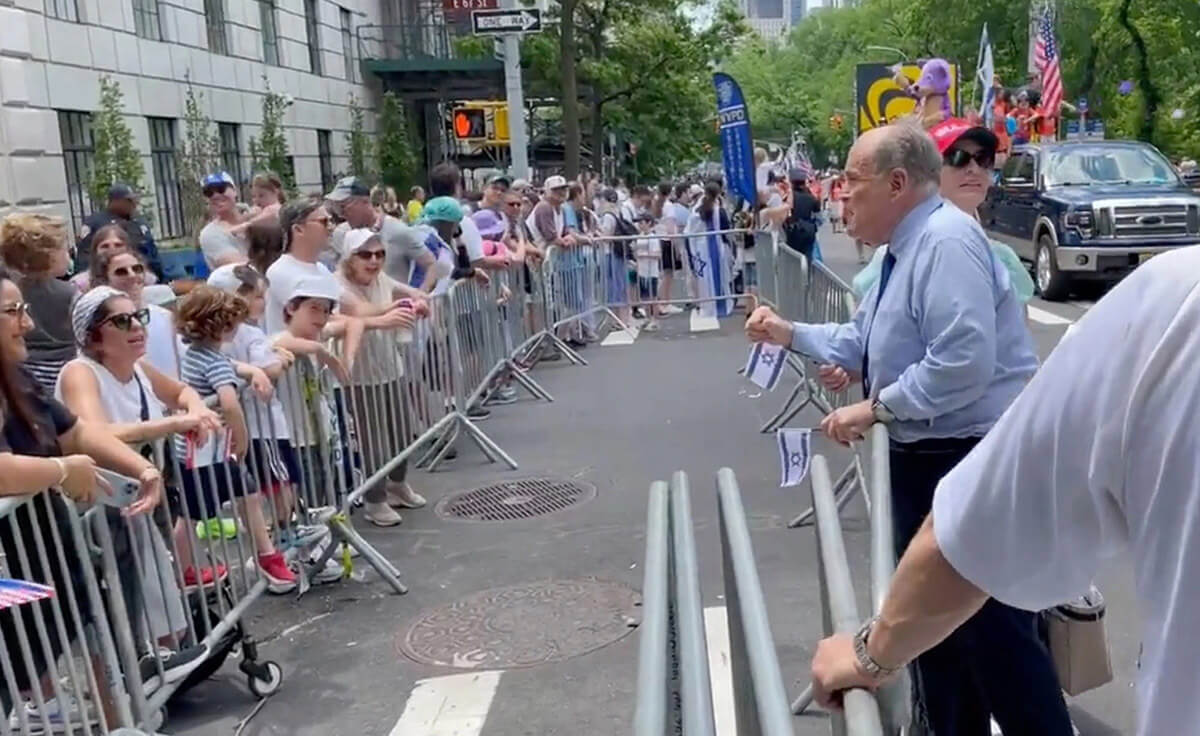 Former New York City Mayor Rudy Giuliani got into a shouting match with an onlooker during the annual "Celebrate Israel parade" down Fifth Avenue, calling the man a "jackass," "brainwashed" and "probably as demented as Biden." 
Giuliani, who helped lead the efforts to overturn the results of the 2020 election, was at the parade with his son, Andrew, who is running for governor of New York in the Republican primary next month.
In an exclusive video taken by the Forward, Giuliani could be seen approaching the barricades that separated the crowd and the marchers and arguing with a bystander about the rise in crime in New York, while holding on to an Israeli flag. 
Marching behind Mayor Adams is @RudyGiuliani who gets into a shouting match with a Democrat.

"You are a jackass… You are a brainwashed asshole… you are probably as demented as Biden," Giuliani told the guy

Watch the video 👇 pic.twitter.com/qjlTzQSP8j

— Jacob Kornbluh (@jacobkornbluh) May 22, 2022
"I reduced crime, you jackass!" Giuliani shouted at the man who was seemingly defending Mayor Eric Adams' conduct amid soaring gun violence. 
"You are a brainwashed asshole," Giuliani continued. "And you are probably as demented as Biden." 
After getting back to the route of the parade, Giuliani turned to the people accompanying him and said he wasn't going to take it without hitting back. 
The incident comes two days after Giuliani, who served as former President Donald Trump's personal attorney, met for nine hours with the House select committee investigating the January 6 insurrection of the U.S. Capitol. 
The parade, in its 58th year, was attended by senior Israeli and New York politicians, including Israeli Defense Minister Benny Gantz, Gov. Kathy Hochul and her likely Republican challenger, retiring U.S. Rep. Lee Zeldin, who wore a black yarmulke. 
Also in attendance were Mayor Eric Adams, whose aides held a banner reading "We got this, New York."