Fast Forward
Orthodox leaders: Supreme Court ruling will boost religious schools far beyond Maine
They call it a 'watershed' ruling that will support push for public funding of religious schools in New York, New Jersey and elsewhere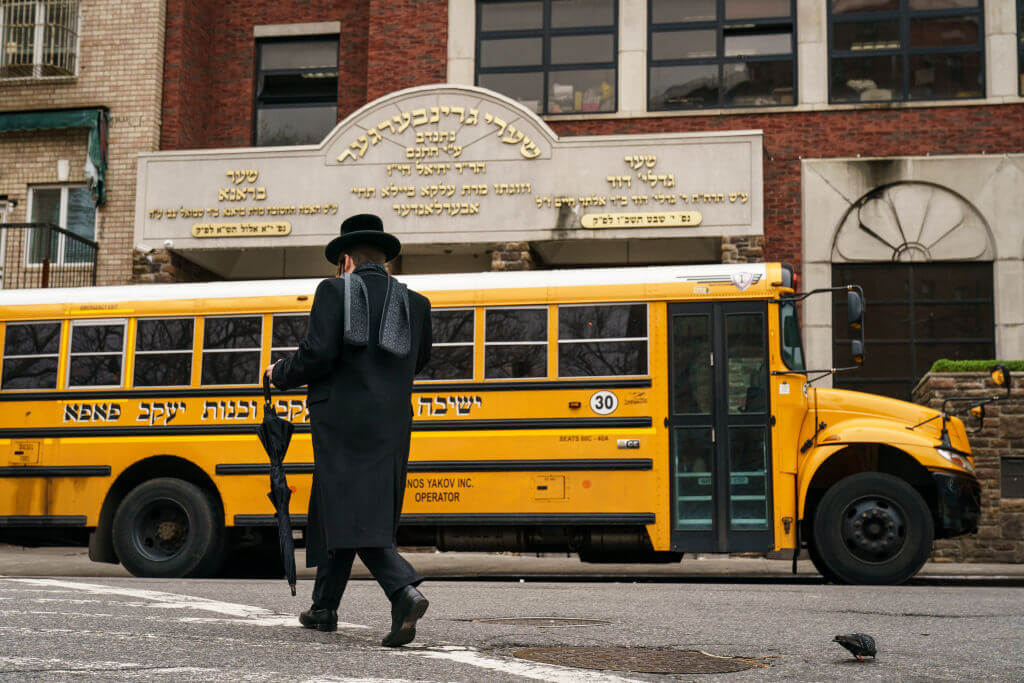 Orthodox leaders applauded Tuesday's Supreme Court ruling that Maine cannot exclude religious schools from a state program that provides tuition for other private schools. The decision, they predicted, could boost Jewish schools in other states where public dollars are currently not allowed to go toward religious school tuition and programs.
In the 6-3 ruling, Chief Justice John Roberts wrote that the Maine program violates the First Amendment's clause protecting the free exercise of religion, by discriminating against parents who chose religious over nonsectarian schools.
The Orthodox Union, which has long battled to allow tax dollars to support religious education, had filed an amicus brief in the case, Carson v. Makin.
"This watershed Supreme Court ruling opens the door for our advocacy efforts at the state and local levels in key places like New York, New Jersey, Florida, Pennsylvania and elsewhere," Maury Litwack, head of the union's Teach Coalition, said in a statement. Coalition members "will be proactively pressing for policymakers in all these states to ensure that any state and local education funding programs are fully available and accessible to nonpublic schools and their families as the Supreme Court has clearly mandated."
For many Orthodox schools though, the decision will have little impact. California, for example, does not subsidize private elementary and secondary education, so there are no state funds going to private schools now that, following the ruling, will flow to religious schools.
But the decision will matter in other states. In New York, for example, some have raised objections to a state program that funds STEM education in private schools, including religious schools. Michael Helfand, a professor at Pepperdine Law School who wrote an amicus brief on behalf of the OU in the case, said the ruling would insulate such programs from judicial challenge.
Helfand also welcomed what he sees as a broad approach of the ruling, in that it rejected the argument that sending public money to religious schools is in effect supporting religious education. Some have argued that even if public money doesn't directly pay for the teaching of religion, it can free up other school funds for that purpose.
Liberal Jews, though, have worked against state funding of religious education. Rachel Laser, president of Americans United for Separation of Church and State, wrote in The Washington Post when the Supreme Court heard the case that a ruling against the Maine program would amount to "religious coercion." Laser, former deputy director at the  Religious Action Center for Reform Judaism, noted that both religious schools at the center of the case discriminate in admissions and employment against non-Christians and LGBTQ people.
"Each of us should get to decide how — and whether — to support religion," Laser wrote. "People of faith, and those of no religion, should not have to support the inculcation of beliefs with which they disagree. It is up to parents and religious communities to educate their children in their faith."
There is only one Jewish school in Maine, the Levey Day School in Portland, which has about 65 students. Jeff Tremblay, head of the school, said he does not expect the ruling to have any effect on its operations, because the school's finances already allow it to welcome students regardless of family income level, making state funding irrelevant.
"We have a terrific tuition assistance program here," Tremblay said. If a family decides the school is a good fit,  "we can afford to have them send their children here."
He said no family had inquired about the state funding program — which applies to those who live in rural areas and are far from a public secondary schools.