Fast Forward
Zelenskyy says he is considering Israeli-style conscription in Q&A with Hebrew University students
The president also requested more support for Ukraine from Israel 'because this is a joint sorrow'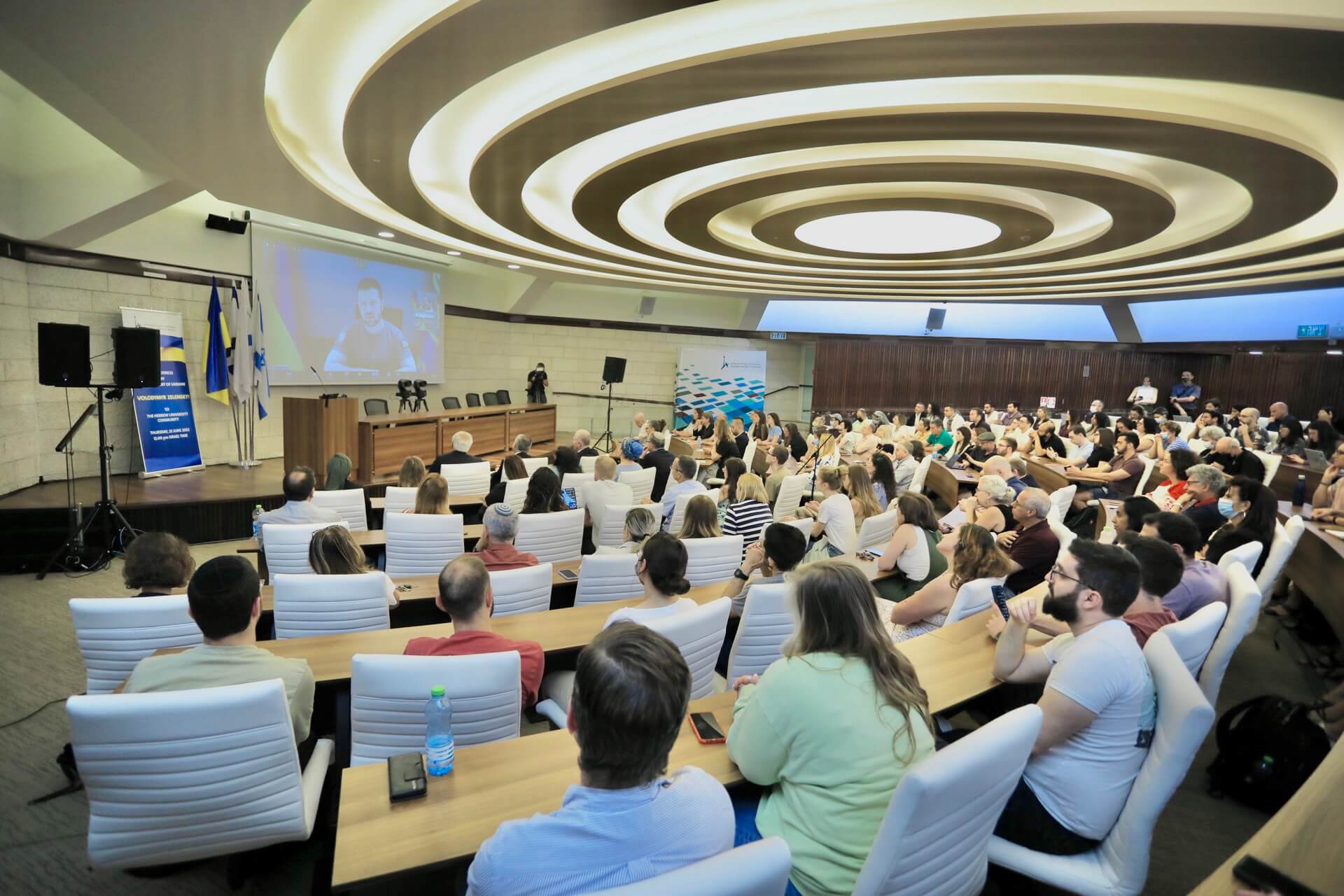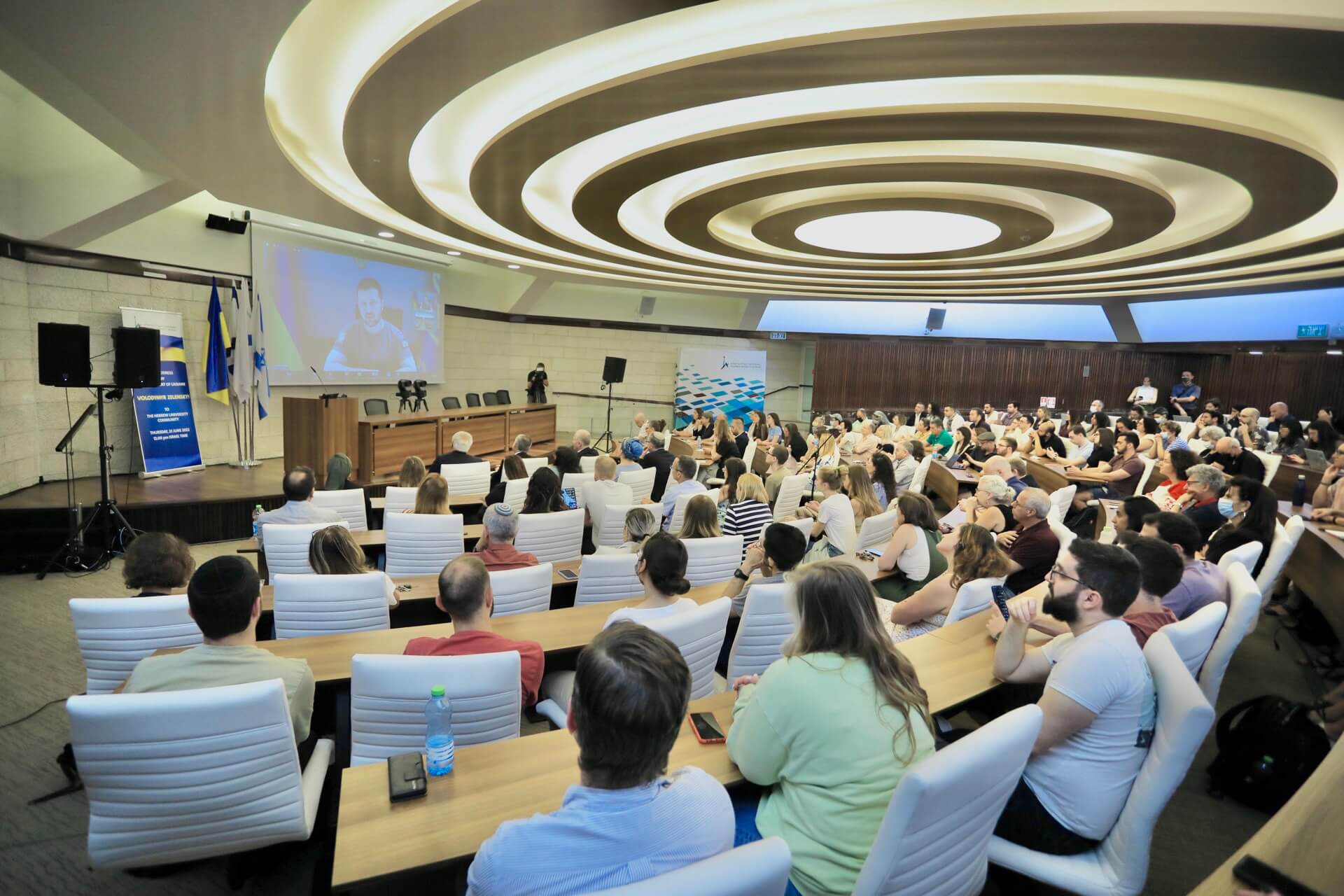 Ukrainian President Volodymyr Zelenskyy addressed students at the Hebrew University of Jerusalem in a live speech from Kyiv on Thursday.
Wearing his signature olive-green military-issue T-shirt, Zelenskyy, who has been hailed as a contemporary Jewish hero and scrappy, modern-day Maccabee, appealed to Ukraine and Israel's shared history, values and future. He noted that his office is near where Golda Meir, the fourth prime minister of Israel, and Sholem Aleichem, the Yiddish writer, grew up before fleeing antisemitic violence.
Zelenskyy spoke via video conference from his war-torn country, which is poised to be accepted as a candidate to join the European Union as it marks four months since Russia invaded on Feb. 24. "When the war will end, and I believe it will, we will have to look into each other's eyes for many years to come, especially your generation, because students are the future," he said. "Please remember how much we are linked, how close our ties are."
After his speech, Zelenskyy answered questions from the audience. Here are his responses to four things they asked him.
1. On the potentially Israel-like future of Ukraine's military
Wearing a blue and yellow heart, one student, whose father is fighting in the war, phrased her question more as a statement, saying that Ukrainian teenagers should be required to enlist in the military. "Because of this current reality and having such a neighbor, it is quite logical," she said.
Zelenskyy said that Israel's mandatory military service for all citizens over the age of 18 is "one model we are considering in the defense reform that we are preparing," referring to an overhaul of the nation's border and air security he envisions once Ukraine rebuilds after the war. 
While he wasn't sure that Israel's system "will be the exact model that we will follow," he said earlier in the address that his postwar plan is similar to "things happening in your beautiful country."
There is no mandatory draft in Ukraine, but under martial law, most men 18-60 are currently banned from leaving the country should they be called to serve in the war.
2. On the bombing of Jewish sites
One student asked Zelenskyy how Jewish organizations and activists have responded to the "shelling of sites of Jewish heritage," referring to Russian missile strikes on Jewish cemeteries and synagogues, tombs of significant Jewish figures and Holocaust memorial sites like Babyn Yar. 
Zelenskyy noted the support he received from the U.S. and the World Jewish Congress, but said he would have also appreciated more support from the Israeli government "because this is a joint sorrow."
"It's just as painful to us here in Ukraine as it is in Israel," he said. 
While he said he wasn't "trying to hint anything," in his opening speech he faulted Israel for not joining other countries in imposing sanctions against Russia.
3. On continuing to help Ukraine
A student from Kharkiv, which has withstood some of the heaviest attacks since the war escalated, noted that her parents are still there and asked: "What should be done so that people would not start to forget that the country is at war?"
Zelenskyy replied that, though for many around the world the war has become background noise, Ukraine's warriors and civilians still need medication, water, food and fuel. "No matter where you are, where you study, you can help those that are fighting," he said. 
That could include collecting donations online, he said, as well as taking to social media to "spread the truth and information about the war around the world.
4. On Russian propaganda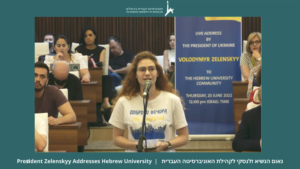 Another student from Kharkiv asked Zelenskyy how the president is dealing with journalists in his own country who support the Russian invasion. One media outlet, the Southern Front, moved into Berdiansk soon after the port city was occupied by Russian troops and distributed pro-Kremlin propaganda and disinformation across a website, YouTube and the messaging service Telegram.
Before Zelenskyy could answer, he asked the student to repeat the question slowly — and in both English and Ukrainian. "I'm sorry, I'm a bit nervous," she said. "It's the first time I talked to the president."
He replied that journalists have freedom of speech and that, as he resists the Russian assault, he doesn't have time to fight any additional wars. "Talking will always just be talking," he said. "The most important thing is to finish this war, to win and to preserve as many lives as possible."