Fast Forward
Holocaust 'doesn't even compare' to abortion deaths, says GOP nominee for Illinois governor
Darren Bailey is facing Democratic incumbent J.B. Pritzker, who is Jewish, in the general election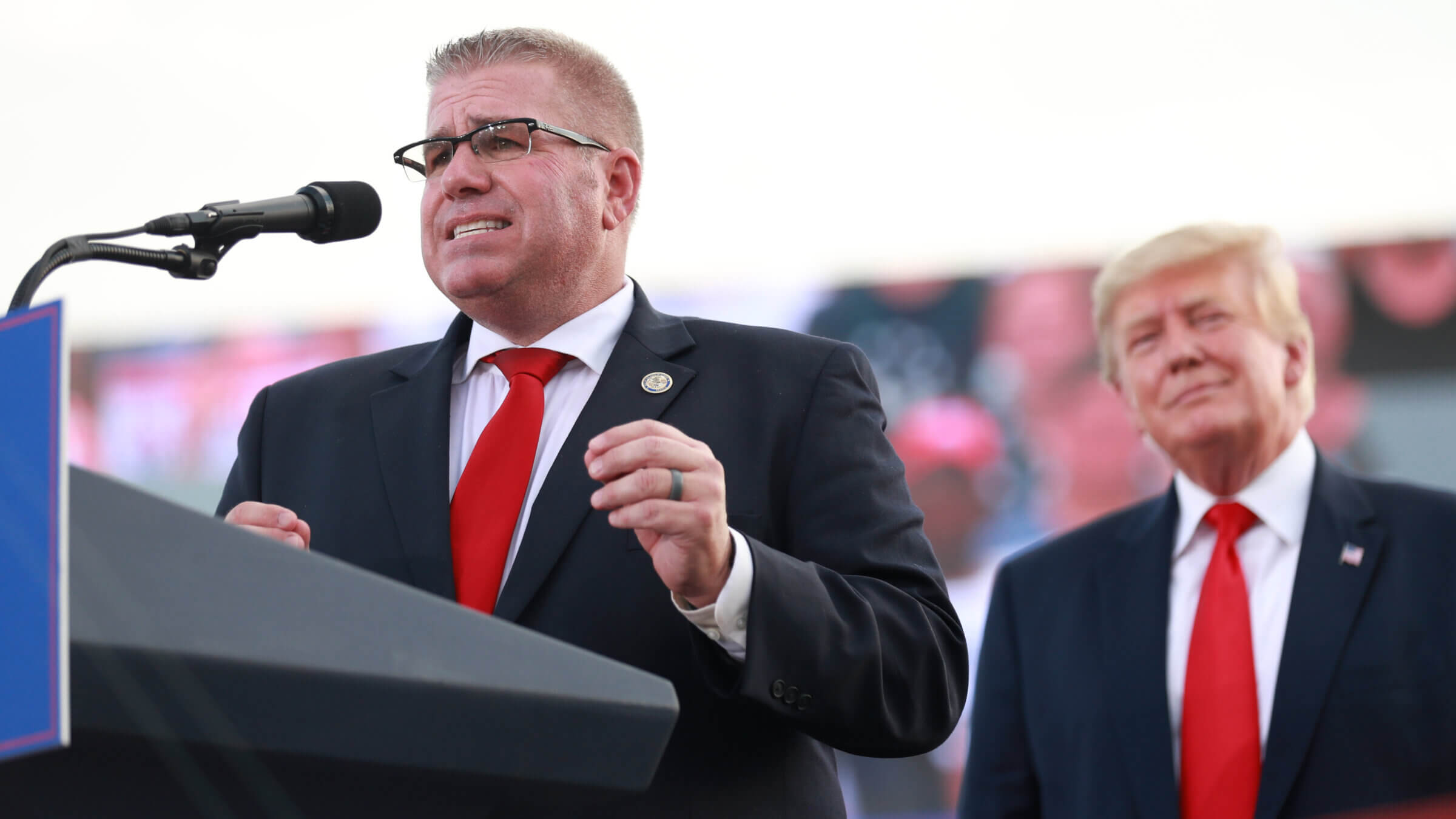 Darren Bailey, the Republican nominee for Illinois governor, said in a video posted to Facebook in 2017 that the Holocaust "doesn't even compare" to abortion on the scale of human atrocities.
"I believe that abortion is one of the greatest atrocities of our day and I believe it's one of the greatest atrocities probably forever," Bailey said in the video. "The attempted extermination of the Jews of World War II doesn't even compare on a shadow of the life that has been lost with abortion since its legalization."
A state senator representing southeast Illinois, Bailey was endorsed by former president Donald Trump in the GOP primary. Bailey defeated his moderate opponent after receiving a boost from Democratic groups betting that he would be a weaker candidate in the general election against Democratic incumbent J.B. Pritzker. Bailey represents the same region as U.S. Rep. Mary Miller, who praised Nazi leader Adolf Hitler at a rally near the Capitol on the morning of January 6, 2021. Miller later apologized.
Bailey made the comments about abortion during a Facebook livestream posted during his successful campaign for the state house, when he defeated a seven-term incumbent. He cited Psalms 139 as evidence that God believes life begins at conception, and said that if elected he would "not compromise" on abortion. In the video, Bailey was criticizing then-governor Bruce Rauner, a fellow Republican, for signing a bill that expanded taxpayer funding for abortion.
Bailey said in a statement to the Forward Tuesday afternoon that he did not mean to minimize the Holocaust.
"The Holocaust is a human tragedy without parallel," Bailey said. "In no way was I attempting to diminish the atrocities of the Holocaust and its stain on history. I meant to emphasize the tragedy of millions of babies being lost."
"I support and have met with many people in the Jewish community in Illinois and look forward to continuing to work with them to make Illinois a safer and more affordable place for everyone," he added.
The Democratic Governors Association ran advertisements during the Republican primary effectively boosting Bailey in his race against Richard Irvin, the mayor of Aurora in suburban Chicago and an early favorite in the contest. Bailey has called for kicking Chicago out of the state.
"Don't expect Bailey to moderate his views to attract suburban voters," Mark Brown, a columnist for the Chicago Sun-Times, wrote shortly after the June primary. "His success to date has been predicated on being his genuine self, which has attracted a highly motivated group of supporters."
Bailey found himself in hot water for comments made in another Facebook Live video last month in which he said, less than two hours after the deadly mass shooting in Highland Park, a Jewish suburb of Chicago, that people should "move on" and "celebrate — celebrate the independence of this nation." He apologized for the comments.
Pritzker, the Jewish heir to the Hyatt Hotels fortune, is widely expected to prevail in the race this fall.
Update: This article has been updated to include comment from Darren Bailey