Fast Forward
NY governor signs Holocaust education bill, citing spike in antisemitism
'This is not Nazi Germany,' Kathy Hochul said. 'I don't want the citizens of my state to live in fear ever'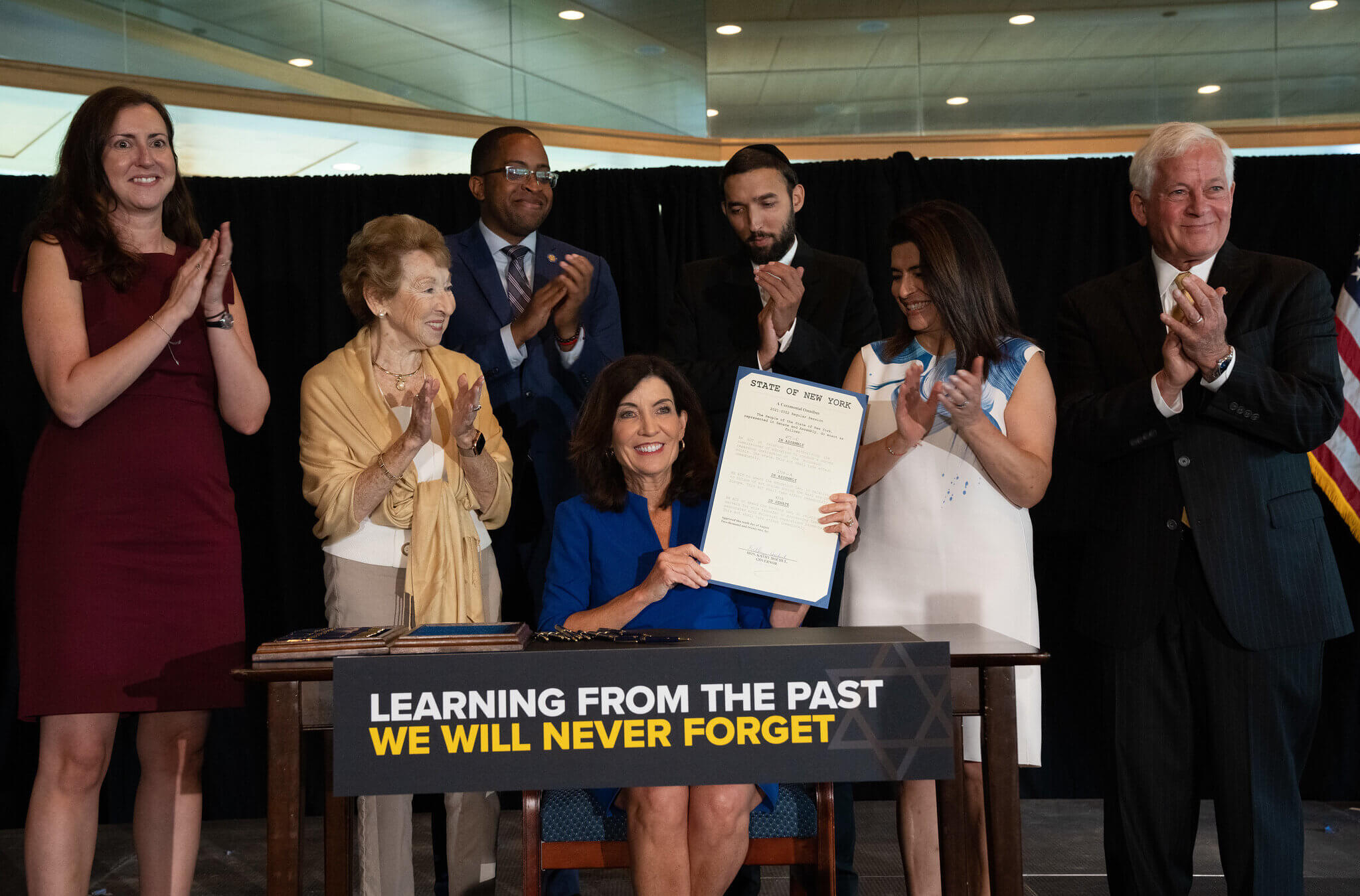 New York Gov. Kathy Hochul on Wednesday signed a legislative package that would ensure schools provide high-quality Holocaust education and also provide financial assistance to the state's 40,000 remaining Holocaust survivors. 
"Never forget is more than a slogan, it's what we preach, but I want to make sure it is really being taught," Hochul said at a signing ceremony of a new bill that ensures compliance with Holocaust education requirements in secondary schools. It passed the state legislature with unanimous support in May after a long-delayed process. "We need to teach people when they're still young because we cannot have these horrors repeated," she said. 
New York is one of 23 states requiring public schools to teach the Holocaust. The legislation — sponsored by state Sen. Anna Kaplan from Great Neck and Assemblywoman Nily Rozic from Queens, both of whom are Jewish — orders the commissioner of education to conduct a survey on compliance with the requirement and submit its findings to the governor and state legislature. 
Hochul told the Forward she wants to see an annual report. "Someone could check the box and say, 'Yes, we are teaching it,'" she said, "I'm going to want proof of that." Hochul said she will measure success by seeing a stronger accountability system and knowing she did everything possible to "protect New Yorkers from physical harm and psychological anguish that they go through knowing that there are people who don't believe that the Holocaust occurred." 
The governor also signed a bill that would require the state's department of financial services to maintain a list of banks that have agreed to waive wire transfer and other processing fees for Holocaust reparation payments. Another piece of legislation signed into law would require museums to acknowledge art stolen from Jews during the Nazi era in Europe. 
The ceremony, held at the Museum of Jewish Heritage in Lower Manhattan, was attended by the lawmakers who sponsored the bills: Reps. Jerry Nadler, the informal dean of the House Jewish Caucus, and Carolyn Maloney, who sponsored the federal Holocaust education bill that passed in 2020, along with Jewish leaders and Holocaust survivors. 
In her remarks, Hochul addressed at length the rise in antisemitic attacks across the state. New York led the nation with 416 reported antisemitic incidents last year. 2022 is on track to be higher: Hochul said 577 incidents have already been reported this year. The NYPD tallied 15 attacks against Jews in New York City just last month. 
"As governor of a state with 40,000 Holocaust survivors and the largest Jewish population outside of Israel, I take this hatred personally because I feel wounded as a human being to know that someone else is harmed in our state," Hochul said. "And I'll continue to fight back with the full force of our government, not just to combat it and talk about it, but to criminalize it, prosecute the perpetrators and stop it in its tracks."
"This is not Nazi Germany. It's the United States of America," she added. "I don't want the citizens of my state to live in fear ever."