Fast Forward
Trump defends Kanye West in the wake of his own scorning of American Jews
The former president said West likes him very much and is often misinterpreted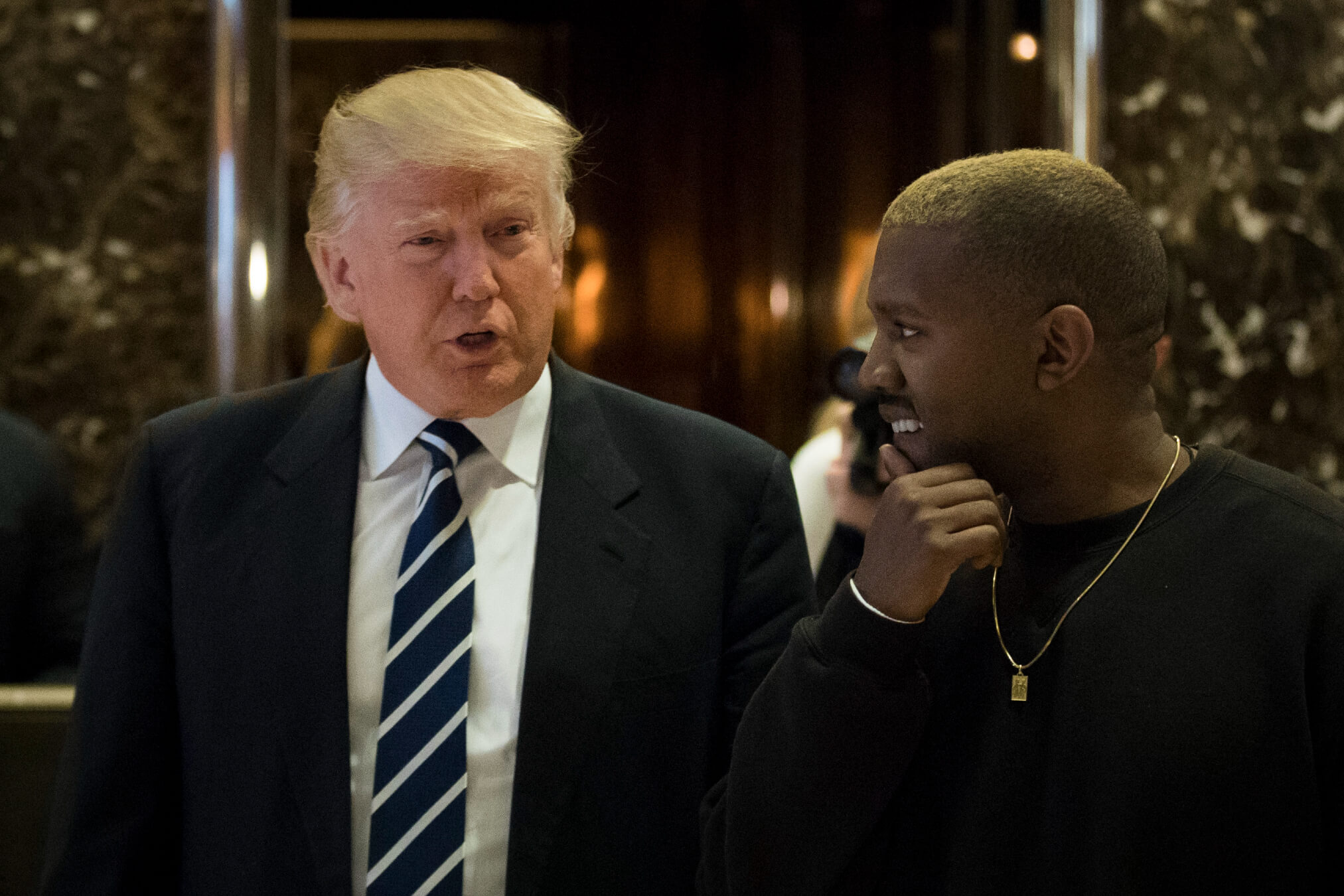 Days after his own derogatory tweet about American Jews, former President Donald Trump on Tuesday came to the defense of rapper Kanye West, whose recent antisemitic screeds have been widely denounced.
During an appearance on the conservative Salem News Channel, Trump said he "hadn't really seen" the rapper's recent statements but that he had watched West's interview with Fox News host Tucker Carlson, which aired on Oct. 6 and 7. In the interviews, West, who legally changed his name to Ye in 2018, promotes age-old antisemitic tropes about Jews.
Trump downplays Kanye West cursing out his son-in-law Jared Kushner and making anti-Semitic comments:

"I did watch the Tucker Carlsen interview, and he was really nice to me … Sometimes he'll make a statement, and a lot of people will think it's worse than he means it to be." pic.twitter.com/mjbMHZmx5v

— The Recount (@therecount) October 18, 2022
Trump on Salem News said West thinks highly of him and is often misinterpreted.
"He was really nice to me, beyond anybody. He was great to me and he was great to the MAGA movement which was really impressive," Trump continued.
Trump said West often "will make a statement and a lot of people will think it's worse than he means it to be."
"He was really high on a guy named Donald Trump," Trump added.
West's antisemitic remarks have sparked outrage, with public officials, celebrities and fans of his music calling him out. Trump too has been widely condemned for disparaging American Jews, who he wrote are not appreciative of his support for Israel — he warns them to "get their act together." One notable exception is the Republican Jewish Coalition, which has not commented on Trump's remarks.
West's anti-Jewish diatribes
In his two-part interview with Carlson, West railed against abortion, derided former President Bill Clinton and spread misinformation about the death of George Floyd. VICE News later acquired unaired portions of the interview in which West said Planned Parenthood was founded to "control the Jew population," which he interpreted to be "the 12 lost tribes of Judah, the blood of Christ, who the people known as the race Black really are."
In the days after the interview aired, West doubled down on his attacks on Jews — on Twitter, podcasts and YouTube — accusing them of controlling the media and bilking Blacks. On Twitter he wrote he was going "death con 3" against Jewish people.
Trump scorned American Jews himself on Sunday, posting on Truth Social, the social media platform he owns.
"No President has done more for Israel than I have. Somewhat surprisingly, however, our wonderful Evangelicals are far more appreciative of this than the people of the Jewish faith, especially those living in the U.S.," he wrote.
He boasted about his approval rating in Israel, saying he could "easily be" prime minister.
"Jews have to get their act together and appreciate what they have in Israel — Before it is too late!," Trump, who is banned from Twitter and several other media platforms, concluded.
Condemnations and silences
Jewish groups including the Anti-Defamation League and the American Jewish Committee have strongly denounced West's antisemitic diatribes and Trump's post.
But throughout the controversy, the Republican Jewish Coalition, which describes itself as "unique bridge between the Jewish community and Republican decision-makers," has remained quiet on social media and on their website, issuing no statements addressing the comments made by Trump or West.
Phone calls and emails from the Forward requesting comment were not answered.
The lack of response from @rjc to Trump's most recent comments on American Jews shows you what a foolish pack of cowards they are.

— (((Joshua Malina))) (@JoshMalina) October 17, 2022
Of the two Republican Jewish U.S. House members, at least one — Lee Zeldin of New York — is associated with a condemnation of  West's antisemitism. Zeldin, the GOP nominee for governor, co-chairs the Bipartisan Congressional Caucus on Black-Jewish Relations. The caucus issued a statement on Oct. 12.
"This kind of inflammatory rhetoric and perpetuation of stereotypes fuels violence amid a rise in antisemitism and racism throughout our country," it read.
A spokesperson for Zeldin did not reply to an email requesting comment on Trump's defense of West and an email to the spokesperson of the other Jewish Republican in the House, David Kustoff, had not been answered by publication time.