Fast Forward
Jewish Democrats call on Oz to disassociate himself from Mastriano
Republican Senate candidate Mehmet Oz hasn't condemned gubernatorial candidate Doug Mastriano for his antisemitic statements and association with Gab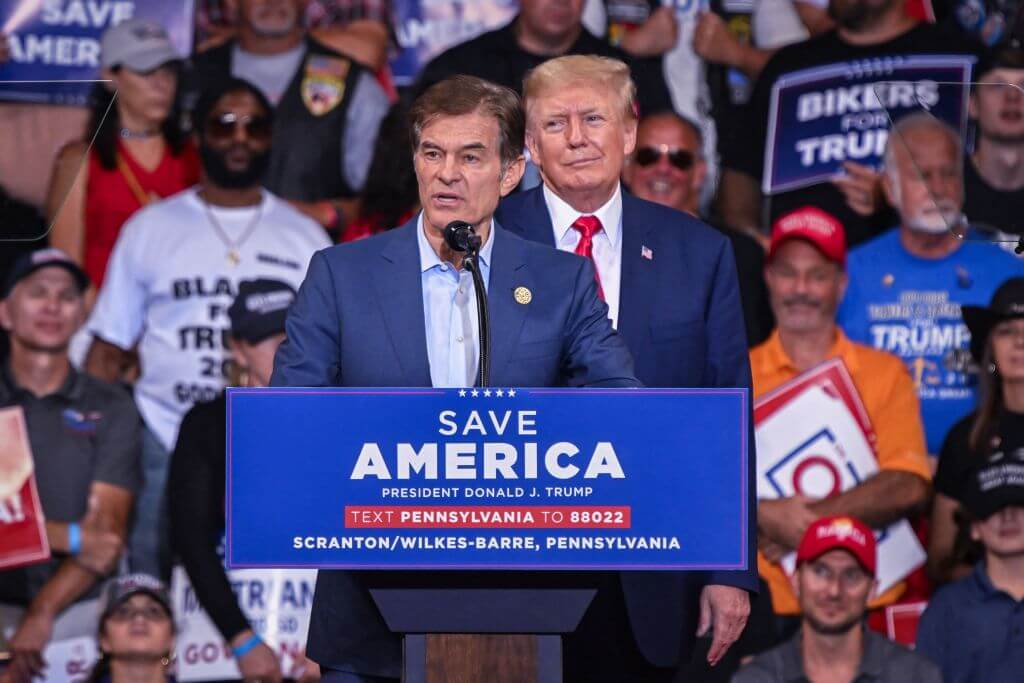 A number of Democratic-affiliated Jewish groups are calling on Republican Senate candidate Mehmet Oz of Pennsylvania to disassociate himself from gubernatorial candidate Doug Mastriano, a Christian nationalist who has repeated antisemitic tropes on the campaign trail in recent weeks. 
"Despite the recent rise in antisemitism, Oz has refused to denounce Mastriano's hate speech and instead continues to endorse and support him," read a Monday statement signed by leaders of J Street, Democratic Majority of Israel, Jewish Democratic Council of America, Democratic Jewish Outreach PA and Pittsburgh Jews Unite Against Extremism. 
Mastriano, a leader of the "Stop the Steal" movement aiming to overturn the results of the 2020 presidential election, recently attacked his Democratic rival, Josh Shapiro, who is Jewish, for sending his kids to a "privileged, exclusive, elite" Jewish day school. He also pushed back against mounting pressure since winning the May primary to disassociate himself from Gab, an antisemitic social media platform. One of Mastriano's top advisers, Jenna Ellis, recently mocked Shapiro for highlighting his Judaism, saying he is "at best a secular Jew." 
Oz is expected to campaign with Mastriano, along with former President Donald Trump, on Saturday in Latrobe, Pennsylvania. Oz is locked in a dead heat with John Fetterman, the state's lieutenant governor and the Democratic nominee for the open seat vacated by Republican Sen. Pat Toomey, according to recent polls.  President Joe Biden and former President Barack Obama will hold a get-out-the-vote rally for the Democratic ticket in Philadelphia on Saturday.
In a press conference on Saturday, Mastriano refused to back down from his attack on Shapiro, saying, "I have never mentioned his school's religious affiliation." Mastriano accused Shapiro of falsely alleging that he was being extreme and antisemitic. "There's not an inch of that in my system or blood," Mastriano said. 
When an Israeli reporter asked Mastriano about his association with antisemites and use of antisemitic tropes, Mastriano's wife stepped in and said: "We probably love Israel more than a lot of Jews do."
In their statement on Monday, the Jewish groups said Oz is "dangerous and extreme" for declining to condemn Mastriano. 
Fetterman also blasted Oz calling the alliance with Mastriano "disturbing" and "disqualifying."