Fast Forward
PA governor race: Mastriano attacks Shapiro for going to Jewish day school
'He grew up in a privileged neighborhood and attended one of the most privileged schools in the nation as a young man,' said the GOP nominee, a Christian nationalist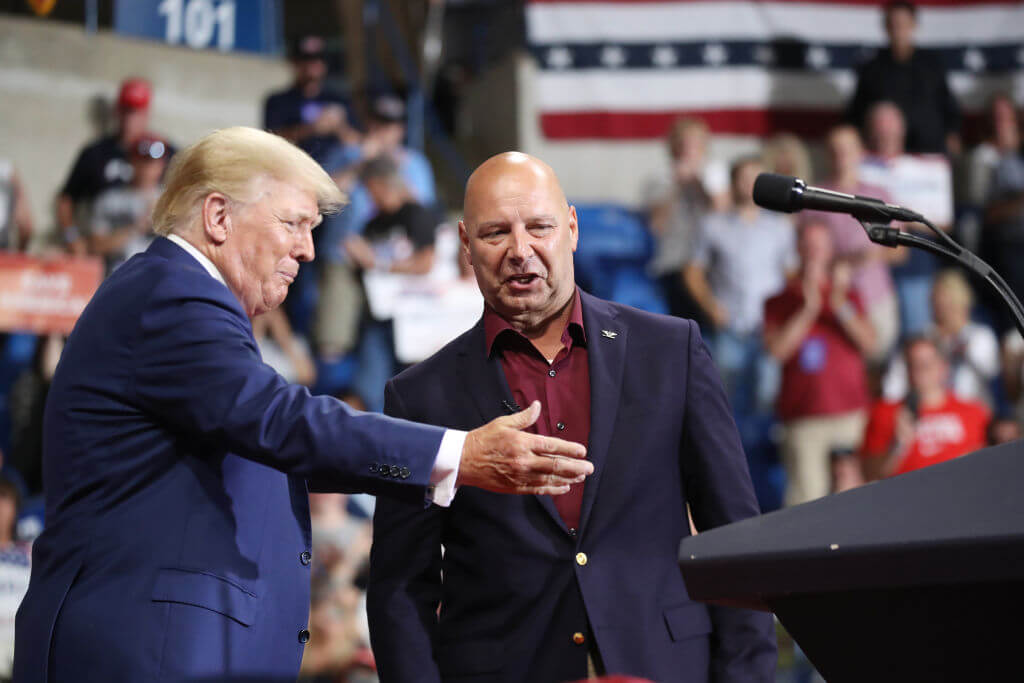 State Sen. Doug Mastriano, the Republican nominee for governor of Pennsylvania, attacked the state's Attorney General Josh Shapiro, his Democratic rival, on Wednesday for going to Jewish day schools and sending his kids to one.
In a campaign speech streamed live on his Facebook page, Mastriano, a self-declared Christian nationalist, suggested that Shapiro cannot  relate to ordinary voters because he grew up "in a privileged neighborhood" and went to "one of the most privileged schools in the nation as a young man." He noted that Shapiro's four children attend the same "privileged, exclusive, elite school," said Shapiro therefore has "disdain for people like us." 
In separate remarks earlier in the day, Mastriano said that Shapiro grew up "in a wealthy, protected neighborhood." 
Shapiro grew up in Dresher, a community of about 5,000 people in Montgomery County, north of Philadelphia. He went to the Forman Hebrew Day School and Akiba Hebrew Academy, now known as Jack M. Barrack Hebrew Academy. 
On Twitter, former Obama administration official Eric Columbus  reacted to video of the remarks by saying: "This is an antisemitic dog whistle from Mastriano."
Jake Tapper went to the same school
CNN host Jake Tapper, a fellow Akiba alumnus, said Thursday on his show that the school could be called  "privileged" because it's a private school, but added: "I don't think I have ever heard Mr. Mastriano describe any other Pennsylvania parochial school in that way." 
Tapper said that when he studied at Akiba in the 1980s, a lot of students received financial aid, including "a lot of kids who, with their parents, had escaped antisemitism in the Soviet Union and were trying to build better lives for themselves in the Philadelphia area." A school official said that more than 60% of the current student body gets tuition assistance. 
"I should also note that contrary to what Mr. Mastriano suggested, the Jewish values taught there did not teach disdain," Tapper said in a four-minute monologue. "In my experience, they taught community and charity and respect for all faiths and nationalities, races, creeds and colors; love of the United States love for our fellow Americans. So I'm not sure what Mr. Mastriano means when he refers to people like Josh Shapiro having disdain for people like us. The only disdain I ever felt there was for antisemites." 
Shapiro's Jewish identity has already become a talking point in the race, largely because of Mastriano's open association with far-right and antisemitic groups. Several prominent Jewish Republicans have broken ranks to back Shapiro due to Mastriano's relationship with Gab, a social media platform rife with antisemitism, and which was used by Robert Bowers, the man who killed 11 Jews at the Tree of Life synagogue in Pittsburgh in 2018. 
Mastriano, who attended the march to the U.S. Capitol on Jan. 6, has compared that day's riot to the 1933 Reichstag fire, likened Democratic gun-control proposals to Nazi policies and referred to abortion as a "barbaric holocaust." He launched his campaign with a shofar blast courtesy of a man named "Pastor Don," who wore a Lion of Judah Messianic prayer scarf. Mastriano has called the separation of church and state a "myth." 
Mastriano is backed by U.S. Rep. Marjorie Taylor Greene, a far-right conspiracy theorist who has a history of making antisemitic statements. She recently compared President Joe Biden to Hitler. 
The Pennsylvania race is perhaps this fall's most closely watched gubernatorial battle in the country because a win by Mastriano would put a 2020 election denier in charge of a key battleground state's election system. 
A recent poll showed Shapiro with a double-digit lead over Mastriano.