Fast Forward
Notorious bigot Nick Fuentes suspended from Twitter a day after being reinstated
Fuentes became more prominent after befriending Kanye West and dining with Donald Trump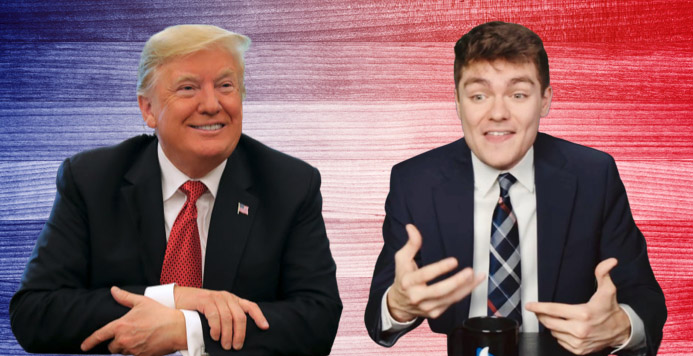 White supremacist Nick Fuentes' return to Twitter was a brief one: His account was suspended just a day after being reinstated. 
Fuentes celebrated his restored account by tweeting antisemitic and offensive posts, including a GIF celebrating Kanye West's now-infamous "death con 3" tweet. West, the disgraced rapper who now goes by Ye, brought Fuentes to dine with former President Donald Trump last November.
Trump later said he did not know who Fuentes was but reportedly avoided criticizing him for fear of alienating Fuentes' fan base. 
The meal at Mar-a-Lago came during a spree of antisemitic media appearances by Ye, culminating in an appearance on Alex Jones' InfoWars, in which he was joined by Fuentes. During that appearance, Ye denied the Holocaust happened and said "I love Hitler."
Trump later said West made no antisemitic comments during the dinner and claimed to be unaware of who Fuentes was, despite the latter being one of the most enthusiastic supporters of the Stop the Steal campaign. Fuentes was an enthusiastic supporter of the Jan. 6 Capitol riot.
Other posts during Fuentes' short-lived return to Twitter included references to a "Globalist American Empire" and "Zionist Occupied Government." Both terms are dog whistles often used for Jews and are par for the course for Fuentes, who has become well known in far-right groups for his livestreamed show in which he has denied the Holocaust and called for the death of "globalists."
He was originally banned from Twitter in July 2021 for repeated violations of rules against hate speech. He was banned again after starting a new account shortly after Elon Musk's acquisition of the platform. Fuentes joins a long list of white supremacists and antisemites who have been reinstated to Twitter since Musk took over.