Fast Forward
AIPAC leadership met in Jerusalem by hundreds of Israeli protesters
Demonstrators demanded the influential pro-Israel lobby group take a side in the turmoil now roiling the country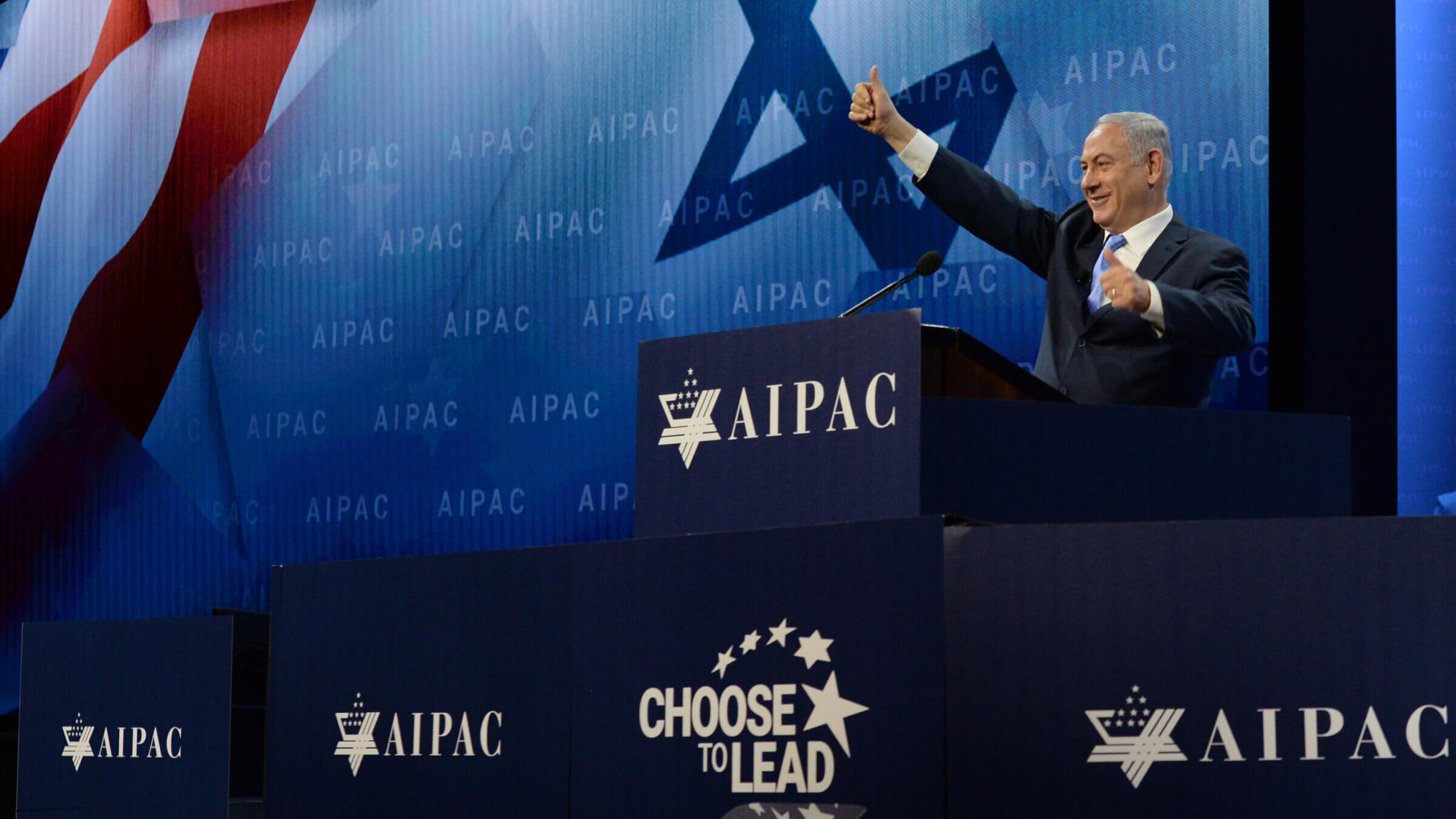 JERUSALEM — About 400 people Monday evening protested outside the Jerusalem hotel where leaders of the American Israel Public Affairs Committee are staying, condemning AIPAC for failing to speak out against the Israeli government's contentious judicial overhaul plan. That plan, which opponents say will compromise Israel's democracy, has fueled 11 weeks of nationwide protest.
The senior AIPAC officials, on their annual mission to Israel, are expected to meet with Israeli Prime Minister Benjamin Netanyahu and other Israeli leaders. 
"It is time for AIPAC to join us as a strong partner for a democratic Israel," the organizers of the protest said in a statement. "Being one of our biggest allies and lobbying groups in the U.S., AIPAC can no longer remain silent about the legal revolution that threatens Israel's existence as a democratic state."
But AIPAC showed no inclination to join the many Jewish American leaders, secular and religious, who have asked Netanyahu to back down from the judicial reform plan, which they fear will dismantle the government's system of checks and balances and further empower far-right ministers who take a hard line on issues that matter to secular Jews and Palestinians.
"There is a vigorous debate underway in Israel on this issue, which is reflective of the Jewish state's robust democracy," AIPAC spokesperson Marshall Wittman told the Forward. "Our focus will continue to be ensuring that the U.S.-Israel relationship remains strong and that our ally has the necessary resources to defend itself against growing threats, as Iran accelerates its nuclear program and expands its military alliance with Russia."
The protesters, who gathered outside the Orient Hotel, where the delegation is staying, waved Israeli flags and blew horns as they chanted pro-democracy slogans that have become the rallying cry of the movement against the coalition government that formed after Netanyahu, known as Bibi, won a sixth term in November. The demonstrators' signs read:
"AIPAC: Don't support dictators"
"AIPAC: be a true friend. Tell Bibi to stop now" 
"Theocracy is not a Jewish-American value."
One protester held up the image of AIPAC's chief executive, Howard Kohr, captioned "Howard the coward Kohr. Soon there will be no Israel to lobby for." Another sign described the moment as "Kristallnacht 2023."
Protest momentum
In recent weeks the crowds protesting Netanyahu and his coalition have swelled. An estimated 500,000 Israelis taking to the streets on Saturday. A recent survey, conducted by the Viterbi Family Center for the Israel Democracy Institute, showed that at least 18% of Israelis, including 14% of Arab Israelis, have participated in one or more of the protests against the judicial overhaul. The plan would give more power to the coalition government on the committee that selects judges and allow the override of court rulings on legislation with a parliamentary majority.
Demonstrators have also spread to major cities across the U.S., though in relatively lower numbers. 
Tami Rubinek, who came to Jerusalem from Tel Aviv to join the protest, said she has never before been as moved to demonstrate. She said she wants American Jews "to be much more opinionated" about the crisis "if they care about Israel." 
On Sunday, hundreds assembled in Washington, D.C., as one of the government's senior cabinet ministers, Bezalel Smotrich, addressed a conference hosted by Israel Bonds weeks after saying a West Bank Palestinian village should be "wiped out." He apologized for it. Protesters have also gathered in New York and Philadelphia.
"When I lived in America I thought our job was to support Israel at all costs," said Rabbi Loren Sykes, a Chicago native who made aliyah nine years ago and is the principal of the Union for Reform Judaism's Heller High school in Jerusalem. "Now that I live here, I know that supporting Israel at all costs means letting us know when we are making a mistake." He said he hopes all of his friends who are supporters of Israel "will call their consul generals, ambassadors and representatives and raise their voices against this misguided legislation." 
A contentious plan
The coalition government has advanced in recent days key parts of the reform plan that will weaken Israel's Supreme Court, which many see as a check on Netanyahu.
Attorney General Gali Baharav-Miara has barred Netanyahu from directly dealing with the government's judicial overhaul plan under a conflict of interest arrangement he signed in 2020 amid his ongoing corruption trial. The 120-member Knesset voted Monday night on legislation that would limit the attorney general's power to declare the prime minister unfit for office over conflict of interest matters. The bill passed in its first reading with 61 members in favor. 
Speaking at the Knesset on Monday, Netanyahu reiterated his call for dialogue, but pushed back at criticism over his reform plans, saying it's being driven by "leftist" and "biased media channels." He cited a Wall Street Journal editorial that opined that "Israel would be made more democratic, not less, and the judicial safeguards would remain."
Earlier in the day, Yair Lapid, the opposition leader, said Netanyahu has rendered himself impotent. "The country is falling apart around him and he is unable to do anything," Lapid said. He said that as a result "the Americans simply refuse to help this government."
Also on Monday, more than 400 Israel emissaries who represent national institutions released an open letter urging the government to freeze the legislation — which coalition leaders have refused — and enter negotiations with the opposition. 
Speaking to the Forward as the Knesset debated the legislation, Danny Danon, a member of the ruling Likud Party, said he's "aware of a lot of the concern from our friends around the globe" but is "telling them first to be patient to see the endgame."
Danon, the former Israeli Ambassador to the U.N., is one of four bipartisan Knesset members, and one of two in his own party, who issued a statement outlining steps for the Knesset to adopt moderate reform.
"I can tell that our enemies don't make the distinction between left or right, and those supporting the reform or are against reform," he said. "I think we should have that responsibility to try to keep the disputes under control." 
Danon said even the Americans have come to appreciate the democracy in Israel. "Our democracy is very strong, it will overcome this crisis," he said.