Fast Forward
'We don't live in fear': Another antisemitic crime in Florida, this time at a synagogue
The state has become a hotbed for hate groups, but the latest attack is a first for the area, congregation says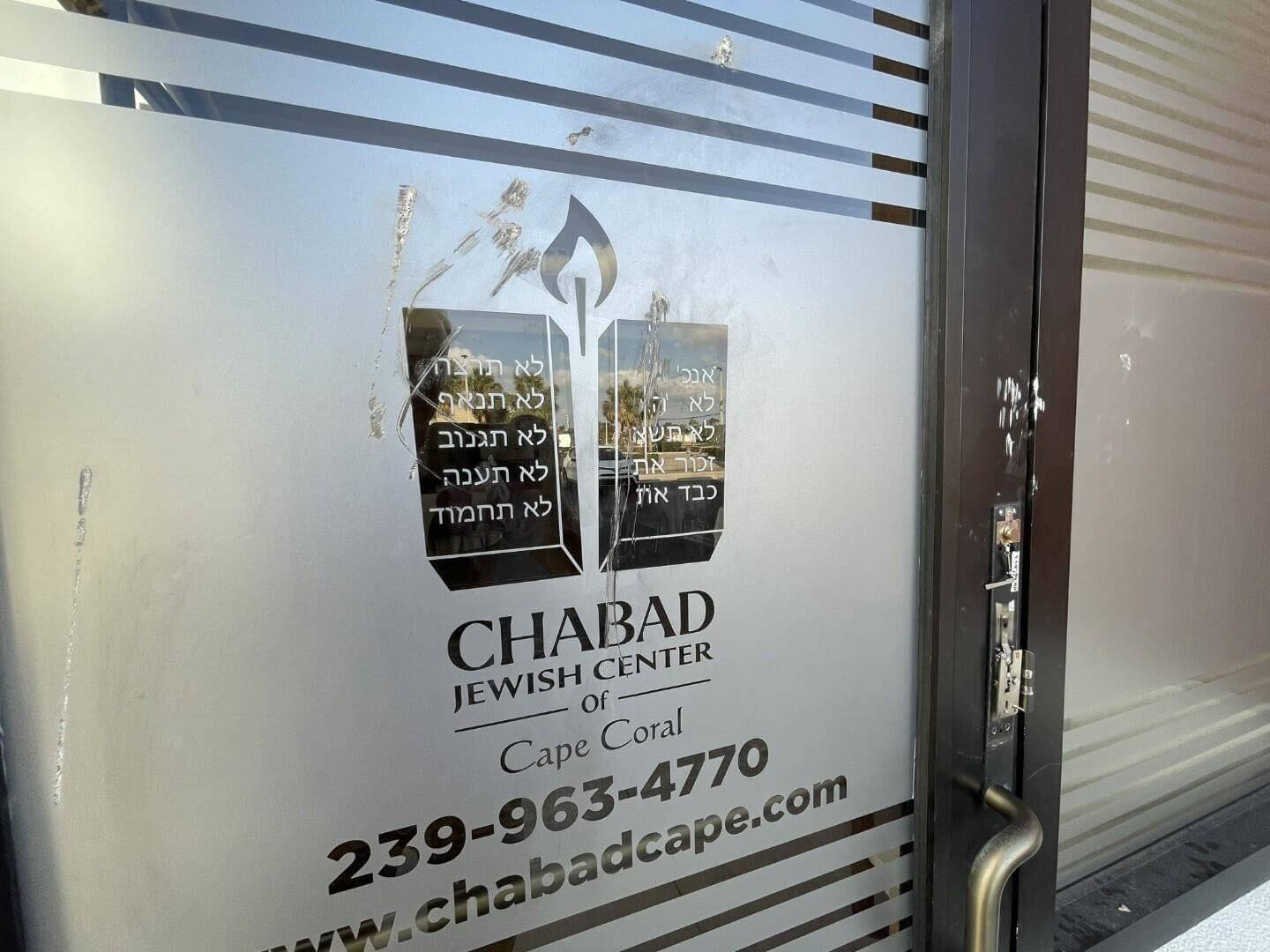 A Florida synagogue was struck by a vandal shortly after Shabbat services.
The congregation at Cape Coral's Chabad Jewish Center had just finished morning services Saturday when a man approached the building. Rabbi Yossi Labkowski said he heard a loud noise, which turned out to be the menorah outside being knocked over. 
Yaacov Ben-Haim, who was attending services, said he thought the wind might have blown the menorah over. 
The rabbi then heard another noise and when he walked to the door, he saw the man grabbing a brick or stone and throwing it repeatedly at the glass. Ben-Haim said the noise was so loud, it was "like a shotgun."
"Thankfully, the glass didn't break. We have impact glass, so it didn't shatter. He tried several times and wasn't successful," said Labkowski.
The man took the brick and walked over to the rabbi's car in the parking lot and began to smash it against windows and the windshield. When people in nearby buildings heard the noise, they came outside and at that point the man got in his car and left.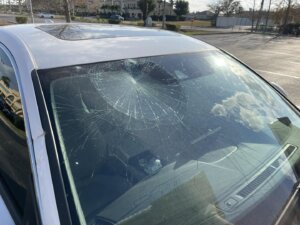 Ben-Haim described the suspect as a white man in his 40s or 50s, balding and wearing glasses.
Police said officers responded to a call at around 1:25 p.m. and that a witness described the suspect as wearing a white shirt and tan pants and driving a light green, older model Ford Edge. No arrest has yet been made.
Labkowski said the synagogue, which has been open for 18 years, had protocols for such an incident. Following those protocols, those inside went outside via the back door and called police. While it took awhile for officers to arrive, he said, once they were on the scene, they collected evidence, including blood found on the bricks or stones used in the attack and photos of the suspect's car.
The rabbi said that at the time, he was thinking that "we're getting attacked by someone that's an antisemite, that wants to attack the Jews. We're being targeted but right now we have to protect ourselves. We don't care what's going on with the building, with anything else, just to save ourselves."
"We don't live in fear, we just have to put security measures in place, which we have, and continue our work."
Florida has become a hotbed of antisemitism in recent months, at least partially due to the relocation of Goyim Defense League founder Jon Minadeo Jr. to the state from California late last year. Antisemitic protesters have shown up repeatedly at a Chabad in South Orlando while several jurisdictions have considered amending their bylaws after antisemitic messages were projected onto the exteriors of buildings, including a football stadium.
The incident was the first of its kind at this synagogue, the rabbi said, adding that "you don't see any antisemitism" in Cape Coral, which lies just south of Fort Myers on Florida's western coast. He noted that Cape Coral has a growing Jewish community, which has led to plans to expand the synagogue.
"From the neighbors, we only receive support. It's a beautiful community and the local pastors are constantly reaching out."