Fast Forward
In American first, Manhattan jury indicts Donald Trump, who promptly invokes Soros
Trump has called for protests in case he is arrested, which could come as soon as next week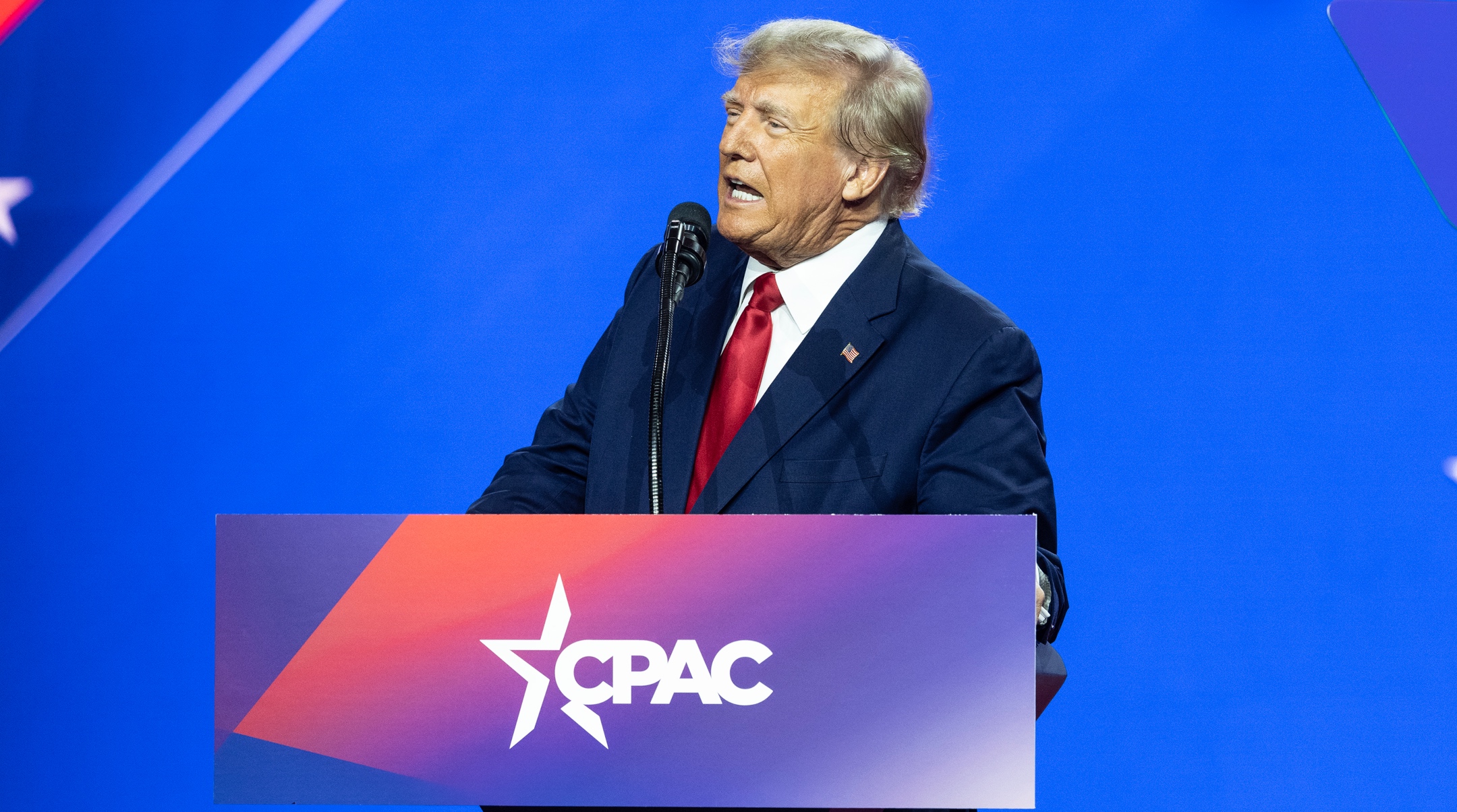 (JTA) — A Manhattan grand jury has indicted former President Donald Trump in connection with his role in a payoff to an adult film star about their sexual encounter, making history and prompting Trump to once again invoke the name of a Jewish billionaire who is at the center of antisemitic conspiracy theories.
The indictment Thursday means a former president will be arrested, an American first. Trump has called for protests in that event, which could come as soon as next week. Jewish security watchdogs have been on the alert for violence. Trump's similar calls for protests to overturn the 2021 election culminated in the deadly Jan. 6, 2021, insurrection by his supporters at the U.S. Capitol.
Within minutes of the news of the indictment leaking to media outlets including The New York Times, Trump, who is running for a second term in 2024, repeated his claim, now made daily in his campaign fundraising emails, that Jewish billionaire George Soros was behind the charge.
"Manhattan DA Alvin Bragg, who was hand-picked and funded by George Soros, is a disgrace," Trump said in emails to reporters and in social media postings. "Rather than stopping the unprecedented crime wave taking over New York City, he's doing Joe Biden's dirty work, ignoring the murders and burglaries and assaults he should be focused on."
Soros, a Hungarian-born Holocaust survivor and financier, has been at the center of countless conspiracy theories for decades, and was the target of a 2018 bomb scare carried out by a pro-Trump antisemitic attacker. He featured prominently in the conspiracy theories embraced by the gunman who massacred 11 worshippers at a Pittsburgh synagogue in 2018.
Many on the right have spread false claims about Soros, including alleging he was a Nazi collaborator during the Holocaust. In fact, the billionaire's family disguised themselves as Christians and, as a teenager, Soros was charged with taking inventory of a Jewish home and delivered a deportation notice but did not participate in rounding up or deporting other Jews. 
Former New York mayor and Trump lawyer Rudy Giuliani has accused Soros of attempting to "remake" America, due to his financial support of causes such as accessible learning and aiding refugees, as well as spending $18 billion of his own wealth to uphold democratic institutions. 
Donors such as the Koch and Adelson families have long contributed their own billions towards right-wing causes, including lobbying to support the Israeli government and against action to mitigate climate change. And despite Trump's own unfulfilled vow to "lock up" Hillary Clinton, some Republicans, such as Georgia Congresswoman Marjorie Taylor Greene, have accused Soros of unfairly targeting Trump through Bragg. On Friday, amid a spree of tweets backing Trump and accusing Democrats of weaponizing the justice system, Greene singled out Soros, saying he was trying to "destabilize America and gain full control" by having Trump prosecuted. 
According to a Media Matters report, Greene is not alone in her efforts to blame Soros for the indictment: The media watchdog group said Fox News mentioned Soros 21 times in the 6 1/2 hours after the news broke. 
The right's Soros conspiracy theories have gone international. Under authoritarian Hungarian leader Viktor Orban, who has called Trump a "good friend" and was applauded after delivering a racism-tinged address at the Conservative Political Action Conference, the Soros-backed Central European University was forced to relocate to Vienna. 
In a rare statement to media, Soros responded to a Semafor reporter's questions about the Republican effort to link him to Bragg by sending a link to a 2022 Wall Street Journal op-ed in which he detailed his reasons for supporting prosecutors committed to reform.
Bragg is among a number of liberal prosecutors backed in recent election cycles by Color of Change, a political action committee that Soros has funded. He was the largest donor to the group in the most recent election cycle, giving it $1 million out of the $4 million it raised. Beyond that relationship, there is no evidence that Soros is pressing any legal case against Trump.
Jewish groups that track antisemitism and Jewish security said they have been keeping an eye on Trump's recent calls for protests in the lead-up to his indictment but noted that so far those posts have not attracted the groundswell of support that followed his past appeals. It is unclear whether the indictment or looming arrest will further galvanize Trump's supporters.
There are multiple investigations into Trump, including by state officials in Georgia into election interference and by federal authorities into the role he played in spurring the Jan. 6 violence by rioters who believed his falsehoods about the 2020 election, and into his alleged mishandling of highly classified documents.
The details of the indictment are not yet public. One possible crime Bragg might be investigating is whether Trump falsified records to cover up his payment to Daniels, which was made through his former lawyer Michael Cohen.
This article originally appeared on JTA.org.