Food
The best 'traditional' vegan Jewish brisket
Can a Rosh Hashanah meatless meal atone for eating beef?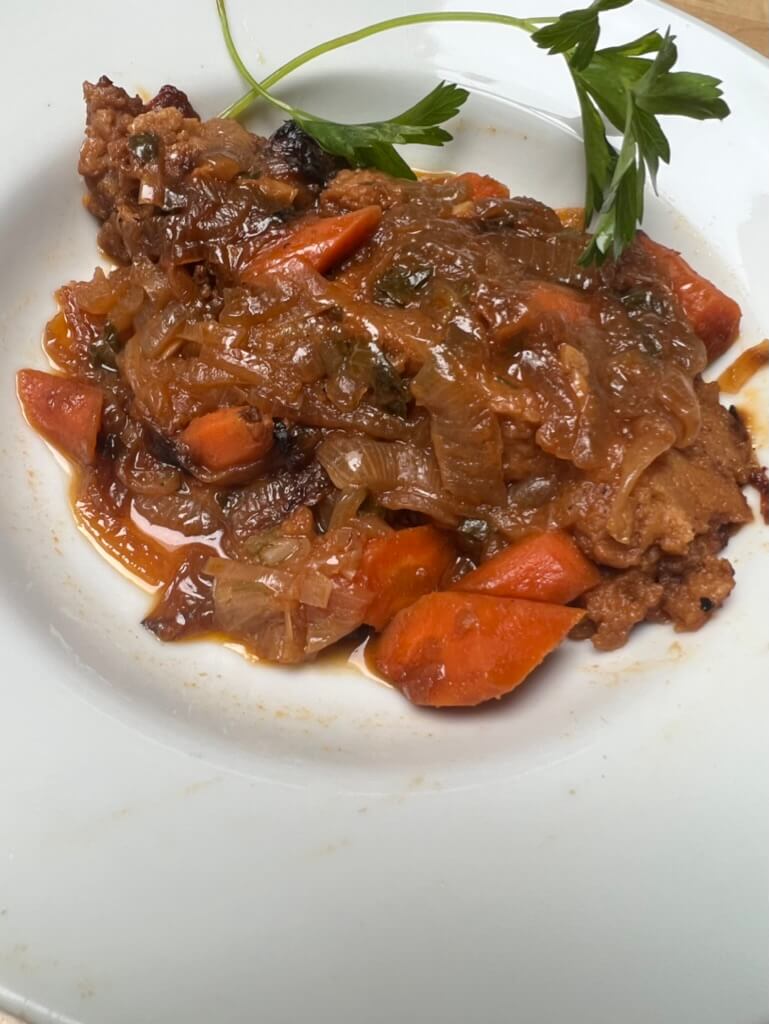 If you could make a vegan brisket that is as tender and savory and sweet and oniony as the best High Holiday brisket you ever had, why wouldn't you?
First, there's the cow factor. The simple observation Jonathan Safran Foer put forth in the opening of his book Eating Animals is never far from my mind: If you wouldn't eat your dog, why would you eat a cow?
You don't have to remind me of the most obvious answer: because they are delicious. I was a vegetarian for 16 years, then a pescatarian for several more, then, when in my 30s I started to eat cow again, it all came flooding back — the outside char along a curve of ribs, the deep mineral tang of a rare steak, the fatty, oniony forkfuls of umami in a well-cooked holiday brisket. One bite and it was just like getting back on a bike, as they say.
Except I can never look away from the fact that this is a bike made from flesh and blood and consciousness, from suffering and death, with huge costs to the environment.
Are you torn up over this as well? Does your Instagram feed, like mine, alternate between chefs searing off massive cow muscles and animal rescue accounts showing the beasts resting their 30-pound heads on the tummies of their human protectors?
Once you know the facts behind brisket, the only rational response is to look that cow in the eye and say, "Forgive me."
Precisely because of my vacillations, the Instagram algorithm delivers me a regular diet of vegan meat videos. Mark Zuckerberg knows what I want, even when I don't.
And so, into my feed one day popped Wicked Kitchen's OG Vegan BBQ Brisket. I hadn't heard of Derek and Chad Sarno, the English chefs behind the web platform "on a mission to unleash the mighty power of plants!" They make big-flavored veggie fare, stuff that you could order with a pint at a pub.
I adapted Chad's brisket recipe to the High Holidays, Ashkenazi style, replacing BBQ sauce with a mattress of caramelized onion and skipping the grill for a finishing glaze including, of course, ketchup.
The whole thing comes together much faster than its dead cow twin, using as its protein structure vital wheat gluten and chickpea flour.
It will not fool a Jewish grandmother. Out of the oven, the wet-bread taste of the gluten dominates. But cooled overnight and reheated, the flavors improve. The sauce, no matter what, is sweet and savory and pretty perfect, and a slice delivers on the oniony sweet-and-sour chew your favorite vegetarian is pining for.
I'm not making any vows this new year that I'll never try another bite of flesh. But less and less is better and better. There is more to atonement than saying you're sorry. The next level, the rabbis say, is to make a different choice when you're faced with the same situation. The High Holidays, the Season of Our Brisket, roll around each year, as sure as the moon rises and sets. There's always a chance to change, to cook a different brisket.
Traditional Vegan Jewish Brisket
This is based on a recipe from Wicked Kitchen for BBQ-style brisket. You may prefer substituting textured vegetable protein or other bean flours for the garbanzo bean flour. 
Vegetables
3 large onions, peeled and sliced into half circles
3 cloves garlic, smashed
2 large carrots, peeled and cut into rounds
2 stalks celery, chopped
¼ cup chopped parsley, chopped
¼ cup olive oil
Wet Mixture (About half will be used for braising liquid)
1 cup marsala wine
¼ cup soy sauce or tamari
¼ cup maple syrup
4 cups low sodium vegetable stock
4 ounces beer
2 tablespoons Yondu umami seasoning or 1 tablespoon Better Than Bouillon vegetable bouillon
¼ cup tomato paste
3 tablespoons olive oil
Whisk all above ingredients well and set aside. Then make the dry mixture.
Dry Mixture
2 ¼ cups vital wheat gluten flour
¾ cup chickpea flour
2 tablespoon onion granules
2 tablespoons\garlic granules
1 tablespoon sweet paprika
½ teaspoon ground pepper
½ teaspoon salt
In a separate bowl, mix the above ingredients together.
Glaze
1 tablespoon ketchup
1 tablespoon red wine
1 teaspoon pomegranate syrup or maple syrup
¼ teaspoon pepper
2 tablespoons braising liquid
Preparation
Heat olive oil in a large pan, because you'll be adding the brisket to this. Add onions and garlic and cook about 20 minutes, stirring, until they take on a nice golden color. Add the remaining vegetables, stir well, and set aside.

Preheat oven to 375 degrees.

Add about 2 cups of the wet ingredients to the dry ingredients and stir well. The mixture will come together into a dough. If it is too dry, add a little more of the liquid. If you've added too much, sprinkle in some more gluten flour.

Mix until combined completely. Knead for three minutes until all is mixed thoroughly and the dough has an elastic texture.

Form the mixture into an oval-ish brisket shape and place on top of the onion mixture. Paint with some olive oil.

Add the remaining braising liquid over and around the faux brisket.

Place in oven and bake for about 25 minutes.

Using two spatulas, carefully turn the loaf over. Place back in the oven for another 20 minutes. About 15 minutes in, use a large spoon to baste the brisket with its cooking liquid.

After 20 minutes, remove the brisket. The liquid should be thickened but not evaporated. If necessary, add more beer and/or stock to achieve a thick, soupy layer at the bottom.

Set oven to broil. In a small bowl, combine the ketchup, wine, pepper and braising liquid. Stir well then paint over the brisket.

Place brisket under the broiler and time for three minutes. Check. The glaze should shine. If not add a couple more minutes — but watch carefully. Remove from the oven and leave to cool for a few minutes.
Slice the brisket into ¼ inch slices and serve under a blanket of onions and sauce.