California Briefing
California Briefing: This fake LeBron tweet isn't real. I wish it was.
Plus: Jewish-made zombies, giant zippers, and a letter from Streisand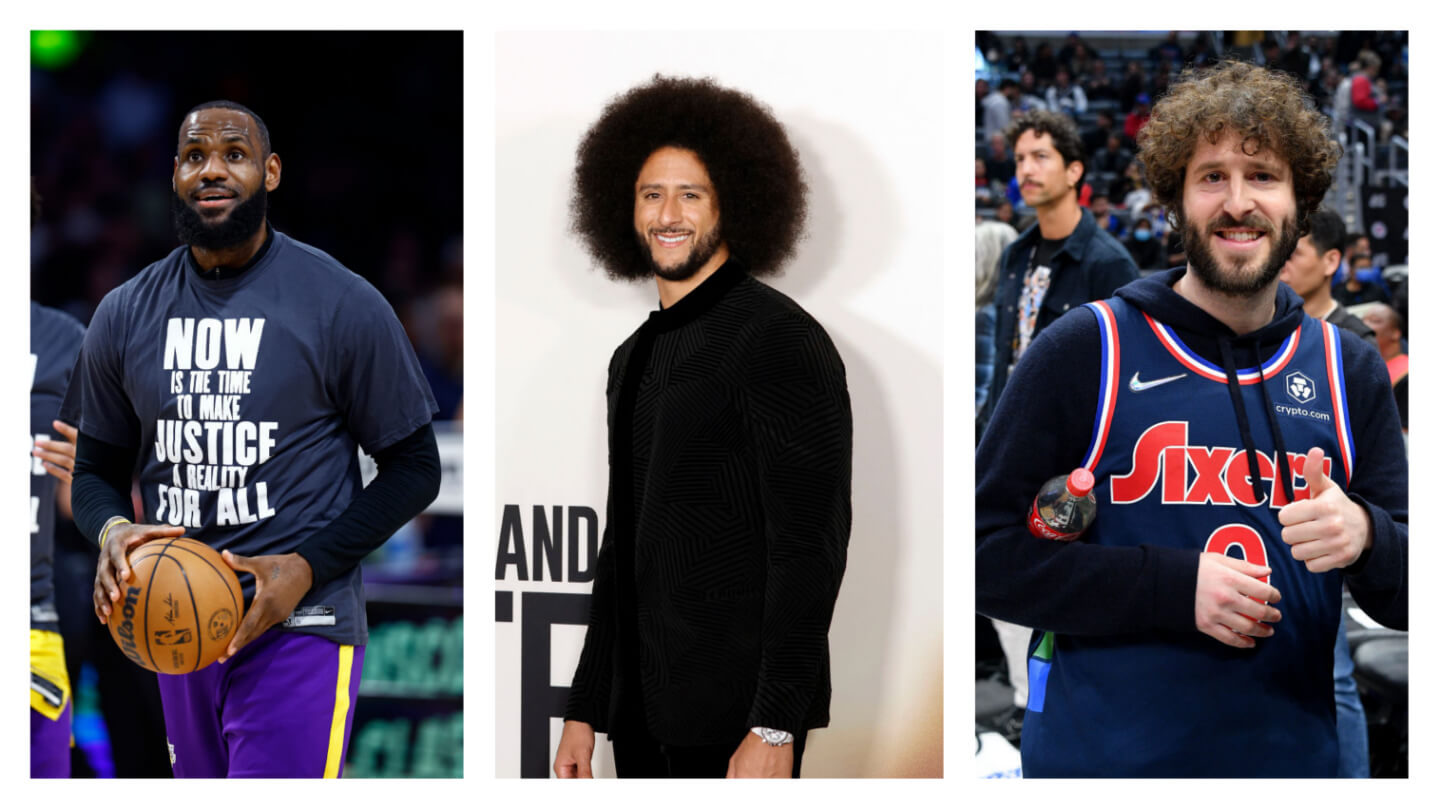 Welcome to the California Briefing, the weekly dispatch of California Jewish news from the Forward's Louis Keene. In this edition: Jewish-made zombies, giant zippers, a letter from Streisand and more "Dave."

To get the latest on pop culture, politics and Jewish life in the Golden State in your inbox every Thursday, subscribe here: forward.com/california.
This fake LeBron James tweet isn't real. I wish it was.
As I was scrolling Instagram late on Martin Luther King Jr. Day, a suggested account, @thesportsmemery, showed me what appeared to be a screenshot of a LeBron James tweet. In the apparent tweet, LeBron had written "Nvr 4get @Kaepernick7 lost everything for telling the truth. #KaepWasRight."
But instead of the accompanying photo being of Colin Kaepernick — the Black San Francisco 49ers quarterback who was effectively banished from the NFL for kneeling during the national anthem — it depicted Jew-fro sporting rapper Lil Dicky, wearing a 49ers jacket. (Kaepernick and Dicky are similarly hirsute, but to say they look alike would be a risible stretch.)
The same image also shows Kaepernick's apparent reply to the James tweet: "Thank u brotha ✊🏾 I think that's a photo of Lil Dicky, but still…Much love ✊🏾"
"Honest mistake 👑," @thesportsmemery's Instagram caption reads, seemingly taking the high road on what would have to be the most embarrassing faux pas in James' two decades in the public eye.
Deep down, I knew it couldn't be real. And it wasn't. But I'm not letting the fantasy go. Instead, I have simply decided to exist in the world where the LeBron James/Lil Dicky/Colin Kaepernick tweet was real.
James mistaking a Jewish humorist for racial justice touchstone Colin Kaepernick would hardly make up for his disappointingly late, and weak, response to the swirl of antisemitic hate kicked up by his former teammate Kyrie Irving. But it might give us a grim feeling of cosmic justice, or at the very least, a bitter laugh.
(The third season of Dicky's hilarious show, Dave, premieres April 5 on FX.)
What we're watching and not watching
🧟  Critics (including me) are hyping The Last of Us, a new horror series on HBO Max from Israeli American creator Neil Druckmann, that premiered Sunday (trailer above), as the rare video game adaptation worth its budget — which exceeded that of each of the first five seasons of Game of Thrones — and your time. This profile of Druckmann and co-producer Craig Mazin in The New Yorker will convince you it's deeper than a zombie show. But there are definitely zombies!
💌  With a casting controversy and a buccal fat tabloid circus (mostly) behind her, Funny Girl's Lea Michele went on The Tonight Show Starring Jimmy Fallon to spill her superstitions — which involve a letter from Barbra Streisand.
🥺 Last week I demanded you watch Ke Huy Quan's touching tribute to Steven Spielberg at the Golden Globes. Here's Spielberg's response.
𑁍  The White Lotus star Aubrey Plaza will host this week's Saturday Night Live, and she dropped a racy teaser with SNL cast member (and noted impressionist) Chloe Fineman to promote it.
What we're reading
🤐  "We need to talk about Haim's giant zippers." The zippers on the Jewish girl band's haute-fits are indeed giant.
😆 Variety profiled Modi (real name Mordechi Rosenfeld), a Laugh Factory staple who keeps showing up in my Instagram Reels cracking wise about Ashkenazi vs. Sephardic Jews. Modi's gay, Orthodox, and a Yeshiva University graduate. He's proud of being all three.
🤓 The San Francisco Chronicle is launching an event series at Manny's, a cafe and lefty hotspot in the Mission run by Bay Area macher Manny Yekutiel. The series kicks off Tuesday with "Data Trivia Night," with questions by the paper's culture critic and data editor. Only $5 to play!
😱  Celebrity painter Jonas Wood won a bidding war for an extremely cool looking Art Nouveau hilltop mansion in the Los Feliz neighborhood of LA. I still can't believe my $10.1 million offer was beaten.
🥰  Supermodel and bestselling author Emily Ratajkowski has now been seen on outings with comedians Eric Andre and Pete Davidson and Seagram heir Eli Bronfman in short succession, the latter two at Knicks games. Is it safe to say she has a (bold-face) type? And should I move to New York?
😇  Boy Meets World actor Ben Savage, who ran last year for West Hollywood City Council and lost, announced a run for Adam Schiff's soon-to-be old congressional seat.
Your humble correspondents
🔎  After it was reported that White Sox ace and Cy Young runner-up Dylan Cease was on the early roster for Team Israel, I asked a genealogist to help me trace his Jewish ancestry. We found burial records, marriage licenses, and … the tombstone of his apparent great-great-grandfather, Koppel Hirsh Cease. This is the most fun I've had writing a story in some time.
Finally, in the we-are-so-lucky-to-live-in-California-department…
Ryan Turell's Motor City Cruise came to the Los Angeles area for three games this week, and I'll be at the third tonight in El Segundo, where they'll be playing the South Bay Lakers. If you'll be there too, come say hello! I'm the one who looks kinda like Dylan Cease.