Forwarding the News
Biden's first Democratic challenger is a Jewish philosopher angry at the president's treatment of Palestinians
Russia postpones verdict on Jewish Agency, anniversary of the Crown Heights riots, Texas school board reverses ban on Anne Frank adaptation, and Orthodox table tennis star has Olympics in sight.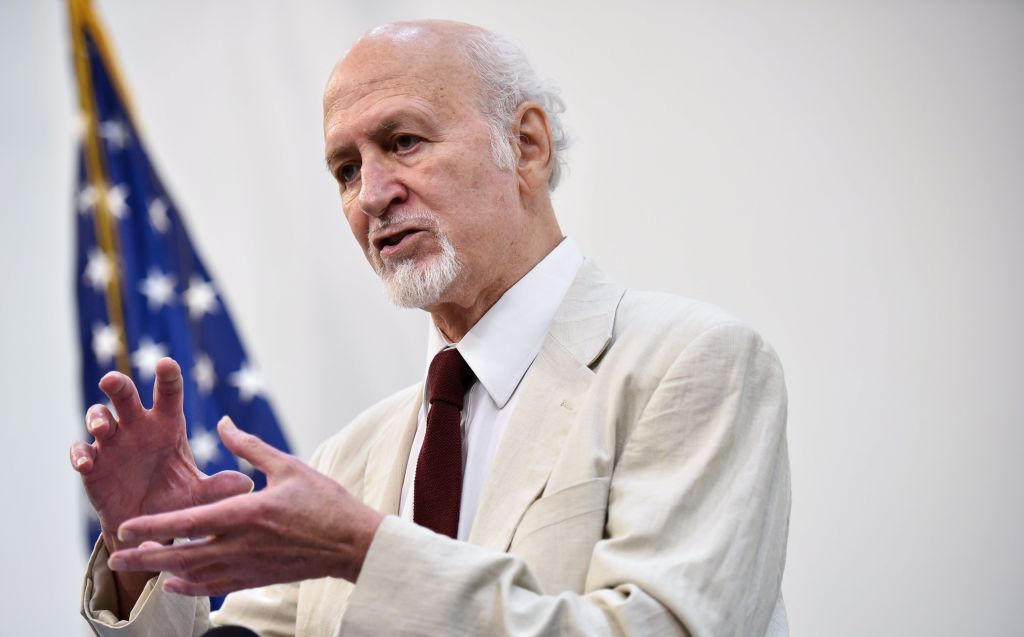 This article is part of our morning briefing. Click here to get it delivered to your inbox each weekday.
Biden's first Democratic challenger is a retired Jewish philosophy professor angry at the president's treatment of Palestinians
If Jerome Segal comes knocking at your door, it's because he wants to introduce himself. He'll chat and then he'll ask you to put one of his lawn signs in your front yard. The Bronx native will tell you he's running to become the next president of the United States. The 2024 race has begun.
Mideast map: Segal has spent decades trying to end the Israeli-Palestinian conflict. In 1987, according to his website, he was part of the first Jewish-American delegation to go to Tunis to open dialogue with Arafat and the PLO. He is the founder of a group called the Jewish Peace Lobby, and has written extensively about the Middle East. During a visit to the region in July, President Biden said the "ground is not ripe at this moment to restart negotiations," a statement Segal calls "shameful."
Not new to politics: The 2024 presidential race is Segal's fourth bid for public office. This summer he came in ninth in the 10-candidate Democratic primary for Maryland governor, with .67% of the vote. He challenged Maryland Sen. Benjamin Cardin in the 2018 Democratic primary, and ran in the 2020 U.S. presidential election as the candidate of the Bread and Roses Party, which he founded.
Senior moment: In a recent poll, one-third of Americans said they believe President Biden is too old to run for reelection. Segal is 78, just one year younger than Biden. "When they speak of age," he said, "it is not a question of chronological age, but creative capacity and whether or not someone has new responses that new challenges call for."
Then and now: Paula Goldstein as a USO hostess during WWII and now, nearing 100. (Courtesy)
A century of memories, starting with the old Forward building: It was "like the North Star of the Lower East Side," recalls Paula Goldstein, 99, who grew up buying our newspaper each day at the candy store on Market Street. Goldstein spent a recent afternoon recalling the highlights of the 20th century to her niece. They covered presidents (JFK "was so impossibly handsome") and comedians (apparently, Don Rickles reminds her of Nikita Khrushchev), adventurers (Amelia Earhart and Charles Lindbergh) and so much more (democracy, spies and famous relatives). Goldstein shows no sign of slowing down. Literally. On the day of our visit, she was wearing new sneakers. "Yes, I wore my Pumas out." Read the story ➤
She studies Torah and table tennis | Meet the 20-year-old Orthodox phenom angling for a spot at the Olympics: Estee Ackerman, a Yeshiva University senior, beat Rafael Nadal at pingpong as a preteen and is nationally ranked in her sport. But she's been making headlines recently off the court. Last month, the mother of her doubles partner yelled at her for being "disgusting" and "unprofessional" over her modest dress. The words stung, but Ackerman is focused on the future. "It's my passion to inspire others," she said. Read the story ➤
But wait, there's more…
Forwarding the News is now also available on our website. Share it on social media or with a friend simply by clicking on the blue button below.
WHAT ELSE YOU NEED TO KNOW TODAY
The graphic novel version of 'The Diary of Anne Frank,' by writer Ari Folman and illustrator David Polonsky. (Getty)
📚  The superintendent of the Texas school district that this week ordered the removal of  "Anne Frank's Diary: The Graphic Adaptation" from its school's shelves said Thursday that he expected the book, along with the Bible and other books that were removed following parental challenges, "will be on shelves very soon." No timeframe was given. (JTA)
🇷🇺  A Russian court on Friday postponed its verdict in the country's case against the Jewish Agency for a month in a move Israel hopes will give it more time to reach an agreement with Moscow and prevent the shuttering of the agency's offices in Russia. (Times of Israel)
😮  On Gab, Truth Social and other platforms, antisemitic threats are continuing in the wake of the FBI's Mar-a-Lago search, with users going after the attorney general and the judge who ordered the search, both of whom are Jewish. "I just think we're in a particular dangerous time in this country," said the ADL's Oren Segal. (JTA) 
🤫  Arkansas state Sen. Jason Rapert, the president of the National Association of Christian Lawmakers, will have to unblock his atheist constituents from his social media accounts as part of a settlement the organization American Atheists said it reached with the state. (Religion News Service)
🎞️  Jesse Eisenberg's newest film directing project follows two estranged cousins who travel to Poland and learn about their grandmother's Holocaust story. "I'm trying to ask the question: Is modern pain valid against the backdrop of real historical trauma," said Eisenberg, who traces his Jewish family roots back to Poland and Ukraine. (JTA)
🎤  More than 4,000 people gathered at the Coney Island Amphitheater in Brooklyn for the first annual Chosen Comedy Festival, featuring Jewish comedians and musical acts. The event served as a benefit for the Ukrainian Emergency Performing Arts Fund. (Jewish Journal)
What we're watching this weekend ➤  "Rising Hate: Antisemitism in America," a special report on CNN, airs on Sunday at 9 p.m. ET. In the hour-long show, anchor Dana Bash visits Jewish communities still reeling from recent violence, including Poway, California, and Colleyville, Texas. Bash also gets a first look at a command center dedicated to tracking threats against Jews by monitoring the deepest corners of the dark web.

Long weekend reads ➤  Meet the Gandalf-like archivist of the frum world … American Jews have not been spared the devastating fallout of opioid abuse … Is David Langer the Jewish king of surfing?
Was this newsletter forwarded to you or are you reading it on our website?
Receive it in your inbox each morning by clicking the blue button below.
Slow down this weekend and enjoy the end of summer. Print out our end-of-the-week magazine in which you'll find stories about: a Russian rabbi who is caught between a rock and a hard place, a tour of the Jewish Museum's not-so-Jewish new exhibit, an explainer on why "Hashem" and "Yiddish" are trending on Twitter and, finally, an interview with God. Get your copy now ➤
The Forward made this video in 2011, on the 20th anniversary of the Crown Heights riots.
On this day in history (1991): Riots broke out in Crown Heights, Brooklyn, after a Black child was struck and killed by a car in the entourage of the Lubavitcher rebbe, Menachem Mendel Schneerson. A rabbinical student was fatally stabbed in the melee that followed. The riots went on for three days. More than 200 people were injured, police cars and stores were damaged, and bottles were thrown at Mayor David Dinkins when he visited the area. Although efforts have since been made to repair the relationship between the Black and Jewish communities in Crown Heights, Molly Boigon wrote in the Forward in 2020 that "these feelings of bitterness and trauma run so deep that they persist to this day." Read our account of insiders recalling the tense three days between the mayor and the Jewish community ➤

In honor of National Soft Ice Cream Day (yes, it's a thing), check out our recipe for no-dairy no-churn peach pie ice cream. You're welcome.
On the eve of World War II, David Kurtz took his 16 mm camera and shot three minutes of home video of a vibrant Jewish community in a Polish town — old men in yarmulkes, boys and girls playing, people pouring into a synagogue. The ephemeral footage ends abruptly and was lost for decades. Now it's part of a 70-minute documentary being released today in theaters called "Three Minutes: A Lengthening." Watch the trailer above.
–––
Play today's Vertl puzzle, the Yiddish Wordle
Thanks to Samuel Breslow, Jordan Greene, Beth Harpaz, Lauren Markoe, Chana Pollack, and Talya Zax for contributing to today's newsletter. You can reach the "Forwarding" team at [email protected].