Forwarding the News
Adidas severs ties to Kanye West + YU creates new LGBTQ student club, still won't recognize old one
Yeshiva fined $8M for defrauding government, Kanye fallout continues, HBO to air antisemitism documentary, NBA now has kippah-wearing player, world's largest Einstein museum to open in Israel.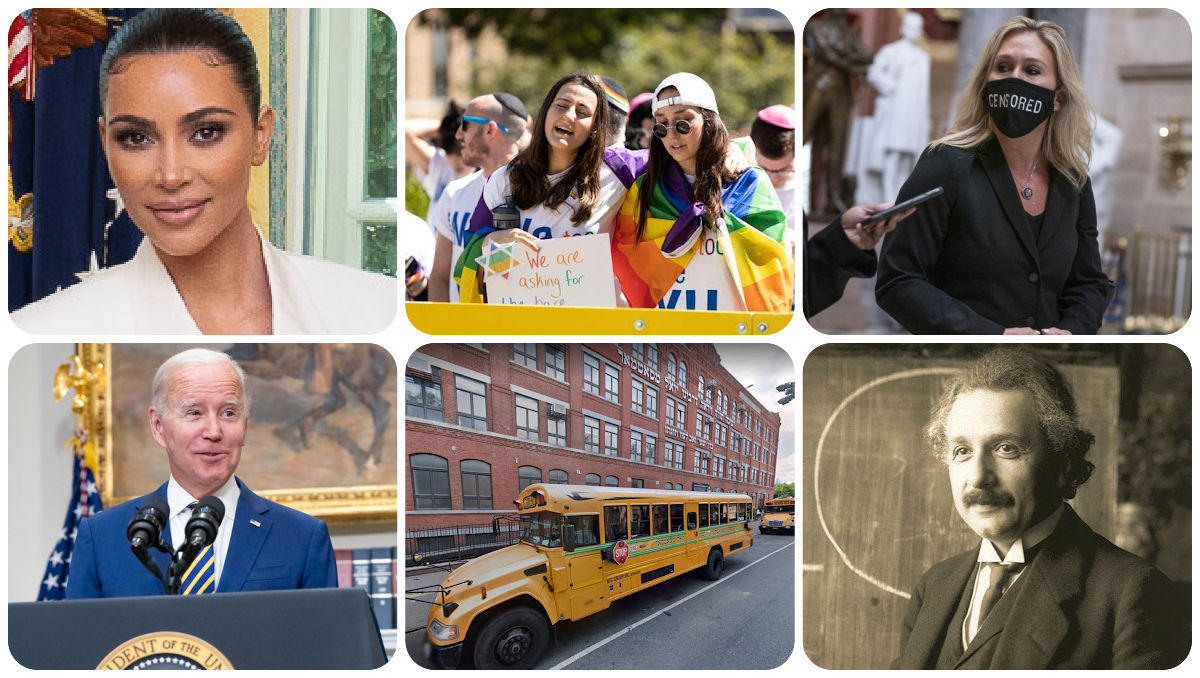 This article is part of our morning briefing. Click here to get it delivered to your inbox each weekday.
Good morning! If you're reading this in Israel, look up in the sky: a partial solar eclipse will be visible over the Middle East this morning. If not, look down at your screen for a lightning round of news tidbits to begin your day…
And on the Kanye front…
Eric Liedtke, former chief marketing officer of Adidas, and Kanye West in 2016. (Getty)
Brennon Lemieux and Alexa Alfia got engaged at first sight. (Netflix)
On this Netflix dating series, critics decry contestant's Zionism: "Love Is Blind" is one of those insane reality TV shows. People "date" without seeing each other. Then, after having what appears to be about 30 minutes of basic conversation, many of them get engaged. One contestant on the new season is a fan favorite – but some viewers are critical of her being Israeli. Read the story ➤
A GOP candidate said the phrase 'Jew you down' is a compliment. Here's why she's wrong: The politician explained that Jews are "reputable for building successful businesses with a foundation of solid money principles." Our language columnist, Aviya Kushner, argues that we are in a moment when an antisemitic slur is too often excused as merely a verb, a joke, or something the speaker didn't realize was offensive. "If anything," she writes, "what is being haggled down is the cost of public antisemitism." Read her column ➤

And in case you missed it: The latest column by Jodi Rudoren, our editor-in-chief, is about an astonishing tallit — with a soul.
Forwarding the News is now also available on our website. Click on the blue button below to share it on social media or send to friends.
WHAT ELSE YOU NEED TO KNOW TODAY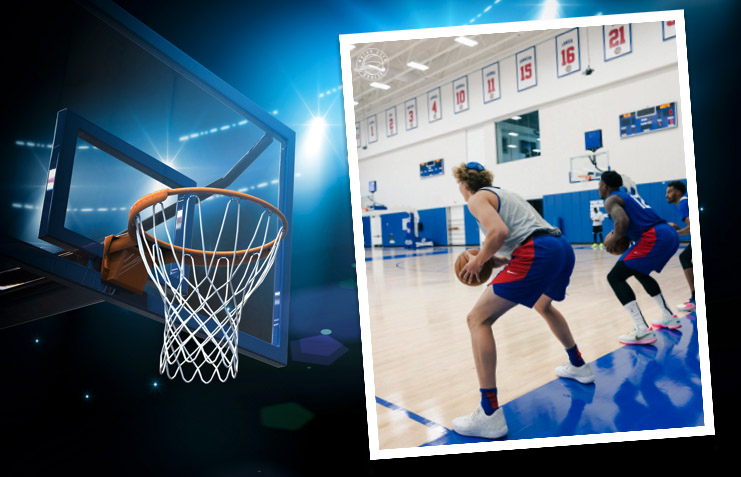 🏀  The Motor City Cruise, the Detroit Pistons minor league team, posted pictures from Monday's practice. Yes, that is newly-signed Ryan Turell, the Yeshiva University alum, wearing a kippah on the court. (Twitter)
🇺🇸  AIPAC and Jewish GOP leaders have generally not criticized former President Donald Trump's warning to U.S. Jews to "get their act together" before "it is too late." Matt Brooks, head of the Republican Jewish Coalition, commented: "Trump has the foundation of some good points to make and, you know, could probably articulate them better." (JTA)
🔫  A man who sold the pistol used by the hostage-taker at a Texas synagogue in January was sentenced Monday to nearly eight years in prison. The hostage taker, Malik Faisal Akram, 44, was fatally shot by law enforcement officers as the rabbi and three others escaped after a daylong siege. (AP)
🥩  You may soon be able to find kosher steak at many grocery stores. Sort of … Beyond Meat, the plant-based meat-substitute company, announced its new steaks will be arriving on shelves this week. (NBC)
🏕️  The Harold Grinspoon Foundation announced a $25 million matching grant to support more than 100 Jewish overnight camps over the next five years. "I never was able to go to a Jewish camp," said Grinspoon, "but I know they are crucial ways for young people to plant the roots of lifelong Jewish connections." (Jcamp180)
😢  Mayim Bialik has halted production on her "Call Me Kat" sitcom after the unexpected death of one its stars: the affable Leslie Jordan, 67, who was killed in a car crash on Monday. "We will be taking time to grieve," Bialik said. (E.W.)
Shiva call ➤  Rabbi Ron Brauner, a teacher at the Jewish Education Institute, died at 83.

What else we're reading ➤  Israel is a dog-friendly country, but its estimated 33,000 strays are testing the nation's patience … Patriotism and Christianity have long made Branson, Missouri, a hot spot of spiritual tourism … Jewish "Bachelorette" contestant Jason Alabaster believes in bashert.
Was this newsletter forwarded to you or are you reading it on our website?
Receive it in your inbox each morning by clicking the blue button below.
On this day in history (1975): Paul Simon released his fourth studio album, "Still Crazy After All These Years." While the album is best known for hits like "50 Ways to Leave Your Lover," it also includes a song that the Forward's Seth Rogovoy deemed Simon's most Jewish: "Silent Eyes." He wrote it after the Yom Kippur War. The song "is manifestly about longing and weeping for Jerusalem in prayerlike phrases," Rogovy wrote. "And it envisions a time when all will be called to account."
Last year on this day, we were kvelling over the Yiddish lesson that Larry David gave Jon Hamm in the season premiere of "Curb Your Enthusiasm."

In honor of National Greasy Food Day, check out our recipe for chicken soup schmaltz-roasted potatoes.
HBO will be airing a new documentary to coincide with the fourth anniversary of the shooting at Pittsburgh's Tree of Life synagogue, the deadliest antisemitic attack in American history. The film, debuting Wednesday, will remember the victims and track how the community came together in the years since. Watch the trailer above and read about the film in the Pittsburgh Jewish Chronicle.

Related: Four Pittsburgh nonprofits have each donated $1 million to help the synagogue construct a new building.
–––
Thanks to Mira Fox, Jodi Rudoren and Talya Zax for contributing to today's newsletter. You can reach the "Forwarding" team at [email protected].