Forwarding the News
As slain American is buried, chaos reigns on streets of Israel
Ohio rabbi sentenced to jail for soliciting sex with minor, art looted by Nazis nets $45 million at auction, American Eagle's flagship store now has a mezuzah, and Kristen Bell befriends an unorthodox rabbi.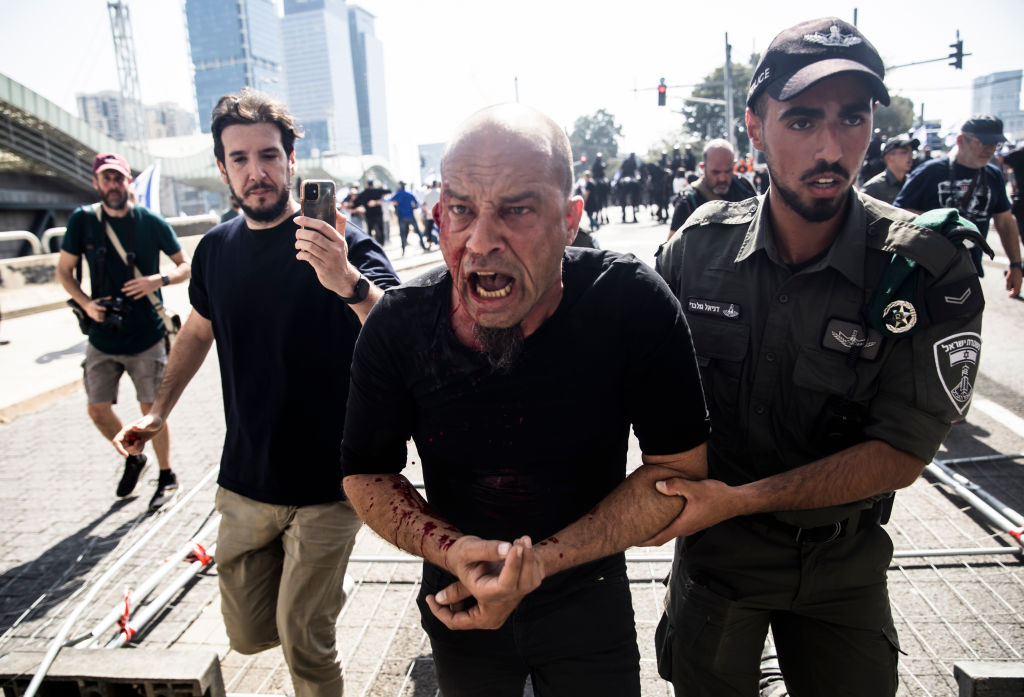 This article is part of our morning briefing. Click here to get it delivered to your inbox each weekday.
Photo essay | Thousands gather for funeral of slain American-Israeli: Friends of Elan Ganeles, the 27-year-old Connecticut native killed in a West Bank terror attack, and strangers who had never met him, stood side by side Wednesday at the Old Ra'anana Cemetery. "I don't want him, on his last ride, to be alone," said Revital Amit, an Israeli nutritionist who said she came to the funeral "to be part of the country." Hillel Kuttler, a Forward contributor, was on the scene. See his photos and video ➤

Opinion | How did Israeli democracy come under threat? Follow the money: "It's time for a reckoning about how American Jewish money has helped to drive the attack on democracy," writes Rabbi Jill Jacobs, CEO of the human rights group T'ruah. "And it's also time to be honest about the vacuum centrist and liberal Jews have created by either avoiding investment in Israel altogether, or by giving to projects perceived as apolitical." The vacuum, she argues, "has allowed these right-wing funders to drive Israel further and further toward fascism." Read her essay ➤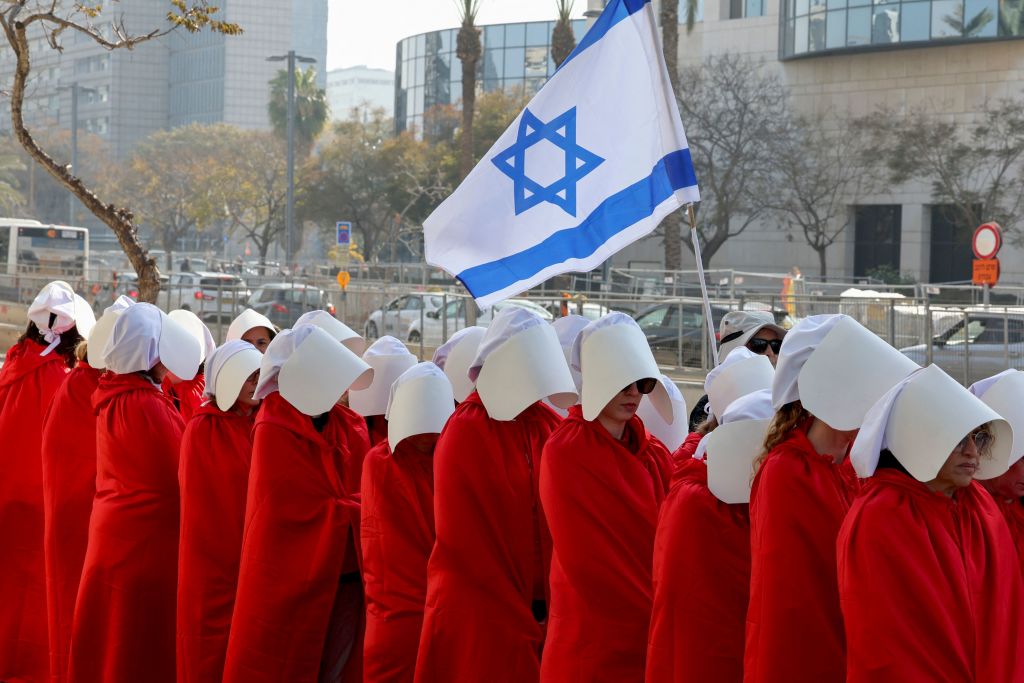 Protesters in Tel Aviv dressed as women from 'The Handmaid's Tale.' (Getty)
Why are these Israeli protesters dressed up like characters from 'The Handmaid's Tale'? Because, according to an organizer of the demonstration, proposed laws to expand the power of Israel's rabbinical courts, would be "a significant blow to women's rights." The women join a worldwide trend – demonstrators have donned similar red cloaks in the United States, the United Kingdom, Italy, Argentina, Ireland and elsewhere. Read the story ➤
Netanyahu compares Tel Aviv protesters to settlers who rampaged Palestinian village: Israelis held a "Day of Disruption" Wednesday, with mass protests across the country over the government's planned overhaul of the judiciary. In a televised address Wednesday night, Prime Minister Benjamin Netanyahu suggested that "foreign elements" were behind the demonstrations but failed to provide evidence. He compared the protesters to the Israeli settlers who torched a Palestinian town in the occupied West Bank on Sunday, condemning both with a line from Proverbs: "We will not tolerate a situation in which every man does that which is right in his own eyes." Read the story ➤
Plus: The prime minister's wife, Sara, was trapped for hours in a Tel Aviv hair salon by the crowds, and security forces ended up having to extract her.

Explainer: Hard-liner Bezalel Smotrich was just put in charge of Israel's settlements. Here's what that means.
Barbra Streisand and Robert Redford circa 1973. (Getty)
How Barbra Streisand and Robert Redford changed the way we are: This year marks the 50th anniversary of their classic romantic movie The Way We Were, and two new books delve into its behind-the-scenes drama. Misha Baron, a theater critic, writes that she identified with Streisand's "otherness" in the film, especially because she was in a relationship with a non-Jew when it came out. "I had not seen a film that explored so vividly the attraction between a pair of Jewish and gentile lovers," she says, "and the cultural, temperamental and political gulf that they ultimately can't bridge." Read the story ➤
Opinion | American JCCs are failing to nurture connections between Jews. They can learn from their European counterparts: During an internship abroad, Madison Jackson saw how JCCs in Barcelona, Helsinki, London and Warsaw serve students and unaffiliated Jews free meals and other programs. When she returned home to Cleveland and began work at its JCC, she couldn't get over the way many people came just for the gym. She argues that American JCCs should drop their pricey amenities and high membership fees for programs that foster connection across denominational lines. Read her essay ➤

And one more: Elana Mann's activist art is a mixture of politics and Purim. She hopes her noisemaker can rattle abortion-rights advocates out of their complacency.
Spread the word! Invite someone
to sign up for this newsletter.👇
WHAT ELSE YOU NEED TO KNOW TODAY
Kristen Bell has been cast to play an "irreverent, outspoken, agnostic woman" who befriends "an unconventional rabbi" in a new comedy series for Netflix that focuses on their "unlikely relationship." Steven Levitan, the co-creator of 'Modern Family,' is a producer. (Getty)
⚖️ A Cleveland-area rabbi was sentenced to six months in prison for soliciting sex with a minor. Rabbi William Lebeau, a former vice chancellor of the Jewish Theological Seminary was among those who testified on his behalf, appealing for leniency for a man Lebeau said was "especially admired for his qualities of kindness and sensitivity." (JTA)
🔫 And sticking with the Buckeye State … A former member of Ohio's Army National Guard was sentenced Tuesday to nearly six years in prison after authorities said he created untraceable guns and made antisemitic and violent statements online while employed to provide security services at synagogues and Jewish schools. (Columbus Dispatch)
😲 The FBI arrested a heavily armed man in mid-February who had threatened on social media to kill all the Jewish elected officials in Michigan, according to newly unsealed court documents. The man, who worked at the University of Michigan for a decade, is being held without bail and could face up to five years in federal prison. (JTA)
🦅 The new mezuzah at the entrance to American Eagle's flagship store is being touted as the first one in Times Square. Which might be true — depending on what you consider Times Square and how you define the word "first." (NY Jewish Week)
🏈 The University of Colorado was forced to remind the new coach of its football team, former NFL star Deion Sanders, that he is not allowed to "engage in religious expression" after the school received a complaint. The First Liberty Institute, an advocacy group that won a Supreme Court case last year in which it represented a high school football coach who was fired for praying with players on the field, said the university's move "presents a risk of state-sponsored censorship of Coach Sanders' private speech." (The Center Square)
🤝 Former Rep. Lee Zeldin, who ran for governor of New York last year, has formed a political action committee that will focus on "engaging new Republican voters" and help candidates with outreach to Jews and people of color. (Twitter)
🖼️ A masterpiece by Wassily Kandinsky was returned last year to the heirs of a Jewish family who owned it before the Holocaust. The painting sold for $45 million at a Sotheby's auction on Wednesday; 13 members of the family will share the proceeds. (AFP)
What else we're reading ➤ A neo-Nazi troll network is making money abusing Jews … A new album brings Hasidic female voices into the spotlight … How a 93-year-old Zabar's employee became the Forward's lox columnist.
Christopher Plummer and Julie Andrews on location in Salzburg during the filming of The Sound of Music. (Wikimedia)
On this day in history (1965): The film adaptation of The Sound of Music, starring Julie Andrews and Christopher Plummer, premiered. The film and the Broadway show on which it was based were beloved by American Jews for their strong anti-Nazi message, and their songs by legendary duo Rodgers and Hammerstein. In a recent reflection on the musical's meaning, Ellen Futterman, editor-in-chief of the St. Louis Jewish Light, wrote that "its timeless themes teach valuable lessons, and help us, Jews and non-Jews alike, to never forget what can happen when evil goes unchecked."
On the Hebrew calendar, it's the 9th of Adar when, in the first century BCE, the schools of Shammai and Hillel disagreed for the first time regarding a case of Jewish law. While scholars disagree (!!) on what the actual debate was about, commentaries on the Talmud saw the fact of the disagreement as so tragic that it should be a fast day.

In honor of National Old Stuff Day, just a reminder that the Forward is 125 years old. Here are the people who've made headlines and history each year since our inception in 1897.
The renowned Batsheva Dance Company, which is based in Tel Aviv, is performing at New York's Joyce Theater through Sunday.
—
Thanks to Nora Berman, Herbert Cohen, Jacob Kornbluh, Tani Levitt and Talya Zax for contributing to today's newsletter. You can reach the "Forwarding" team at [email protected].