Forwarding the News
What happens when Christian culture co-opts the Purim story?
More than 100 Orthodox megillah readings led by women this Purim, Jewish Ukrainian injured in attack, Schwarzenegger's message to antisemites, and Texas has a restaurant called JewBoy Burgers.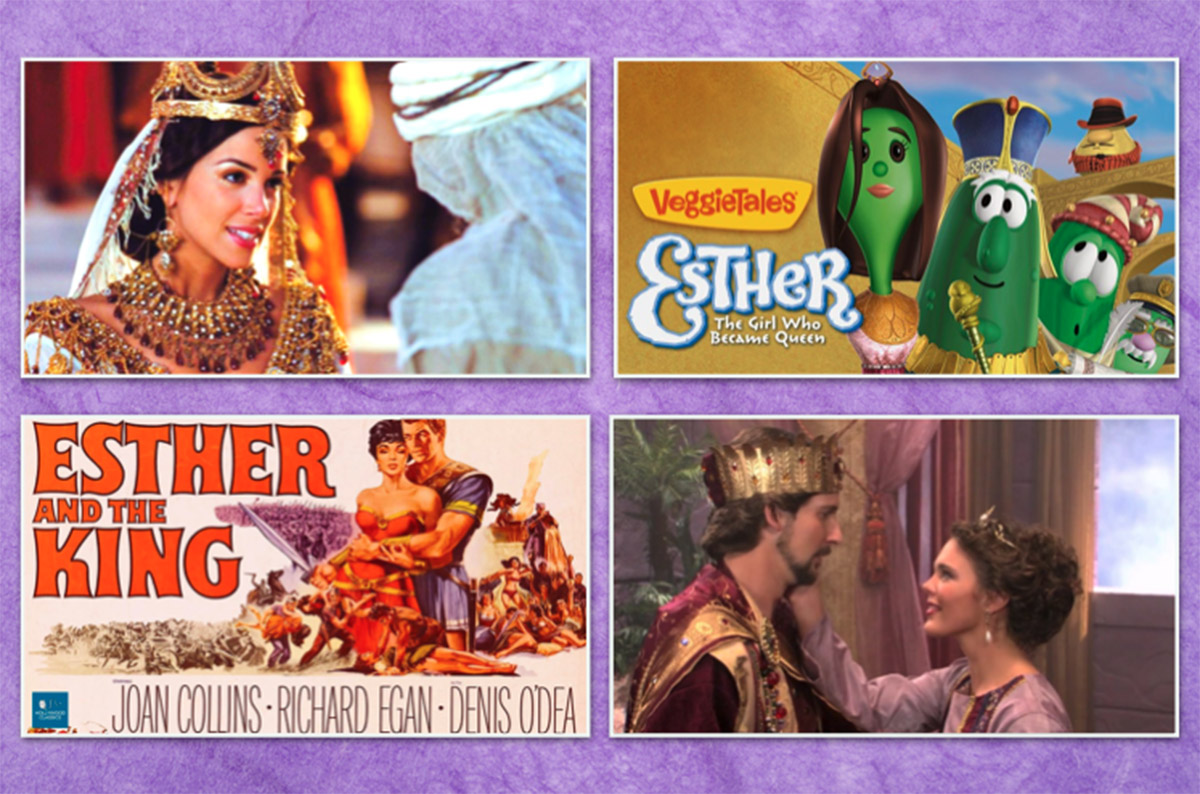 This article is part of our morning briefing. Click here to get it delivered to your inbox each weekday.
We watched 6 Christian Purim movies so you don't have to
Though Jews have long been in the business of parodying the story of Queen Esther, Christians have cornered the market on its cinematic retellings. Our PJ Grisar watched six such offerings to see what the trend is all about. They "vary wildly in competency and tone," he found.
Choose your own adventure: One's entire cast can be found at a farmers market, another is a musical, and yet another stars Joan Collins as Esther. There's even one that reunites the cast of Lawrence of Arabia.
VeggieTales version: This installment of the Christian-themed children's series features a grape with a Yiddish accent threatened with banishment to the Isle of Perpetual Tickling. "Maybe Christians like to ease their way into discussions of genocide with their kids," PJ posits. "It also sidesteps the risqué midrash on the king's demands of Vashti by simply having her refuse to make him a sandwich at 3 a.m. What is in that sandwich, given the vegetal nature of our characters, is potentially troubling, however."
Showstoppers: One Night With the King is, PJ writes, "regrettably not about Elvis." Meanwhile, Esther and the King "comes closest to the energy of a JCC Purim-spiel," he says, with the requisite puns (a sign pointing to "Shushan shoeshine"), wacky Flinstonian props and some funny patter. It's also got "big, box-stepping musical-theater major energy and a kid-friendly message about being yourself."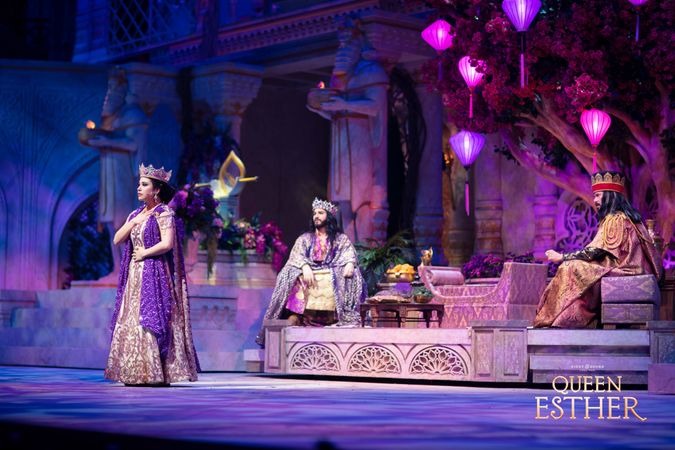 Queen Esther reveals her identity to King Ahasuerus and Haman. (Courtesy Sight & Sound)
You thought last week's was the final episode of our Playing Anne Frank podcast? Well, we've got two bonus mini-episodes. In "The Trunk," the daughter and granddaughter of one of the cast members of The Diary of Anne Frank tell the story of a keepsake that has stayed in the family since the 1950s. And in "Mouschi (The Cat)," we learn the fate of the 11th member of the original Broadway cast. Listen now ➤
Spread the word! Invite someone
to sign up for this newsletter.👇
WHAT ELSE YOU NEED TO KNOW TODAY
Viktor Yezapenko with his family, and at war. He was injured in battle this weekend. (Courtesy)
🇺🇦 Viktor Yezapenko, 40, one of four Jewish Ukrainians featured in a Forward story last month, was severely injured in an attack in the eastern city of Bakhmut on Saturday. Yezapneko, a father of two daughters, sold real estate before the war and joined the 80th Airborne Assault Brigade. His wife, who works at the Kyiv hospital where he is being treated, told Helen Chervitz, our correspondent in Ukraine, that he is disoriented, has lost his hearing and that his prognosis is unclear. (Forward)
🇮🇱 Israelis protesting the government's planned judicial overhaul are planning a second "day of disruption" for Thursday, with a focus on causing traffic disturbances near Ben Gurion Airport as Prime Minister Benjamin Nentanyahu heads to Italy for an official visit. Meanwhile, Israeli President Isaac Herzog said Monday that there was progress towards a compromise in the works that would include "a diverse judiciary" and "healthy structure" of balance among the branches of government while "keeping democracy and human rights." (Times of Israel, Haaretz)
🗣️ Arnold Schwarzenegger posted a 12-minute video to YouTube reacting to the recent rise in antisemitism. He begins by vividly describing a 2022 tour he took of Auschwitz and mentioning his father, who was a member of the Nazi party. "They fell for a horrible, loser ideology," Schwarzenegger said. "There has never been a successful movement based on hate. You will end up broken." (Hollywood Reporter, YouTube)
👮 An employee at the Israeli consulate in New York was arrested for attempted murder, accused of striking another man with a glass jug outside a nightclub. The victim was taken to a hospital with a cerebral hemorrhage and several cuts; the suspect was released on $25,000 bail. (Haaretz)
🕍 A vandal defaced the sign in front of the Blacksburg Jewish Community Center in Virginia. A signmaker in nearby Christianburg made a new sign for the building, free of charge. (WDBJ)
🏅 A bill to award a Congressional Gold Medal to those who partook in the Warsaw Ghetto uprising 80 years ago is winding its way through the House. "It shows, at a time of enormous brutal atrocities, how the human spirit and courage will rise up from the civilian side to resist," said Rep. Bill Keating, a Democrat from Massachusetts who is co-sponsoring the bill. "And I think it's one of the most important lessons that is so relevant today." (Jewish Insider)
🏠 A man writing a book about his family's Holocaust history tracked down his mother's wartime address in Krakow, Poland. Turns out, it's a tourist attraction, as it was used in a critical scene in Schindler's List. (Jewish Press)
🍔 When a Texas ad executive quit his job and decided to open a restaurant, he wanted the menu to merge his Jewish heritage and his upbringing in El Paso. He called it JewBoy Burgers. (Texas Monthly)

What else we're reading ➤ Hells Angels, a synagogue shooting and Iran's shady hand in Germany … Scholar explores generational shifts in Jewish humor … This Wheel of Fortune bagel blunder was a big dill.
Emile Berliner is best known for his role in developing the record player. (Wikimedia)
On this day in history (1876): Alexander Graham Bell received a patent for the telephone in the United States. But it was Emile Berliner, an Orthodox Jew from Germany, who introduced the telephone to the world. Berliner emigrated to the United States at 19, and also played a role in the development of the record player, helicopter, radio, microphone and transformer. President Herbert Hoover called him an "inventive genius."

Last year on this day, we reported that Mila Kunis raised $17 million in four days to help her native Ukraine. By November, she'd collected $37 million.
Remember the 2006 comedy For Your Consideration? It's directed by Christopher Guest (This is Spinal Tap, Best in Show), and the plot revolves around actors working on a film-within-the-film called Home for Purim. Ultimately, the studio intervenes, deeming the story about a family in the American South in the 1940s too Jewish, and revamp it as Home for Thanksgiving. Watch a scene from the movie above.
—
Thanks to PJ Grisar, Adam Langer, Tani Levitt Lauren Markoe, and Talya Zax for contributing to today's newsletter. You can reach the "Forwarding" team at [email protected].