Culture
'History of the World, Part II' is a Mel Brooks comedy without much Mel Brooks — and that's a good thing
The star-studded Hulu series has a Brooksian sensibility, but fresher jokes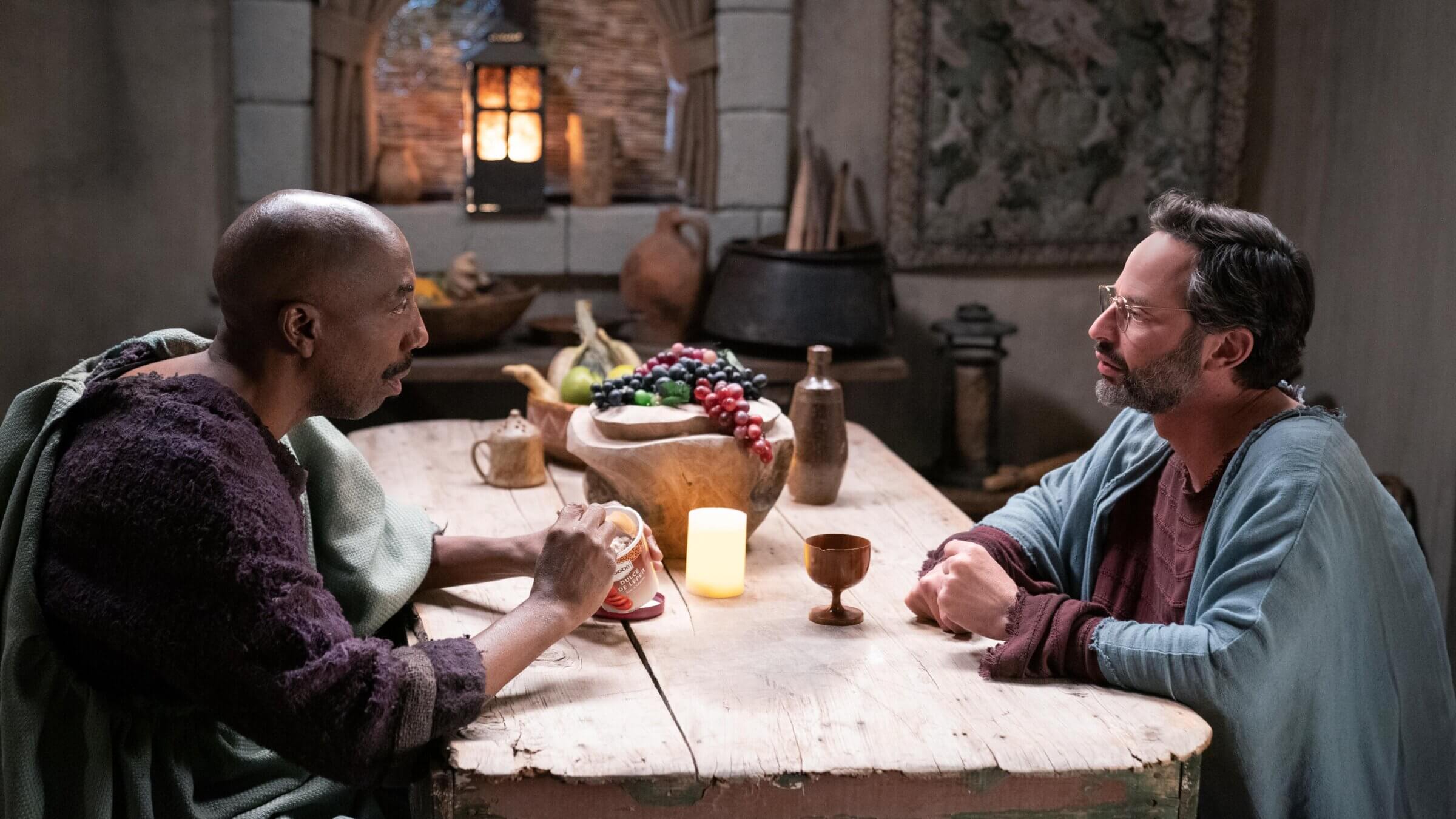 The work of History of the World, Part I was famously left unfinished — that was part of the joke. The sequel teased before the credits, much like the fumbled third tablet of Moses, was never meant for our eyes. And that was really just as well. 
While there are gags, laser-armed Jews in Space and an entire Busby Berkeley send-up of the Spanish Inquisition that fans still look on fondly, in the filmography of Mel Brooks, HotW signaled a downturn that led inexorably to Dracula: Dead and Loving It. I didn't think I'd ever need a Part II. But really what I didn't need was Brooks' singular take on history a second time.
Hulu's History of the World, Part II, kicks off with a self-aware show biz introduction, with Brooks explaining his 1981 film and one of its worst offenses: "I also starred in it — maybe a mistake." Part I is also one of only three films Brooks wrote by himself, another arguable misstep for a sketch comedy film.
But if you are expecting a lot of Brooks in this second installment, you may be disappointed. Either out of a desire to spotlight newer talent, or a nonagenarian's understandable reluctance to return to the directors' chair after almost 30 years, he takes on a smaller role as a writer, executive producer, and offscreen narrator, replacing Orson Welles' portentous tones from the original. (Nick Kroll, Wanda Sykes and Ike Barinholtz are executive producers, writers and stars, and Kroll directed segments on a couple episodes.)
The eight-part limited series still carries Brooks' spirit of ample Yiddishkeit, sight gags and slapstick — and even callbacks to Part I. But, thankfully, it feels more like the rollicking team efforts of Your Show of Shows or Blazing Saddles than its predecessor. The trailers, which use Brooks as a kind of marketing hook, are misleading; the show is much better than that "Netfish" joke.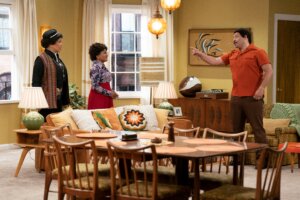 Part II's major plots, broken up with bumpers about earth-shattering inventions and anachronistic commercial and TV parodies, slot into genres. There's a Western following Robert Todd Lincoln (Nick Robinson) and Ulysses S. Grant (Barinholtz) on a covert mission behind enemy lines, as Grant struggles to stay sober (take that, Drunk History). There's a musical about a Jewish family (Kroll, Pamela Adlon and Charles Melton) as they move from the shtetl to Moscow during the Russian Revolution. Jesus' final days are given a multi-genre treatment while the presidential run of the first Black woman in Congress Shirley Chisholm (Sykes) is reimagined as a Norman Lear-style sitcom.
Your mileage may vary on each, but they all bring a Brooksian subversiveness — and hummable tune, courtesy of Kroll's regular collaborator Mark Rivers — to bear. While Part I was widely spoofing biblical epics, sword and sandal flicks and costume dramas, this formidable writers' room is engaged in direct, often topical satire.
Not all of the au courant stuff lands. Galileo using TikTok is uninspired. Freud's Mommy Class (oops, MasterClass) is better, with a cameo by Taika Waititi. A DNA service for descendants of Kublai Khan (Ronny Chieng) is pretty darn good, especially when it connects to a local ad for a demo business that topples regrettable historical monuments. 
There was no arc that made me more nervous than "The Story of Jesus," which sees Nick Kroll playing Judas. That tale has four variations, a la the Gospels, and the first, called "Curb Your Judaism" (you can imagine what that's like; it nails it, thanks in large part to J.B. Smoove) immediately put me at ease vis a vis the tired, double-crossing Jew libel. 
When a Roman centurion tells Judas he's the "the most weaselly apostle." Kroll skips no beats saying, "that feels antisemitic." Elsewhere in Judea, references to matzo-on-a-stick and "Apple & Honey" Records (in a The Beatles: Get Back parody) remind us of this story's Jewish roots. Though, I could have done without Judas giving Jesus (Jay Ellis), a "foreskin check" at a urinal, mostly as it's an unwelcome echo of a moment with Gregory Hines in Part I and the Bart and Lili von Shtupp scene in Blazing Saddles. Can we not?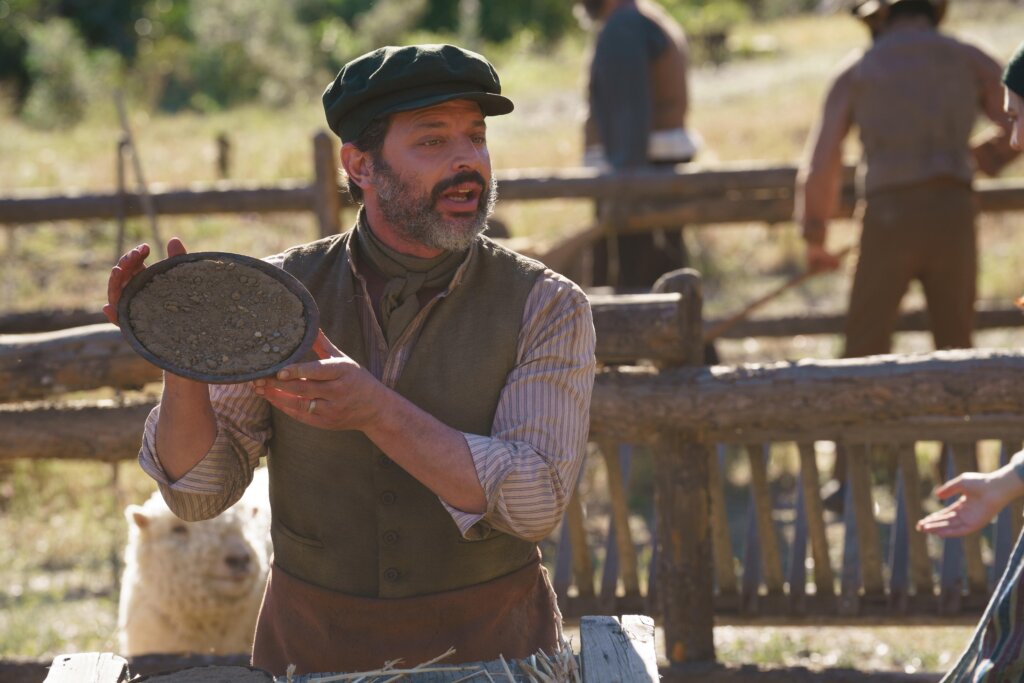 Like any sketch show, HotWPII is uneven, but in its sampler platter approach, from a diverse and multigenerational crew and an incredibly deep bench of guest stars, there are a lot of laughs to be had, each with a unique appeal. 
Will you crack up at the appearance of R&B group Bolsheviks 2 Mensheviks (guilty)? Or is comedian George Wallace playing racist Alabama Gov. George Wallace more your speed? While not all are jokes Brooks would make, Kroll's Jewish peasant, Schmuck Mudman, who sells mudpies "made with the abject suffering and eczema of the Jewish diaspora" before pivoting to a courier service called Putz Mates, certainly feels on-brand. (I'd bet Brooks is behind the sign for Mudman's shtetl that specifies it's "pronounced 'shithole'"; so far, Kroll has confirmed that Brooks dreamed up a gag involving Robert E. Lee, a saber and a poor bystander's testes.) 
It only makes sense that, with our deeper understanding of history and who gets to write it, new veins of humor are there for the tapping.
Sykes, as Harriet Tubman, makes a Union soldier feel his first glimmer of white guilt. At the Council of Nicaea, bishops focus group on Jesus' race and decide it's simpler to make him Caucasian — and pin his murder on the Jews. Shakespeare's writers' room sees its showrunner (Josh Gad channeling James Corden, at least in my head canon) stealing the ideas of his Black and woman staffers. And Zahn McClarnon as a Native American spy for the Union tests his tight-five on an angry Southern mob, quipping, a la Jeff Foxworthy "If your house is near a river you can't pronounce, you might be a colonizer." 
To all who kvetch needlessly that Blazing Saddles could never be made today, the series' Looney Tunes-esque journey through a Confederate stronghold, named Rock Ridge in clarion homage, demonstrates that it was never the n-bombs that made the movie funny. (I fully anticipate some calling the new series "woke" for, like Blazing Saddles itself, having a social conscience.) 
Brooks, as creator emeritus, may mostly be out of the picture, but there's perhaps no better tribute than seeing how his sensibility stamped so many of these collaborators and how they've been able to advance the ball.
Full of familiar and new shtick — and even some fresh Jackass shorts — History of the World, Part II is still Mel Brooks' world, but it's wider than he imagined.