Forwarding the News
Israel's day of chaos ends with compromise – for now
Anti-Zionist professor cleared of discrimination, man sues El Al over cramped seat, a new Netflix series about rescuing Jewish artists from the Nazis, and why some churches use matzo for Communion.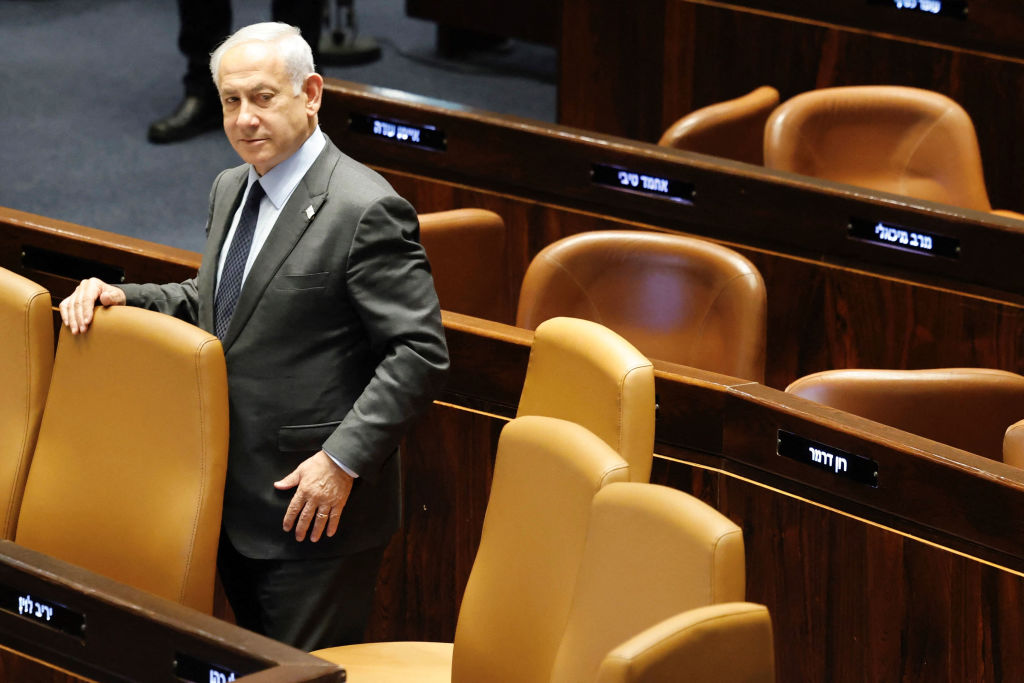 This article is part of our morning briefing. Click here to get it delivered to your inbox each weekday.
After weeks of mounting tension between Washington and Jerusalem, the U.S. Ambassador to Israel, Tom Nides, said Tuesday morning that Prime Minister Benjamin Netanyahu would be invited to meet with President Joe Biden at the White House "relatively soon."
Netanyahu, engulfed by a day of nationwide strikes protesting his plan to undermine the judiciary's independence, announced Monday night he would suspend Knesset action on the plan for the month-long Passover recess. "There must not be a civil war," he declared in a televised address, one day after he ignited the largest protest yet against his government by firing his defense minister for opposing the plan.
Major American Jewish organizations and a bipartisan group of U.S. lawmakers welcomed the news. Some, though, expressed outrage at the news that Netanyahu had promised his far-right minister of national security, Itamar Ben-Gvir, he would create a National Guard under Ben-Gvir's control.
Netanyahu's speech capped off a chaotic day in Israel, with a nationwide strike closing schools, businesses and non-emergency care at hospitals. Departing flights from Ben-Gurion Airport were grounded. Menachem Engel, a music producer and art gallery employee in Safed, was sanguine about his plans to visit family in New York for Passover being delayed. "If it inconveniences travelers," he said, "so that we can ensure that Israel remains democratic, I feel fine about that."
More than 100,000 people gathered outside the Knesset, and on the streets of Tel Aviv, some protesters were struck with a new feeling: that their activism might actually succeed. There's "a glimmer of hope that we'll go back to the status quo, which to me remains not good enough," said Justin Jacobs, who moved to Israel from Pennsylvania. "But not good enough is still better than horrifying."

Unrest continued. Far-right demonstrators who support the judicial overhaul attacked Arab passersby in Jerusalem, beating one man; three people were arrested. In the occupied West Bank, Israeli settlers descended on the village of Hawara, the site of a rampage last month, and injured six Palestinians.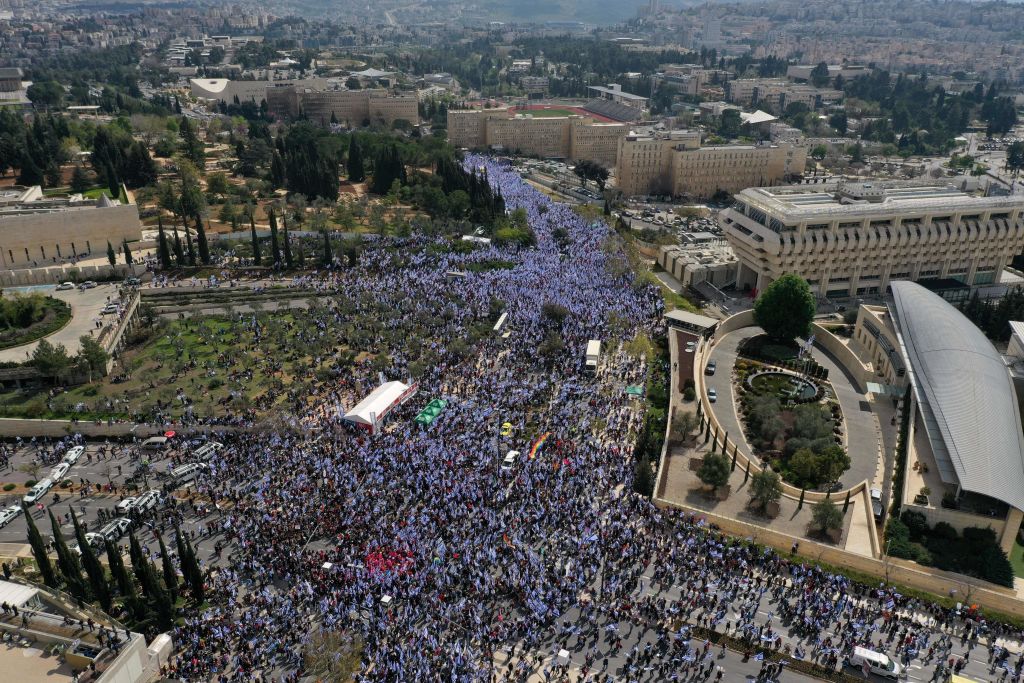 An estimated 100,000 protesters demonstrated Monday outside the Knesset. (Getty)
These American teens came to Israel to study. Now the streets are their classroom too: Whether they join the protests or not, high school and college students studying in Israel are witnessing a seminal moment in the nation's history. Abby Litwin of Teaneck, New Jersey, has been to at least eight protests during her gap year, as well as an event Netanyahu attended last fall. "Some people shook his hand," she said. "Some of us gave him the finger and some people spit." Read the story ➤
Opinion | I'm moving to Israel this summer. I fear for its future: On his own gap year to Israel four years ago, Sruli Fruchter promised his teacher that he would return for good. Now, as he prepares to make aliyah, Fruchter, a rabbinical student, is watching with dismay, worried that "the Israel I return to may not be the Israel I left." Read his essay ➤
What now? "It's not at all clear that the Israelis who protested on Sunday and Monday will ultimately be satisfied," writes Philissa Cramer of the Jewish Telegraphic Agency. "Revolutions don't always succeed, as the Arab Spring and countless other examples in history make clear. Many of the social and demographic forces that brought Israel to this moment haven't changed. Netanyahu has survived political crisis after political crisis before." Read the story ➤
And one more: American Jewish donors helped subsidize Israel's drift into illiberalism, Rabbi Jill Jacobs wrote in an OpEd.
(Illustration by Mira Fox)
Why some Christians use matzo for Communion: It's "deeply connected to the Passover element of the Last Supper," writes our Mira Fox, who has a master's degree from Harvard Divinity School. The standard wafers used by most Catholic churches are unleavened, and subject to some of the same regulations as matzo. One church-supply website even offers "Streit's Communion Bread," while Amazon sells Manischewitz "Communion-Matzo." Read the story ➤
Peter Gabriel's not-so-secret Jewish weapon: Bassist Tony Levin's long association with Gabriel and King Crimson's Robert Fripp all stemmed from a 1976 session gig in Toronto. That first jam wasn't an immediate creative epiphany. "No lightbulbs went off because I'm a slow lightbulb guy," Levin told our contributor Jim Sullivan. "Put a different way, I didn't realize that 40 years later I would still be making very special music with these guys." Read the story ➤
Plus…
Spread the word! Invite someone
to sign up for this newsletter.👇
WHAT ELSE YOU NEED TO KNOW TODAY
Martha Carey Thomas and the Bryn Mawr College library that bore her name. (Wikimedia)
📚 The board of Bryn Mawr College voted to remove from its library the name of its former president, Martha Carey Thomas, who in the early 20th century discriminated against Blacks and Jews, and promoted eugenics. (Philadelphia Inquirer)
🏫 While we're on the topic: More than a dozen community organizations, including the Jewish Federation of Madison, is calling on a school Wisconsin district to rename Charles Lindbergh Elementary because of the aviator's antisemitic statements and ties to Nazism. (Wisconsin State Journal)
✈️ And speaking of flying: A man filed a lawsuit against El Al claiming that he was injured by getting stuck in a business-class seat. He says that a flight attendant "had to pull him free" and that the cramped experience caused him "great pain, agony and mental anguish." (View from the Wing)
🍕 Just when you thought the protests in Israel were on pause: Activists plan on passing out pizza on Passover to protest a proposed law that would ban leavened products from hospitals during the weeklong holiday. (Times of Israel)
🥼 Were you impressed with Pope Francis' epically puffy white winter coat, a photo of which went viral last week? Turns out, the image was created by artificial intelligence. "I just thought it was funny to see the pope in a funny jacket," says the guy behind the prank. (Buzzfeed)

Shiva calls ➤ Nathan Chavin, an ad exec who wrote jingles for Trump properties and a raunchy country music song covered by Kinky Friedman and the Texas Jewboys, died at 78 … Dan Ben-Amos, a world-renowned folklorist and professor of Middle Eastern Studies at the University of Pennsylvania, died at 89.
Above, a one-minute video of the Chagall windows at Hadassah Hospital in Jerusalem.
On this day in history (1985): Marc Chagall died at 97. Writing for the Forward in 2016, Elin Schoen Brockman described Chagall as "secularly, though profoundly, Jewish." Born in Belorussia, he spent most of his life in France, though he fled to the U.S. in 1940 to escape Vichy rule, returning in 1948. His works, wrote Brockman, "brim over with nostalgia for his shtetl childhood."
And speaking of Marc Chagall: The new Netflix series Transatlantic, co-created by Unorthodox's Anna Winger, gives us a glimpse at the American Rescue Committee's efforts to save anti-Nazi and Jewish intellectuals and artists from the Vichy regime. The trailer shows journalist Varian Fry (Cory Michael Smith) and American heiress Mary Jayne Gold (Gillian Jacobs), real figures who aided refugees like Walter Benjamin, Hannah Arendt, Bella Rosenfeld and Chagall. If you look closely, you can even see Max Ernst going for a surreal swim around the pool. The limited series premieres on April 7.
—
Thanks to Nora Berman, PJ Grisar, Tani Levitt and Talya Zax for contributing to today's newsletter. You can reach the "Forwarding" team at [email protected].