Looking Forward
Watching the Sarah Silverman musical with my friend, Susan — her sister
How can something be so sad and so funny at the same time?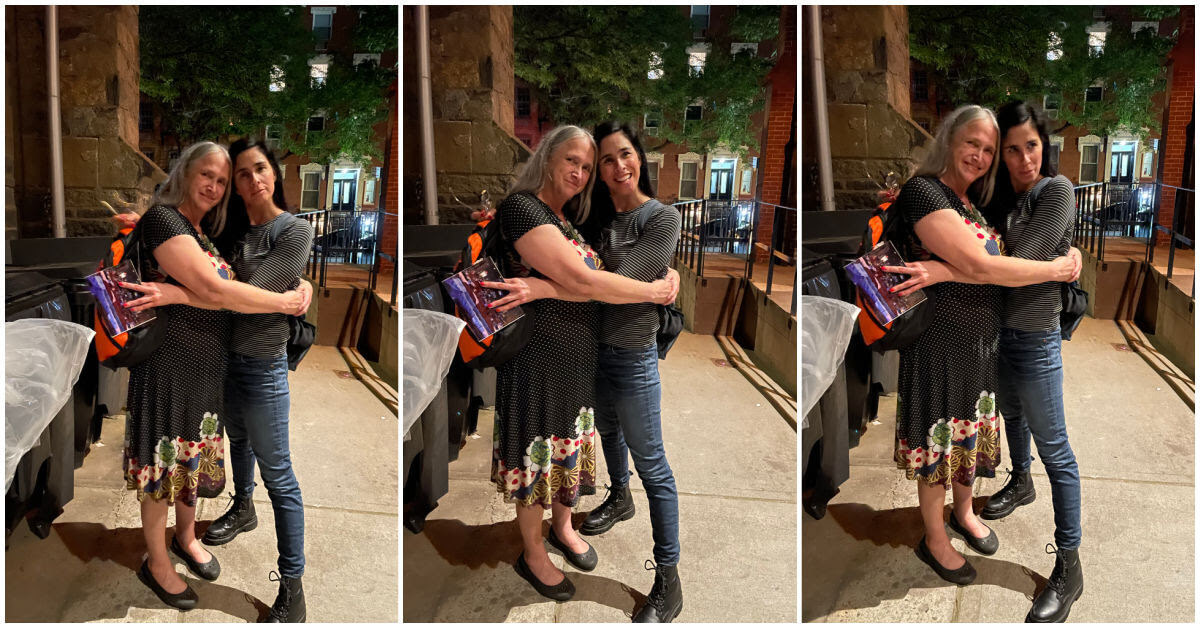 This is an adaptation of Looking Forward, a weekly email from our editor-in-chief sent on Friday afternoons. Sign up here to get the Forward's free newsletters delivered to your inbox. Download and print our free magazine of stories to savor over Shabbat and Sunday.
You go into a Sarah Silverman musical expecting it to be hilarious and profane, and "The Bedwetter" certainly delivers on both. It's a story about a daughter of divorce who, as the title suggest, wets the bed well into adolescence, so you know there's going to be some miserable mean-girl moments that tug your heart.
But I was not fully prepared for the deep despair on display across this narrative of depression, addiction and loss, thankfully punctuated by campy and ribald moments of relief. As I watched the show this week at the Atlantic Theater in Manhattan, I alternated between sobbing in my seat and nearly peeing my own pants from laughing so hard.
The emotional impact was only intensified by the fact that the husband and I were at the show with our close friend Rabbi Susan Silverman, Sarah's older sister, who surprised me afterward by saying she had not succumbed to tears herself.
Susan, who saw the show that night for the first time, said she had fully expected to cry, recalling how when Sarah was 12, and in her first big role as the lead in in a community-theater production of "Annie" in their native New Hampshire, "when she came on stage and started singing 'Maybe,' I could not stop sobbing."
"Even though I am now 59 years old and she is now 52 years old or whatever, I felt that was going to be the same thing — something about my baby sister and just being vulnerable," said Susan. who was seeing the show for the first time. "I'm just so proud of her," she added. "There were parts that squeezed my heart."
Susan does not appear in "The Bedwetter." It's a fictionalized version of Sarah's 2010 memoir of the same name, and just as it squeezes years of her struggles into fifth grade, it streamlines the larger Silverman family so Sarah has just one sister, Laura.
But as we stood in the alley after the show, and Sarah introduced Susan to the actors as they emerged from the backstage door, they each knew exactly who she was. "The rabbi!" one exclaimed. "From Jerusalem!" said another.
Susan and her husband, Yosef Abramowitz, became like family during our years in Jerusalem, hosting us for countless Shabbat meals. So we especially appreciated the homage to her in "The Bedwetter," when the mom tells Sarah and Laura she loves them "the whole Earth and the whole sky" — that's a Susan-ism, what she always says to her kids.
We first met Sarah when she came to Jerusalem for the bat mitzvah of Susan and Yossi's youngest, Ashira, and I've always maintained that despite Sarah's comedic celebrity, Susan is the funniest Silverman.
She is a Reform rabbi, activist and author, whose own memoir, "Casting Lots," tells the messy and moving story of her and Yossi's three biological daughters and two sons adopted from Ethiopia. She is also the founder of a nonprofit, Second Nurture, that is helping scores of families adopt children from foster care in community groups, mostly rooted in synagogues.
So what's it like watching your family's traumas — adultery, alcoholism, accidental death of an infant brother and more — displayed on stage?
"Our family has never been ashamed of problems, we're all very matter of fact about it," Susan reminded me.
And that kind of openness can be — has been — life-changing. After the show, Sarah told us that the bit about a former Miss New Hampshire saying on the Johnny Carson show that she herself wet the bed until she was a teenager was true — and a major turning point in her recovery.
"That saved Sarah," Susan added when we debriefed the next day. "What a gift that was. And so now Sarah is sort of paying it forward, not just with bedwetting but with depression and anxiety and divorce and all the imperfections."
One of the most powerful parts of the show comes in the second act, when Sarah is at her lowest. Her dad asks how it feels, and Sarah says: "It's like I'm homesick but I'm already home."
"That was real, but it was my stepdad who asked her that," Susan told me. "And our dad, when he says in the show there's nothing I can say that will fix it but I can tell you I'll be with you — my dad has said things like that.
His father was abusive, and I remember him saying to me, 'I'm far from perfect, but I'm a better father than my father was, and you'll be a better parent than me,' and I thought, 'Oh, I guess we all just improve on what we know.'"
The Silverman parents in "The Bedwetter" are, indeed, far from perfect, and the show's refusal to make either of them pure villain or hero is what makes it so real, and so great. The dad is "Crazy Donny," who runs a cheesy discount-clothing store where, as he sings, "12% of customers enjoy my penis," but is also an engaged parent who takes Sarah to the doctor and actually listens to her.
The mom, Beth Ann, misses Laura's soccer games because her debilitating heartbreak and guilt over the loss of her son keeps her mostly in bed, but she also offers both her daughters the clearest insights and empathy.
Sarah and Susan's real dad, Donald, who is 84, came up to New York early in the show's run and saw it five times; Darren Goldstein, the actor who plays him, told us that spending time with Donald that weekend was how he nailed the signature New England accent.
"He loves it," Susan said of her dad and the musical. "This is a man who's been at two weddings of his children, he's got five grandchildren, and he said that this, the weekend that he saw the show five times, was the best weekend of his life."
Their real mom, who died in 2015, eventually got up from bed and went back to college — she had dropped out of Tufts to marry Donald — where she fell in love with a philosophy professor, remarried, and started a small theater company that, Susan said, "for 25 years did a straight play and a musical every year and they were fabulous."
"Our mom had so many hard things in her life, and was still able to be so, kind of, even, and wise, and not vindictive at all," she continued. "Our mom could just say this thing that would center us. Her world was so small, but her capacity for putting things in perspective was so broad."
Wait — I said it was sad and funny at the same time, and I almost forgot the funny.
There are classic Jewish jokes like the one about the waiter who says to a table full of Jewish ladies, "Is anything all right?" and the one about the Jewish mom who watches her porn-star daughter do an orgy scene and responds, "You were the best one!"
There are lots of sexual jokes, including one about Little Red Riding Hood that I cannot repeat here but that Susan said was in a book her dad actually gave Sarah to take to summer camp when she was in grade school.
There are plenty of great one-liners, there is a bizarre dance number involving giant yellow Xanax pills, and there is the marvelous, recurring role of Miss New Hampshire, whose beauty-queen smile betrays a potty mouth to rival Sarah's.
How can one musical be so sad and so funny at the same time? It's a lot like life, I suppose.
"The Bedwetter" is at The Atlantic Theater through July 10. 
Your Weekend Reads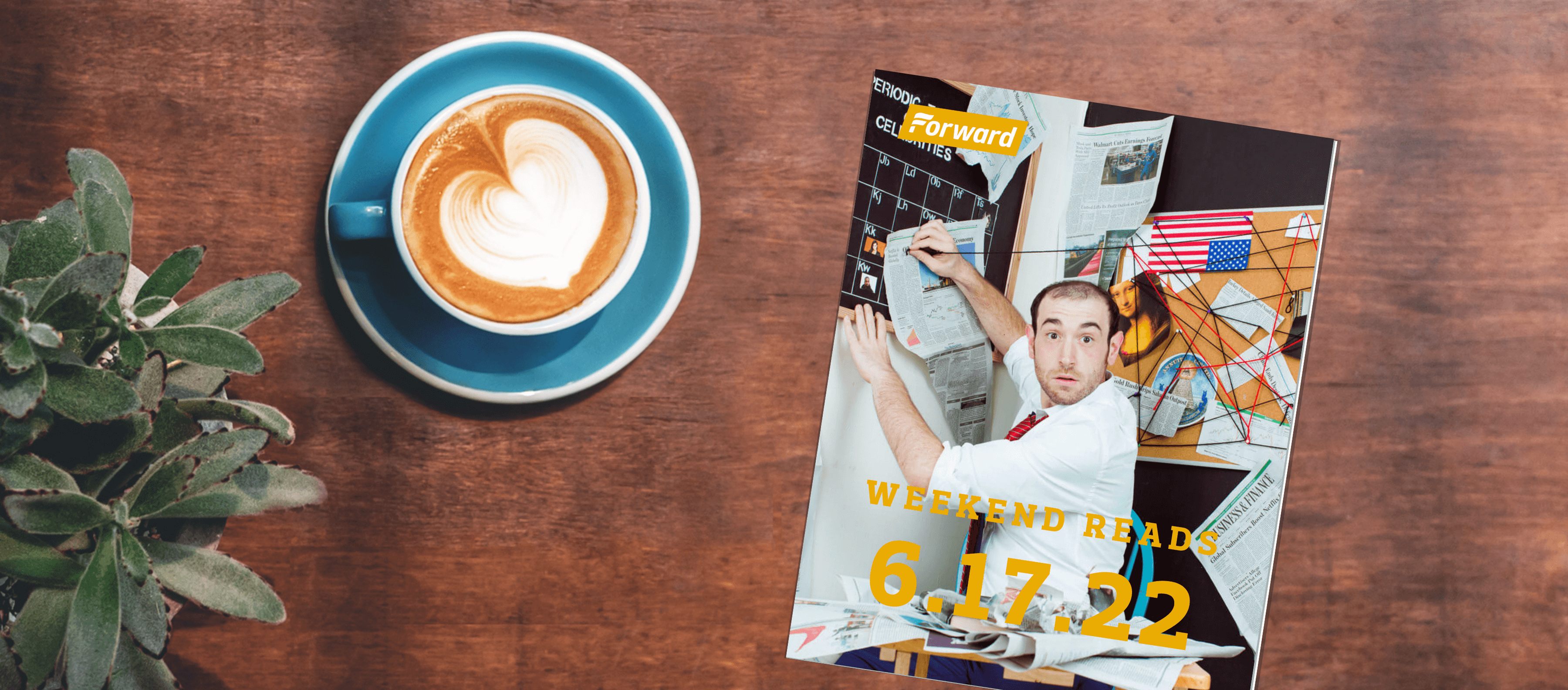 That's Eitan Levine on the cover. He's a formerly Orthodox comedian whose "Jewish or antisemitic?" TikTok videos have gone viral, and our Mira Fox says they're reminiscent of Lenny Bruce but strike a "positive and relatable note, especially with young audiences." Also in this week's edition: Israeli drag queens, Orthodox rabbis and gun control, Sandy Koufax, the new head of the Jewish Agency, and, for Father's Day, a moving essay about a man dying of brain cancer who recorded himself reading Dr. Seuss to his future grandchildren.
Watch: Juneteenth
For the third year in a row, I was privileged to have Rabbi Sandra Lawson of Reconstructing Judaism and Tema Smith of the Anti-Defamation League join me for a conversation about the holiday and racial justice in the Jewish world. Click below to watch the video, or here to see a list of Jewish events for Juneteenth, or here for Robin Washington's important myth-busting essay on the true story of our newest federal holiday.