Looking Forward
Eggs or meat? More lessons from my weekly shift at a local food pantry
Oatmeal and black beans are big sellers, diapers are like gold and, it turns out, so are eggs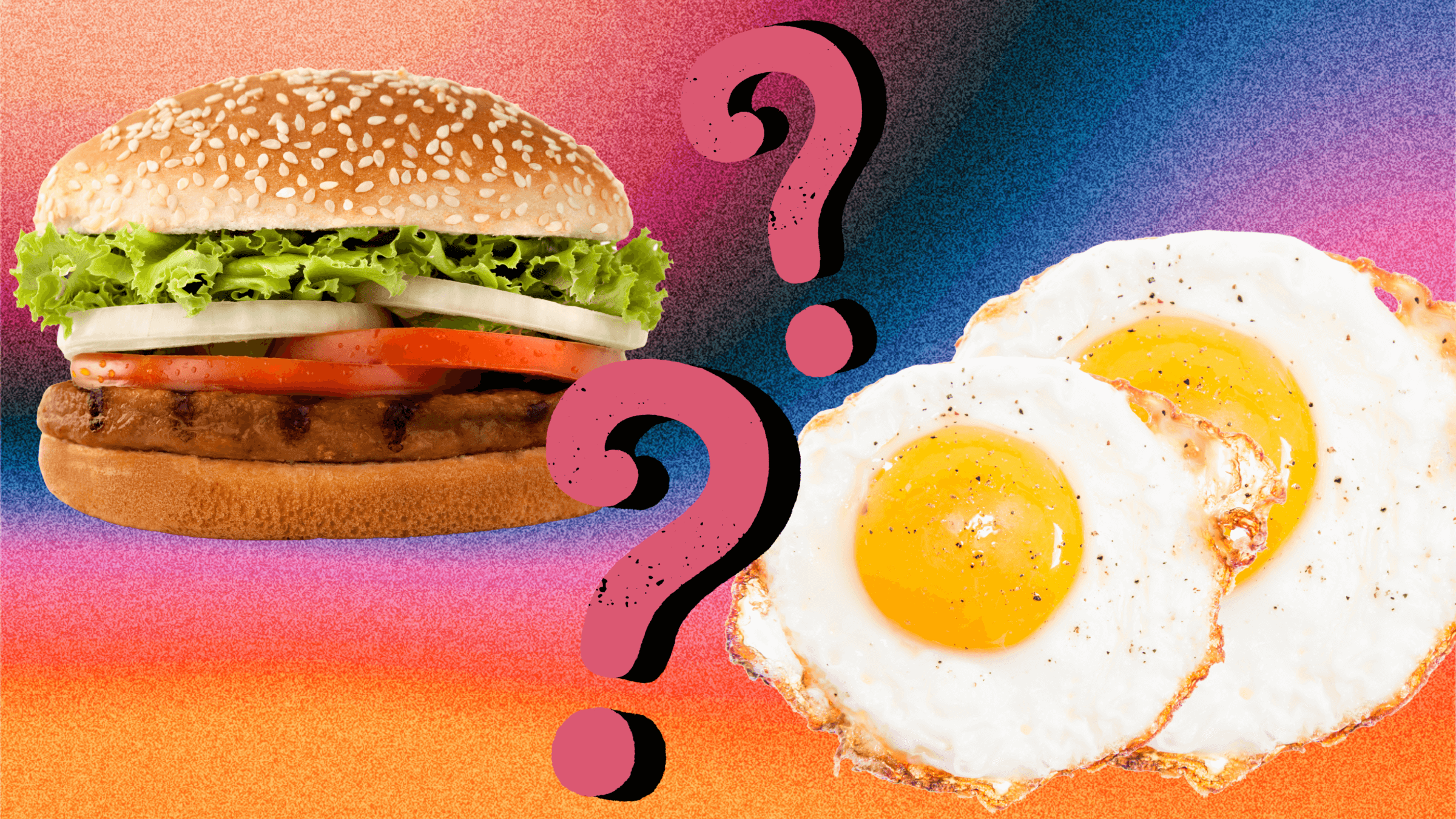 The protein station is a critical one at the little food pantry where I spend most Thursday evenings. Not just because of protein's value to our customers' diet and budget, but also because it's their first stop upon entering the pantry, a welcome of sorts, where we set the tone.
Soon after opening the other night, a woman in one of those neon yellow vests that highway workers wear walked in. She happily took the tube of frozen ground beef I offered, then showed me her "I registered to vote today!" sticker with palpable pride. I congratulated her, and she shuffled along to pick out her produce.
An hour later, I handed over the last tube of ground beef from the cooler, and Mike Post, the heroic volunteer who runs the operation, brought out the night's backup protein: eggs. I gave a dozen to the next customer, and the next — and then something surprising happened.
A revealing food swap
The person who'd grabbed the last ground beef circled back after collecting her canned goods to inquire about the eggs. I told her she could swap if she wanted. Two other customers also traded their meat for eggs. And for the next while, I greeted each person by asking "eggs or meat?" All but one picked eggs.
I was surprised because, well, a pound of ground beef is worth more than a dozen eggs — or at least costs more: The average price for ground beef across the nation's cities last month was $5.46, according to the U.S. Bureau of Labor Statistics, while eggs were $3.12. (Check out our nifty chart below!) Of course, price isn't the only way to define value.
Why eggs over meat? I asked the folks going through the line. Two themes emerged: Versatility and volume. "You can make more things with them," as one woman put it. Plus, a dozen eggs is six meals; a pound of ground beef maybe three or four burgers or plates of bolognese. Lesson learned.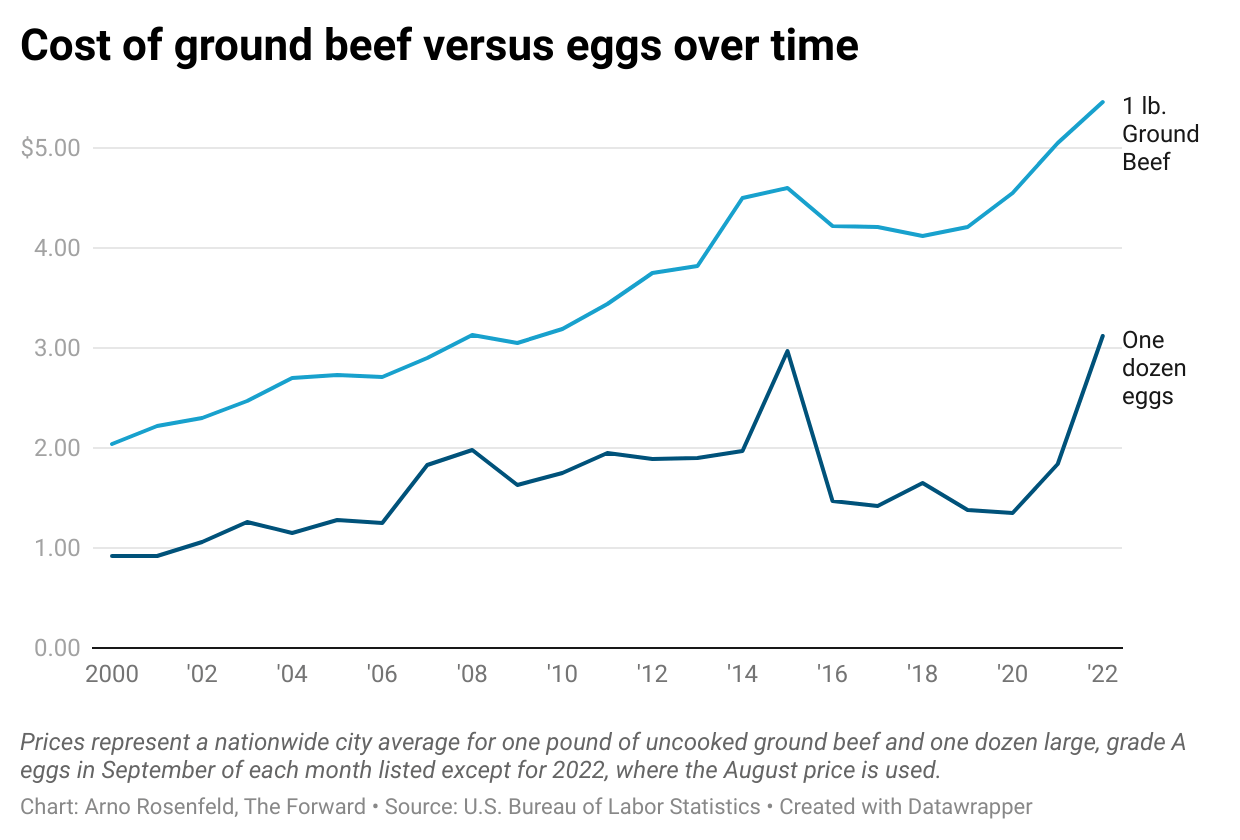 'That's manna'
As loyal readers know, I've been volunteering at this food pantry since it sprung up in the early days of the pandemic. It's at the Park United Methodist Church in Bloomfield, New Jersey, where members of my synagogue, Temple Ner Tamid, had been preparing hot meals one Sunday a month for years. In March 2020, when serving lunch to a crowd indoors became untenable, Joel Hubbard, who was then the church's pastor, quickly pivoted to replace the program with what he called Manna Food Depot.
"I get here and the room is empty, and then by 10:30, there's food in it, and then by 1 o'clock there's not," he explained when I interviewed him in May 2020. "Whether we've had a few people come to the door, whether we've had hundreds come to the door, no one has ever been sent away without something to eat. That's manna."
Back then, we volunteers would fill a box with the day's offerings and set it up in the parking lot for the customers to consider. We'd ask each one what they wanted, then duck inside to pack the items into bags and boxes, careful to never have more than a few masked people in the room. Like everything else in that era, a makeshift bandaid we thought we'd keep on for a couple weeks turned into something of a new normal.
By fall 2020, we'd moved the operation to the church basement and started inviting folks in to shop as they might at a grocery store. Eventually we added a couple freezers, a walk-in fridge, pallets to organize the non-perishables, and even some stylized drawings of pantry staples that my very talented artist-daughter made as part of her bat mitzvah service project.
A pantry with a haimish, DIY vibe
Over the past few months, we've also added a lot of customers — traffic has about doubled, to 90-plus households each week. And we've also added some new volunteers: an Asian woman who used to come to the pantry is paying it forward; an Israeli woman who, like me, comes with her teenage daughter, has upped our organizational game by buying clip-on numbers for each crate that tell customers how many apples or zucchini or peppers or potatoes they can take.
The clientele in 2020 and 2021 was a real ethnic and racial melange — Black, white, Latino, vegetarians from India, Jewish immigrants from Belarus who sometimes bring our fearless leader borscht or baked goods in gratitude. They all still come, but the recent growth is mainly Spanish speakers like the woman in the neon yellow vest, including some from Newark, a 20-minute drive away.
They have food pantries there, of course, but I think people appreciate ours for its haimish, DIY vibe. We don't check IDs, we give out a lot of food each week, we play music, we let that one lady with the little dog bring him inside, when we have a lot of carrots we hand out my recipe for carrot muffins, we make small talk, we remember (some of) their names.
The vast majority have jobs — Natasha, one of the Belarussians, is a nurse, and the big guy who comes near closing time, uses a box instead of a bag, and always fist-bumps his favorite volunteer manages airport security. They're not people who would go hungry if Manna didn't exist, it's more like whatever we give them gets crossed off their supermarket shopping list, saves them a few bucks they can put toward something else.
Which is, maybe, why I thought they'd pick meat over eggs, to save $5 instead of $3.
So, why?
Maybe, colleagues suggested when I shared this little anecdote, the egg-choosers are leaning away from meat for environmental or health reasons. Indeed, Americans' beef consumption has dropped steadily since the 1970s; we ate an average of 55.4 pounds per person in 2019, down 17% from 2002. As for eggs, we gobbled down 288 per person in 2019, up 16% from 2002.
Or maybe, a friend posited, it's because eggs have a longer shelf life. Maybe not everyone has freezer space for the beef. Maybe.
I should say that I am a huge fan of the humble egg. I scramble, fry or poach a couple for myself many weekday mornings, and shakshuka is my favorite Israeli dish. I just had a delicious egg-white omelet with spinach, feta, onion and tomato at a hotel in Austin, where I've come to chat antisemitism with Ambassador Deborah E. Lipstadt at the Texas Tribune Festival.
My not-so-secret dream is to open a breakfast restaurant in the Berkshires, and pre-pandemic I was practicing with a pop-up Sunday brunch cafe at my shul. When I auditioned for "Master Chef" in 2019 — I came this close to getting on the show, by the way, but that's another story — I made a lox, cream cheese and scallion frittata (with everything bagel bites on the side).
At Manna, I don't usually handle the protein station. I often do cereal — oatmeal is the big seller there — and juice (most people choose apple, which is also mostly what we have, but there are a couple who get very excited when grapefruit or V8 shows up).
Just about everyone takes the cartons of shelf-stable milk virtually every week. Dates, nuts, vegetable oil and flour fly out when we have them. Black beans are more popular than pinto. Our people strongly prefer pads over tampons. Diapers are like gold.
And now I know: so are eggs.