Community
Readers share how they turn Saturday into Shabbat
Hot cocoa from the bible, bluegrass and opera, sleeping late and cleaning house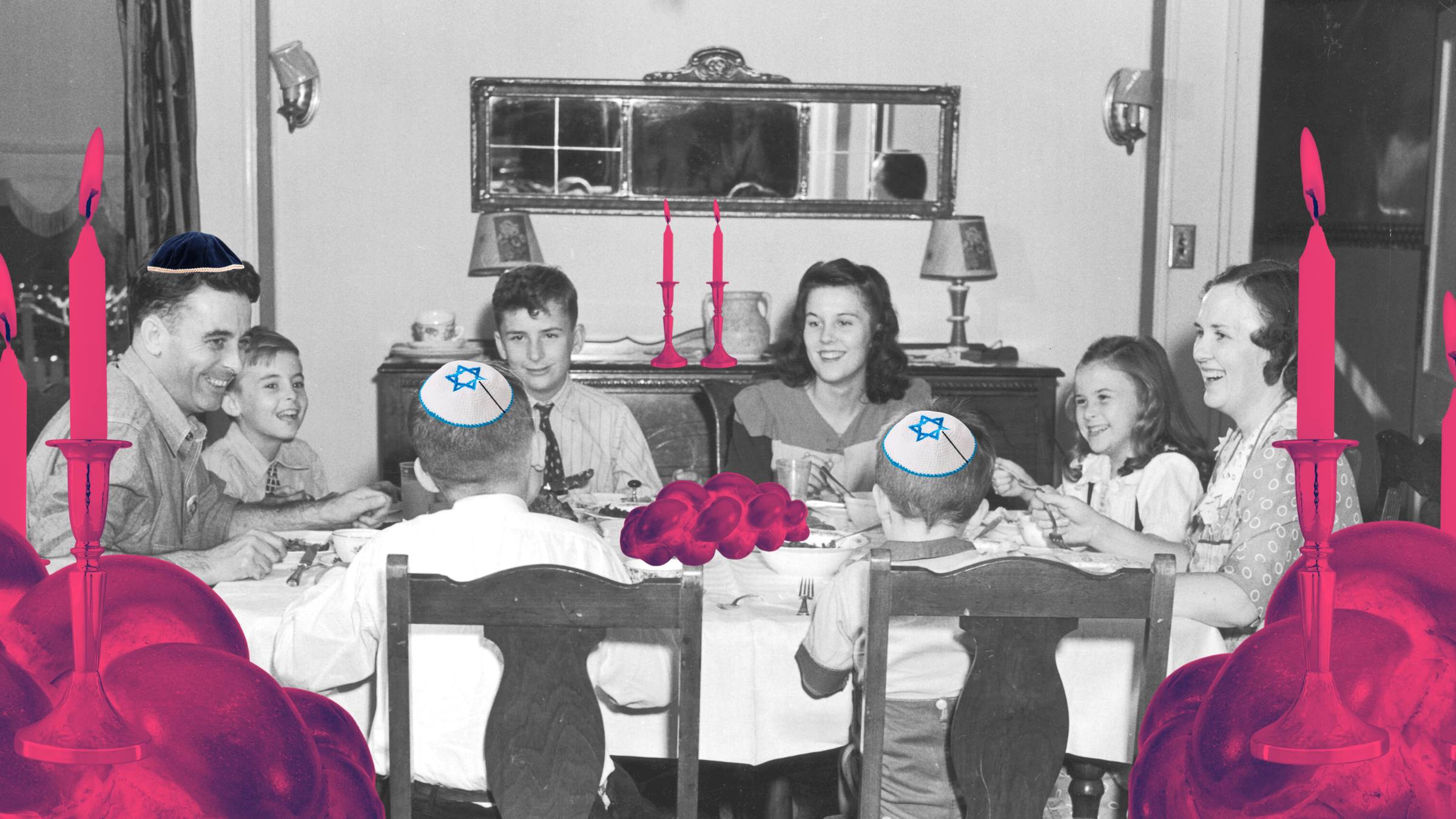 A rabbi makes his sons special hot chocolate topped with candy depictions of Torah stories. A woman walks to meet friends at a film screening or a bluegrass concert, buying tickets in advance to avoid using money on Shabbat. Another spends her Saturdays doing genealogical research about her ancestors.
A fourth Forward reader marks the Jewish day of rest by simply not setting an alarm: "I sleep as late as I please," explained Dodi Fromson.
Jewish law prohibits work for 25 hours each week, from sundown Friday until three stars appear in the night sky on Saturday, to mark the biblical notion that God created the world in six days and rested on the seventh. Many observant Jews refrain not just from work but from anything that hints at creation — lighting a stove or using technology, traveling or carrying personal items — and spend the day largely in prayer and meals with family or friends.
But Shabbat need not be an all-or-nothing proposition. In a recent column about an Israeli chef who has closed his cafe in Montclair, New Jersey, on Saturdays to give his employees a break, our editor-in-chief, Jodi Rudoren, shared her own bumpy journey to finding a few ways to consistently mark the day. She asked readers to share the sacred (or not) rituals they use to turn Saturdays into Shabbat.
Here is a selection of your responses, lightly edited for length and clarity:
The small things
Wearing a white shirt on Friday night and Shabbat day. (I got this from my son, who spent two years in yeshiva in Israel.)
—Bill Schulder
Watching Central Synagogue Saturday morning service. Watching shows on TV. No work-related webinars.
—Myrna Schultz
Staying kosher on Shabbos, remembering it was a different day. Listening to the opera on the radio in the afternoons (from about age 12). Always having dessert in the living room when I was a kid because my father wasn't allowed to smoke in the dining room where the candles were burning and he liked to smoke with his coffee.
—Tom Freudenheim
Shabbat sweetness
Teaching our children to love Shabbat is one of our family's major priorities. About eight years ago, my sons developed a love for hot cocoa. As I prepared their Shabbat morning drink one week, I had an appetizing idea about blending their sweet treat with a platform for making Shabbat more fun. That very morning, we launched a family tradition we call "Special Hot Chocolate."
Every Shabbat morning our sons are served chocolate creations atop their mugs depicting scenes from that week's Torah portion or an approaching Jewish holiday. Some of our favorites have been Noah's Ark, Abraham and Sarah's tent, and "man overboard" in honor of Jonah (the week before Yom Kippur).
When we read the Ten Commandments, the boys are presented with two chocolate slabs commemorating the two tablets.
Before the first morsel is eaten, our sons are invited to decipher what they see. The truth is that the sweetest ingredient of Special Hot Chocolate is not the candy, but witnessing our sons engaged in Torah learning, stirring imagination and interpretation.
The idea of making Jewish life and learning sweet has deep roots in Jewish tradition. There is a custom of placing honey on the first page of Torah when children's learning begins. We want our son's association with Shabbat, Torah and Jewish life to always be associated with sweetness and joy.
—Rabbi Charles E. Savenor
---
Jews everywhere repent on Yom Kippur by reciting a confessional: "For the sin I committed by…." In a modern twist on the liturgy, we've asked our readers the last couple of years to share the individual sins they're repenting for: talking instead of listening, driving instead of taking public transit, being impatient, spending too much time on social media.
Send yours to [email protected], subject line: Sins.
---
Cleaning house, reflecting and sleeping late
My mom never did housework on Saturdays when I was growing up, although when my sister and I were old enough to take care of ourselves, my mom worked in my dad's jewelry store on every day except Sunday.
When I worked, I cleaned the house on Saturdays, but now that I'm retired, Saturday is my genealogy day, trying to document my ancestors and find their descendants.
—Karen Calmon Lukeman
For starters I don't set the alarm, and I sleep as late as I please. Breakfast might be along the lines of shakshuka or blintzes. It will be an unhurried day, mostly reading papers of the week that I didn't get to finish. It might or might not be checking email, though I have several friends who now won't touch their computers or iPads or iPhones on Shabbat.
It's just a slower day with no rushing or fixed agenda. And it's definitely a day of reflecting.
—Dodi Fromson
Not touching the computer. Very important. Also I serve my husband a formal Shabbos lunch. Sometimes I even go to mincha (the afternoon prayer service), which was very important on June 25, 2022, the day after Roe v. Wade was overturned, and I got to study something else for an hour instead of just sitting and thinking.
—Leah Borden
I grew up with Shabbat kept for only a few hours, so when I entered a marriage with a modern Orthodox woman, I feared I would fall behind in my intense academic career by keeping a 25-hour Shabbat. I was surprised and delighted that my leap of faith helped me be more productive, focused, and fulfilled than I could have imagined.
—Larry Lesser, El Paso, Texas
Welcoming the stranger — at the store
My father owned a small grocery store in southern New Jersey. He left for work at 8 a.m. and returned at 11 p.m. My older sister went to Hebrew school, and I followed two years later. There were four of us children in all. We were encouraged to go to Sabbath services, but not required.
My father worked on Saturdays and my mother didn't go with us. She kept kosher and lit the Sabbath candles on Friday night. With all of us going our own way on Friday nights, eventually Mom stopped lighting the candles.
When I was 8, instead of urging me to go to shul on Saturday, my father asked if I wanted to go to work with him. He taught me how to take inventory and how to make change. When there were no customers, we played a game: he wrote large numbers on the back of a paper bag while I entered them in the adding machine — he always beat the machine in finding the total.
I watched my father interact with customers, the mutual respect shared with regulars. In the summer, he helped Puerto Rican migrant workers and spoke the Spanish with them that he had learned in Cuba, where he had spent two childhood years before being allowed to enter the U.S.
Sometimes they came to the store just to enjoy a safe place. Dad would hand out free sodas all around. I got one, too, and I would watch and listen and learn the Jewish values of welcoming the stranger and treating others the way you wish to be treated.
— Barbara Kahn
'Judaism is my centerpoint'
My Shabbats are infused with connection. Last week, I walked 3.5 miles to join fellow members of my upstate New York bungalow colony listening to bluegrass at a community center. We are a mix of Jews and non-Jews, and I am the only one who is Shabbat-observant; as my neighbors drove to the concert, they stopped along the way to joke and chat with me as I walked.
Tonight, we'll make Shabbat dinner early and I'll light candles early, too. One of my upstate neighbors is the editor on "Four Winters," a Holocaust film showing a distance from our East Village apartment. I've already purchased tickets and they'll be at the will call window and together with bungalow friends, we'll watch the film and honor the editor.
Afterwards, we'll walk to a gathering to celebrate, and then I'll walk home, climb the stairs to our sixth-floor apartment and know that I've observed Shabbat and brought joy to a friend.
I know that some would say that I was not giving kavod (respect) to Shabbat, but I would differ. For me, Judaism is my practice, my centerpoint and I am always finding ways to be true to my faith while joining in community. Tomorrow, on Shabbat day, I'll walk to our synagogue in Brooklyn Heights (it's also a three-and-a-half-mile hike — I like to walk) and spend time learning with my Lubavitcher rabbi, davening, helping with kiddush and connecting with another group of friends.
—Holly Wolf
Opera on the radio
I grew up in the 1940s in St. Louis. We lived over our father's dry goods store in center city, about 30 blocks from the Jewish area. Every Shabbat I would spend the days with my beloved grandparents.
My grandfather was publisher of the Yiddish newspaper and the secretary of the Orthodox leadership committee. Each Shabbat morning we attended services at the nearby Orthodox synagogue. At precisely noon, we left the ongoing services for a magnificent luncheon.
At 1 p.m. we retired to the living room and zayde turned on the big radio for the broadcast of the New York Metropolitan Opera, with Milton Cross. It was the beginning of my love of opera and to this day, Shabbat afternoon is still opera on the radio.
—Marvin Cytron
Invoking an ancient sage
In my household, the Shabbat traditions of the Potzker Rebbe are followed. For example, his ritual of the challah: Every week, after the first bite of challah, the rebbe would pause, marvel at a glass of water, take a satisfying sip, and declare: "Much of this water is older than our entire solar system: WOW!"
He would then add a few drops of vitamin D (which he called "liquid sunshine") to the next piece of challah and proclaim: "L'chaim — to 120!" (a reference to vitamin D's optimal blood level of 120 nanomoles per liter, and to the biblical age of Moses).
He would then teach: "Shabbat's power comes from the stars. As we mark the 'setting' of our star on Friday night, we celebrate its powers to sustain our bodies. On Saturday night, as the stars emerge, we celebrate their potential to sustain our imaginations. The essence of Shabbat is to resonate with and restore the sense of wonder and amazement that lies at the core of the imagination that sustains the human experience. Until Shabbat departs, go and rediscover what came to you effortlessly as a child. Have a marvelous Shabbat."
The rebbe, being human, struggled the rest of the week to maintain the blessings that he had captured on Shabbat, looking forward on a daily basis to his next opportunity for a Shabbat adventure into the imagination.
—Harold Pupko