Looking Forward
How do you turn Saturday into Shabbat?
A local cafe owner closed for the Jewish day of rest. Revenue is down 12% but his spirit is up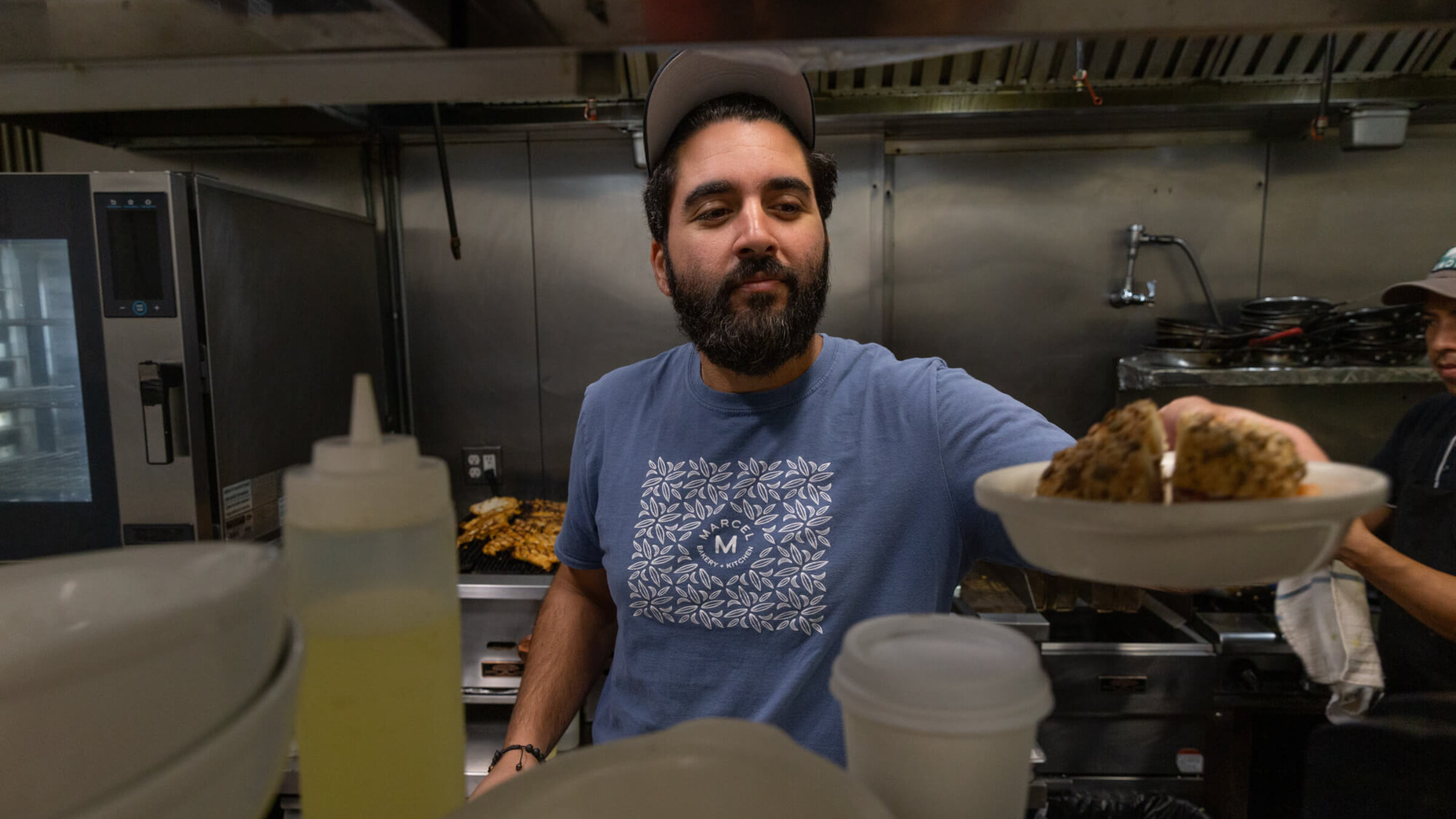 This is an adaptation of Looking Forward, a weekly email from our editor-in-chief sent on Friday afternoons. Sign up here to get the Forward's free newsletters delivered to your inbox. 
Not long after I moved back from Jerusalem, a café opened right here in Montclair, N.J., whose shakshuka reminded me of the ones that had been my must-have breakfast in the holy land. The place quickly became my go-to. But when a friend and I met up there one Saturday morning earlier this year, jonesing for the classic Moroccan dish of eggs poached in spicy tomato sauce, we were surprised to find a sign saying the place was closed — and would be every Saturday, so employees could have a break.
The café, called Marcel, is not kosher (you can get lamb meatballs or sausage alongside the feta in that shakshuka). Its owner, Meny Vaknin — a two-time winner of one of my favorite cooking shows, "Chopped" — is Israeli. I had an inkling of what might be behind the sign, because back in the fall of 2020, when I'd asked Meny to cater the Friday night dinner before my twins' bnei mitzvah, he said he no longer worked on Shabbat.
Seeing the sign, I spun up a scenario in my head. Meny had grown even more observant, and felt that not only could he not work on Shabbat, he could not profit from other Jews doing so. In Jerusalem, they have fixes for this, including Arabs taking the Saturday shifts in kosher hotels. This being the United States, I imagined he could be sued for barring Jews but not others from working on a certain day, so he took the hit by closing altogether even though Saturdays had to be high on shakshuka-consumption.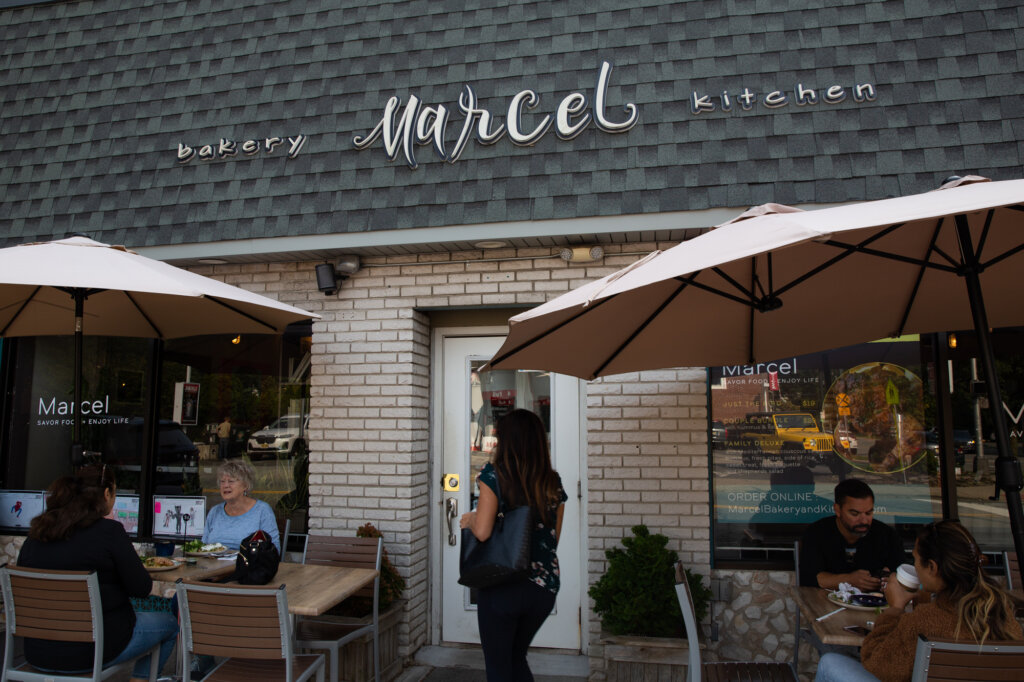 Meny's Shabbat journey
The actual story turned out to be much simpler — more spiritual, more salient.
"There's something very hypocritical about it that I just couldn't deal with," Meny, who is 39, told me over lunch (herbed falafel bowl with avocado) at Marcel the other day. "I treat my businesses as, like, my home. It's something that is mine and an extension of myself, an extension of my family, an extension of my practices, an extension of my ideology. It cannot be disconnected."
I wanted to talk to Meny about his Shabbat journey because I've been struggling for years with how to maintain a meaningful Shabbat practice for myself.
I'm not interested in giving up driving or electricity for 25 hours each week, nor in attending synagogue services every Saturday as I did growing up. But I loved the way Shabbat felt truly distinct from every other day across Jerusalem, for Orthodox and Reform and secular Jews alike.
I know Shabbat does not have to be an all-or-nothing proposition, and I've been trying to find the right set of small steps that me and my family can commit to that would connect us to the crucial Shabbat concepts of rest and separation.
Searching for rituals to stay connected
As a kid, we had Shabbat dinner every Friday: mom lit candles, dad made kiddush, we ate Oven Fry chicken. By high school, we were allowed to go out with friends afterwards — just as we often went to the mall or a soccer game after shul on Shabbat morning.
When my own kids were toddlers, we took them most Shabbat mornings to Tot Shabbat — a half hour of singalong and a half hour of playing, plus challah — at Congregation Beth Elohim in the Park Slope neighborhood of Brooklyn, often followed by a swing through the farmer's market.
In Jerusalem, of course, Shabbat is unavoidable. A siren signals its arrival across the city each Friday before dusk. Stores close, streets change — fewer cars, people in different clothes. The  playgrounds are mostly empty in the morning, then little tushes swarm the swings after services and lunch. Secular Jews are just as committed as religious ones to their Shabbat rituals: hiking, often on trails with biblical backstories.
When we got back to the states, we tried to do havdalah every week, since my kids had loved the way our Israeli friends used arak, an Arab liquor, to turn the doused candle flame into that blue fire you can touch with your fingers without getting burned. Somehow even that short set of prayers got lost in the shuffle. Since mid-2020, I've baked challah most Fridays, but I've not yet found (or built) a community of folks to share the Shabbat table with consistently.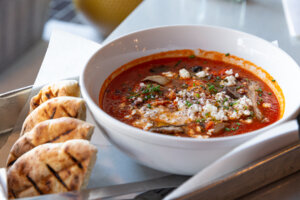 'Do whatever you want to do'
Lately, I've been trying to sleep later on Saturday mornings, to do a Peloton pilates or stretch class rather than my regular spinning or weights, to meet a friend for a walk in the woods (or shakshuka). I'm not ready for a full-on tech Shabbat — sometimes binging a show before getting out of bed feels like just the right way to make this day different from the other six — but I have been trying to look at my phone and computer less.
"I try to keep the Shabbat for coming into myself, and to sort of like withdraw from the world," Meny told me. "You put down your cell phones, you relax with the TV if you watch TV. You don't have to go anywhere, you don't have to do the shopping on Saturday. When you think about it it's just 24 hours of just, you know, just relax. Do whatever you want to do, spiritually or not."
So nu, I asked: How's it going?
"Generally speaking, I feel like I made more space in life for what's important, and less for all the noise," Meny said. "Because there's so much noise, so much noise, so much things that don't matter, so much stuff that is fake. You really are kind of on automatic pilot and you go, you go, you go, you go. We, as human beings, we're like a seven-day machine. And it's not supposed to be like that."
'Love was spread with food'
The son of Moroccan immigrants to Israel, Meny grew up in Negev. His family was not religious but what Israeli Jews call "traditional" — the synagogue they didn't go to was an Orthodox one, Friday night family dinner was a must. "It's a lot of food, always," he said.
After serving in the army, he moved to New York and worked in his uncle's restaurant and organic market on the Lower East Side, called Earth Matters, and then at Siggy's, a Brooklyn restaurant owned by a cousin. In 2014, he opened his first place, in Montclair, called Mish Mish — both Hebrew and Arabic for "apricot," a nod to the dried fruits and nuts that were always on the table at his home growing up, in case someone stopped by.
"Food is free love, cosmically," he continued. "Not free, you buy it — but it's cosmically free love. That's how its been for me growing up, love was spread with food. That's how I am with my kids, with anybody that I like, so I want it to be like that with the customers. Mish Mish was magical."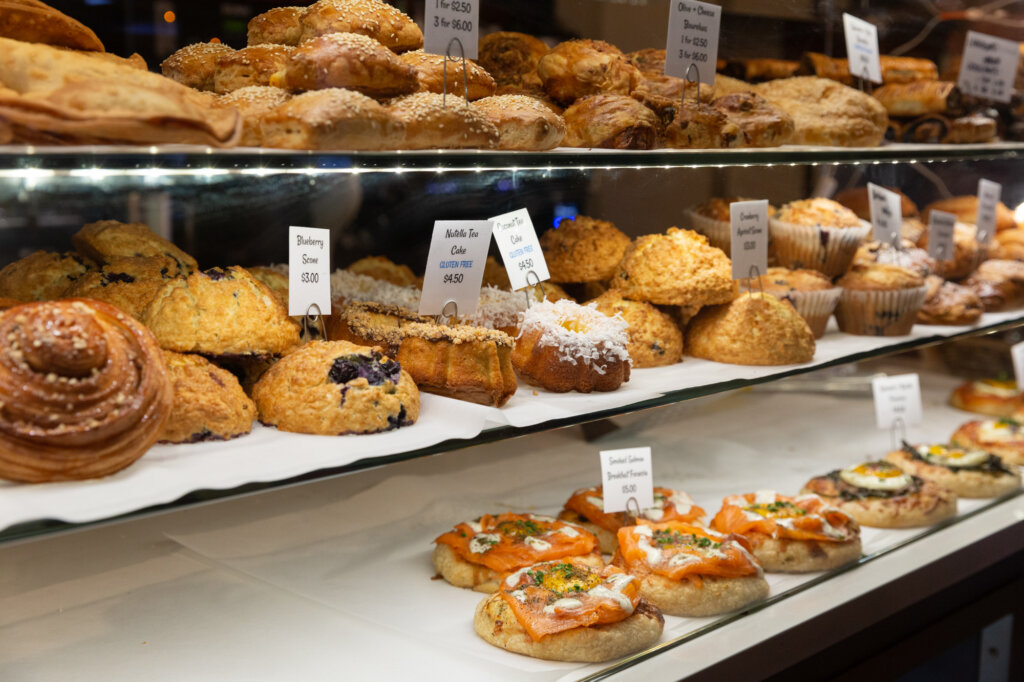 The pandemic's impact
Alas, Mish Mish is no more. Like other restaurants, it closed in March 2020. The takeout business — including a Shabbat dinner package — did fine, but meanwhile Meny's father died. Saying kaddish for a year, plus the pandemic, just made him rethink things — and drew him toward religion, toward Shabbat.
"I started back with finding my feeling again," he explained. "In the morning, studying a little bit. So much of Judaism is so insanely amazing, you know, in so many ways, that people lose — including myself — because you don't bother to explore, you only see the ugly parts that are on top of the surface."
He didn't want to talk about what he sees as "the ugly parts." But/and, it was as much about how, during those early months of the pandemic, like so many of us, he was spending a lot more time  with his kids, who are now 7 and 10, and kind of liked it. "I always used to work seven days, almost always," he said. "I don't want to be in the kitchen every day, every day. And so there's something about changing the lifestyle."
Closing for Shabbat means 'a little less profit'
Marcel, the breakfast and lunch place, is named for his grandfather, who was a painter. It opened in 2017, and has excellent coffee and lentil soup and hummus and spiced pita chips to go. It also serves Mish Mish classics for takeout. For Meny, it's enough.
Maybe the most striking thing about our conversation was that when I asked Meny how much closing for Shabbat had cost him, in revenue, he seemed to have no clue. I nudged him to check, and it turns out to be 12%.
That's a little less than the 14% of the seven-day week that Shabbat represents, and of course there's savings in electricity costs and employment costs, but it does mean "a little less profit on the bottom line," as he put in an email. For Meny, it's enough. Maybe for me, too.