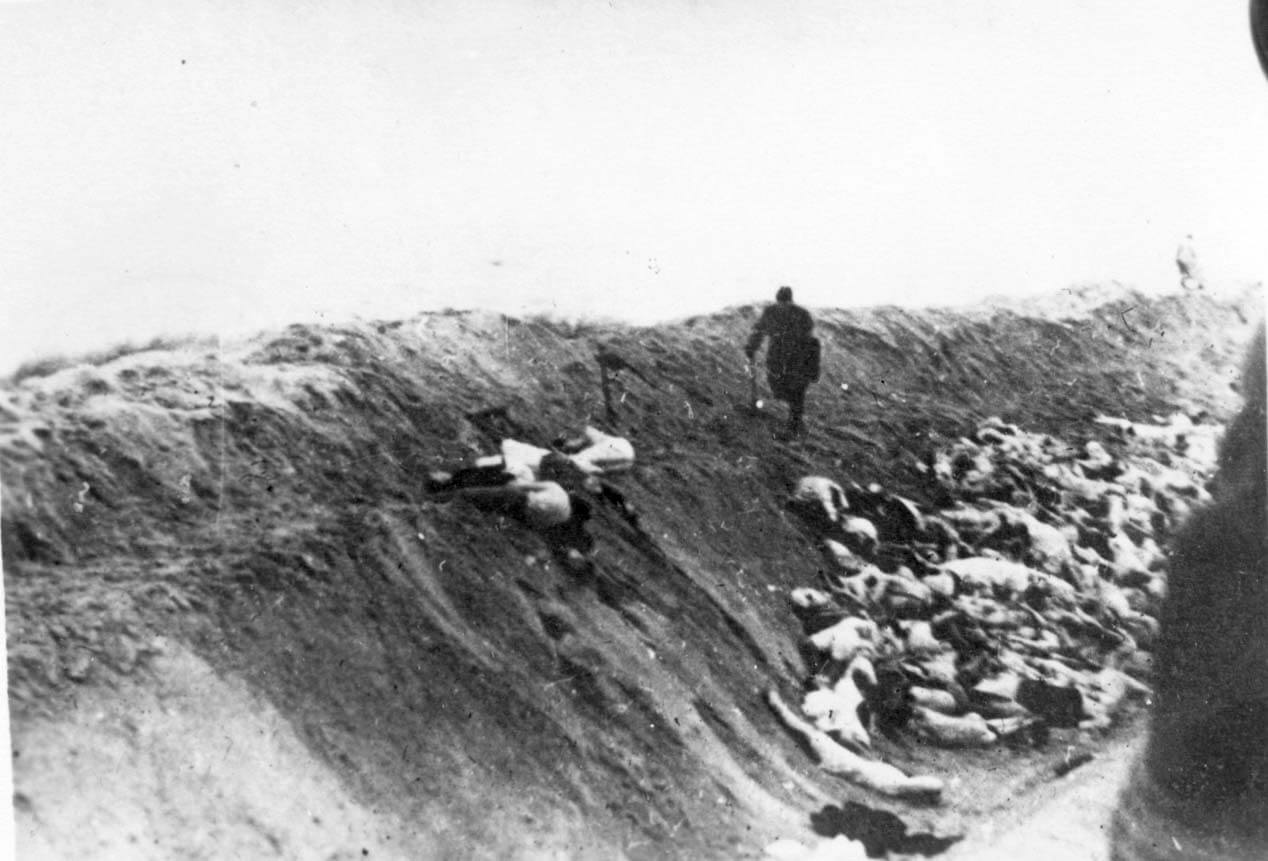 This list is part of an ongoing investigative project the Forward first published in January 2021 documenting hundreds of monuments around the world to people involved in the Holocaust. We are continuing to update each country's list; if you know of any not included here, or of statues that have been removed or streets renamed, please email [email protected], subject line: Nazi monument project. 
Update (October 2022):  The Zedelgem monument was removed in June 2022. See coverage in Het Nieuwsblad (Google translation here).
Update (January 2022): The Forward's investigation of Zedelgem's monument triggered an international outcry, including from the Latvian government. See here for a series of three articles in Paris Match Belgique (Google translations here, here and here).
A group of historians, journalists and activists has convinced the Zedelgem municipality to remove the "explanatory board" whitewashing the Latvian SS unit honored by the monument, while an international panel of historians condemned the beehive. However, this issue is very much ongoing, with heavy pressure coming from the Latvian government to keep the monument to the Waffen-SS.
See report on the Zedelgem monument by an international panel of 15 historians and detailed collection of this ongoing controversy by The Belgians Remember Them group which played a seminal part in fighting the whitewashing.
---
Zedelgem — Update: This monument was removed in June 2022. A monument to the Waffen-SS in the middle of Western Europe.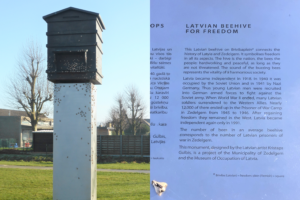 The description of this "Latvian Beehive for Freedom," erected in 2018, says it "symbolizes freedom in all its aspects," adding it's in memory of Latvian prisoners of war who'd been imprisoned in a nearby camp. The sculptor describes it as uniting "the common European values and symbol language understood by all Europeans with something special and visually characteristic only to Latvia."
What the monument doesn't contain is symbols of the Waffen-SS, which is who the "beehive for freedom" commemorates. The Latvian prisoners of war were none other than the Latvian Legion, a unit in the Waffen-SS, which was the military wing of the Nazi party responsible for, among other crimes, the Holocaust. Many of the men in the Legion came from local auxiliary police battalions, which assisted the Germans with massacring Jews. Three-quarters of Latvian Jews were murdered in the Holocaust.
The Legion was composed of the 15th Waffen Grenadier (1st Latvian) and the 19th Waffen Grenadier (2nd Latvian) divisions of the SS. The Anti-Defamation League shows the 15th Division's insignia as an example of hate signs used by neo-Nazis.
Today, Latvia itself hosts annual marches celebrating Latvian Legionnaires, where hundreds of SS veterans are cheered as heroes.
It's unclear how this monument (which was partly and proudly paid for by the town) came to be an hour's drive from EU headquarters. It's likely that the whitewashing of Nazi collaborators as "freedom fighters" — a common tactic employed by Holocaust revisionists across Eastern Europe — worked, which is why a town in Belgium, which lost 12,000 soldiers and 74,000 civilians to the Nazis, now has a monument celebrating the Waffen-SS.
Below, a Latvian collaborator kicks the bodies of Jewish women and children into a ditch after their execution, December 15, 1942.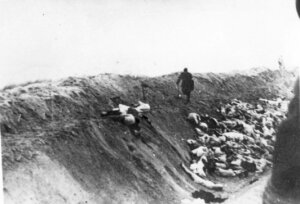 Below, Latvian SS veterans and their relatives march in a parade celebrating the Latvian Legion, March 16, 2012.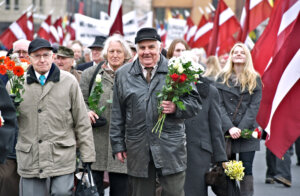 For more glorification of Latvian Waffen-SS soldiers, see the Latvia section.
---
Note: the entries below were added during the January 2022 project update.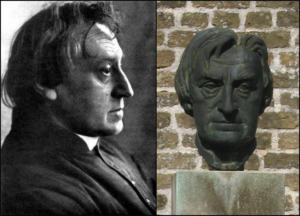 Alveringem and Ardooie – A bust and street to Cyriel Verschaeve (1874–1949), Flemish priest, poet and collaborator who tirelessly advocated for the Third Reich. When Germany invaded Belgium in 1939, the Nazis rewarded Verschaeve's fervor by assigning him to head a cultural body in the occupational government. Verschaeve recruited volunteers for the SS Volunteer Legion Flanders aka the Flemish Legion, a Dutch volunteer unit in the Waffen-SS. (Muslim and Greek Catholic clerics played similar recruitment roles for Bosnian and Ukrainian SS divisions – see those countries' sections for more.) A rabid antisemite who churned out propaganda depicting Jews as vermin, Verschaeve remains an inspirational figure for the Belgian far-right (coverage in Antifascista Siempre; Google translation here).
Verschaeve's defenders often claim he's being honored as a poet and author, not a Nazi collaborator. It's a common tactic used to whitewash collaborators with literary backgrounds. A good response to this came from Herman van Goethem, historian and rector of the University of Antwerp. "Cyriel Verschaeve – writer. That is correct," van Goethem quipped, "Adolf Hitler was a writer too, and he sold more books."
Thanks to the efforts of historians like van Goethem and Koen Aerts as well as activists, six Belgian towns have renamed their Verschaeve streets over the past five years. That's a rare trend, considering nearly everywhere else, monuments to collaborators are on the rise. Verschaeve's only other honor is a plaque on his birth house in Ardooie which says nothing about his Nazi past. Below left, Flemish Waffen-SS volunteers holding a ceremony, most likely before going to the Eastern Front, Castle Sterckshof, Antwerp. Below right, Flemish SS recruitment poster; note the antisemitic caricature of the figure representing the U.K.

***

Stekene – In a field amid a strip of woods is a manicured berkenkruis ("birch cross"). This is a symbol associated with Flemish Nazi collaborators such as the Flemish Legion (see entry above) who fought on the Eastern Front (graves of fallen soldiers in the east were frequently marked with crosses made of birch). Contemporary Belgian far-right groups host annual commemorations at the memorial. Above right, one can see an SS helmet and the black-and-yellow variant of the Flemish Lion (middle flag) that was used by the Flemish Legion. See the Estonia and Spain sections for more monuments to Flemish collaborators. See coverage in Antifascista Siempre (Google translation here). (Many thanks to Koen Aerts for his invaluable guidance on Belgian collaborators, efforts to whitewash them and the far-right.)