There are hundreds of statues and monuments in the United States and around the world to people who abetted or took part in the murder of Jews and other minorities during the Holocaust. As part of an ongoing investigation, the Forward has, for the first time, documented them in this collection of articles. For an initial guide to each country's memorials click here. For a 2022 update to the investigation, click here.
---
Bauska — The Monument to the Defenders of Bauska (below left, unveiled in 2012) honors the Latvian Legion, a formation in the Waffen-SS, the military wing of the Nazi party responsible for, among other crimes, the Holocaust. The Latvian Legion was composed of two SS divisions: the 15th (1st Latvian) and 19th (2nd Latvian).

The obelisk contains the quote "Latvia must be a Latvian state" by Kārlis Ulmanis, the dictator who ruled the country until 1940. Ulmanis championed turning Latvia into an ethnically Latvian nation; his dictatorship oppressed Jewish media and pushed Jews and other minorities out of public and economic life. Above right, a second SS memorial in Bauska. (Many thanks to Kevin Prenger and Kaj Metz of Traces of War for guidance and images of Bauska, Pienava and Sāti memorials.)
More — A memorial commemorating the Latvian Legion, which participated in the Battle of More in September 1944. In 2019, the Latvian defense minister delivered a speech on the site, praising the Waffen-SS legion as the "pride of the Latvian nation." See guide brochure, Defending History's coverage and the Simon Wiesenthal Center's condemnation.
Above right, Latvian Legion SS veterans march through Riga, March 16, 2016. (Thanks to Defending History contributor Aleksandr Kuzmin for information about this and other Latvian memorials.)

Pienava — Two of several monuments to the Latvian Legion located in the area. About 70,000 (three quarters) of Latvia's Jews were murdered during the Holocaust with the aid of Latvian collaborators.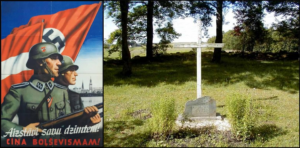 Sāti — A cross memorial to the fallen Latvian Legionnaires. Above left is a Latvian SS recruitment poster with SS insignia on the collar and on top of the legion's insignia on the helmet.
Below left, the 15th Waffen Grenadier Division of the SS (one of the two units composing the Latvian Legion), marches in Riga, 1943. Below right, Latvian Legion SS veterans and relatives in a parade through Riga, 2019.

For a monument to the Latvian SS outside of Latvia, see the Belgium section.
For more on Latvia's parades to actual SS soldiers see reports in JTA, the Jerusalem Post and Haaretz as well as Defending History's Latvia page.