There are hundreds of statues and monuments in the United States and around the world to people who abetted or took part in the murder of Jews and other minorities during the Holocaust. As part of an ongoing investigation, the Forward has, for the first time, documented them in this collection of articles. For an initial guide to each country's memorials click here. For a 2022 update to the investigation, click here.
Note: the Monuments to Lithuanian collaborators section was added during the April 2022 project update.
---
Monuments to Croatian collaborators
Melbourne — A bust of Hitler ally Ante Pavelić (1889–1959) in Melbourne's Croatian House.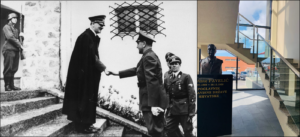 Pavelić was the leader of the fascist Ustasha regime, which systematically murdered tens of thousands of Jews, Serbs, and Roma, the most infamous killings taking place at the Jasenovac concentration camp.
Above left, Pavelić meets with Hitler June 9, 1941. For a fascinating article on how Croatian fascist supporters came to be in Australia, see Balkan Insight. Below, Ustasha guards confiscate belongings from prisoners entering Jasenovac.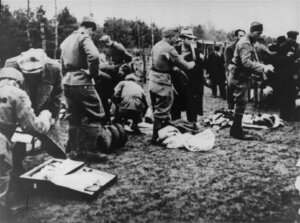 For Ustasha monuments in other countries, see the Croatia and Bosnia and Herzegovina sections.
---
Monuments to Lithuanian collaborators (section added during the April 2022 project update)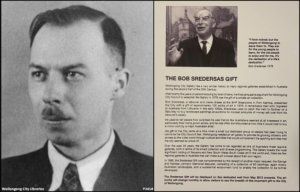 Wollongong, New South Wales – in March 2022, this coastal city was rocked by an extensive Guardian article exposing a beloved local hero as a Lithuanian Nazi collaborator. Bronius "Bob" Sredersas (1910–1982) was a quiet man who had immigrated to Australia from Lithuania after living as a displaced person in Europe; over the years, Sredersas had amassed an impressive art collection which he donated to the city in 1976. The collection allowed Wollongong to establish the public-owned Wollongong Art Gallery, a spectacular cornerstone of the city's art scene. 
The donation, combined with the story of the unassuming immigrant steelworker who saved his paychecks to quietly collect art, was a sensation. Sredersas was lauded by the city and is celebrated in the gallery, where he has a plaque (above right) as well as a separate exhibit hall named after him.  
Sredersas' dark past was unearthed due to years of painstaking research by Michael Samaras, a former Wollongong councilman. In his quest, which was aided by the Simon Wiesenthal Center's Jerusalem branch director and Nazi hunter Efraim Zuroff, Samaras discovered Sredersas had served in the Sicherheitsdienst (SD), the intelligence service of the Nazi Party. 
The SD played a crucial role in the Holocaust, especially the Holocaust by bullets in Eastern Europe. It provided men for the Einsatzgruppen death squads which, together with local collaborators, were responsible for massacring 95–96% of Lithuania's Jews. Whether Sredersas participated in the Holocaust or other war crimes is unknown; what's clear is that he served in a key organization which enabled the Third Reich to perpetuate the Holocaust and subjugate conquered lands. 
It must be stressed that Wollongong had accepted Sredersas' gift in good faith – there's no indication the city council or the council-run gallery were aware of his past until Samaras approached them in January 2022. However, the council's initial response to the revelation was to brush it off, telling Samaras the "council does not propose to take any further steps in this matter as [sic] this time," per the Guardian. 
Shortly after the Guardian exposé, the city changed its position by committing to work with Jewish organizations and museums to investigate the situation. In the meantime, the museum placed a notice in the Sredersas gallery explaining this to the public (below left). Below right, a page from the infamous Jäger Report, a chilling account of the extermination of Jews in Lithuania and elsewhere by Einsatzkommando 3 of Einsatzgruppe A, a Nazi death squad partially composed of SD operatives. 
Thank you to Forward reader Matthew Buckley who brought this story to our attention, Michael Samaras for providing information on Sredersas, and Nicholas McLaren for the plaque photo. See podcast and follow-up coverage by the Guardian and the Australian Broadcasting Company (ABC), a public media outlet. For more honors to Lithuanian collaborators see the Lithuania and U.S. sections.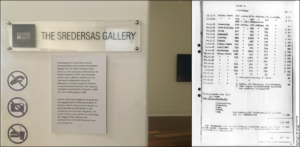 ---
Monuments to Serbian collaborators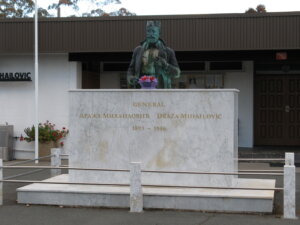 Canberra and Blacktown — A statue of Dragoljub "Draža" Mihailović (1893–1946) in front of a Canberra center named in his honor.
Mihailović's Chetniks, a Serbian nationalist and Yugoslavian royalist militia, had collaborated with the Nazis and the Nazi puppet government in Serbia. At another point during the war, Mihailović cooperated with the Allies, using his troops to help rescue over 400 American airmen shot down in enemy territory. (Many thanks to Milijana Pavlović for aid in locating Chetnik statues outside Serbia.)
Below is another statue to Mihailović in Blacktown.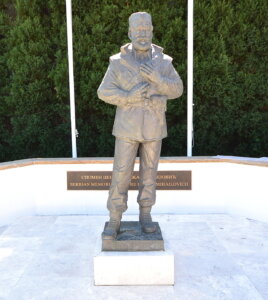 For more Chetnik monuments, see the Serbia, Bosnia and Herzegovina, U.S. and Canada sections.
---
Monuments to Ukrainian collaborators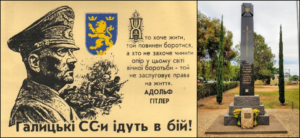 Wayville, South Australia — This memorial for soldiers who died for Ukraine features the lion and crowns insignia of the 14th Division of the Waffen-SS, also known as SS Galichina. This was a unit in the Waffen-SS, the military wing of the Nazi party, led by Heinrich Himmler, one of the principal architects of the Holocaust. Among the war crimes committed by this unit is the Huta Pieniacka massacre of Polish civilians.
Above left, an SS Galichina recruitment poster with the lion and crowns insignia. It features a quote from Mein Kampf: "Whoever wants to live must fight, and whoever doesn't want to fight in this world of permanent struggle — he doesn't deserve the right to live. Adolf Hitler." Underneath is "SS Galichina is going to battle!"
Today, the use of SS Galichina insignia has become widespread enough to be included as a hate sign identifier for European soccer.
Below left, what is most likely an SS Galichina recruitment march, thought to be in the western Ukrainian city of Stanislaviv (now Ivano-Frankivsk), 1943. Below right, torchlight march in honor of the 73rd anniversary of SS Galichina's founding, L'viv April 28, 2016. The commemoration two years later involved hundreds giving coordinated Nazi salutes. See JTA report.

For Ukrainian monuments outside of Australia, see the Ukraine, U.S. and Canada sections, particularly Canada, which saw a 2020 scandal centered around an SS Galichina memorial nearly identical to Wayville's.