There are hundreds of statues and monuments in the United States and around the world to people who abetted or took part in the murder of Jews and other minorities during the Holocaust. As part of an ongoing investigation, the Forward has, for the first time, documented them in this collection of articles. For an initial guide to each country's memorials click here. For a 2022 update to the investigation, click here.

---
Novi Pazar and Tutin — In 1941, Aćif Hadžiahmetović, also known as Aćif Bljuta and by the honorific Aćif-efendija (1887–1945), was busy welcoming the Nazis during their conquest of Yugoslavia.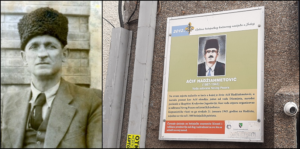 Hadžiahmetović was mayor of Novi Pazar during the war, when his troops slaughtered Serbs and all of Novi Pazar's Jews were deported to be murdered at the Staro Sajmište concentration camp. His efforts earned him an Iron Cross from the Third Reich.
In 2012, Hadžiahmetović got a plaque in Novi Pazar in a ceremony attended by high-profile politicians. Within a month of the plaque's unveiling, the Serbian Ministry of Justice ordered its removal, yet local authorities left it standing. That's common in Eastern Europe — even when the rehabilitation of a Nazi collaborator is ordered to stop, local authorities often refuse to act. In 2019, Hadžiahmetović was also honored with a street in Tutin. (Many thanks to Rory Yeomans, Milijana Pavlović, Jelena Subotić, Marko Attila Hoare and Balkanist editor-in-chief Lily Lynch for their invaluable guidance on Serbia. Thanks also to Dragan Stašić of Beta News Agency for the plaque image.)

Ravna Gora and ten other towns — A monument celebrating Dragoljub "Draža" Mihailović (1893–1946), the leader of the Chetniks, a royalist and Serbian nationalist militia which had collaborated with the Nazis and their Serbian puppets. The Chetniks carried out ethnic cleansing of Croats and Bosniaks; according to Yad Vashem, they also killed Jews and turned them over to the Nazis. That said, Serbia's Jews were annihilated so early in the war, there were few left for Chetniks to encounter.
Mihailović is an extraordinarily divisive figure. Toward the end of the war, he sided with the Allies, using his troops to rescue over 400 American airmen shot down in enemy territory. This earned him a posthumous Legion of Merit award from Harry Truman. Mihailović has other monuments in Ivanjica (built in 2003), Konatice, Lapovo (built in 2006, located in square named for Mihailović), Niš and Subjel (built in 2008); and streets in Baroševac, Desimirovac, Dublje and Klenje. See Reuters and Radio Free Europe reports on his rehabilitation and coverage in Radio Slobodna Evropa (Radio Free Europe's Balkan branch; Google translation here.)
For Chetnik statues outside of Serbia, see the Bosnia and Herzegovina, U.S., Australia and Canada sections.
---
Note: the entries below were added during the January 2022 project update.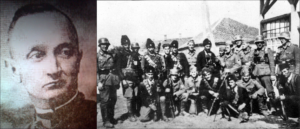 Čačak – A street named for Stevan Moljević (1888–1959), Chetnik ideologue and executive member of the Central National Committee, an advisory body of the Chetnik movement. In 1941, Moljević authored a tract titled Homogenous Serbia which called for the expansion of Serbia's borders in order to create a "Greater Serbia," one which would be populated solely by ethnic Serbs. While there's no direct link between this tract and ethnic cleansing, the concept of a nation not being able to survive without the establishment of an expanded ethnically homogenous state often inspired WWII massacres in the Balkans and Central Europe.
Above right, Chetniks pose with German soldiers. See the Bosnia section for another Moljević street.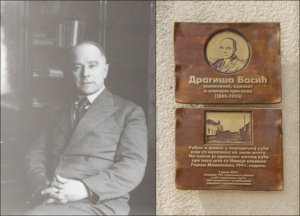 Gornji Milanovac and two other locales – A memorial plaque on the birth house of Dragomir "Dragiša" Vasić (1885–1945), another Chetnik commander and executive member of the Central National Committee (see entry above). Vasić also has streets in Belgrade and Rajkovac as well as another in Bosnia (see the Bosnia section).

Vršac – The Romanian Orthodox Cathedral of Lord's Ascension has a bust of Miron Cristea (1868–1939), the cleric who became Romania's prime minister in 1938. In the lead-up to the Holocaust, Cristea blamed Jews for Romania's problems with statements like "One has to be sorry for the Romanian people, whose very marrow is sucked out by the Jews," Such antisemitism is nearly identical to Goebbels' depictions of Jews as insects.
Above left, Cristea on an official visit to Poland, 1938. Over 400,000 Jews and Roma were murdered under Romanian rule in the Holocaust. In 2010, the U.S. Holocaust Memorial Museum vociferously objected to Romania honoring Cristea with a commemorative coin; the coin was minted regardless. See the Romania section for numerous Cristea honors.