Nazi-collaborator monuments
Nazi collaborator monuments in Slovakia
Jozef Tiso, who deported tens of thousands of Slovakian Jews, is honored with plaques in several cities and towns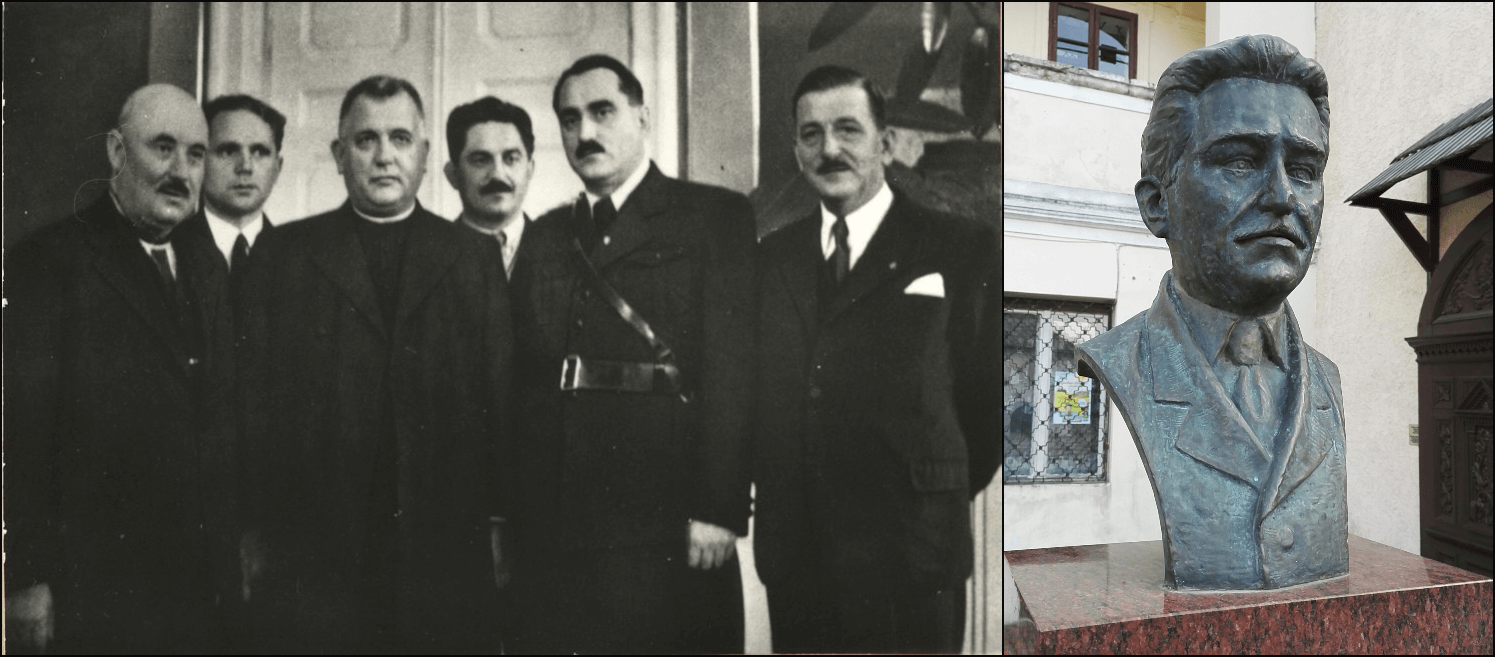 This list is part of an ongoing investigative project the Forward first published in January 2021 documenting hundreds of monuments around the world to people involved in the Holocaust. We are continuing to update each country's list; if you know of any not included here, or of statues that have been removed or streets renamed, please email [email protected], subject line: Nazi monument project.
---
Čakajovce — A statue of Jozef Tiso (1887–1947), the Slovakian priest hanged for war crimes due to his eager deportation of tens of thousands of Slovakian Jews who were slaughtered by the Nazis. Today, Tiso is venerated by Slovakia's far-right.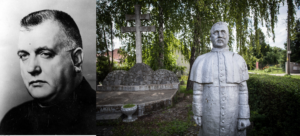 See the New York Times report on the surge of neo-fascism across Europe. (Thank you to Jozef Jakubco of the SME daily for the statue photo.)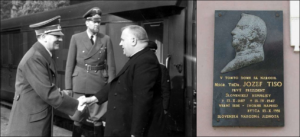 Bytča and five other towns — A plaque honoring Tiso in his birthplace (story in the New York Times). Tiso also has plaques in Hlboké nad Váhom, Oščadnica, Rajec and two on the Catholic House in Žilina (below left, Google translation here) as well as a street in Varín (below right). See report in the Slovak Spectator and coverage of the effort to rename Tiso Street in My Žilina (Google translation here).
Above left, Tiso meeting with Hitler in Berlin, October 1, 1941. At a minimum estimate, 68,000 out of Slovakia's 89,000 Jews were murdered in the Holocaust, mostly via deportations to concentration camps. (Thanks to Michal Filek of My Žilinské noviny for the Varín street photo.)

***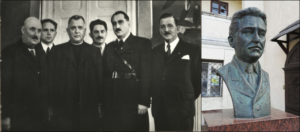 Rajec — A bust of nationalist leader Ferdinand Ďurčanský (1906–1974), erected in 2011. Ďurčanský, who was deemed complicit in the death of Jews by the UN, escaped to Argentina and was then admitted into Canada. See report in the Slovak Spectator. Above left, Ďurčanský (center right) with Jozef Tiso and others.
Ďurčanský, like so many ex-Nazi allies, enjoyed the post-war protection of Western intelligence. The U.S. State Department allowed him to freely travel in the U.S.; according to the Anti-Defamation League, the State Department's rationale for granting Ďurčanský an immigrant visa was: "Membership in or affiliation with the defunct Nazi Party in itself no longer constitutes a ground of ineligibility."
Below, supporters of the neo-Nazi People's Party Our Slovakia (LSNS), at an anti-refugee rally in 2015; the party's name and logo (on the green banner) are based on Tiso's Slovak People's Party. In 2016, LSNS founder, the openly neo-Nazi Marian Kotleba shocked Europe when he was elected to parliament; in 2019, LSNS increased their representation in parliament. "Slovakia Is Not Africa" reads the LSNS banner.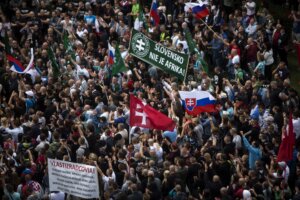 ---
Note: the entry below was added during the January 2022 project update.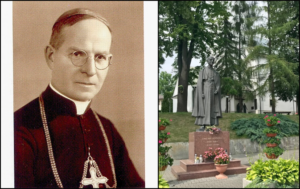 Námestovo and ten other locations – Námestovo honors Bishop Ján Vojtaššák (1877–1965) with a statue as well as a plaque on the town's wall of heroes. Vojtaššák was deputy chairman of the Slovak State Council, the senate of the Nazi puppet state of Jozef Tiso. In 1942, the council greenlit the extermination of Slovakia's Jews by passing legislation stripping them of citizenship and permitting their deportation. That year alone, Slovak collaborators rounded up at least 57,000 Jews who were sent to death camps; no more than a few hundred survived.
After the war, Slovakia became part of Czechoslovakia, a Soviet puppet state. The Communist dictatorship indicted Vojtaššák, who resisted Communist attempts to control church life, in a show trial; the bishop was tortured and spent over a decade in prisons. Vojtaššák's whitewashers try to cover up his complicity in the Holocaust by focusing on his post-war persecution. In other words, Vojtaššák was a collaborator under the Nazis who was then persecuted by the Communists; revisionists speak solely about the latter while conveniently ignoring the former. It's an extraordinarily common tactic used to rebrand Nazi collaborators across Eastern Europe.
Both Israeli and Slovak Jews protested when the Vatican considered granting Vojtaššák sainthood (the issue remains ongoing); notably, in 2021 Pope Francis made a poignant speech addressing the Catholic church's complicity in the Holocaust in Slovakia.
Vojtaššák also has a bust in Ružomberok; plaques in Ilava, Nitra and Stankovany; a street and plaque in Žilina; a square (with statue) and street in Zákamenné; a street in Lendak; a square in Dolný Kubín; a school in Levoča; and a seminary (with plaque) and memorial stone in Spišská Kapitula. Below left, Vojtaššák with fellow priest and Hitler puppet Jozef Tiso (see earlier entry) at the inaugural meeting of the Slovak State Council. See coverage in the SME daily (Google translation here). Below right, Jews deported from Stropkov, 1942.