Nazi-collaborator monuments
Nazi collaborator monuments in the United Kingdom
In Bradford, a plaque celebrates the Anti-Bolshevik Bloc of Nations, the brainchild of war criminal Alfred Rosenberg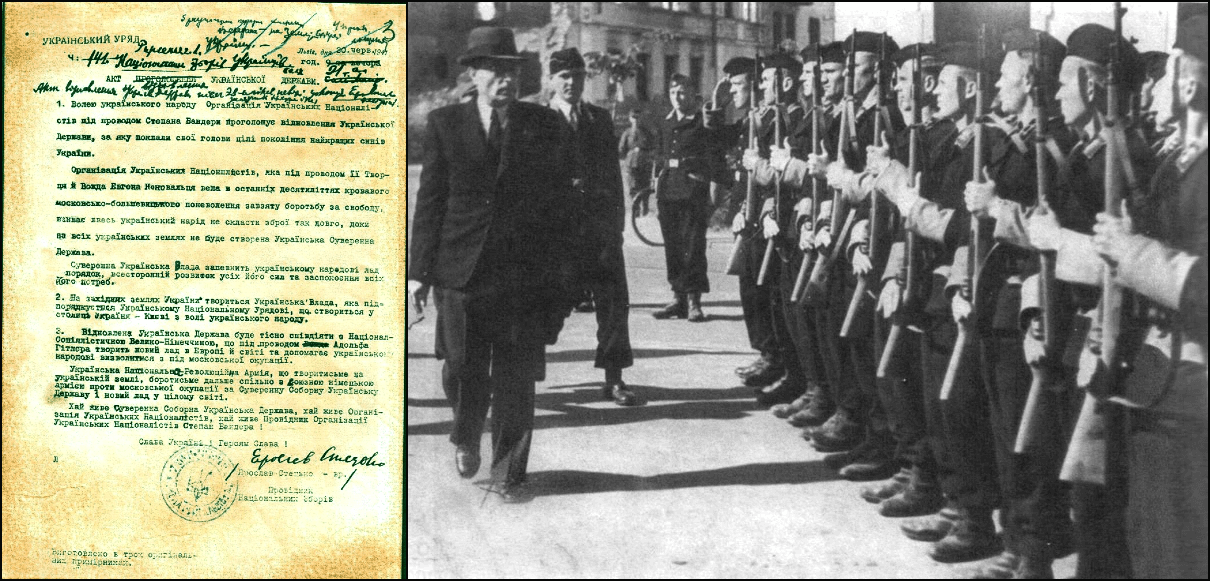 This list is part of an ongoing investigative project the Forward first published in January 2021 documenting hundreds of monuments around the world to people involved in the Holocaust. We are continuing to update each country's list; if you know of any not included here, or of statues that have been removed or streets renamed, please email [email protected], subject line: Nazi monument project.
---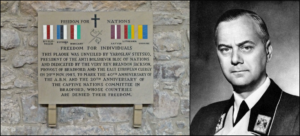 Bradford — This noble-sounding "Freedom for Nations" plaque celebrates the 40th anniversary of the Anti-Bolshevik Bloc of Nations (ABN), ostensibly a group representing Eastern European nations imprisoned by the USSR. In reality, the ABN was a one-stop shop for ex-Nazi collaborators and Holocaust perpetrators who had successfully fled to the West at the end of WWII. These collaborators rebranded themselves as anti-Communist "freedom fighters;" they were welcomed by Western governments who sought to use them to stir up anti-Soviet rebellions in Eastern Europe.
The ABN was originally created by the Nazis in 1943. It was the brainchild of Alfred Rosenberg, above right, a seminal figure in the Third Reich who was hanged for crimes against humanity at Nuremberg. By the time the ABN was taken over by the U.S., it was teeming with individuals directly involved in the Holocaust.
The Bradford plaque notes it was installed by ABN President Yaroslav Stetsko (1912–1986), a leader of the Stepan Bandera faction of the Organization of Ukrainian Nationalists (OUN-B). In 1941, Stetsko headed the OUN-B's Nazi-collaborationist government which welcomed the German invasion of Ukraine and declared allegiance to Hitler. He was a genocidal antisemite who had written "I insist on the extermination of the Jews and the need to adapt German methods of exterminating Jews in Ukraine."
Five days prior to the Nazi invasion, Stetsko assured Bandera: "We will organize a Ukrainian militia that will help us to remove the Jews." The OUN came through, instigating and carrying out pogroms that murdered thousands of Jews. See the Germany and Ukraine sections for more on Stetsko.
Another ABN officer was Ferdinand Ďurčanský (1906–1974), who served as a minister in the Nazi puppet government of Slovakia and was deemed complicit in the death of Jews by the United Nations. Radasłaŭ Astroŭski (1887 – 1976), who led Belarusia's Nazi puppet administration and organized local auxiliary police that participated in the Holocaust, was also an ABN officer. See the Slovakia and U.S. sections for more. See The Nation's interview with journalist Russ Bellant, who wrote the indispensable study of the ABN.
Below left, Stetsko's signature on the 1941 OUN-B proclamation which pledges to "work closely" with Nazi Germany. Below right, Astroŭski inspecting Belarusian auxiliary police units.