News
Mistaken for a right-wing media star, she met a cyberbullying mob
The 'other' Chaya Raichik had never heard of Libs of TikTok before this week. She wants to be left alone.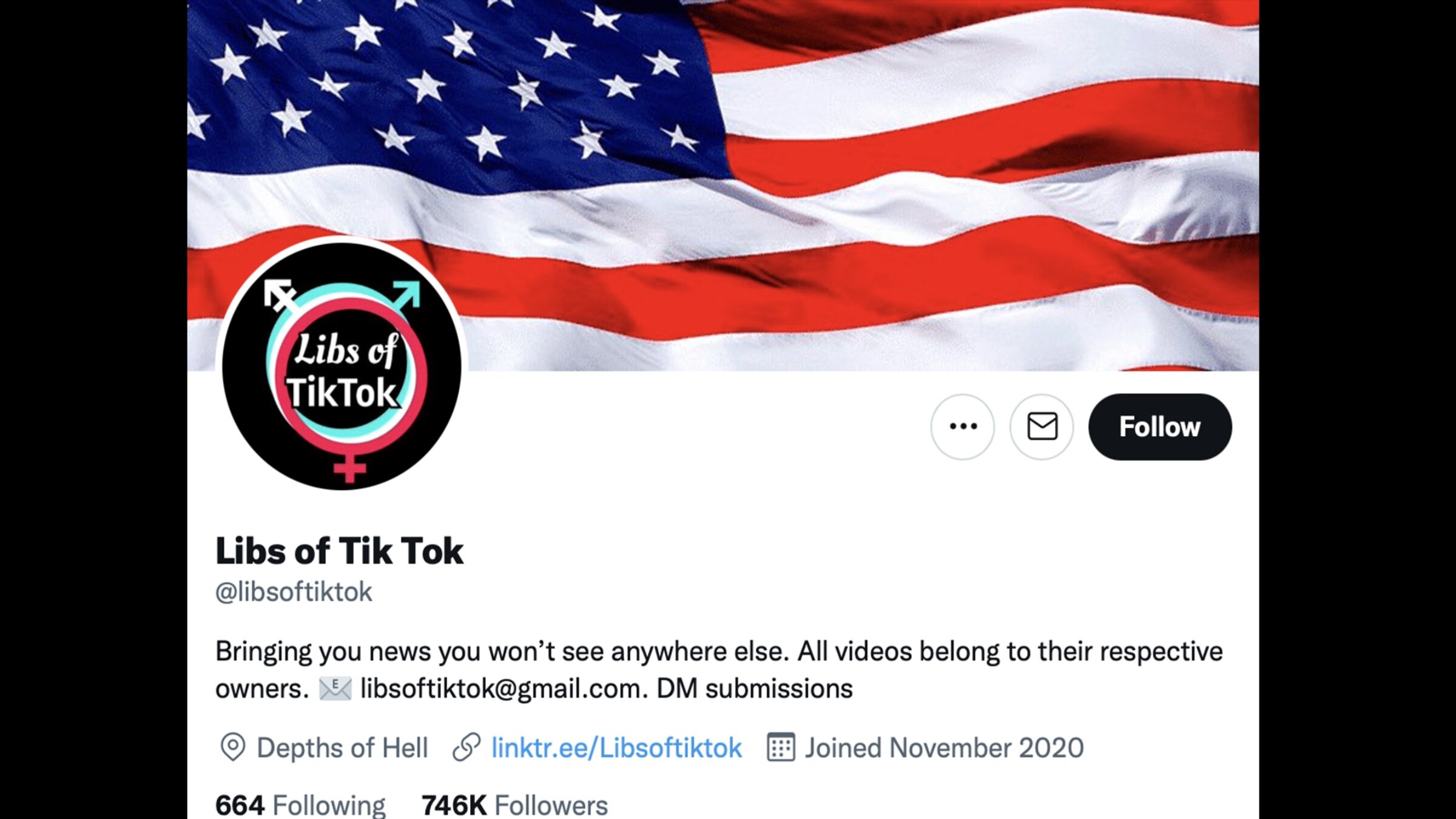 A Passover trip to visit family in Los Angeles took a disturbing turn for a vacationing Londoner this week when a mob of online vigilantes mistook her for a right-wing activist whose name was revealed in a viral news story.
In an article published Tuesday in the Washington Post, the influential Twitter account Libs of TikTok — whose curated anti-LGBT videos are frequently featured on Fox News — was revealed to be maintained by a woman named Chaya Raichik, originally from Brooklyn and now living in Los Angeles. The article noted that the Twitter account had previously said it belonged to an Orthodox Jew and that Raichik used to work in real estate.
But Raichik is a common surname in Chabad-Lubavitch communities. As is Chaya — it was the first name of the Lubavitcher Rebbe's wife.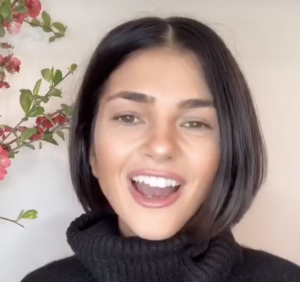 And so, like a plot turn in a Kafka novel, a different Orthodox woman named Chaya Raichik — a stay-at-home mom whose Instagram bio describes her as an "LA girl" because she grew up there, but whose profile mainly depicts charming moments of Jewish motherhood — found herself bombarded with hundreds of vicious messages after the article came out. And while the personal life of the Raichik who was the subject of the article remained veiled, this Raichik, who was called a liar, a scumbag and several other words we can't print here, arranged for security to guard her parents' house after their address was posted online.
"She's anonymous, you don't see her face, you don't know anything about her," the mother of two told the Forward. "But everyone knows everything about me because I have a public Instagram account. So I almost feel like I'm the sacrificial lamb."
The author of the Post story, Taylor Lorenz, went to great lengths to confirm the identity of the account's creator, and her story gave some details about her subject — home city, previous employer, religious background — to make her more than just a name. But Lorenz did not outline all the other people with the same name who it was not, and absent that clarification in the article, one woman wound up the latest victim of misguided amateur sleuths eager to spew vitriol. 
With more than 900,000 followers, the Libs of TikTok Twitter has been celebrated by right-wing media as a truth-teller and the Chaya Raichik behind it has given anonymous interviews to Tucker Carlson and the New York Post. But the account has courted controversy by framing the videos it posts in mean-spirited, misleading or incendiary ways.
Before Sunday night, the Chaya Raichik mistaken for the right-wing activist had never heard of Libs of TikTok. But when she turned on her phone for the first time after the two-day Passover holiday, she had urgent messages awaiting her from Post reporter Lorenz, asking Raichik to confirm she had created it.
She was caught off-guard.
"I had no idea what she was talking about," Raichik said. "I called a friend and I said, Have you ever heard of this account?"
Then she figured it was probably a relative of hers that she'd never met. Her father was one of 10 siblings, and many of his siblings had large families, too. Libs of TikTok Chaya Raichik might have been a second-cousin, or more distant than that. But, she told Lorenz, it wasn't her.
"She kept pushing, and I just said, you know, please just leave me alone," Raichik recalled. "It is not me. You have the wrong Chaya."
On Monday, with her kids at Universal Studios, she received a frantic call from her mother, saying Lorenz was at their front door asking if her daughter had participated in the Jan. 6 Capitol insurrection. This Raichik had never been to Washington, D.C. 
(While we're at it, she never worked in real estate and she had only ever lived in Brooklyn for 10 months — and that was more than a decade ago.)
Later, as she researched Libs of TikTok, Raichik realized that sharing a name with the account's owner could spell trouble for her. But there was nothing she could do about it: on Tuesday morning, the Post published Lorenz's article, titled, "Meet the woman behind Libs of TikTok, secretly fueling the right's outrage machine." The article's big reveal was the name they shared:
Chaya Raichik had been working as a real estate salesperson in Brooklyn when, in early November 2020, she created the account that would eventually become Libs of TikTok.
According to the Post, the Libs of TikTok account, which once used the Twitter handle @ChayaRaichik — the same handle as the other Raichik's Instagram today — tweeted skepticism of Covid and voter fraud conspiracies about the 2020 election. On Jan. 6 — when Londoner Raichik was home in the U.K. — Libs of TikTok Raichik tweeted a play-by-play of the Capitol riots.
Within an hour of the article's publication, a deluge of seething messages began popping up on Raichik's phone.
"You are what's wrong with this world. You're vile and disgusting. Your children should be taken away from you and put in a safer home. May you rot in hell."
"Scumbag liar."
She posted a series of Instagram Stories responding that it wasn't her — that she lives in England, that she never got her realtors' license, that there are several Chaya Raichiks. The messages continued to pour in.
"Reap what you sow, you hateful lying hypocrite."
"Nazi scum."
When someone posted her parents' address in one of the comments, Raichik — who on Tuesday was road-tripping with her husband and kids — went from exasperated to frightened.
She tried to engage, messaging back that they had the wrong person. That didn't help.
"All they did was just respond with more nastiness," Raichik said.
She made a public appeal to Lorenz to clear her name, tagging her in a post that was a screenshot of a message telling her to leave the country.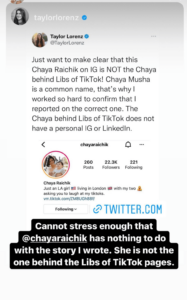 Finally, on Wednesday, Lorenz did, posting on Twitter and Instagram that @chayaraichik on Instagram was not the subject of her article.
At that point, the damage was done. Raichik's vacation had been absorbed in fending off an angry mob, and her parents had armed security posted at their front door.
"I'm not sure what she could have done differently," Raichik said. "I feel like all she did was put out a name without thinking, Well, what is the damage to other people?"
She added, "I feel like she could have predicted that something like this was going to happen. And maybe she could have taken other steps to avoid this."
Contacted through the Post, Lorenz did not respond to a request for comment.