News
Jewish? Soviet? Ukrainian? Russian? The war has American Jews asking, 'Who am I?'
A long history of antisemitic violence and exclusion in the former Soviet Union complicates loyalties for expats in the United States.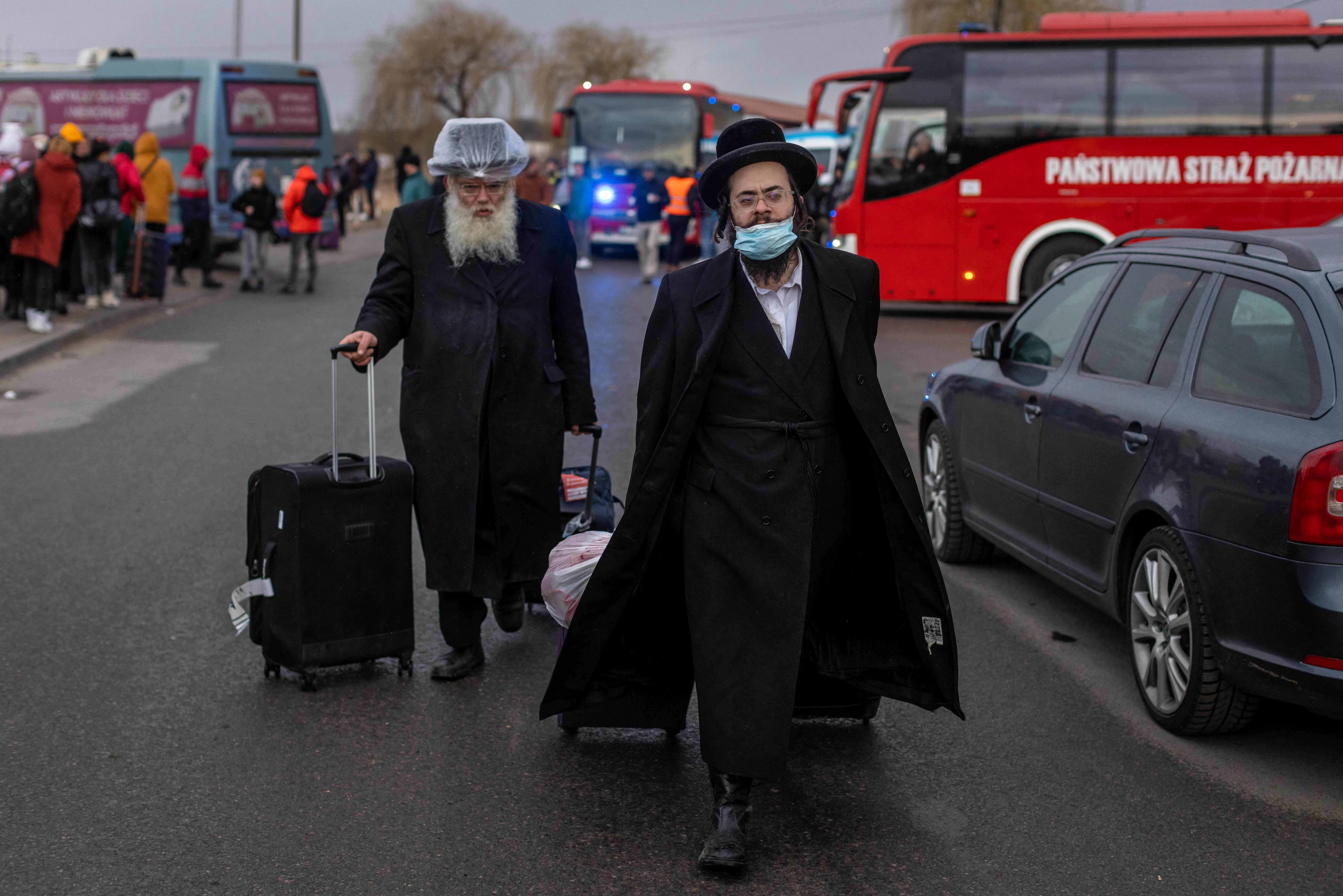 In early February, Michelle Barsukov's 75-year-old grandfather, Vyecheslav, called from Kyiv to tell her that he had prostate cancer. His surgery was scheduled for later that month, Feb. 24. It would be the day President Vladimir Putin started the largest war in Europe since World War II. 
As Russian soldiers poured over the border, the elder Barsukov canceled the surgery and enlisted in Ukraine's civilian corps. His granddaughter, a 22-year-old who was then a senior at Yale University, felt powerless in the face of the Russian war machine barreling toward her grandfather, as if she were a grain of sand being churned in a tidal wave. Isolated in her college dorm after testing positive for COVID, she was not just worried about the danger facing both her grandfather and her 19-year-old aunt, who studies journalism at Taras Schenko National University of Kyiv; the invasion 5,000 miles away felt personal.
"Ukraine is an independent country that is part of my identity," explained Barsukov, a child of immigrants from Kyiv and Dnipro who was born and raised in the Chicagoland area.
She is one of many young American Jews with roots in the former Soviet Union grappling with not only what to make of these last months of war, but also what to make of themselves. As a result of deep-seated antisemitism and exclusion, such Jews have long identified primarily as Jews who speak Russian — not as Ukrainians, Russians, Moldovans, Belarusians, or anything else. Now, the meaning of the phrase "Russian-speaking Jew" feels newly fraught, especially for those from what is now Ukraine, a country struggling for its survival against Russian hegemony. 
The war, now in its fourth month, has reignited long-standing questions of Jewish identity for Soviet immigrants and their descendants in the United States, a population estimated at 500,000 to 750,000.
What are the bounds of Jewish belonging? Are Jews primarily local beings, shaped by, tethered to, and members of their homelands across the planet? Or are they inescapably global, tied to a people that transcends borders and even European geopolitical crises? 
'But the poor Russian soldiers are dying'
In the days after the invasion, Barsukov was frustrated to see on Facebook and Instagram that some Russian Jews back home in Chicago were posting neutral statements about the pains of war rather than clearly denouncing Putin's offensive. 
Her parents, too, found themselves in uncomfortable exchanges with old friends. "'Oh, but the poor Russian soldiers are dying, and the poor Ukrainian soldiers are dying,'" Barsukov recounted a close family friend who was born in Moscow saying to her mother. "My mom was like, 'How about the fact that they invaded and want to destroy the country?'"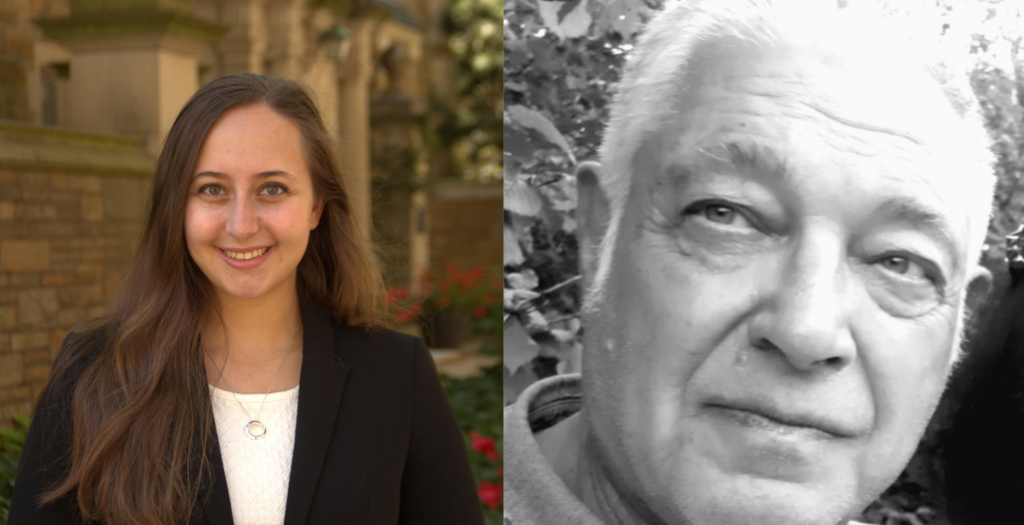 It's tempting to presume that political attitudes toward the war fracture along geographic lines, with Jews from what is now Russia siding with Putin and those from Ukraine standing up against him. But 21st-century Jewish identities are not so simple. In reality, post-Soviet Jews' views on the war do not align neatly with their places of origin. 
Samuel Kliger, a sociologist and the American Jewish Committee's director of Russian and Eurasian affairs, said 70% to 80% of Russian-speaking Jews in the U.S. oppose Putin unequivocally, regardless of where they hail from. 
Rabbi Aryeh Katzin, who runs an organization for Russian-speaking Jewish millennials in Brighton Beach, Brooklyn, is one example. Born in Moscow in the 1960s, Katzin was part of the Jewish underground movement while he was a college student at Moscow Technical University of Communications and Informatics and came to the U.S. in 1986. He remains an opponent of Russian oppression today, calling on his community to support and aid refugees and victims of the violence. On an almost weekly basis, Katzin hosts Zoom events with Ukraine's rabbinical and communal leaders, bringing together hundreds of people from Ukraine, New York, and even Russia to raise money and oppose the war. 
'A land of pogroms'
There are also Ukrainian-born Jews in the U.S. who support Putin, said Leonard Petlakh, CEO of the Kings Bay Y in Sheepshead Bay, a Brooklyn neighborhood with a large Russian community. For this smaller contingent, the legacy of antisemitism and violence they or their families experienced makes it impossible to support the Ukrainian cause, said Kliger of the AJC. 
Kliger explained that the recent wave of Ukrainian nationalism reminds some older Ukrainian Jews of the Holocaust, when 1.5 million Ukrainian Jews were murdered — many by ethnic Ukrainians, not Germans. Some buy Putin's denazification narrative because of the small neo-Nazi slice of the Ukrainian resistance and resurgent respect for Stepan Bandera, a far-right Ukrainian Nazi collaborator. For Holocaust survivors, Kliger said, the whole region "was a land of pogroms," a "land of Jewish blood." 
The fact that there are Russian Jews who support Ukraine because of what Russia did to them as well as Ukrainian Jews who support Russia because of what Ukraine did to them is a reflection of how, for all post-Soviet Jews, the question of national belonging is refracted through a heavy history of violence and exclusion. As they contemplate how to engage the war, many are asking themselves whether their ancestors would be inspired or haunted by the idea of them connecting more specifically to these newer national identities.
"If anything, I feel Ukrainian as opposed to Russian," Barsukov told me. "I used to just be like 'I'm Russian-speaking,' but now I don't even say that." 
Connecting through language and place
Another Yale undergraduate, Daniel Blokh, said his father, who is from Kharkiv, wept upon finding out that a bus stop he used to go to in the city had been bombed. "This is the first time that I have heard him start to use more Ukrainian national rhetoric," said Blokh, who is 21 and grew up in Birmingham, Alabama. "He has started talking about" how Ukraine "has been so resistant because that's the kind of people Ukrainians are." 
Nicole Goldman, 29, an economist in Philadelphia, grew up speaking Russian with her family but started learning the Ukrainian language just after Putin invaded so she could read news of the war from Ukrainian outlets. Her Kyiv-born father texts her in Ukrainian to help her along, and her mother, who is also from Kyiv, has been speaking to her in Ukrainian over the phone to train her ears to recognize the language's distinct sounds. 
"The letters look the same, but they're pronounced different," Goldman noted. 
Born in Haifa, Goldman moved to Kyiv at age 4, then to Skokie, Illinois, a year later. She still remembers her family's apartment along the Dnieper River in southeast Kyiv: The kitchen was long and narrow, with a stove on the right as one headed toward a big window at the end. Her bedroom had a large Turkish rug on the wall, and there was a room with a little couch where she kept her green-and-blue parakeet in a large domed cage. 
Goldman's maternal grandmother, Stella Geifman, who also emigrated to the U.S., resided in a nearby apartment on Mykhailivs'ka Street, which had housed the family for three generations.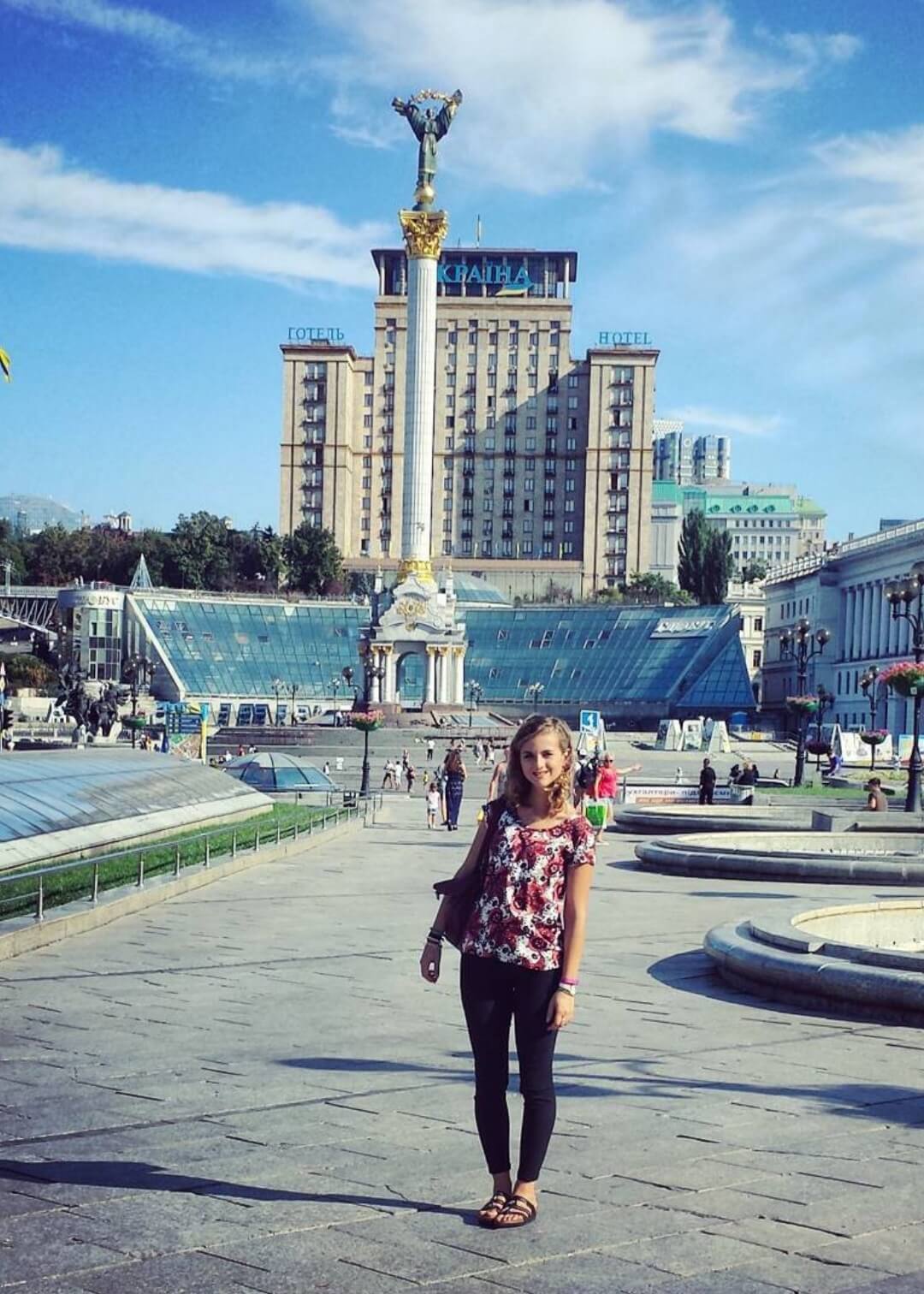 As she absorbs news of the war, Goldman wonders what is happening to these places. She recognized the regal streets she once frequented in the live feeds of the Russian advances in the early days after the invasion, and looked  for her grandma's apartment on Mykhailivs'ka to make sure it wasn't damaged. "I would be like, 'They haven't bombed it yet!'" Goldman recalled of passing the news on to Geifman.
But Roman Shmulenson, who runs New York's largest community organization for Russian-speaking Jews, sees no difference in identity based on where these immigrants originated — Russia or Ukraine. "It's an artificial divide," he insisted.  "We are Jews, we speak Russian, we are from that part of the world." 
Judaism as prime identity
For immigrants like Shmulenson, who was born in Russia's far east, grew up in Crimea, and came to the U.S. in 1993,  "Jewish" has always been the prime identity, since Jews were never considered ethnically Russian or Ukrainian in the Soviet era. In school, the class roster "would clearly state we have this many Russians in the class, this many Ukrainians, and this many Jews," Shmulenson recounted, and he would shrink into this chair as it became known to his classmates that he was in the third category. 
Part of the reason Russian-born Jews have increasingly felt the need to double down on the fact that they are Jews, not Russians, is because Russian identity has been frequently foisted upon them since the invasion. Petlakh, for example, said that his wife, who was born in southern Russia and works in finance, was asked by a colleague whether she supported Putin. "'You told us you were born in Russia proper,'" he quoted the colleague as saying by way of explanation.
In fact, his wife detests Putin. The couple's American-born son, Jonathan, who is 18, wrote that he has been "distraught by my friends' and acquaintances' questions" in an op-ed for The Cougar Crier, the student newspaper at  John F. Kennedy High School in Bellmore, New York, where he is a graduating senior. 
"I have been asked, 'Hey Petlakh, your mom is from Russia, so you probably support Putin?'" he wrote, adding that his parents were "never Russian" but "just Jews residing in that land." He concluded that his parents have "no loyalty to the country they escaped," and neither does he. 
Indeed, the Petlakhs had never really discussed where they came from until fifth-generation American Jews at Jonathan's school started making assumptions. 
Ilya Bratman, Hillel director at Baruch College just east of the Flatiron District, immigrated to the U.S. from Moscow in 1992, but said that it was only in April, weeks into the current war, that "I absolutely for real became Russian." This was only because he kept being asked about his Russian background by non-Russian-speaking American Jews. And he doesn't like it.
"That is ridiculous because at the end of the day, the Ukrainian Jews, the Russian Jews, the Moldovan Jews, the Latvian Jews — I don't even know where people are from, and I don't care," Bratman said. "It's just like you don't care if somebody is from Boston or Dallas. The only difference is do you like the Cowboys or New England Patriots."
Because  Jewish identity has been so excluded and so separate from non-Jewish ethnic identity throughout the former Soviet area, Bratman, who is 44, questions whether Jews can really identify as Ukrainian or Russian at all — even and especially in the United States. 
Regarding Jews who self-identify as Ukrainian, Bratman said, "My very strong, aggressive, unbelievably unadulterated opinion is that those people are not Ukrainian — like at all, like in any sense of the word." When I brought up the Ukrainian identity of Barsukov, the Yale student whose grandfather postponed his surgery to fight for Ukraine, Bratman paused and then said: "I don't think that exists," adding: "The language they speak is all Russian, no Ukrainian at all." 
Barsukov's eyes widened when I told her about the conversation. There are fundamental historical and cultural differences between Jews from what is now Russia and what is now Ukraine, she said, such as the fact that those from Ukraine experienced the brunt of the pogroms. "Right now, Putin's narrative is that Ukrainian as a nationality doesn't exist," she continued, so Bratman's notion that young Ukrainian Jews in America cannot claim Ukrainian identity "is reminiscent of what Putin is saying." 
'I walked those streets'
There is, of course, no right answer about how Jews from the former Soviet Union should connect to their intertwined, transcontinental, joyful, and conflict-ridden pasts. While Bratman, the Baruch Hillel director, sees the widespread experience of Jewish marginalization in the former Soviet Union as demanding that Jews unite across borders rather than splinter into national identities, Goldman, the Philadelphia economist, is eagerly learning to speak Ukrainian, the language her parents used to speak only occasionally in the household but now are working to impart on her. 
She remembers the sound of the bus driver's voice when he dropped her off at Mykhailivs'ka Street to see her grandmother. These memories are of a new Ukraine, different from the one where older generations experienced those pogroms and lingering antisemitism. Her darkest childhood memory from Kyiv is of the open toilets with strange curtains at her local grade school — toilets all the children, not just Jewish ones, had to use.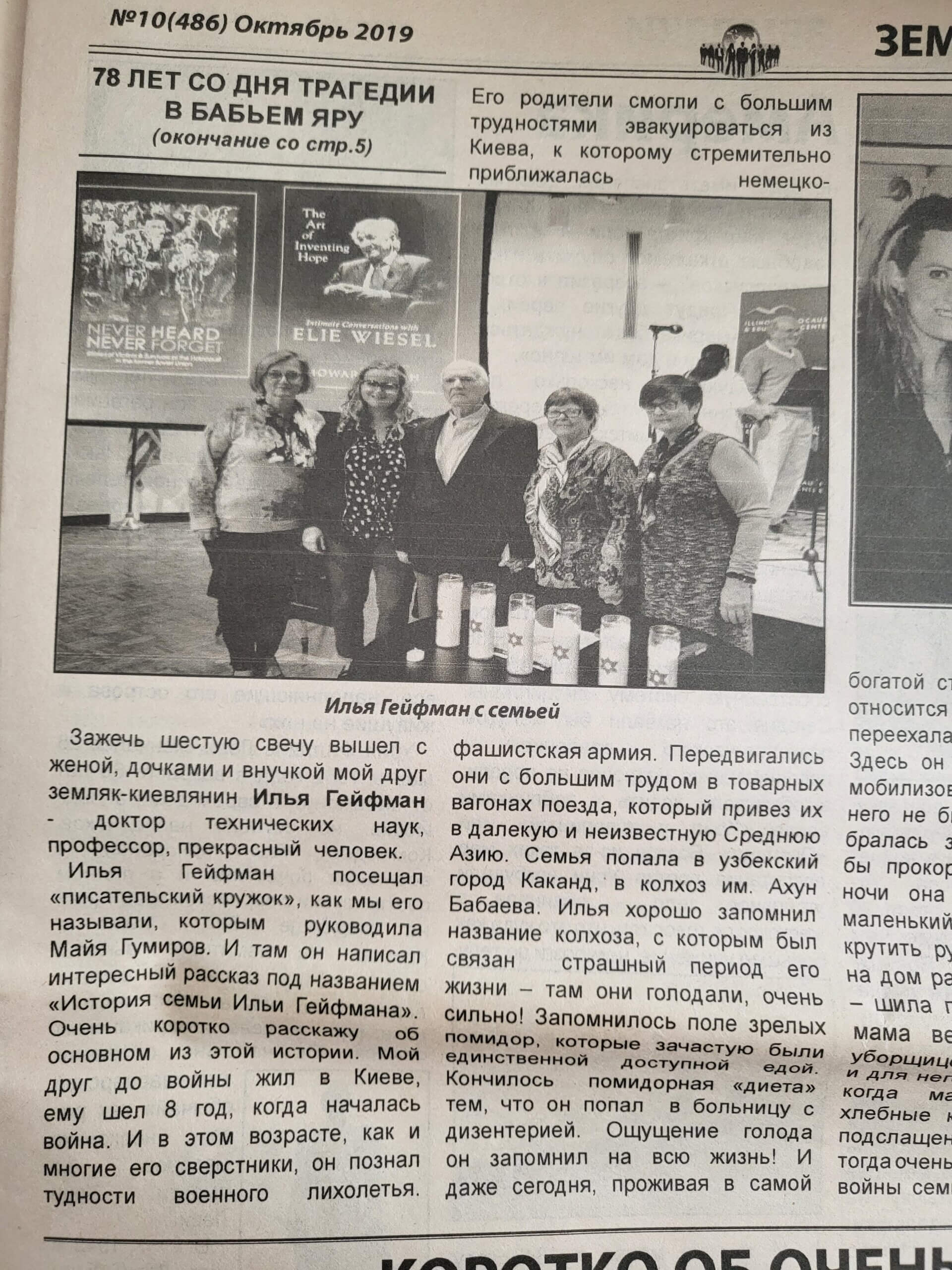 Between these poles lies a web of hyphens, interwoven genealogies, and untold family histories that traverse borders, empires, revolutions, and dynasties. As the war drags on and the places where Jews once called home continue to change before our eyes, those who fled the Soviet Union and its successor states — and their children — will only encounter additional waves of identity negotiation and transformation. 
Olga Markus, who runs the Russian-speaking initiatives at the Jewish Federations of North America, does not see that as a bad thing. 
Markus was born in Russia in the 1970s but lived in Kyiv from age 9 to 26. Like many Jews of her generation, she said that she never felt like a Ukrainian or a Russian, and has always identified as "a Russian-speaking Jew."
But something changed when Putin invaded Ukraine. "Ever since then," she said, "I feel a somewhat closer connection to Ukraine." 
"The places that are being mentioned on the news all the time, I know them personally, I walked those streets," Markus explained. "I am not learning about Irpin, or Bucha, or Kharkiv, or Bila Tserkva from geography books or maps. I know exactly where they are and what they used to look like before they were bombed." 
As Markus shared her worries about friends in both Ukraine and Russia, she spoke with the calm and cadence of someone at peace with the contradictions of her life. 
It was clear that she embraces them. They make her not a Russian Jew, or Ukrainian Jew, or even a Russian-speaking Jew. They make her a woman with her own story to tell. 
This article began as an assignment in a journalism course taught by Susan Dominus.