News
'Against a wall': Boston's Jewish leftists conflicted by BDS map
Some progressive activists say they have concerns about the map, but don't want to play into a conservative narrative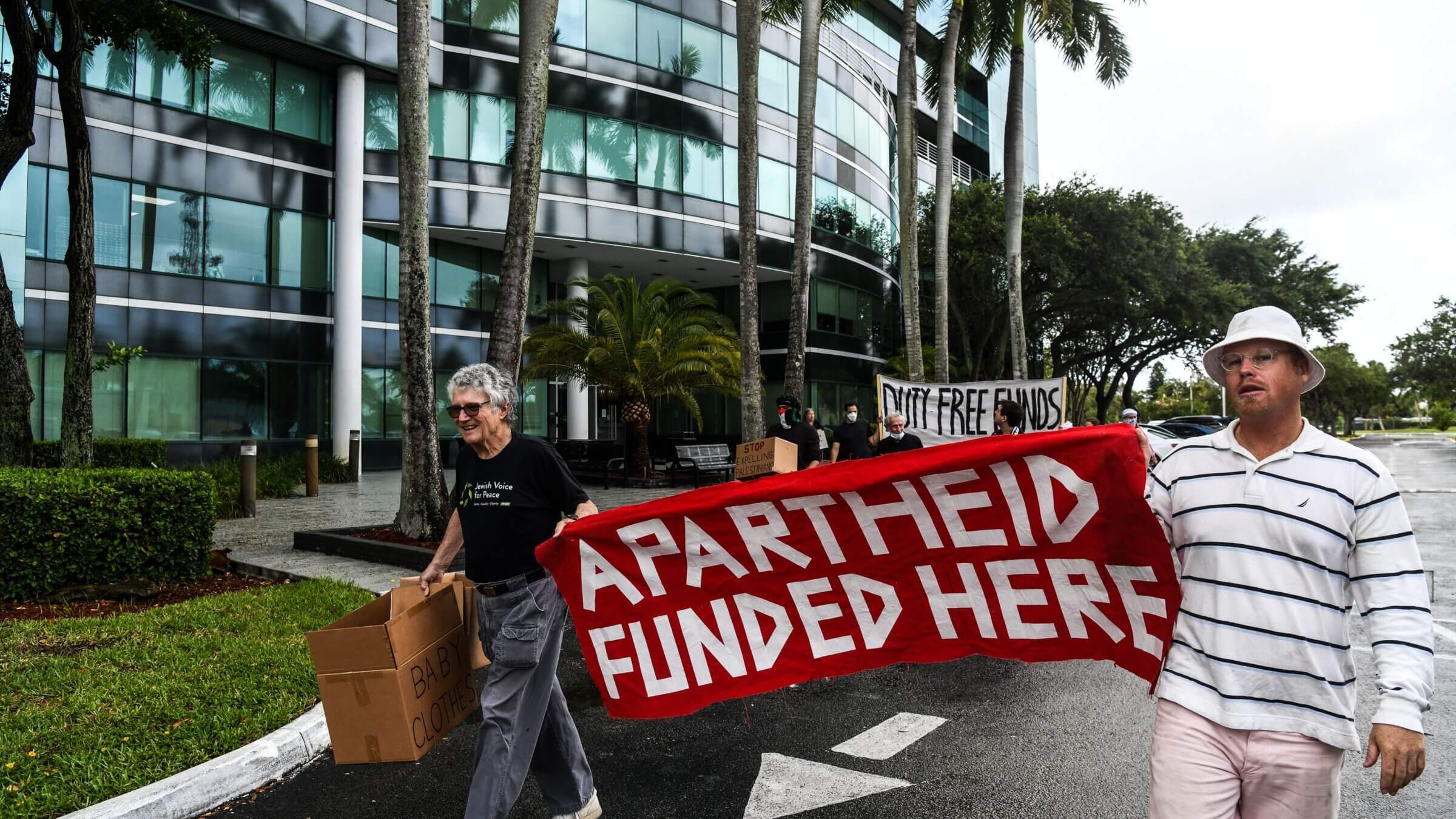 When a map of Boston companies, nonprofits and individuals labeled as complicit in "the colonization of Palestine" was published earlier this month, it generated outrage across and beyond the city's Jewish establishment. Leaders of the local federation activated its emergency response network and rallied local politicians to condemn the Mapping Project as "dangerous and irresponsible."
Among those alarmed by the project were progressive Jewish leaders who are typically most empathetic to concerns about Israel's treatment of Palestinians and most skeptical about claims that criticism of Israel is antisemitic.
"Once you call for dismantling the basic Jewish communal infrastructure, you've crossed the line to antisemitism," said Rabbi Jill Jacobs, the director of the rabbinic human rights organization T'ruah, who has previously clashed with establishment groups over how to define antisemitism.
The Mapping Project's creators have remained anonymous. It has been praised on social media by BDS Boston, a local group that backs the  Boycott, Divestment and Sanctions movement. But even some activists who also support the boycott raised concerns about tying a corporation like Raytheon, which manufacturers missiles, to the Jewish Arts Collaborative, which hosts cultural events, and acknowledged that providing the addresses of Jewish institutions might scare Jews.
"I can understand, especially with the trauma-based responses that so many Jews have — for good reason — it can sound like someone's coming for you," said a prominent Jewish leader on the left, who spoke on the condition of anonymity to preserve relationships.
The incident comes amid a larger resurgence of activism targeting Israel, including the BDS movement, which gained momentum following the violence in Israel and Gaza last spring. In response, organizations like the Anti-Defamation League have ramped up their own efforts to crack down on anti-Zionist activism — which they claim is often only a thin veneer for antisemitism — and called out groups like Students for Justice in Palestine and Jewish Voice for Peace.
That aggressive stance toward BDS activists, like those behind the Mapping Project, has in turn made leftist Jews — who are often skeptical of Zionism and supportive of a boycott of Israel — more reluctant to speak up when other progressives slide into a gray area where tropes or language might be antisemitic. It is harder, some say, to discuss actual instances of antisemitism when accusing anti-Zionists of being antisemitic is increasingly viewed as a conservative smear.
Derek Penslar, a professor of Jewish history at Harvard University, said he considers the map both "delusional" and antisemitic but said that the way antisemitism had been politicized in recent years made it harder to have honest conversations about the topic.
"There are Jewish mainstream organizations that have been crying wolf as well as pointing out real dangers," said Penslar, a member of a task force that seeks to distinguish between criticism of Israel and antisemitism. The frequent claims of bigotry made against activists who target Israel may cause their supporters to "circle the wagons."
One map, different reactions
The Mapping Project went live on the evening of June 3, the start of three days in which many observant Jews were offline for Shabbat and Shavuot. Jeremy Burton, director of the Boston Jewish Community Relations Council, said that when he turned his phone on Monday evening, he had received "piles and piles of texts" from people alarmed by the map. The CJP, which coordinates community security programs, had already notified law enforcement and sent out bulletins to 264 Jewish organizations.
The FBI's lead Boston agent said last week his office is looking into the website.
The map listed 483 entities across Massachusetts, including every police department in the state and most universities in the Boston area, that its creators claimed were connected to a variety of "harms" topped by Zionism. The website called for users to "dismantle" the institutions: "Every entity has an address, every network can be disrupted."
It is unclear who created the map. The website that hosts it was registered anonymously in December, and no one replied to an interview request or other questions sent to its generic contact email. In an interview with Mondoweiss, a pro-Palestinian blog, the map's creators identified themselves as "a collective of activists and organizers involved in anti-imperialist and Palestine solidarity struggles." Two people familiar with the project, speaking on the condition they not be named given its secrecy, said it appears closely tied to BDS Boston, which is itself a loosely organized group, but also involves other individuals. 
One activist involved with BDS Boston who promoted the map on Twitter said she had been falsely identified as one of its creators and faced a flurry of harassment and threats. Jewish Voice for Peace, an anti-Zionist organization, initially posted in support of the Mapping Project on social media, but a representative said Tuesday that the group quickly deleted those messages and that it is not taking a position on the map.
The project's creators have written un-bylined articles for Mondoweiss, Counterpunch and the Monthly Review, all left-wing news and opinion websites. They identify themselves as multigenerational and living in the Boston-Cambridge area, and explain their rationale for using a map and drawing connections among seemingly disparate entities; while the overall focus is on Israel's treatment of the Palestinian, they also invoke conflicts from the Vietnam War to the war on terror.
All of the information contained in the map was already available elsewhere on the internet, and many of the Jewish groups listed had previously been criticized for their support of Israel. But Burton, the JCRC leader, and others said that the framing of the map was particularly menacing, and that its reach was especially sweeping, involving some lesser-known entities, including family foundations.
"This is organizing — consolidating — with expressly nefarious intent," Burton said. "It is clarifying about what the radical left in Boston stands for and what they're calling for."
There were a range of views among leftist Jews affiliated with organizations including Jewish Voice for Peace, IfNotNow, Boston Workers Circle, Kavod and local chapters of the Democratic Socialists of America. Many individuals did not initially see any problem with the map, while others objected to aspects of it. With the exception of Jewish Voice for Peace's brief support, none of those groups took positions for or against the Mapping Project.
While it is hard to determine to exactly what share of the Jewish community may feel alienated by the establishment's push to crack down on strident criticism of Israel, 10% of Jews support the movement to boycott Israel, according to the Pew Research Center, and a poll last summer found that 38% of Jewish voters under 40 years old believe Israel is guilty of apartheid.
In interviews with four such activists, there was no consensus on whether the map was antisemitic. Some thought it a poor strategic choice to target educational and cultural organizations because it gave ammunition to critics. Others thought the absence of any Christian Zionist organizations gave credence to accusations of antisemitism.
The progressive Jewish leader, who heads a local organization, said their first reaction was, "just belief that it came from a place of genuinely wanting to support Palestinian liberation and human rights," but then they thought: "What's the purpose of listing every institution in Boston that has power?"
A Jewish political organizer, also speaking anonymously to avoid damaging relationships with individuals on both sides of the debate, said that while the website's call to "dismantle" the institutions plotted on the map is standard activist jargon, it could sound menacing to laypeople. He added that while he was "confused about the strategy or approach of the map," he believed it was intended to help support future campaigns targeting specific institutions.
Protests by Jewish Voice for Peace and IfNotNow, for example, often take place at locations tied to pro-Israel groups, like the Anti-Defamation League headquarters in New York City and the AIPAC conference in Washington, D.C., perhaps explaining why the map provided the addresses of the entities it listed. 
Other Jewish leftists thought the map had crossed the line into antisemitism by targeting educational and cultural institutions or blaming Zionism for other problems like gentrification and police violence. Yet even opponents of the map in these circles did not join the fiery condemnations made by major Jewish organizations, newspaper columnists and scores of outraged Jews online.
"There's less of a rush to be like, 'This is antisemitic and therefore everything is illegitimate and violent and terrible,'" the organizer said. "It's much softer — for good reason."
Distrust of the Jewish establishment
The reluctance of Jewish leftists to criticize the map appeared to be driven by three factors: distrust of the pro-Israel Jewish groups that have led the charge, anger at law enforcement's role in the response, and concerns over preserving relationships with pro-Palestinian activists in the community.
There is a debate among progressive Jews in Boston over how much the response coordinated by the JCRC, the federation and ADL stemmed from genuine fear by local Jews, and how much of it was a cynical attempt to delegitimize campaigns targeting Israel by highlighting a sloppy one that was easy to paint as antisemitic.
The furor over the Mapping Project comes a month after Jonathan Greenblatt, chief of the ADL, said his organization had committed to taking on anti-Zionist organizations and branded BDS as antisemitic. The JCRC and CJP also played a leading role in a failed attempt to pass an anti-BDS law in Massachusetts five years ago. And in 2019, some JCRC members sought to kick the Boston Workers Circle out of its umbrella network for co-sponsoring an event with Jewish Voice for Peace, an anti-Zionist group that calls for a boycott of Israel.
"The power and resources that the Jewish institutional community has makes it very difficult for the Jewish left to speak out in a clear and direct way," said the Boston organizer, who said he knows some of the people involved with creating the Mapping Project.
The early involvement of law enforcement, including the FBI, also raised hackles on the left.
"You can think it's antisemitic and needs to be condemned or called out," said the progressive Jewish leader. "But there's a difference between that and trying to suppress free speech and pro-Palestinian activism."
Daniel Levenson, deputy security director for the CJP, said that his team reached out to law enforcement to address the community's safety concerns — not to crack down on activism aimed at Israel. "It wasn't to say to them specifically, 'Hey there's a specific crime here,'" Levenson said. "It's to let them know this is part of the overall landscape and there are people who are afraid about their safety."
The strained relationship between the left and the Boston Jewish establishment also means that some progressive activists are more concerned about preserving relationships with members of BDS Boston, and creators of the Mapping Project, than with the CJP or JCRC.
April Rosenblum, the author of a seminal zine on combatting antisemitism within leftist movements, posted what seemed to be an oblique critique of the Mapping Project on Twitter last week.
"When you see Leftists get wrapped up in antisemitic notions of Jewish control causing global harm, it can devolve into a sparring match over if something is or isn't antisemitic," Rosenblum wrote. "What might help more is to open a conversation with many activist groups and leaders in your area."
But ties between Boston's Jewish left and organizations focused on Palestinian rights have also been rocky, with a progressive Muslim-Jewish solidarity event last spring canceled over "hurt and confusion" about the Jewish groups' past record on Israel. A move to offer even gentle criticism the Mapping Project, some fear, could further damage these relationships and eliminate the opportunity to raise concerns over the map's approach at a time when Palestinian activists are feeling harassed by more conservative Jewish leaders in the region.
"Full, unequivocal support is definitely what folks who made the map are looking for and it's hard to do that," said the Boston activist. "We're kind of up against a wall here."