Sports
The day Sandy Koufax became one of the greatest pitchers of all time
For 6 seasons, the Jewish pitcher struggled. On June 30, 1962, his eminence revealed itself.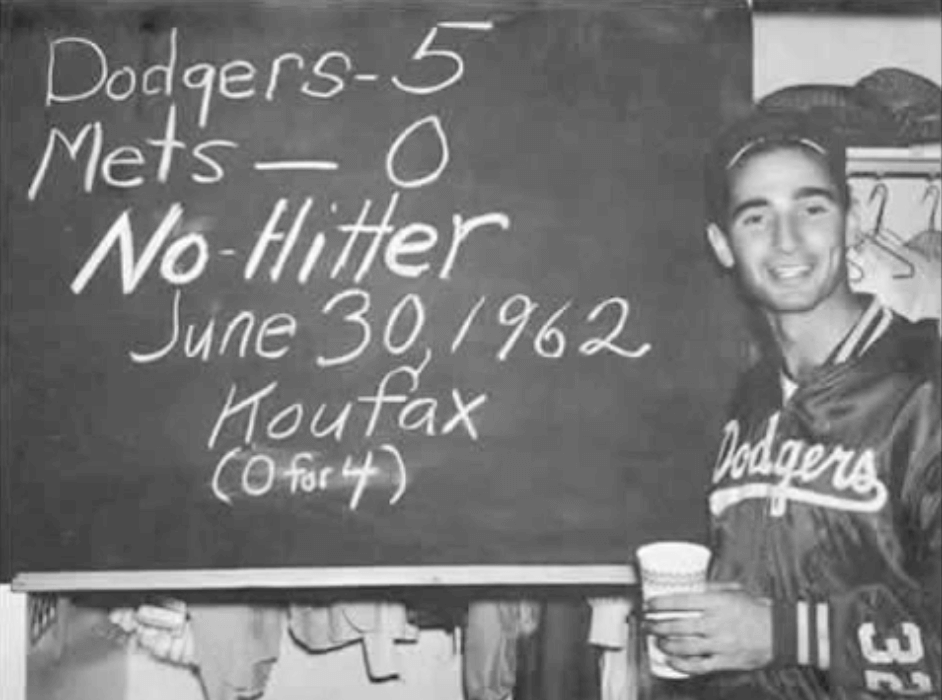 By the time Sandy Koufax threw his first no-hitter 60 years ago, he had experienced his share of baseball tsuris.
Koufax, the pride of Jewish sports fans the world over, failed to hit his stride early in his career. When he took the mound at Dodger Stadium against the New York Mets on June 30, 1962, in front of 30,000 fans, he was coming off his first excellent season, setting a new National League record with 269 strikeouts in 1961, while going 18-13 with a 3.52 ERA.
Before that, Koufax had battled control problems for a half-dozen years, walking lots of batters and throwing a league-high 17 wild pitches in 1958, the Dodgers' first year in Los Angeles after moving there from his home borough of Brooklyn. He said the low point came in 1960, when he went 8-13 while walking 100 at the age of 24.
"From the time I broke in with Brooklyn in '55 I'd progressed a little each year, but in '60 the roof fell in," Koufax recalled in 1962. "I got pretty disgusted with myself, but I never considered quitting. I was too young to quit, and besides, I didn't know much else to do but play baseball."
Now at the age of 26, Koufax was clearly entering his prime, and at the time of the early-summer matchup against the Mets in LA, he was 10-4 with a 2.48 ERA.
"It has taken Koufax more than seven seasons to reach the point where one National League manager last week described him as 'probably the greatest pitcher in baseball today,'" The Associated Press reported at the time.
The Mets were in trouble right away
That '62 season marked the first year of Dodger Stadium, as well as the inaugural year of the Mets, the expansion team the NL awarded to New York to replace the Dodgers and Giants after they bolted for California five years earlier.
Although the last-place Mets were known as the laughingstock of baseball, they had surprisingly hammered Koufax the last time they faced him a month earlier, on May 30. Playing at the Polo Grounds, the Giants' old ballpark that the Mets were using until Shea Stadium was complete, Koufax pitched a complete game victory over the Mets — but it wasn't pretty, as they tagged the Jewish lefty for 13 hits and six runs in the Dodgers' 13-6 victory.
From the start of this rematch on June 30, however, Koufax was brilliant, striking out the side on the minimum nine pitches in the first — a feat known as an "immaculate inning — over the clearly overmatched Mets. Fans behind the Dodgers gave him a standing ovation.
In her book, "Sandy Koufax: A Lefty's Legacy," Jane Leavy wrote how Dodgers relief pitcher Ron Perranoski could see the Mets were in trouble right away.
"From my angle back there, sitting in the bullpen, his curveball used to break from the first deck, it looked like," Perranoski recalled. "And all of a sudden it's breaking from the second deck and I said to the guys, 'They're in for a tough day.'"
The Dodgers scored four runs in the bottom of the first inning, sending nine men to the plate and knocking out the Mets' starting pitcher, Bob Miller, who lasted just two-thirds of an inning. Koufax popped out to first base to end the scoring — a pretty typical outcome for the light-hitting pitcher. He would strike out in each of his other three at-bats that night, dropping his batting average to .091.
The Mets came close to getting a hit only a couple of times. In the second inning, cleanup hitter Frank Thomas hit a sharp grounder to the left side, which shortstop Maury Wills gloved with his backhand before just barely throwing out Thomas. In the sixth inning, LA left fielder Tommy Davis lost a line drive in the lights off Richie Ashburn but recovered to make a running catch.
Koufax walked pinch-hitter Gene Woodling in the top of the ninth with nobody out and a 5-0 lead. But the next three Mets hit grounders, each leading to a force out at second, the final one off the bat of Felix Mantilla.
As teammates mobbed him, a message on the scoreboard flashed, "Koufax, report to (Dodgers GM) Buzzie Bavasi and have your contract torn up," according to Leavy's book.
"That fellow really opened my eyes," Woodling said after the game. "Nobody throws a ball any harder than that first strike he threw at me."
Koufax's final line: nine innings pitched, no hits, no runs, five walks and 13 strikeouts. 
"Koufax, in his early seasons with the Dodgers, might have had some wild dreams about getting a no-hitter some day," observed The Associated Press. "But for five years it appeared he couldn't possibly dream as wildly as he pitched."
An ecstatic Koufax reflected on his career resurgence after the game.
"The turning point, I think, was in spring training last year," he told reporters. "I finally decided I wasn't going to try to throw the ball past every hitter. I discovered I could throw pretty well to spots. That's the first time I ever really pitched a game — first time I was really a pitcher, not just a thrower."
Over on the Mets side, loquacious Mets manager Casey Stengel, who was used to holding court with reporters, playfully wondered where everybody was: "Where's all them reporters tonight? Somethin' must be goin' on."
When he woke up the next day, Koufax said he was "walking on air."
"In essence, every pitcher takes the mound trying to throw a no-hitter," he said. "The main idea is to keep the batter from getting a base-hit, isn't it? But you have to be lucky to keep 27 batters from dunking one in or hitting one on the nose."
Prelude to a perfect game
The no-hitter would be the first of four that Koufax threw in his career. His last and most impressive one came in 1965, when he threw a perfect game — no baserunners allowed – and there's a famous photo of a smiling Koufax holding up four baseballs with zeros drawn on them, signifying his four-time feat.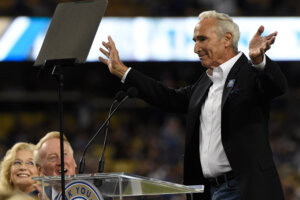 The'62 season, meanwhile, marked the beginning of arguably the most domineering five-year pitching performance in baseball history. In that span, Koufax led the league in ERA each season — three times with one under 1.90 — and topped the league in strikeouts three times. He also won three Cy Young Awards and one MVP.
When he was just 30, Koufax retired at the prime of his career, due to chronic arthritis in his throwing arm, after posting a 27-9 record with a 1.73 ERA and 317 strikeouts, and leading the Dodgers to the 1966 NL pennant.
For some Jewish fans, however, Koufax's most impressive feat might have been the year before, when he sat out the first game of the 1965 World Series because it fell on Yom Kippur. Don Drysdale started instead, and when Dodgers manager Walt Alston took him out with the team down 7-1, Drysdale deadpanned, "I bet you wish I were Jewish, too."