News
Chabad asked the new rabbi in Poway to resign. He said no.
Rabbi Mendel Goldstein, whose father pleaded guilty to defrauding the synagogue, says it's growing under his leadership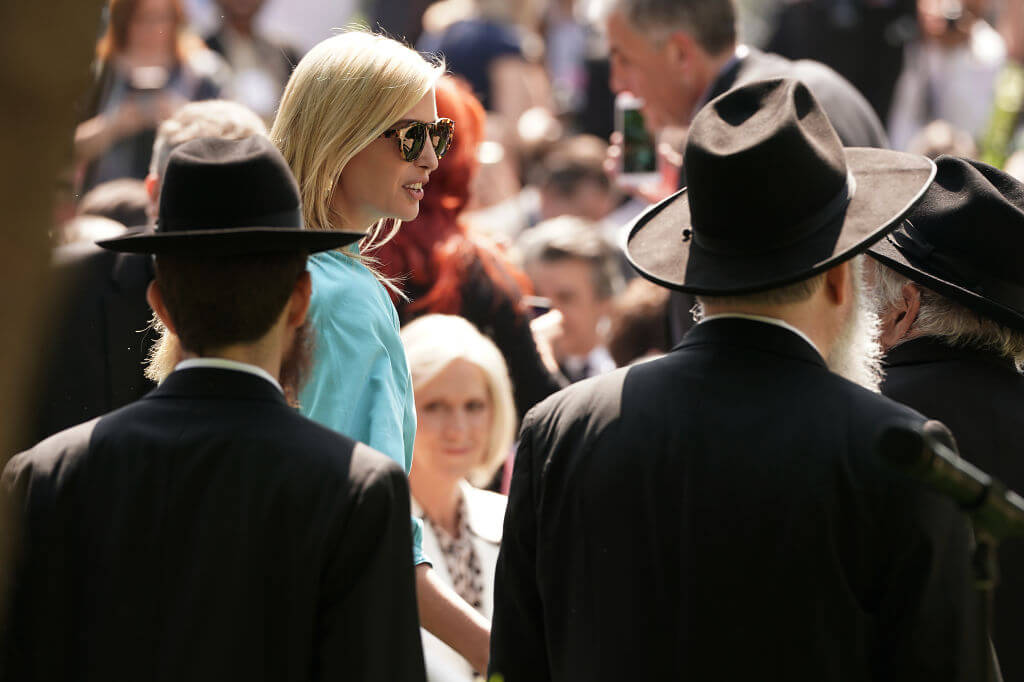 The leadership of Chabad in San Diego asked the rabbi now leading the embattled Poway synagogue to resign this week after he rejected their oversight proposal. But the rabbi refused to step down.
The synagogue experienced both a shooting and a corruption scandal in recent years.
Rabbi Mendel Goldstein, who took over at Chabad of Poway after his father was named in an FBI investigation, has been locked in a battle with regional leadership for control of the synagogue for months. He says he's leading the fractured community out of turmoil.
But in a letter sent July 12 and obtained by the Forward, Rabbi Yonah Fradkin, who oversees Chabad institutions in the San Diego area, accused Goldstein of noncooperation with state and local Chabad leadership, which sought to implement direct supervision over him. The letter asked Goldstein to resign by 5 p.m. Monday, saying, "We are sorry that it has come to this point."
Goldstein, who is in his early 30s, said on Tuesday he had not complied — and has no plans to.
Fraud scheme
At stake is a Chabad community that has hardly strayed from the national spotlight since the attack during Shabbat services on Passover 2019 that killed a woman and injured three other worshippers. Among the injured was Rabbi Yisroel Goldstein, the synagogue's founder. He was honored at the White House, but he later turned out to be at the center of a multimillion-dollar fraud scheme. That triggered a lawsuit over whether the synagogue was appropriately secured before the attack and in-fighting over governance.
After the FBI announced Yisroel Goldstein's guilty plea in July 2020, some congregants left the synagogue and tried to wrest power from Mendel Goldstein, one of his sons, who had taken over the pulpit months before the indictment became public. Yisroel Goldstein was sentenced in January to 14 months in federal prison, though he was released to house arrest after three months under a pandemic program to reduce prison populations. He's believed to now be living at his old hilltop mansion in Poway.
His son Mendel Goldstein was not a subject of the federal investigation, and initially enlisted three outside advisers — an accountant, a lawyer and an insurance agent — to serve as the synagogue's board of directors. But after Goldstein hesitated to yield control of Friendship Circle, a related nonprofit that his father had exploited in his scheme, the board resigned. Goldstein's father-in-law, Rabbi Yisrael Greenberg, became the synagogue's chief financial officer.
I'm recirculating this story because I think it deserves more attention. (Thread)

On April 27, 2019, a man carrying an assault rifle walked into Chabad of Poway, a synagogue about 20 miles NE of San Diego. He killed one and injured three, including the rabbi, Yisroel Goldstein.

— Louis Keene (@thislouis) August 25, 2021
The power struggle
The Vaad of San Diego, the umbrella organization for San Diego Chabad institutions led by Fradkin, sent Goldstein a letter April 1 informing him of its plan to appoint a "senior shliach" — that is, another rabbi — to oversee him for an undetermined period of time.
"The timing will be simple and straightforward," reads the letter, which was obtained by the Forward. "If Rabbi Mendel Goldstein does a good job in rebuilding the community, bringing it together and growing it, all while meticulously adhering to the policies of Chabad of S. Diego and Chabad of California, he will be placed in charge of Chabad of Poway as the Senior Shliach sooner."
The letter implied that Chabad of California, led by Rabbi Shlomo Cunin, supported the decision.
Goldstein appealed to Chabad International Headquarters a few days later, saying in an April 4 letter that Rabbi Fradkin and other San Diego Chabad leaders have been trying to marginalize him since he took over in 2021.
Goldstein said the congregation has been growing steadily under his leadership. He said he told the Chabad leaders that more than 200 people attended a Purim carnival; that the kiddush after Shabbat services at the synagogue was consistently sponsored; that he has been officiating weddings and b'nai mitzvah; and that there is a waiting list for the synagogue's preschool.
"I have been met with opposition and obstruction at every turn from Rabbi Fradkin and every member of the Vaad that ever dealt with Chabad of Poway over the past 18 months," Goldstein wrote in his letter, "and I have consistently sought to find a path forward in a responsible and practical manner."
Two people familiar with the situation have said that Goldstein sees the move to appoint a shliach to oversee him as a path to pushing him out.
Reached for comment, Goldstein said he was "proud of the transparency we have instituted within every element of our organization. This includes, of course, lay leaders who are familiar with all the monetary aspects, along with stringent financial controls."
He added: "No doubt there are people who feel hurt by the events of the past years. I remain hopeful that with time and effort, we will regain trust and continue to build a thriving and welcoming community."
In requesting Goldstein's resignation, the Vaad, which comprises Fradkin as well as Rabbis Dovid Smoller and Yeruchem Eilfort, said Goldstein's refusal to allow two Vaad designees to provide oversight was impeding the community's ability to heal.
"The ultimate power cannot lie in one person's hands, as it did with Yisroel Goldstein and now lies with you, and you alone. This is obvious," their letter said. "Our Vaad and constituents believe this. Past Chabad of Poway supporters and members agree. Common sense dictates the same."
Fradkin did not return a phone message left on his voicemail Tuesday. A message was left with Cunin's secretary on Wednesday.
A divided congregation
Current and former congregants remain split over the synagogue's leadership. Some never gave Mendel a chance, saying the family name was tainted. Others think the son is aptly steering the community out of his father's mess. 
And a few who remained members of the synagogue after Yisroel Goldstein's guilty plea have since left, saying Mendel lost their trust by failing to follow through on his promise of transparency — for example, by not hiring a forensic accountant to audit the synagogue's finances as he said he would.
"For some people it took a while to sink in," said Solomon Pinczewski, an early member of Chabad of Poway who left the synagogue after the FBI announced the investigation.