News
Mondaire Jones wants progressives, Jewish voters to boost his bid for Brooklyn House seat
Jones defended his alliance with candidate Yuh-Line Niou against frontrunner Dan Goldman. Niou has associated herself with BDS supporters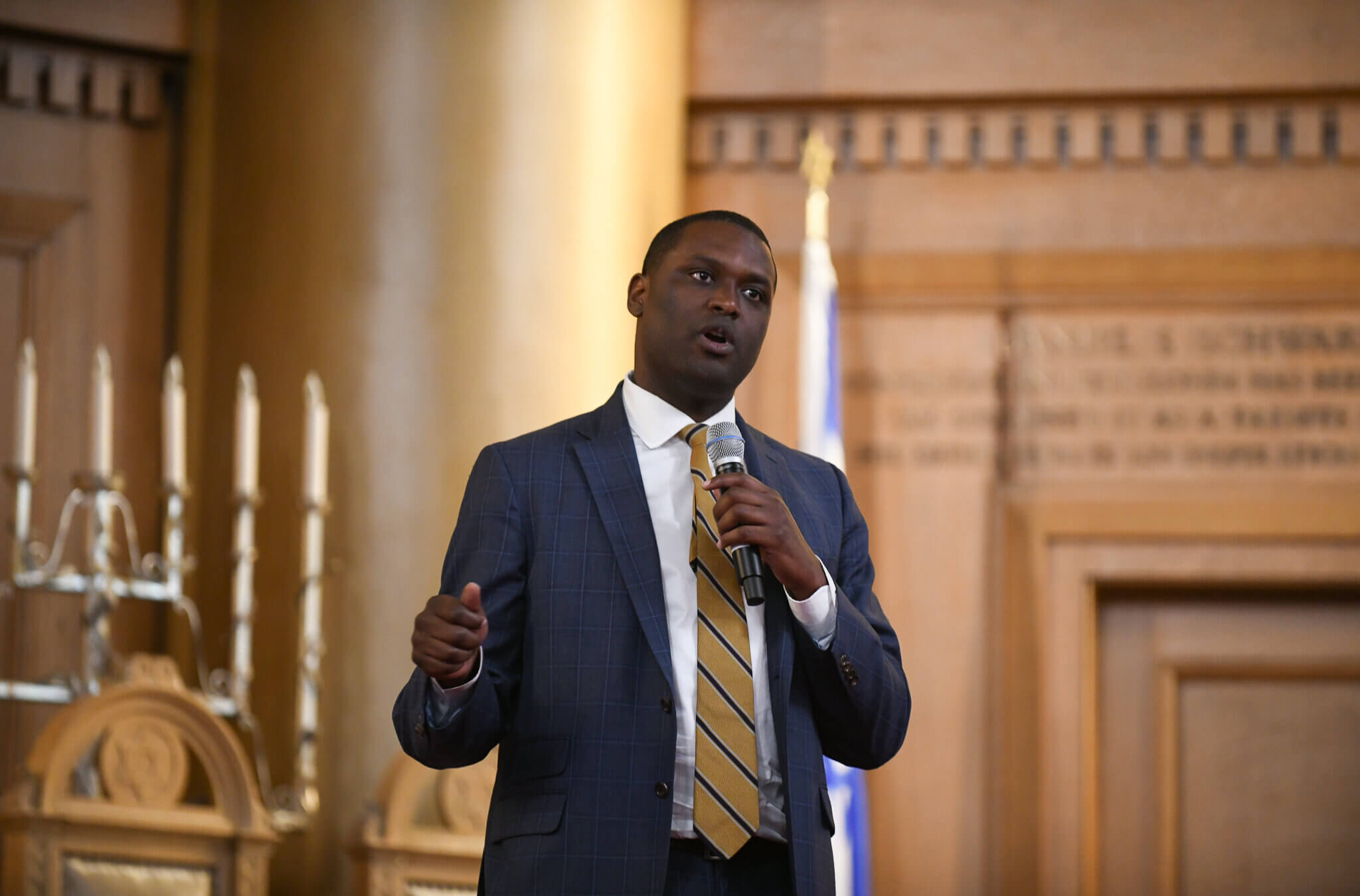 Rep. Mondaire Jones, a first-term congressman from New York is in new territory — literally.
The Democrat moved from the Hudson Valley — where he won a crowded primary in 2020 — to Manhattan to avoid an incumbent-vs.-incumbent race against Rep. Sean Partick Maloney in their redrawn district this election cycle. But again, he's trying to rise above a crowded field.
As early voting in underway in New York's Aug. 23 primary, he's facing particularly stiff competition from former prosecutor Dan Goldman, who is considered the frontrunner for a seat that includes the Brooklyn neighborhoods of Park Slope, Borough Park and Sunset Park and a stretch of Lower Manhattan.
On Monday, Jones joined forces with Assemblywoman Yuh-Line Niou — who is also running to represent the district — to attack Goldman as a "conservative Democrat." In an unusual joint appearance, they slammed Goldman as out of step with voters in the very progressive district. Goldman is not only leading the pack of 12 candidates in the polls, but he recently nabbed the weighty New York Times endorsement. Niou, backed by the Working Families Party, is in second place with 17% of primary voters, and Jones is tied for third place with 13%.
"He cannot be allowed to purchase this congressional seat," Jones said at a press conference, referencing Goldman's personal wealth and the $2 million he loaned to his campaign in recent weeks. He suggested Goldman — who opposes the expansion of the Supreme Court and does not support a single-payer health care program, known as "Medicare for All" — would be a "roadblock to the kind of progress that progressives have fought so hard to get to" if elected to Congress.
In an interview, Jones said his voting record as a sitting member of Congress and the campaign dollars he has amassed for the final stretch position him as  the progressive alternative to Goldman, whom he referred to as the "Levi Strauss heir."
"I am the only progressive candidate up on television right now making that case as well as across digital platforms," he said, adding that "it speaks volumes that my competitors are not criticizing me for the work that I have done in Congress."
Jones' pitch resembles that of a number of his competitors, including Niou, City Councilwoman Carlina Rivera and Assemblywoman Jo Anne Simon — all elected officials with progressive bona fides and support.
Jones said he is not dropping out to clear the field for a clear progressive alternative to Goldman, saying he has already established himself as that candidate and wondered why it has taken so long for his competitors to criticize Goldman.
Goldman's investment in the race doesn't exceed by much what Jones has raised for his campaign — some $3.5 million. But Jones said he expects Goldman to funnel more of his personal wealth into the race in the coming days, and charged that his campaign "is not bolstered by actual people."
Stance against BDS
In the interview, Jones defended his anti-Goldman alliance with Niou, who backs the Boycott, Divestment and Sanctions movement and has associated herself with vocal anti-Israel critics.
"There are colleagues of mine in the House Democratic Caucus who I have partnered with on affordable housing, climate action, health care for all, racial justice and so many other issues, and I have disagreed with some of those members on the issue of BDS," he said. "This election is about making sure that someone who is too conservative for this district, who is outside of the mainstream Democratic Party, is not able to buy his way into Congress."
Jones said he has a long record of opposing BDS, going back to the time he was an undergraduate at Stanford University in 2007. He said that there were activists on campus who lobbied him — in the midst of a run for vice president of the Associated Students body, a race he won — to support a resolution calling on the university's board of trustees to divest from companies doing business with Israel.
"This is something that I don't have to make promises about because I've already got a track record of supporting a strong U.S.-Israel relationship while also supporting the human rights of Palestinians," Jones said.
He added that "it's critical" to have progressives like himself in Congress "who are able to talk about the U.S.-Israel relationship" in a way that is lacking today in progressive circles.
A voice for the Jewish community
Jones was elected to Congress in 2020 in a crowded race for the Hudson Valley seat held by longtime Jewish Congresswoman Nita Lowey. The district included Rockland County, which has the largest Jewish population per capita in the nation, and Westchester County, which also includes a  sizable Jewish population.
A fifth of the population in the Brooklyn-Manhattan district he hopes to represent is Jewish.
He touted a track record of representing  "a beautifully diverse Jewish community across Rockland and Westchester Counties" Jones said. "My reputation has preceded me, not just in Borough Park, but elsewhere in the district. And that is a positive reputation that has caused people to gravitate towards my candidacy."