News
In crowded race for Congress, Dan Goldman makes the Jewish case for Brooklyn seat
Goldman is one of four Jewish candidates running in the Aug. 23 primary for the open seat once represented by veteran Rep. Jerry Nadler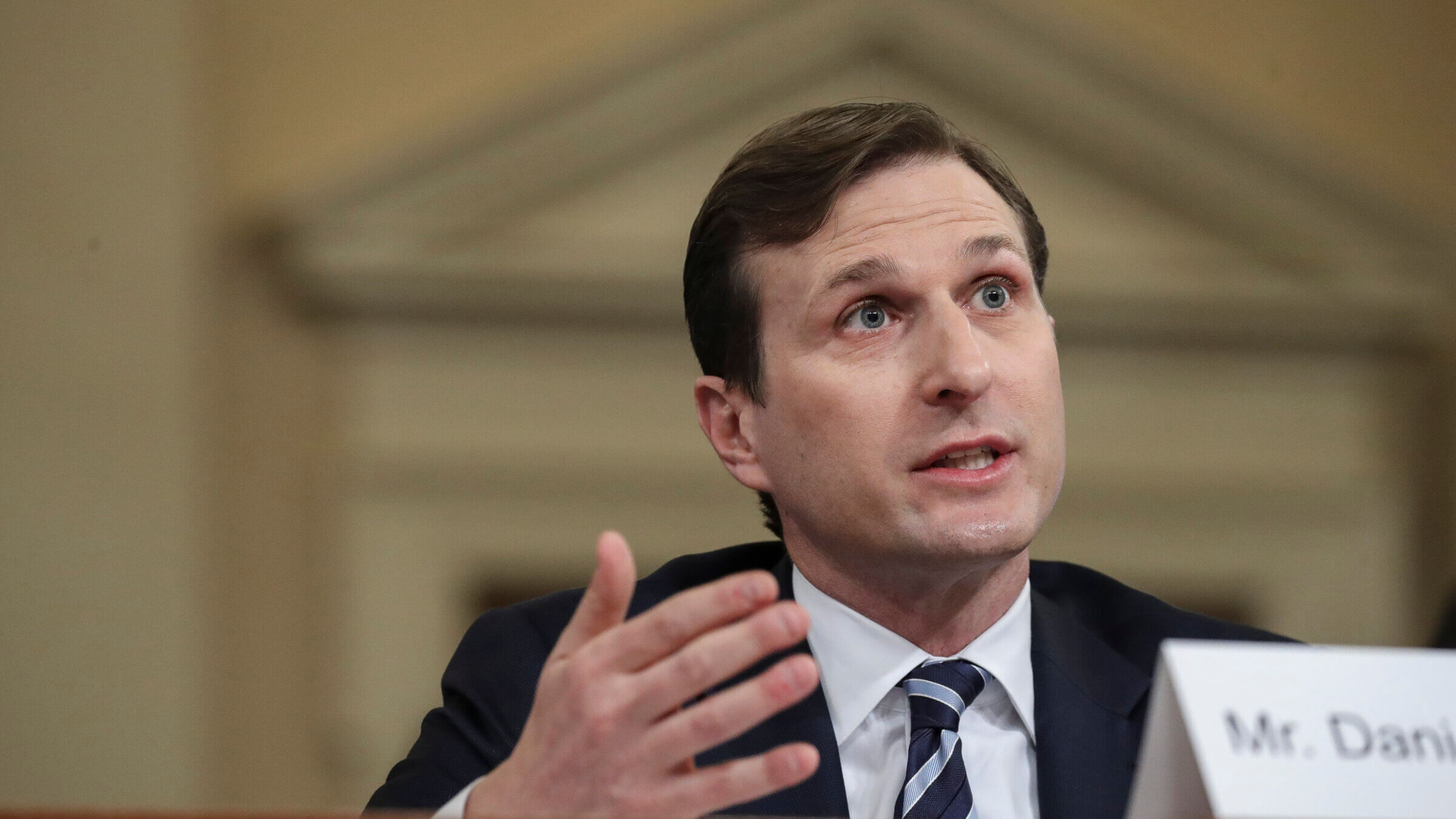 With no clear frontrunner in a crowded Congressional race in Brooklyn and Lower Manhattan, Dan Goldman, a former prosecutor making his first run for elective office, is taking most of the shots from his fellow candidates. 
At a forum on Sunday, several of them piled on Goldman for his repeated claim that he is "the only candidate in this race who has taken on Donald Trump." Goldman was lead counsel for the first impeachment trial of former President Donald Trump. He is also heir to the Levi Strauss fortune.
Separately, U.S. Rep. Mondaire Jones, who moved to the district when his Hudson Valley one was redrawn, criticized Goldman in the wake of the Supreme Court overturning the right to an abortion for saying he would support limitations on procedures in the third trimester. And another leading candidate, New York City Councilwoman Carlina Rivera, has challenged Goldman's opposition to the idea of adding justices to the U.S. Supreme Court.
The attacks suggest that Goldman, who is 46, is considered a threat to some of the elected officials with more name recognition competing in New York's Aug. 23 primary to represent the Brooklyn neighborhoods of Park Slope, Borough Park and Sunset Park, along with a stretch of Lower Manhattan. 
His campaign spokesperson, Simone Kanter, said Tuesday "it is clear" from "the attention Dan is getting from his opponents that Dan is the front-runner in this race." 
The campaign released an internal poll last week that showed Goldman with support from 18% of registered voters. In other polls, he has either led the pack of the remaining 12 candidates or is in a close third place spot. There is no runoff, so whoever gets the most votes will be the Democratic nominee and likely winner in November, given the district's overwhelmingly Democratic makeup.
Goldman, whose personal wealth was recently estimated as up to $253 million, loaned $1 million to his campaign and has raised $1.2 million, giving him an upper hand in campaign spending in the final days before the primary. One of four Jewish candidates in a district where more than a fifth of the population is Jewish, Goldman has promised to represent Jewish interests not just in the district but across New York City and indeed the country. 
He touts his strong support for Israel and opposition to the Boycott, Divestment and Sanctions movement, and has worked to cultivate ties with the Orthodox leaders in Borough Park. But he made a point of saying he does not calibrate his message differently when courting them and when speaking to the leftists in Park Slope. 
"My integrity is far more important than this job or anything else," Goldman said in a recent interview at a pizza shop in Borough Park. "I will not be beholden in any way to any special interest." 
Goldman got the coveted New York Times endorsement on the first day of early voting.
The leading Jewish candidate 
Goldman a also been outspoken about his Jewishness in a district that was previously represented by veteran Democratic Rep. Jerry Nadler, currently the only Jewish House member from New York City. 
Redistricting moved Nadler's home base of the Upper West Side to the 12th district, where he faces longtime Rep. Carolyn Maloney as well as two newcomers. The Nadler campaign has warned that his possible defeat would have "national implications" since it could leave the country's most Jewish city without any Jewish representation in the House. 
Goldman would beg to differ, as he aims to be the next Jewish House member from New York. (And, of course, New York's Democratic Sen. Chuck Schumer, currently the majority leader, is also a member of the tribe.)  Regardless of the outcome of Nadler's bid, Goldman says he would "carry the interests of the Jewish community writ large, not just in my district, but as a representative for all of New York City, and, to some extent, the country on Jewish issues." 
"That will certainly be a focus of my tenure in Congress," he added. 
With hate crimes on the rise, Goldman said he's "concerned that the country and some of the laws do not recognize Judaism as a minority community, with a history – of the Holocaust and beyond – of terrible, terrible discrimination." 
He described himself as a traditional and cultural Jew. Goldman's maternal grandfather, Sidney Sachs, was the son of immigrants from Lithuania. His late father, Richard, was a member of Adas Israel, a Conservative synagogue in Washington, D.C. And his second wife, Corinne Levy Goldman, is from an Orthodox Sephardic family and a graduate of Yeshiva University. 
The couple met at an AIPAC young leadership event in 2012. They keep kosher, but do not strictly observe Shabbat. "We compromised," he joked. 
Goldman lives in TriBeCa and has a second home in Southampton. He is a member of the Jewish Center of Atlantic Beach, an Orthodox synagogue in Nassau County, and the Brotherhood Synagogue, a Conservative congregation near Manhattan's Union Square. 
His wife, meanwhile, belongs to both Congregation Magen David, a Sephardic shul in Greenwich Village, and the Manhattan Sephardic Congregation on the Upper East Side. "We have a lot of shuls in the family," he quipped. 
Goldman clerked for two Jewish judges after graduating from Stanford Law School – one was Judge Charles Breyer, a federal judge in San Francisco whose older brother, Stephen, who recently retired from the Supreme Court.
The other Jewish candidates in the race are Elizabeth Holtzman, who served in Congress from 1973 to 1980; Brian Robinson, who founded a consumer-advocacy company in Manhattan; and Maud Maron, a former public defender who converted to Judaism in first grade after her mother married an Orthodox man. 
Holtzman said in a recent interview that she "never acted on a narrow ethnic basis," though she has worked on many issues of importance to Jews. For example, she pointed to her work prosecuting Nazi war criminals, helping to get Soviet Jews out of Russia and granting parole to Iranian Jews who escaped the ayatollah regime. 
"I'm very proud of being a Jew," she said. "I mean, there were dozens of Jewish members of Congress before me who did nothing about prosecuting Nazi criminals, nothing." Broadly, she said she considers herself a "fearless person who takes on causes" — fighting antisemitism, but also racism, sexism, and every kind of bigotry and hatred. "Anybody from any ethnic group can count on me to stand up for justice." 
A clear voice in support of Israel
In the campaign, Goldman has also stood out with his clear support for Israel in a race where another frontrunner, State Assemblywoman Yuh-Line Niou, has taken some flack for supporting BDS, which aims to pressure Israel to change its policies toward Palestinians and includes many who deny its right to exist as a Jewish state. 
At a recent candidate forum co-hosted by the Forward, Goldman earned audience applause for strongly denouncing the boycott movement, and implicitly criticizing Niou's stance that BDS should be protected on free speech grounds. "It is anti-Zionist, it is antisemitic," he said. "And let's make something really clear: It's not a First Amendment issue." 
And during the escalation of violence last weekend between Israel and the militant Palestinian group Islamic Jihad in Gaza, Goldman was the first candidate to issue a statement, writing on Twitter that U.S. funding for Israel's Iron Dome missile defense system is "non-negotiable."
Most of Goldman's opponents also oppose BDS and all have expressed support for U.S. military aid to Israel, and in some way either represent Jewish constituents or have reached out to Jewish voters in the district. 
In the interview, Goldman said the very diverse district needs a representative that will be "transparent" and have a clear strong pro-Israel stance to counter the "increasing opposition in the Democratic Party to Israel." He said he's "very concerned" that "more and more people in the Democratic Party" have taken the same position as Niou in defending BDS as protected speech. 
Goldman described himself as "unabashedly" pro-Israel and a supporter of a two-state solution to the Palestinian conflict. "Though I do not support settlement expansion and annexation," he added of the West Bank, "I believe that the U.S. needs to continue to support Israel without any restrictions."
Reaching out to Orthodox voters with anti-Trump message
Since former Mayor Bill de Blasio, who maintained strong relationships with Orthodox leaders, abandoned his campaign for the seat last month, Goldman and other candidates have courted those leaders, who can turn out large numbers of voters in blocs, and attended house parties in Hasidic neighborhoods. 
"I understand the Orthodox community better than any of the other candidates for sure," Goldman said.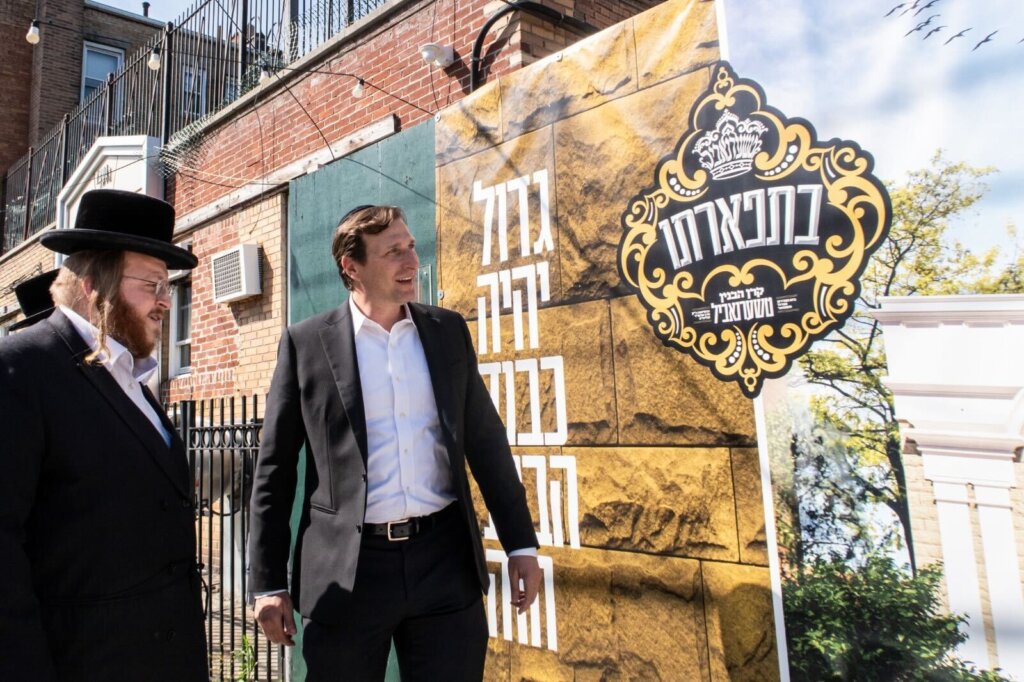 Though Trump received 82% of the Orthodox vote in Borough Park in 2020, Goldman cites his role in the president's impeachment even in campaign mailers targeting that neighborhood.
At Sunday's forum, hosted by the Brooklyn Democratic Party, several candidates said Goldman was misleading voters by claiming to be the only one who has taken on Trump. Congressman Jones noted that he had voted to impeach the former president, while former U.S. Rep. Elizabeth Holtzman reminded the audience that she wrote a book titled "The Case for impeaching Donald Trump" in 2019. 
In the interview, Goldman said that he doesn't deny his competitors "are not fans of Donald Trump," but said his focus on his role in the impeachment is an attempt to distinguish himself from the field on being "effective in Washington." 
"I don't think that my views on Trump himself should have any influence on how people in Borough Park view me," he said, "because my views about Trump are going to be the same as everybody else's. What they should take away is that I'll be a strong, progressive advocate for their interests in Washington and here in New York."  
Trump himself gave Goldman a political gift on Sunday. Writing on his social media platform, Truth Social, Trump noted that Goldman's side lost in the impeachment case, since the  Senate acquitted him, asking "Why would anyone want to vote for a loser?" 
Running in an overwhelmingly Democratic district where anti-Trump sentiment runs high, Goldman celebrated the former president's tweet in an email to supporters Monday with the subject line: "Donald Trump is TERRIFIED." And on Tuesday, the morning after the FBI searched Trump's Mar-a-Lago estate, Goldman got a bit of free media, appearing as an expert commentator on CNN.
This post was updated on 08-13