News
Supreme Court's only Jewish member warns of judges 'undermining their own legitimacy'
Elena Kagan, speaking at a synagogue, discussed her 'quasi-bat mitzvah,' Chinese food on Christmas — and concerns about 'politics' on the high court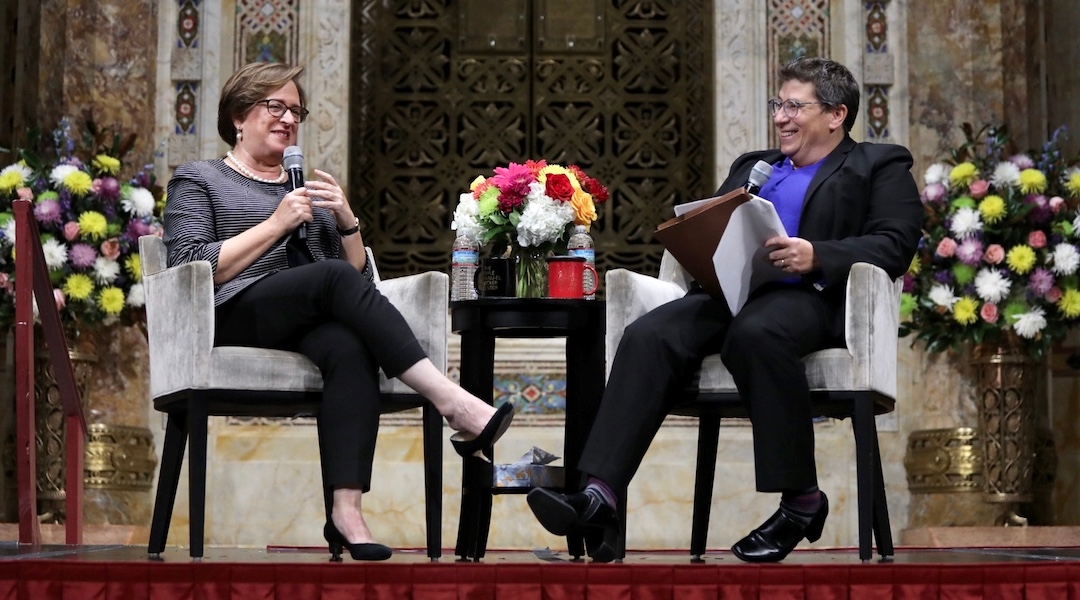 U.S. Supreme Court Justice Elena Kagan spoke Monday at a Manhattan synagogue about her "quasi-bat mitzvah," her admiration for Louis Brandeis and her famous "Chinese food on Christmas Day" line. But she also offered a not-so-oblique critique of the high court's turn to the right.
"If we go around doing politics, doing policy, imposing our personal preferences on people, why should anybody accept this?" she said at Temple Emanu-El in front of nearly 1,000 people. "Nobody elected me and the only reason people should accept what judges do is because they're doing law."
She said that judges "undermine their own legitimacy" when they "stray into places where it looks like they're an extension of the political process."
Kagan is now one of just three liberal justices on the high court and its only Jewish member. She never explicitly referred to the court's current partisan divide. Nor did she mention the court's recent Dobbs v. Jackson decision, which found there is no constitutional right to an abortion.
But she said that when a new judge arrives, "and all of a sudden the law changes on you, what does that say? It just doesn't seem a lot like law if it can depend so much on which particular person is on the court." Following precedent, she added, is essential "to ensure that people see courts not as political actors."
Chinese food on Christmas
Earlier in the evening, Kagan recounted the story from her 2010 Senate confirmation hearings in which Sen. Lindsay Graham asked her where she was on Christmas. "I said, 'like all good Jews, I was probably at a Chinese restaurant,'" Kagan recalled. "There were a lot of people who thought it was very funny. There were also a lot of people who were extremely confused."
She said Sen. Charles Schumer "had to explain why it was that Jews went to Chinese restaurants on Christmas." Graham later told her, "I knew you were going to get confirmed after this." Her nomination was confirmed by a 63-37 vote.
A 'half-bat mitzvah'
Kagan, 62, was introduced at Temple Emanu-El as having had the "first bat mitzvah" at the Lincoln Square Synagogue, a modern Orthodox synagogue on the Upper West Side of Manhattan, where she grew up. But she clarified the distinction, saying it was "not a full bat mitzvah."
She recalled wanting a bat mitzvah after her older brother's bar mitzvah. But in 1973, "Orthodox synagogues did not give bat mitzvahs," she said. After a "negotiation with the rabbi," they settled on a "half-bat mitzvah" or "quasi-bat mitzvah," called a "bat torah." It took place on a Friday night, not Saturday, and she read a haftarah portion instead of a Torah portion.
"So it was compromised in various ways for those of you who know about Jewish-type stuff," Kagan said. Still, she expressed an "enormous amount of respect for the rabbis" at Lincoln Square who were "pioneering in this endeavor."
The Brandeis 'horror story'
Kagan spoke for more than an hour in conversation with Alison Nathan, a judge on the Second Circuit Court of Appeals. Nathan noted that Kagan holds the seat once occupied by Brandeis, who was the high court's first Jewish justice.
Kagan described Brandeis' nomination hearings as "a horror story" due to antisemitism. "It was an incredible thing to get him confirmed through that feeling of 'no Jews here,'" she said. "It didn't end when he got to the court. One of his colleagues would turn his back on him when he started to talk."
Referring to that judge, Justice James Clark McReynolds, Kagan added that he was a "nothing justice. Except that he was an antisemite, you wouldn't know what his name was. And Justice Brandeis was one of the greatest justices, the most brilliant justices, of all time."