News
Why right-wing Christian politicians are blowing the shofar
To many Jews, it's a hijacking of a sacred object, often by those who traffic in antisemitism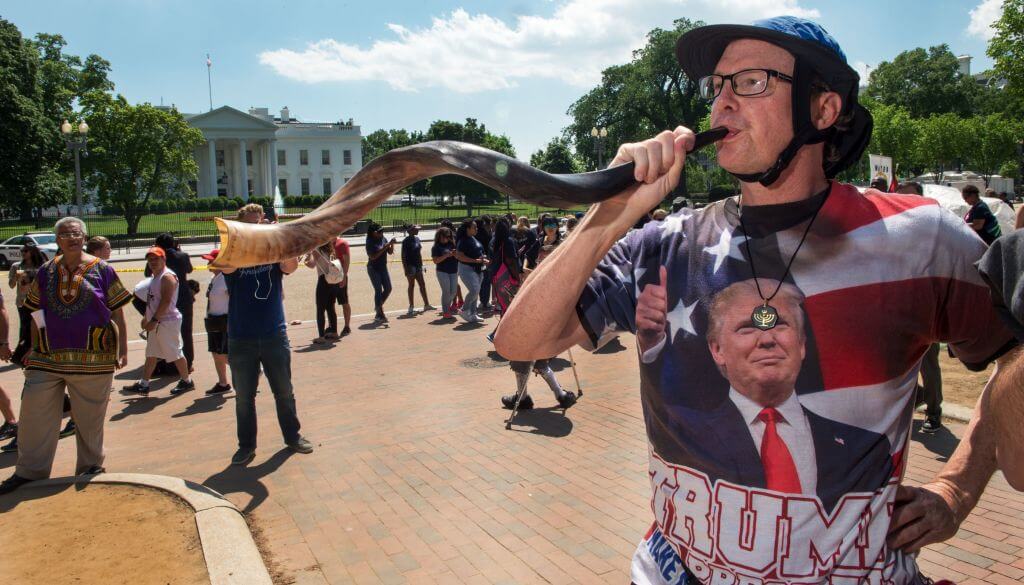 Jews will soon hear the shofar at High Holiday services. Far-right Christians politicians have been blowing it at their rallies all year.
Shofars made an appearance onstage at one recent far-right rally in a Virginia Beach megachurch, for example. where speakers described their political opponents as demons and spread the falsehood  of a stolen 2020 presidential election. In another example, Doug Mastriano, Pennsylvania's GOP nominee for U.S. Senate and a leader in the "Stop the Steal" movement, incorporated shofar-blowing into an August rally.
Christians who use the shofar in these settings say it signifies a bond between them and Jews.
But the practice among right-wing candidates, which caught on years ago but has become increasingly common, draws criticism from Jews who consider it a misappropriation of Jewish ritual. They deem the insult apparent given how many of those who blow shofars at their political events have trafficked in antisemitism.
Blowing a shofar at a Christian white supremacist, anti-Semitic rally is disgusting.

— BeverleyJBM 🐱⚾📷🇺🇸📖 (@bluesolitaire) September 18, 2022
Mastriano is antisemitic (though he claims now he is not), yet he kicked off his candidacy for PA governor with a blast of a shofar, signaling his spiritual / political battle. The same way they began their #Jan6 insurrection.https://t.co/WgKQoHQoH6

— GeezerWench (@BansbachRickie) September 1, 2022
Mastriano, who once embraced a social media platform known for its antisemitic content, and has been accused of using dog whistles against his Jewish Democratic opponent, has defended himself against accusations of antisemitism by referring to the shofar blown at his campaign announcement. He shouldn't be labeled an antisemite, he argued, for displaying "too much Jewish symbology" at the kickoff, where the shofar was blown by a man named "Pastor Don" who wore a Lion of Judah Messianic prayer scarf.
It's not unusual to spot shofars at MAGA rallies. Shofars were blown in D.C. in the events surrounding the attack on the U.S. Capitol. But conservative Christians, both politicians and religious leaders, have been blowing the shofar at gatherings long before former President Donald Trump entered politics.
In 2018, former Arkansas Gov. Mike Huckabee announced he would commemorate a visit to Jerusalem by blowing a shofar. And a 2007 video shows hundreds of Messianic Christians blowing shofars together.
The Christian call
While shofar-blowing by evangelical and right-wing Christians perturbs many Jews, not all find it offensive.
The shofar is a religious object, but also has been used historically as a musical instrument, said Natan Freller, a rabbi at Congregation Etz Hayim in Arlington, Virginia. "We don't own the shofar," he said. And Jews can't "necessarily dictate how it's used out there."
The issue, Freller said, isn't halachic, referring to Jewish law, but sociological.
Conservative Christians use shofars to "connect themselves to an ancient people that lived in Jerusalem," he said.
Still, for many Jews there is a disturbing paradox at work: a symbol of Judaism adopted by right-wing Christian groups that hold a variety of anti-Jewish beliefs, including Holocaust revisionism and the idea that all Jews should move to Israel to help bring about the return of Jesus.
Amilcar Barreto, a professor who studies nationalism at Northeastern University, said these Christians are melding politics with theology.
"Their vision of a biblically centered United States is also attached to their theological belief in the end of times and fulfillment of biblical prophecy, which for them, only happens with the state of Israel," he said. "They see a direct connection between Israel and the United States in these latter days."
Barreto recently wrote a paper about how the Christian nationalist movement in the United States has adopted the Israeli flag as a symbol. The shofar has taken on a similar role, he said, but it doesn't connect these far-right groups to Judaism, Israel or Zionism. Rather, he continued, it helps them express "biblicality" — a piety that makes them heirs to what they see as America's true Christian identity during what they perceive as the End Times.
The phenomenon extends beyond the U.S. Barreto has written about Korean and Brazilian Christians who have embraced the Israeli flag.
As for the discomfort Jews feel when right-wing Christians use Jewish symbols to advance their political messages, it does not resonate with those Christians at all, Barreto added.
"You can have a group that is flamingly Zionist and yet antisemitic at the same time," he said. "For some of these folks, that's what they believe and they don't see any contradiction."