Sports
High-scoring hora: NBA star Embiid hoisted at Jewish wedding
Who was more scared with the All-NBA center on a chair: Philly basketball fans or Embiid himself?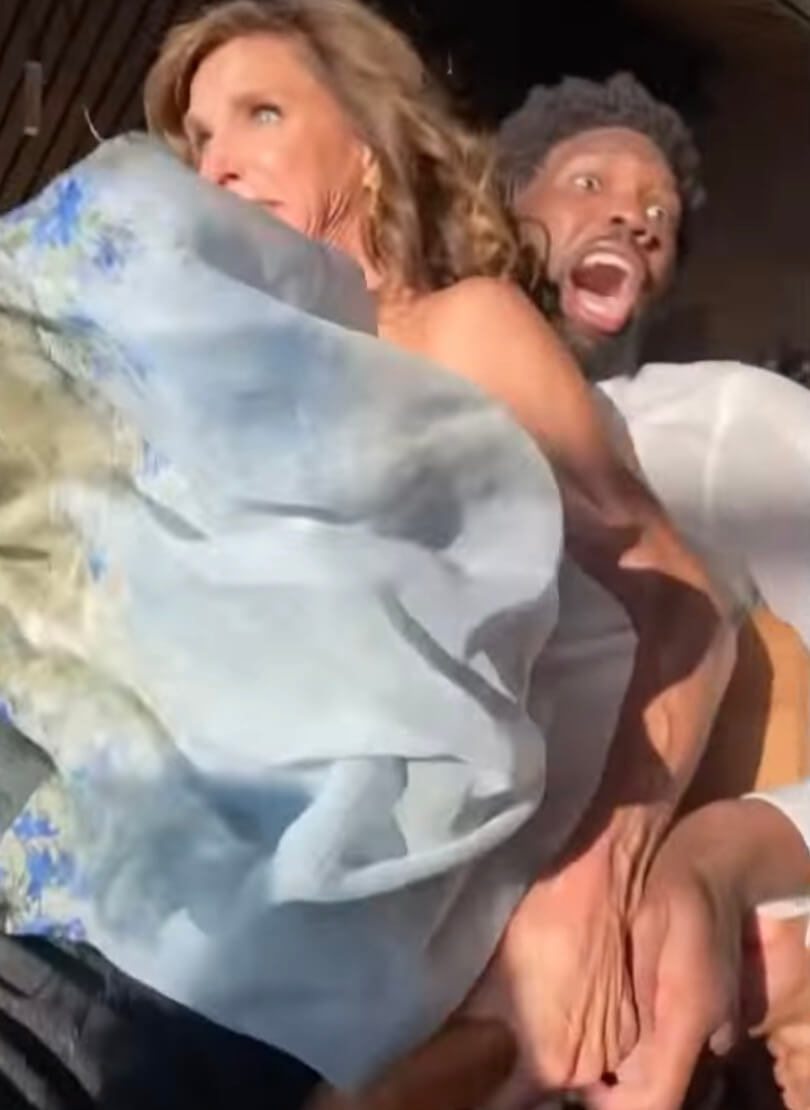 As the face of the downtrodden Philadelphia 76ers' arduous reclamation project, Joel Embiid popularized the slogan "Trust the Process." But it was the 7-foot-2, 280-pound Embiid who needed to trust everyone else when he was hoisted up on a chair at a star-studded Jewish wedding in Napa, California, over the weekend. 
Embiid, apparently sharing a chair with the mother of the bride, looked both delirious and terrified as the tuxedoed masses pumped them up and down.
Video of the notoriously mischievous and Shirley Temple-loving Cameroonian indulging in a tradition usually reserved for bride and groom was devoured by Jewish basketball fans, with one video of the two-time most valuable player runner-up hopping around with the hora circle watched over 3 million times on Twitter.
EMBEDCODE
Joel Embiid dancing the Hora is the only thing I want to see on social media this week. pic.twitter.com/4HLXEaw2bj

— Tori Rubinstein (@ToriRubinstein) July 17, 2022
Celebrities from across the sports and entertainment industry descended upon Napa to see Lauren Rothberg, brand director of Rhode, a skincare line, and Michael Ratner, a director and producer, get hitched. Joining Embiid in the human giant category were fellow basketball stars Blake Griffin and Chandler Parsons (both 6-foot-9). All-NBA first-teamer Devin Booker and his on-again, off-again partner Kendall Jenner turned heads at the ceremony, as did Justin and Hailey Bieber.
But the show-stealer was Embiid, whose celebration embodied the mitzvah of hachnasat kallah, or welcoming the bride. 
It's been a banner season for NBA star cameos at Jewish weddings. In May, LeBron James dapped up kabbalist Rabbi Yoshiyahu Yosef Pinto at a wedding in New York. Two weeks ago, former UCLA big man Kevin Love married Jewish model Kate Bock under a chuppah — and signed a ketubah to boot. (Last summer, the ever-considerate Charles Barkley said he lost weight knowing the hora was coming at his daughter's wedding.)
Sixers fans may have held their breath when they saw Embiid, whose career has been beset by injuries, several feet above the ground with no control over his landing. But Embiid's trust in the folks lifting him up was not let down, and he emerged from the reverie unscathed.