Sports
'No one's had a greater impact': The NHL's Jewish 'Hockey Maven' gets his heartfelt due
Arguably the most dedicated and knowledgeable journalist in hockey history will be honored at UBS Arena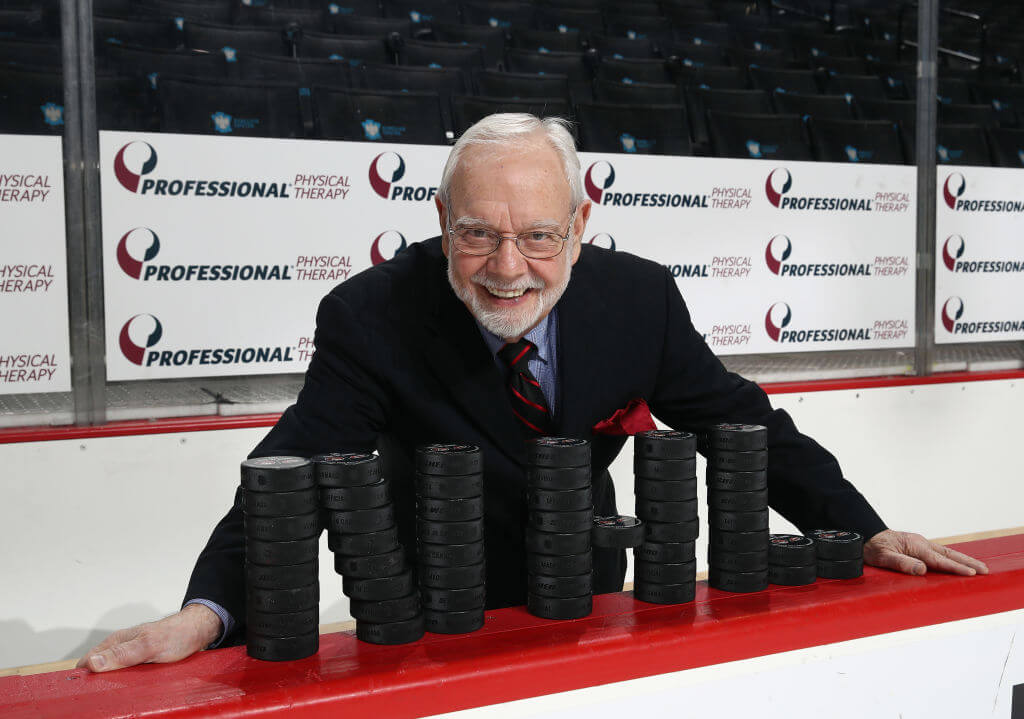 Stan "The Hockey Maven" Fischler got deked by the co-owner of the New York Islanders.
In hockey parlance, that's a fake out. But Jon Ledecky was just trying to find a fun way to break the news to the veteran broadcaster, who covered the team for about 40 years and moved to Israel after his retirement, that the press box at the Islanders' new arena would be named for him.
What should the team do to celebrate 50 years since its debut as a National Hockey League expansion franchise, Ledecky asked Fischler. The journalist and hockey historian offered a few suggestions.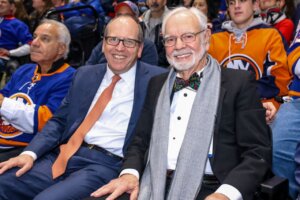 "Thank you, Stan, but this is what we're going to do," Fischler recalled Ledecky saying, and then revealing the honor he would receive at UBS Arena in Elmont, Long Island.
Fischler is back in New York for Wednesday's dedication ceremony, which will take place before the Islanders' game against their archrivals, the New York Rangers, for whom Fischler worked back in the 1950s.
"It was all a ruse. I was stunned," Fischler said of Ledecky's call. "It's very, very flattering and humbling to me."
It's already been a big year for Fischler. The Islanders honored him near the end of last season when he turned 90, and a capacity crowd at the rink sang "Happy Birthday." Fischler's memoir of growing up in Brooklyn was published in December, days ahead of his induction by the U.S. Hockey Hall of Fame. Many believe that the Toronto-based Hockey Hall of Fame should induct him, too.
After graduating from Brooklyn College, Fischler began writing for the Brooklyn Eagle and then became New York bureau chief for the Toronto Star. He turned to broadcasting, working for SportsChannel and MSG Networks, covering the Islanders, the Rangers, the New Jersey Devils and offering hockey analysis. He won seven Emmy awards and authored "The Hockey Encyclopedia" with his late wife Shirley, among his approximately 100 books on hockey, baseball and the New York City transit system. 
One of his sons, Ben Fischler, flew in from his home in Portland, Oregon, for Wednesday's tribute to his father. His other son, Simon, is temporarily in Switzerland, where two of his children play in a youth league. The teenagers — their older sister also plays hockey — call themselves the Flying Fischlers for their skating speed.
Fischler lives with them all and Simon's wife Lilach at the family's house on a kibbutz in the Golan Heights that's a short bicycle ride — The Hockey Maven still takes his 10-speeder out for a spin most afternoons — from Israel's border with Syria. Fischler will be back there this weekend to vote in next week's national election. 
Most mornings in-season, they check their phones to see how the Islanders fared overnight. For the team's rare day games, the Fischlers watch online, live, when it's nighttime in Israel.
A passion for the game
For Shannon Hogan, who hosts the Islanders' broadcasts, working with Fischler on the TV crew's set "was just fun." 
"His knowledge, energy and passion for the game is absolutely contagious," she said, mentioning the props — including a toy dinosaur and boxing gloves — he used to bring on set. Also the Yiddishkeit.
"I didn't know what a knish was," said Hogan of the food Fischler also worked into the on-air banter. "A lot of what I know about Jewish culture is from Stan."
Even in retirement, Fischler continues to write several columns each week for the websites of the Islanders, the NHL and The Hockey News. He tweets as regularly as many people a fifth his age. And he's writing another  book — on the Islanders' first half-century.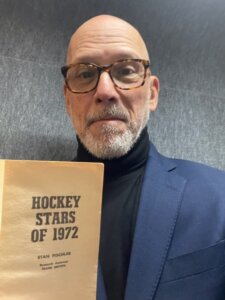 In tribute to Fischler, Frank Brown — one of Fishler's former interns — brought a book he helped him to research, "Hockey Stars of 1972," to a dinner Ledecky hosted in The Hockey Maven's honor on Tuesday night. Brown is one of scores of people who worked in journalism and in pro sports after interning for Fischler.
"The veneration of elders is something I think isn't done enough," said Brown, who calls Fischler pivotal in the development of his own career as a reporter and NHL spokesman.
Another former intern, Associated Press reporter Allan Kreda, will be at Wednesday's ceremony. 
"No one's had a greater impact on young journalists who wanted to work in hockey than Stan. Considering that's where so many careers were hatched, having his name in the press room is perfect," Kreda said.
"It'll be emotional to see Stan have this honor. For as long as I cover Islander games, he'll be there with me. Anyone who walks into the press room to cover a game will see his name. They'll want to know about Stan Fischler, as they should."