Sports
A timeline of Kyrie Irving's antisemitism controversy
The NBA star was suspended for a minimum of five games Thursday night. A few hours later, he finally apologized for sharing the antisemitic movie last week.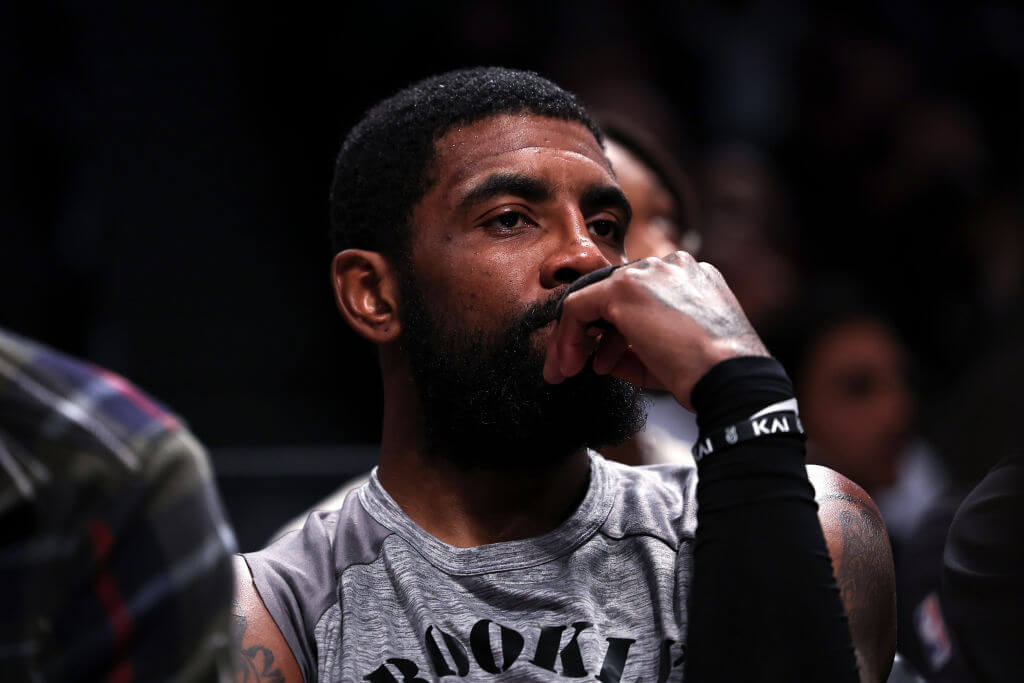 Controversial NBA star Kyrie Irving shared a link to a film rife with antisemitic conspiracies on Twitter on Oct. 27, setting off calls from around the NBA and the Jewish community for him to apologize or face punishment. By Friday, Nov. 4, his team, the Brooklyn Nets, had suspended him, saying he was "currently unfit to be associated with the team;" Nike, which had produced Irving's signature shoe since 2014, meanwhile cut ties with him and canceled plans for the Kyrie 8 sneaker.
Irving had pledged $500,000 to fight hate on Wednesday night and issued a belated apology just before midnight Thursday, but the Nets said it was not enough, and that he would have to meet with Jewish leaders and the team before returning to the court. 
To all Jewish families and communities that are hurt and affected from my post, I am deeply sorry to have caused you pain, and I apologize," Irving wrote on Instagram. "I initially reacted out of emotion to being unjustly labeled antisemitic, instead of focusing on the healing process of my Jewish brothers and sisters that were hurt from the hateful remarks made in the documentary."
The seven-time all-star's professed identity as a free thinker who does his own research has made him a polarizing figure in the NBA. He sat out most of last season due to his refusal to get the COVID-19 vaccine. At one point in the season prior, he took a two-week hiatus during which he was publicly seen violating the league's pandemic protocols. In 2018 he said he believed the Earth is flat. (He later apologized, though did not entirely disavow the belief.)
Below is a timeline of the events since the post that set off the latest controversy.
Oct. 27: Irving posts Amazon link to movie filled with antisemitic conspiracies on Twitter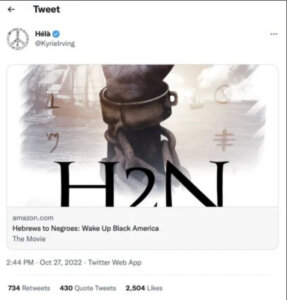 The 2018 movie Irving posted a link to, "Hebrews to Negroes: Wake Up Black America," is based on a book of the same title.
Irving tweeted the link to his more than 4 million followers without comment.
It also includes a quote, incorrectly attributed to "Adolph" Hitler, that Jews will blackmail America to keep this secret.
Oct. 28, around 3 p.m.: Rolling Stone article unpacks movie's antisemitic claims
Rolling Stone's post on Oct. 28 launched Irving's tweet into the public discourse, making it clear that the film he shared was not merely eccentric or conspiracy-minded, but outright antisemitic.
In a Rolling Stone article, writer Jon Blistein said that the movie claims that "many famous high-ranking Jews" have admitted to Satanic worship and falsely asserts that the Holocaust was a hoax.
The 2015 book of the same title and written by the director of the movie extensively quotes the fraudulent "The Protocols of the Elders of Zion," according to Blistein.
Oct. 28, around 11 p.m: Nets owner Joe Tsai condemns tweet
Nets owner Joe Tsai, who is currently paying Irving $37 million in the final year of his contract, wrote on Twitter, "I'm disappointed that Kyrie appears to support a film based on a book full of anti-semitic disinformation. I want to sit down and make sure he understands this is hurtful to all of us, and as a man of faith, it is wrong to promote hate based on race, ethnicity or religion."
He added, "This is bigger than basketball."
I'm disappointed that Kyrie appears to support a film based on a book full of anti-semitic disinformation. I want to sit down and make sure he understands this is hurtful to all of us, and as a man of faith, it is wrong to promote hate based on race, ethnicity or religion.

— Joe Tsai (@joetsai1999) October 29, 2022
Oct. 29, 11 a.m.: Irving defends post on Twitter, saying he is an 'omnist'
The next morning, with heat continuing to build around his post, Irving tweeted again, saying that he was an "omnist," meaning someone who believes in or respects all religions.
"The 'Anti-Semitic' label that is being pushed on me is not justified and does not reflect the reality or truth I live in everyday," he wrote.
I am an OMNIST and I meant no disrespect to anyone's religious beliefs. The "Anti-Semitic" label that is being pushed on me is not justified and does not reflect the reality or truth I live in everyday. I embrace and want to learn from all walks of life and religions.

Hélà🤞🏾♾

— Hélà (@KyrieIrving) October 29, 2022
Oct. 29, 6:30 p.m.: NBA releases statement apparently in response to Irving
The NBA's statement did not name Irving, but did refer to antisemitism.
"Hate speech of any kind is unacceptable and runs counter to the NBA's values of equality, inclusion and respect," the statement read. "We believe we all have a role to play in ensuring such words or ideas, including antisemitic ones, are challenged and refuted and we will continue working with all members of the NBA community to ensure that everyone understands the impact of their words and actions."
Oct. 29, around 8:30 p.m.: Richard Jefferson calls Irving out during Nets broadcast
As the outrage continued to swirl in absence of an apology or retraction, retired players in the NBA community began to speak out against Irving.
Richard Jefferson, Irving's former teammate, who is now a commentator for YES, the network that shows Nets games, was the first. During the live broadcast of the Nets' Oct. 29 game, he said: "It is disappointing, Kyrie says that he's not antisemitic and these things, but the tweet is still up. The tweet is still up there."
He also took Irving to task for a tweet in September that contained a message from conspiracy theorist Alex Jones about the existence of a "New World Order."
"You have to understand that how you use your social media has effects and affects people," Jefferson said. "If you're insensitive to that, then you're truly endorsing it."
Oct. 29, postgame: In viral exchange with ESPN reporter, Irving says he wasn't promoting the film
After the Nets' loss to the Pacers, ESPN reporter Nick Friedell questioned Irving about his promotion of Alex Jones' messaging and the movie.
Irving said that what Jones said about secret societies in America is true. But denied he was promoting the movie, and accused Friedell of dehumanizing him in order to chase clicks.
He concluded: "I can post whatever I want."
Kyrie Irving going back and forth with @NickFriedell during the Nets postgame presser 😳#NBATwitter #NetsWorld pic.twitter.com/Mn2dSsirSN

— 𝙏𝙖𝙡𝙠𝙞𝙣' 𝙉𝘽𝘼 (@_Talkin_NBA) October 30, 2022
Oct. 29, postgame: Kevin Durant says team not affected by latest Irving drama
Following Irving's postgame press conference, fellow Nets superstar Kevin Durant was asked whether the tweet controversy was affecting the team.
"Absolutely not," Durant said. "It only impacted you guys and everybody outside the locker room."
Oct. 30, around 9 p.m.: Kyrie deletes tweet
Kyrie Irving has deleted his tweet that included a link to the movie "Hebrews to Negroes: Wake Up Black America"

— Nick Friedell (@NickFriedell) October 31, 2022
In an appearance on NBA insider Zach Lowe's podcast, Friedell, a veteran reporter, said he was surprised by how many people around the NBA thanked him for calling Irving out in the press conference that night.
Oct. 31, 11 a.m.: Kanye West posts photo of Irving on Instagram
West, who legally changed his name to Ye earlier this year, has been embroiled in an antisemitic hullaballoo of his own, since he tweeted that he was planning to go "death con 3 on Jewish people" last month. West appended a short caption to a black-and-white team headshot of Irving: "There's some real ones still here."
Oct. 31, 4 p.m.: National Basketball Players Association issues statement on Irving
The union representing NBA players tweeted a statement condemning the remarks but did not directly refer to Irving, who is a vice president of its executive committee.
"Anti-Semitism has no place in our society," the statement said. "The NBPA is focused on creating an environment where everyone is accepted. We are committed to helping players fully understand that certain words can lead to hateful ideologies being spread. We will continue to work on identifying and combating all hate speech whenever it arises."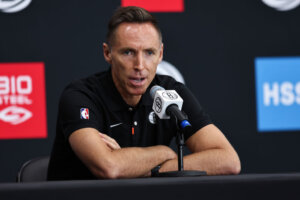 Oct. 31: Nets head coach Steve Nash says, 'I hope we can all grow through this'
Before the Nets played the Indiana Pacers Sunday, Nash addressed the controversy. "I hope that we all grow through this together," he said. "The organization is trying to take that stance that we're going to communicate through this, and try to all come out of this in a better position and with more understanding and more empathy for every side of this debate and situation."
The comments caused some consternation among fans, who accused Nash of tiptoeing around hate speech and "both-sidesing" antisemitism. Nash was fired less than 48 hours later. The Nets began the season with 2-5 start under Nash. And he had been frustrated with its off-court dramas.
Oct. 31: Jewish fans sit courtside at Nets game wearing 'Fight Antisemitism' shirts
Eight Jewish fans sitting courtside at that night's Nets home game caught Irving's attention by wearing matching shirts that said "FIGHT ANTISEMITISM."
"He was laughing sarcastically and basically said, 'I appreciate you guys for coming out, you guys really showed up in numbers,'" said Andrew Pearl, who was part of the group. "And he also said, 'I support you guys.' Which, I mean, he said it all sarcastically while putting up a thumbs up."
A video of the moment was posted on social media Tuesday.
The group's reply to Irving, Pearl said, was: "We don't fight with hate, we fight with love. And we still love you. But we have to wear the shirts."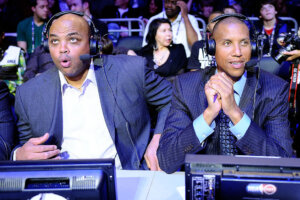 Nov. 1: Charles Barkley, Shaquille O'Neal and Reggie Miller slam Irving and NBA on TNT broadcast for not suspending him
Leading into the weekly nationally televised NBA doubleheader, the TNT panelists took turns criticizing Irving for the tweet and the league for its lack of response.
Barkley said the league "dropped the ball" by failing to suspend him, adding that now it was too late.
"We've suspended and fined people who have made homophobic slurs, and that was the right thing to do," Charles Barkley says. "If you insult the Black community you should be fined or suspended."

So, he says, Kyrie Irving should be suspended for his tweet.pic.twitter.com/Si6M6ekvYJ

— Louis Keene (@thislouis) November 2, 2022
O'Neal, who was one of the first celebrities to have a Twitter account, scolded Irving for not taking responsibility for his posts.
And during the game, Miller reportedly called out Irving's NBA peers for their silence on the issue, saying, "It's been crickets."
"It's disappointing, because this league has been built on the shoulders of the players being advocates," Miller said. "Right is right and wrong is wrong. And if you're gonna call out owners, and rightfully so, then you've got to call out players as well. You can't go silent in terms of this for Kyrie Irving. I want to hear the players and their strong opinions as well, just as we heard about [NBA owners] Robert Sarver and Donald Sterling."
Nov. 1: GM Sean Marks says Irving won't be available to media
In a press conference following the termination of Steve Nash as head coach, Nets general manager Sean Marks said Irving would not be available to the media for the time being.
"At some point he will come up here and do media again," Marks said. "But I think at this point — we don't want to cause more fuss right now, more interactions with people. Let's let him simmer down and let's let cooler minds prevail." He said the franchise was consulting with the Anti-Defamation League on next steps.
Nov. 2: ADL meets with Irving's father and stepmother (who is his agent) but not with Irving 
ADL chief executive Jonathan Greenblatt condemned Irving's post not long after Tsai did. But though the ADL offered to meet with Irving, the player refused. Instead, the ADL met with his family, according to the New York Daily News' Stefan Bondy.
Nov. 2: Irving, Nets and ADL release statement announcing donation to fund educational programming
The statement released Wednesday evening said that Irving and the Nets would each donate $500,000 "toward causes and organizations that work to eradicate hate and intolerance in our communities," and would work with the ADL to develop educational programming to combat antisemitism and all forms of bigotry.
Joint statement from Kyrie Irving, the Brooklyn Nets, and the Anti-Defamation League pic.twitter.com/5szamIClsh

— Brooklyn Nets (@BrooklynNets) November 2, 2022
In the same statement, Irving said he opposed all forms of hatred and oppression, but stopped short of apologizing, condemning the film or using the word "antisemitic."
"I am aware of the negative impact of my post towards the Jewish community and I take responsibility," Irving said. "I do not believe everything said in the documentary was true or reflects my morals and principles."
The statement also included comments from Greenblatt.
"ADL will work with the Nets and Kyrie to open dialogue and increase understanding," Greenblatt said. "At the same time, we will maintain our vigilance and call out the use of anti-Jewish stereotypes and tropes — whatever, whoever, or wherever the source — as we work toward a world without hate."
Nov. 3: NBA commissioner Adam Silver expresses disappointment that Irving did not apologize
NBA commissioner Adam Silver, who is Jewish, opined publicly for the first time on the situation Thursday morning.
"Kyrie Irving made a reckless decision to post a link to a film containing deeply offensive antisemitic material," Silver said in a statement. "While we appreciate the fact that he agreed to work with the Brooklyn Nets and the Anti-Defamation League to combat antisemitism and other forms of discrimination, I am disappointed that he has not offered an unqualified apology and more specifically denounced the vile and harmful content contained in the film he chose to publicize. I will be meeting with Kyrie in person in the next week to discuss this situation."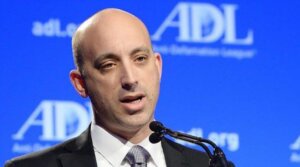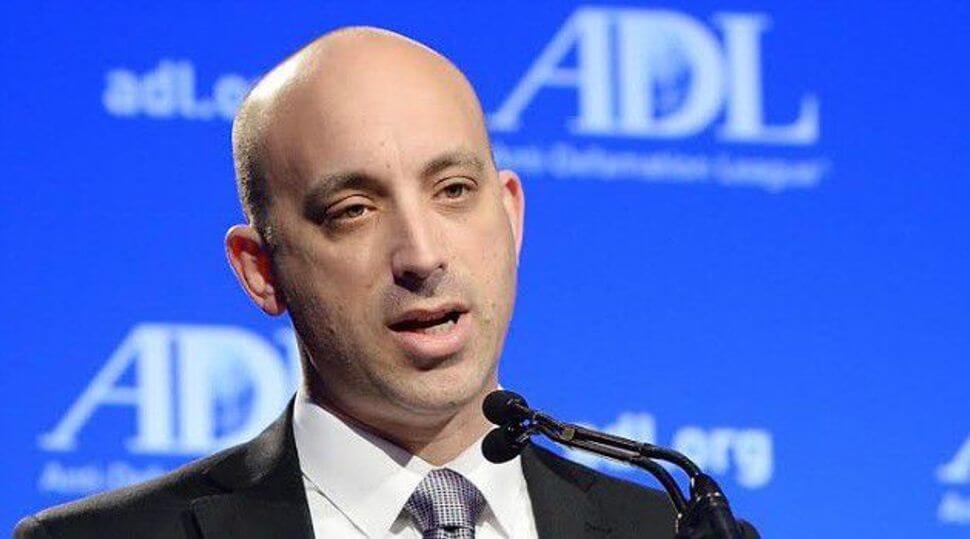 Nov. 3: Irving, casting himself as victim in press conference, declines to apologize
In a press conference after the Nets' shootaround Thursday afternoon, Irving reiterated that he took responsibility for posting something "that may have had some falsehoods in it," but said that "just because I posted a documentary doesn't make me antisemitic." He added that he had not met with the ADL.
He called the movie's assertions about the Holocaust "unfortunate" falsehoods that he never said himself.
Prompted to respond to Silver's call for an apology, he said, "I didn't mean to cause any harm. I'm not the one that made the documentary."
Asked what specifically in the film he believed was untrue, he said, "Some of the criticism of the Jewish faith and the community, for sure, some points made in there that were unfortunate."
But then he decried "the fact that this has pinned me against the Jewish community and I'm here answering questions about whether I'm sorry or not about something I didn't create." He claimed victimhood, saying he was being demeaned for being Black and for his religious beliefs.
"I'm not here to compare anyone's atrocities or tragic events that their families has dealt with in generations of time. I'm just here to continue to expose things that our world continues to put in darkness. I'm a light. I'm a beacon of light."
Pressed once more to say definitively whether he harbored antisemitic beliefs, Irving offered only a cryptic response: "I cannot be antisemitic if I know where I come from." 
Responding to the latest remarks, Greenblatt, the ADL CEO, said the organization took Irving at his word the day prior, but that the player "clearly has a lot of work to do."
Nov. 3, 7:45 p.m.: Nets suspend Irving
The suspension for a minimum of five games was reported by ESPN's Adrian Wojnarowski Thursday night.
"Over the last several days, we have made repeated attempts to work with Kyrie Irving to help him understand the harm and danger of his words and actions, which began with him publicizing a film containing deeply disturbing antisemitic hate," the Nets organization said in a statement. "We believed that taking the path of education in this challenging situation would be the right one and though that we had made progress with our joint commitment to eradicating hate and intolerance.
"We were dismayed today, when given an opportunity in a media session, that Kyrie refused to unequivocally say he has no antisemitic beliefs, nor acknowledge specific hateful material in the film. This was not the first time he had the opportunity – but failed – to clarify.
"Such failure to disavow antisemitism when given a clear opportunity to do so is deeply disturbing, is against the values of the organization, and constitutes conduct detrimental to the team. Accordingly, we are of the view that he is currently unfit to be associated with the Brooklyn Nets.
"We have decided that Kyrie will serve a suspension without pay until he satisfies a series of objective remedial measures that address the harmful impact of his conduct and the suspension period served is no less than five games," the Nets wrote.
Nets statement pic.twitter.com/8movfKNRdT

— Adrian Wojnarowski (@wojespn) November 3, 2022
Nov. 3, 8:52 p.m.: ADL says it won't accept Irving's donation
"We were optimistic but after watching the debacle of a press conference, it's clear that Kyrie feels no accountability for his actions," Greenblatt said. "ADL cannot in good conscience accept it." Greenblatt also applauded the Nets for suspending Irving.
Nov. 3, 11:45 p.m.: Irving apologizes
In an Instagram post Thursday night, Irving acknowledged that his actions had caused harm.
"While doing research on YHWH, I posted a Documentary that contained some false anti-Semitic statements, narratives, and language that were untrue and offensive to the Jewish Race/Religion, and I take full accountability and responsibility for my actions," Irving wrote. "I am grateful to have a big platform to share knowledge and I want to move forward by having an open dialogue to learn more and grow from this.
"To all Jewish families and communities that are hurt and affected from my post, I am deeply sorry to have caused you pain, and I apologize. I initially reacted out of emotion to being unjustly labeled antisemitic, instead of focusing on the healing process of my Jewish brothers and sisters that were hurt from the hateful remarks made in the documentary. I want to clarify any confusion on where I stand fighting against antisemitism by apologizing for posting the documentary without context and a factual explanation outlining the specific beliefs in the documentary I agreed with and disagreed with. I had no intentions to disrespect any Jewish cultural history regarding the Holocaust or perpetuate any hate. I am learning from this unfortunate event and hope we can find understanding between us all."
Nov. 4: Nike terminates its relationship with Kyrie Irving
Nike, which was in the final year of its $11 million per year contract with Irving, announced Friday evening that it was ending the partnership early, according to NBA reporter Shams Charania. The company's decision means that it will no longer launch the Kyrie 8, the final edition of his signature shoe.
Earlier in the day, Durant, Irving's high profile teammate, responded to a question about Kyrie's conduct before the Nets played Friday.
"I ain't here to judge nobody or talk down on nobody for how they feel, their views or anything," Durant told a gaggle of reporters. "I just didn't like anything that went on. I felt it was all unnecessary, I felt like we could have just played basketball and kept quiet as an organization. I just don't like none of it."
Asked whether he objected to the suspension, he said he trusted the organization "to do what's right," and said he had not spoken to Irving since the suspension.
Nov. 5: Nets deliver list of preconditions for Irving to return to team
According to Charania, the Nets have dictated several requirements to Irving, including meeting with unspecified Jewish leaders and the ADL, before he can be reinstated from his five-game suspension.
Sources: Nets have delivered Kyrie Irving six items he must complete to return to team:

- Apologize/condemn movie
- $500K donation to anti-hate causes
- Sensitivity training
- Antisemitic training
- Meet with ADL, Jewish leaders
- Meet with Joe Tsai to demonstrate understanding

— Shams Charania (@ShamsCharania) November 6, 2022
Nov. 8: Irving meets with Adam Silver
Irving reportedly met with the NBA commissioner Tuesday morning. Details about the meeting were scarce at first, but generally positive.
On Thursday, Silver told The New York Times he and Irving had had a "direct and candid conversation." He said that having known Irving for more than a decade, he did not think the player was antisemitic, but "whether or not he is antisemitic is not relevant to the damage caused by the posting of hateful content."
"I feel that we got to the right outcome here in terms of his suspension," Silver said earlier in the day at a conference hosted by Sports Business Journal. "And in retrospect, we may have been able to get there faster. I accept that criticism. But I felt it was important to understand the context in which it was posted to understand what discipline was appropriate, not in any way to excuse it but to understand what discipline was appropriate."
Silver suggested the Nets' punishment might benefit from modification.
Asked if he was comfortable with the Nets' terms, Silver said, "That is being discussed at this time."
He added, per The Times: "I think that what I understand where things stand is the Nets are looking to make this into a partnership between them and Kyrie as to what remediation is appropriate. Because what is most important here is that the remorse be truly authentic and genuine. And I think that will best come by conditions that are agreed to upon as opposed to imposed on him."
Nov. 10: LeBron James says Irving should be allowed to play after apologizing
James was one of several NBA players to suggest Irving's list of requirements to return to play were overkill. In a pair of tweets, James wrote, "Kyrie apologized and he should be able to play. That's what I think. It's that simple. Help him learn — but he should be playing. What he's asked to do to get back on the floor I think is excessive IMO. He's not the person that's being portrayed of him."
Jaylen Brown, who like Irving is a vice president of the Players Association, said something similar to James a few days earlier, and expanded on those remarks Nov. 14.
In particular, Brown directed his comments at Nets owner Joe Tsai, who said Irving was progressing toward a return but "still had work to do."
"His response was alarming to me," Brown said. "I tweeted that out [Sunday]. He didn't say that the organization was working together to get Kyrie back on the floor. He said that he had more work to do. And our society has more work to do, including Joe Tsai. It's 2022. It takes 10 minutes of time to see who these business owners, corporations, etcetera, who they're associated with and who they're doing business with, who they're affiliated with."
Nov. 16: ESPN reports that Irving was determining "his own remedies to end the suspension"
The new reporting from contrasted with earlier reports from the same two journalists — ESPN's Adrian Wojnarowski and The Athletic's Shams Charania — that the Nets set a list of conditions Irving needed to satisfy before returning. In announcing that Irving was likely to return when the Nets returned home to face the Memphis Grizzlies Nov. 20, Wojnarowski said that the Nets, the NBA and National Basketball Players Association executive director Tamika Tremaglio were helping Irving determine his path to return.
"Tremaglio and the union have worked closely with Irving, the Nets and the NBA in helping him to author his own remedies to end the suspension, sources said," Wojnarowski reported. "What might have started out as a rigid list of prerequisites evolved into Irving himself taking ownership of the process, which is what the Nets and the league hoped would be the case, sources said."
Nov. 19: Irving apologizes in 1-on-1 interview with New York sports channel
In a recorded interview with SNY's Ian Begley ahead of his expected return to action, Irving apologized and said he was not antisemitic and never has been.
Irving said he had met with "some great people from the Jewish community, from the Black community, from the white community." He did not say who from the Jewish community he had spoken with.
"I'm no one's idol, but I am a human being that wants to make impact and change," he said. "In order to do that, I have to live responsibly and set a greater example for our youth, for my generation and for the older generation. I think I just really want to focus on the hurt that I caused or the impact that I made within the Jewish community. Putting some kind of threat or assumed threat on the Jewish community, I just want to apologize deeply for all my actions throughout the time that it's been since the post was first put up."
Irving referred on more than one occasion to "my Jewish relatives," but it was unclear who he was referring to.
Asked by Begley, who is Jewish, what he intended to share when he posted the movie, Irving said he was hoping to guide others who were on the same journey of self-discovery he was on.
The antisemitic themes of the movie, he said, "That wasn't the aspect of the post that I wanted the focus to be on."
Nov. 20: Before taking the floor in his return, Irving addresses reporters
Speaking to reporters before his return from a suspension that stretched to eight games, Irving reiterated his apology to "all those who were impacted over these last few weeks, specifically my Jewish relatives, my Black relatives, all races and cultures, I feel like we all felt the impact."
"When I had the opportunity to offer my deep regrets to anyone that felt threatened and felt hurt by what I posted, that wasn't my intent at all, I meant no harm to any person or group of people," Irving said.
The Nets released a statement announcing Irving's return Nov. 20.
"Kyrie took ownership of his journey and had conversations with several members of the Jewish community," the statement read. "We are pleased that he is going about the process in a meaningful way."
Dec. 1: Amazon CEO announces company will not remove 'Hebrews to Negroes' from platform
Amazon chief executive Andy Jassy, who is Jewish, told Andrew Ross Sorkin at The New York Times' Dealbook Summit that the company would not be unlisting the antisemitic film Irving tweeted.
"Inside the company, we won't tolerate hate or discrimination or harassment," Jassy said, "but we also recognize, as a retailer of content to hundreds of millions of customers with lots of different viewpoints, that we have to be willing to allow access to those viewpoints, even if they are objectionable — and even if they differ from our own personal viewpoints if you're gonna serve that number of people."
Jassy added, per the Sporting News: "We don't want to have a store where every page has a disclaimer. The reality, too, is that we have very expansive customer reviews. For the books that have a lot of attention — and have a lot of public attention like this — customers do a pretty good job of warning people when there's objectionable content."
Dec. 5: Nike officially cuts ties with Irving
Weeks after it was reported that the sportswear giant would not renew its contract with Irving, which was set to expire after this season, Nike formally announced the end of the relationship.
Shetellia Irving, the Nets guard's stepmother and agent, confirmed the news to CNBC, saying, "We have mutually decided to part ways and wish Nike the best in their future endeavors."
This post will be updated as the story develops.