My fellow Orthodox Jews: Start fighting for the Uyghurs
The Chinese concentration camps for Uyghurs and other Muslim minorities should strike fear into Jew's hearts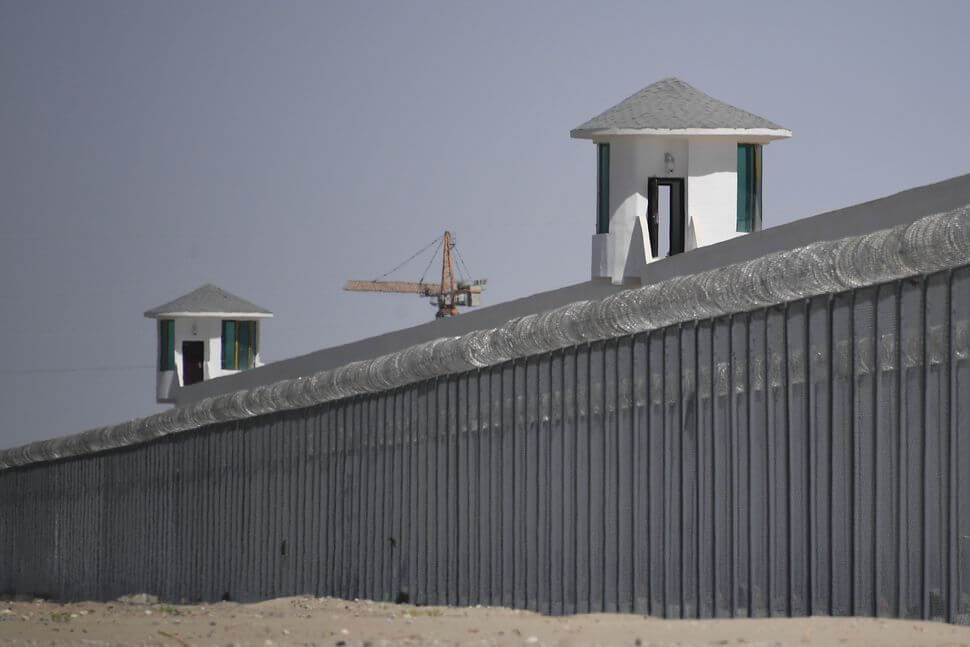 Americans not readily disposed to giving credit to the Trump Administration have good reason to do so of late, thanks to new sanctions against the Xinjiang Production and Construction Corps, a powerful Chinese paramilitary organization in the country's Xinjiang province, which American officials accuse of facilitating the Communist Party of China's detention and repression of Uyghurs and other Muslim ethnic minorities.
The Uyghur saga has been widely reported, including here in the Forward. Back in 2014, the Chinese government, under General Secretary Xi Jinping, announced a "people's war on terror" and within three years, as part of that effort, built some 1,300 "re-education camps," to which as many as a million Uighurs and other Muslims were sent and confined to be indoctrinated in Communist ideology.
The new round of sanctions had been held at bay for over a year to protect trade talks with China. But the administration has decided their time had come. Last month, the Treasury sanctioned regional officials and then, later, several entities. Now, companies, including American ones, are at risk of U.S. sanctions if they work in the Xinjiang region or have a supply chain with ties to it, according to the U.S. Treasury.
These are admirable measures. U.S. Assistant Secretary of Defense for Indo-Pacific Security Affairs Randall Schriver has described the detention facilities, with undeniable precision, as "concentration camps." There have been credible reports of torture, forced labor and widespread, systematic government-ordered sterilization of Uyghurs. Some experts refer to that latter program, obviously aimed at ensuring that the groups at issue will not grow, as a form of "demographic genocide."
Concentration camps and genocide: Words that should jarringly resonate in Jewish hearts.
Recently, ABC News sent a reporter to try to enter one of the camps. His car was closely followed throughout by another one driven by a government operative and, nearing a camp, he was turned back by officials. He did, though, succeed in interviewing a woman who had been interned in three different camps, who had been separated from her now-five-year-old daughter for two years.
Another reporter is given an "official" tour of one camp, where guides have him meet young people living there. The interviewees smile sweetly, insist that they are there voluntarily, and all use similar phrases to answer questions. "If not for the government," one young man dutifully tells the reporter, "I would someday become a terrorist." His eyes then begin to water, and he looks down to wipe them.
It is true that there are Uyghur jihadis, estimated to number in the low hundreds, operating outside China's borders. But the vast majority of Uyghurs are simple Muslims without radical connections, however the Communist Party of China may characterize them.
These systematic civil rights abuses based on the suppression of a religious minority for no crime other than their religion must be opposed full stop. Moreover, China's repression of innocent Uyghurs could, if anything, very well drive more of them into the arms of jihadi groups. As Thomas Joscelyn, a Senior Fellow at the Foundation for Defense of Democracies, notes, jihadist organizations have already created propaganda portraying themselves as legitimate outlets for Uyghur anger.
Thus, the Communist Party's re-education/assimilation campaign, aside from its inherent moral abhorrence, could, if unchecked, lead to the rise of a new generation of jihadists from Xinjiang.
This is where we come in. The American Orthodox Jewish community — my community — is, understandably, largely self-focused. As easily identifiable Jews and the sector of American Jewry most immediately confronted with challenges regarding antisemitic violence, education funding and protection of religious rights, many of us feel we have bigger — or, at least, more immediate — fish to fry than advocating for the freedom of an oppressed people half a planet away. That they are Muslims, and that some of them, even if only a handful, are part of terrorist groups, makes it all the easier to avert our gaze.
We must not. The overwhelming majority of Uyghurs, and likely all of those in China's detention centers, are innocent civilians. It is their ethnicity and religion that make them subversives in the eyes of the Chinese authorities.
And, at least to some of us, the image of millions of innocent people being concentrated against their will in camps and mistreated is one that a people characterized by the Talmud as "merciful, modest and charitable" (Yevamot, 79a) cannot ignore.
Avi Shafran is a columnist for Ami Magazine, blogs at rabbiavishafran.com and serves as Agudath Israel of America's director of public affairs.